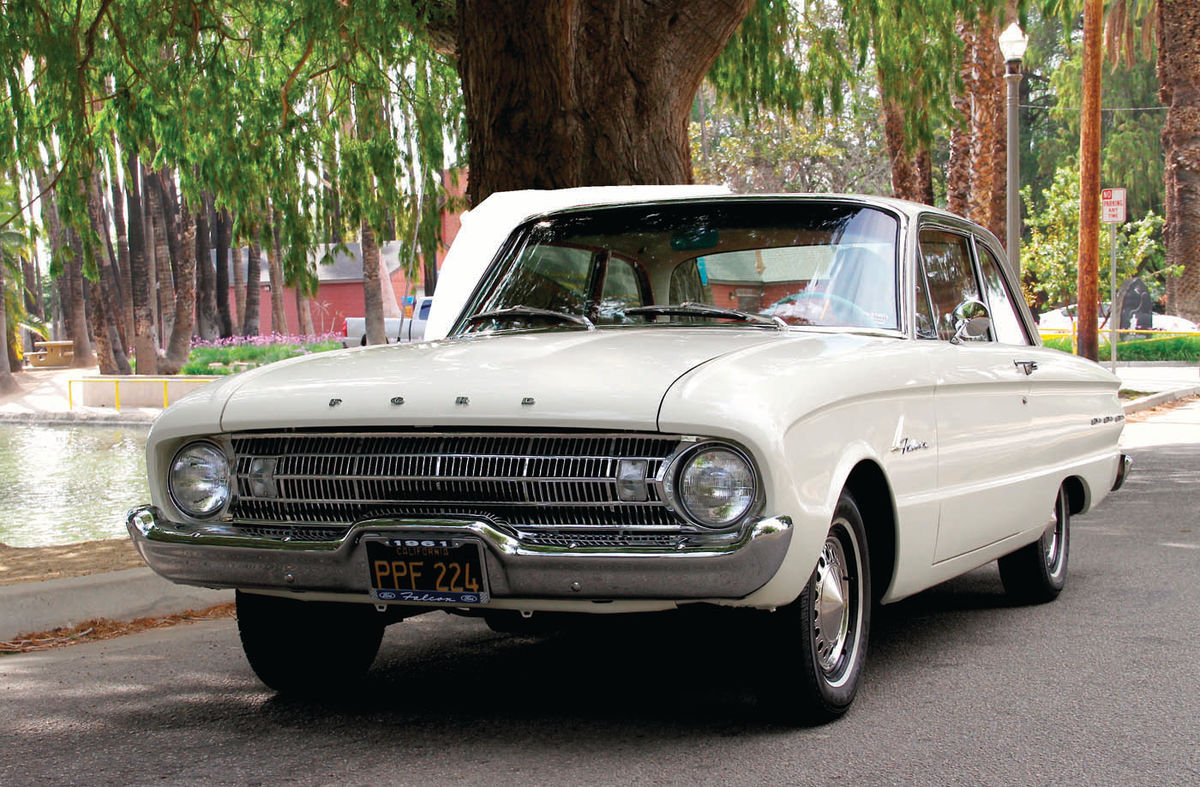 It's a Nice Driver That's Easy to Maintain…and It Brings Back 55-Year-Old Memories of Working on an Assembly Line.
F I was ready at 6:30 a.m. rubbing my hands together in the cold, when the buzzer sounded, BRRRRNNT! The gigantic machine that was the Ford assembly plant at San Jose, California, jerked into motion and a cacophonous roar instantly filled the air along with the smells of glue, paint and the faint bouquet of diesel fumes from the forklifts constantly scurrying to feed the beast. My task was to install passenger-side front fenders on the new Falcons and Fairlanes for 1962.
I put the sticky caulking strip on the lip of the inner fender panel and then picked up the fender from in front of the car. I put it in place rear end first, then brought the front of the fender and lined up the bolt holes with an awl. I buzzed in the bolts with an air wrench and then slapped the lower quarter panel so the man in the pit could install his bolts. On the wall across from my workstation was a sign that said "Talk Up Ford Quality."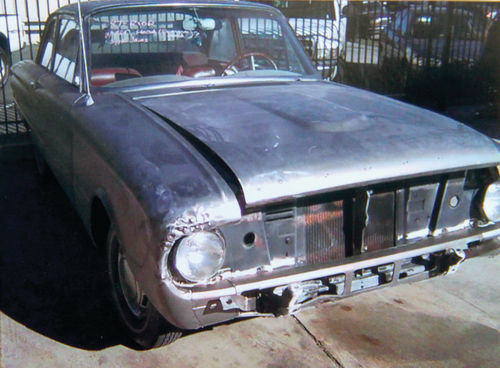 The accumulated noise of the line made conversation nearly impossible, and there wasn't time anyway. We built Falcons at the rate of one a minute all day long. And if we fumbled or slowed down, the push man came running and screaming: "Get a **** move on! Are ya gonna own that thing!" Push men used swear words as commas.
You got a fifteen-minute break in the morning and one in the afternoon, plus a half-hour for lunch. Other than that it was install a fender a minute for eight straight. However, now and then things would go wrong and the line would stop for a few seconds, so we only managed to average about 56 cars an hour.
There were two big clocks visible from every workstation; one for real time and one for line time, and the line clock stopped every time the assembly line did. At the end of the day we had to make up for the cars that weren't produced to make 60 an hour. That meant putting together, on average, another 48 cars before you could punch out and go home.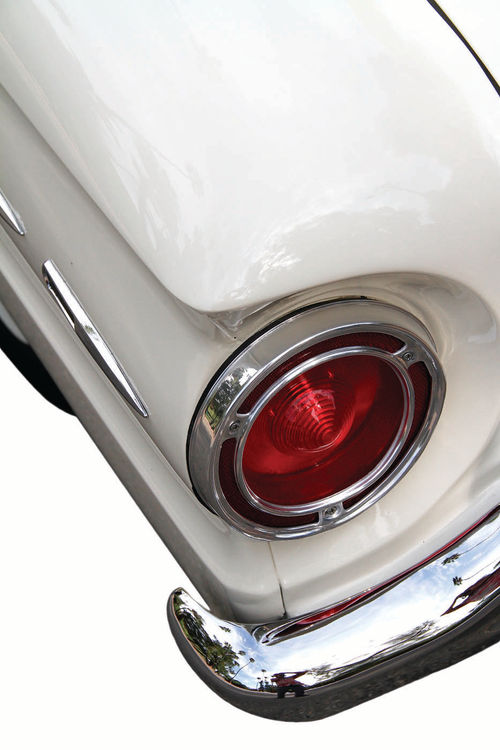 Time for a Second Look
I relate this not to malign the Ford Motor Co., who paid me well and treated me fairly. I just wasn't cut out for a job on the merry-go-round long-term. But it was a learning experience. It taught me that cars built on assembly lines were put together as fast as people could make them without messing up…and there was no time for loving care or pride of workmanship.
I suppose that is why I never drove a Falcon or wanted one. Not that they were bad cars or made more poorly than any other production car. It was just that there was no magic in them for me. It would be a little like visiting a slaughterhouse and then having a steak dinner. However, since then most of a lifetime has gone by and I have learned a little more about the early Falcons. And in the process I realize that I may have given them short shrift all these years. As an automotive journalist who has driven just about every car imaginable from every period, I knew that to be fair, it was time to give the early Falcons a shot.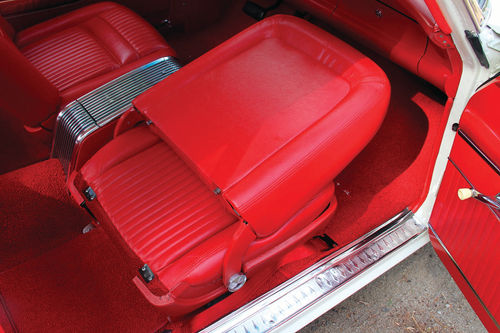 I found a pristine example at the Fabulous Fords show in Buena Park, California, and asked its owner, Willie Velez, if I could take it for a test drive for Auto Restorer. He was proud of his car and happy to oblige. It is an all-white Futura—the deluxe model— with the red Thunderbird interior, which means that it has bucket front seats, a center console and a bit more razzamatazz on the door panels.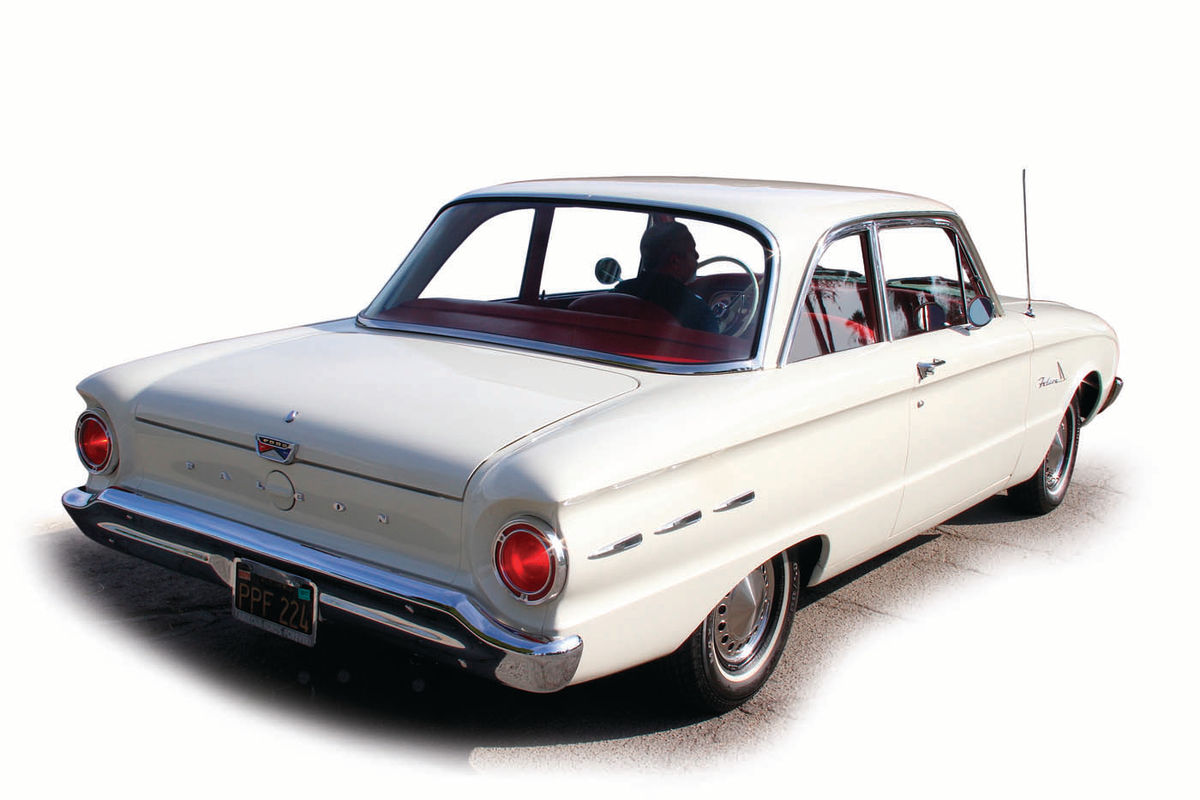 Adequate for the Task
The Futura came out mid-year in 1961 and our example is equipped with the bigger 170-cubic-inch, 101-horsepower straight six engine and a two-speed Ford-O-Matic transmission as well as decorative exhaust ports on the rear quarter panels and full wheel covers, giving it a bit more style than the lessexpensive models.
Because the Futura is a two-door sedan, its doors are generous, so passengers can climb into the back seat easily. The Thunderbird interior also has bucket seats that fold all the way flat for easy access. The seat is firm and rather upright, but leg and headroom are adequate. The instrument panel is well-appointed and easy to read, and the shift lever is in the typical place for the time, up on the steering column.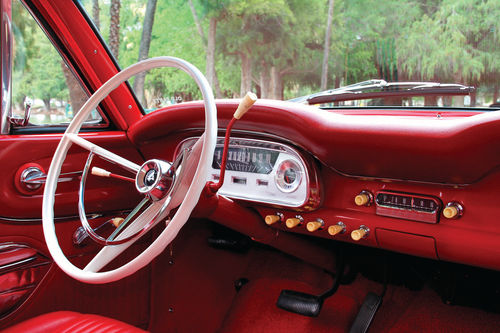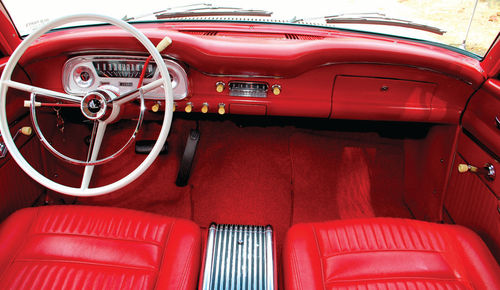 I step on the gas once and give the key a twist. The inline six comes to life after a couple of twists and quickly settles into a smooth idle with a very slight tappet noise. I pull the lever into Drive and the transmission clunks into gear rather suddenly. I give the Futura a little gas and we are away. Acceleration is good and the two-speed Ford-OMatic shifts subtly.
Steering is easy even without power assist and cornering is reasonable. Braking is adequate.
In fact, "adequate" best describes every aspect of the car's performance. That's because this car was specifically designed to be just that… Adequate. By the late 1950s, even low-priced American cars had become big and relatively expensive, to the point that a niche had developed for small foreign cars such as the Volkswagen Beetle, Renault Dauphine and Volvo 544. They were dependable, economical and cheap.
The Answer to a Market Challenge
After test-driving a Volkswagen, Robert S. McNamara, one of the Harvard Whiz Kids originally hired by Henry Ford II to put the company back in the black in the late '40s, realized that there was a whole marketing niche not being covered by the American manufacturers. And he was not alone.
General Motors came up with the Corvair which was essentially a bigger, faster VW, and Chrysler came out with the Plymouth Valiant and Dodge Dart at about the same time, but the Falcon was the best seller of them all.
Why? Well, it was reasonably comfortable, reasonably economical (it got close to the same mileage as a VW Beetle because the Beetle had to run rich to avoid overheating) and it was reasonably priced at about $1800 for the cheaper models. It was also not unattractive, and it was dependable and easy to work on.
It was built on a very adaptable unitized platform that allows for two and four-door models, station wagons, convertibles and even a small pickup truck called the Ranchero. The two engines available in 1961 were the 144.3-cubic-inch version putting out 85 horsepower and the bigger 170-cubic-inch engine making 101 horsepower. Both were dead-simple conventional overhead valve inline sixes with single-barrel carburetors and plenty of room in the engine compartment to work on them. Even the oil filter could be changed without getting under the car, which was unusual for the era.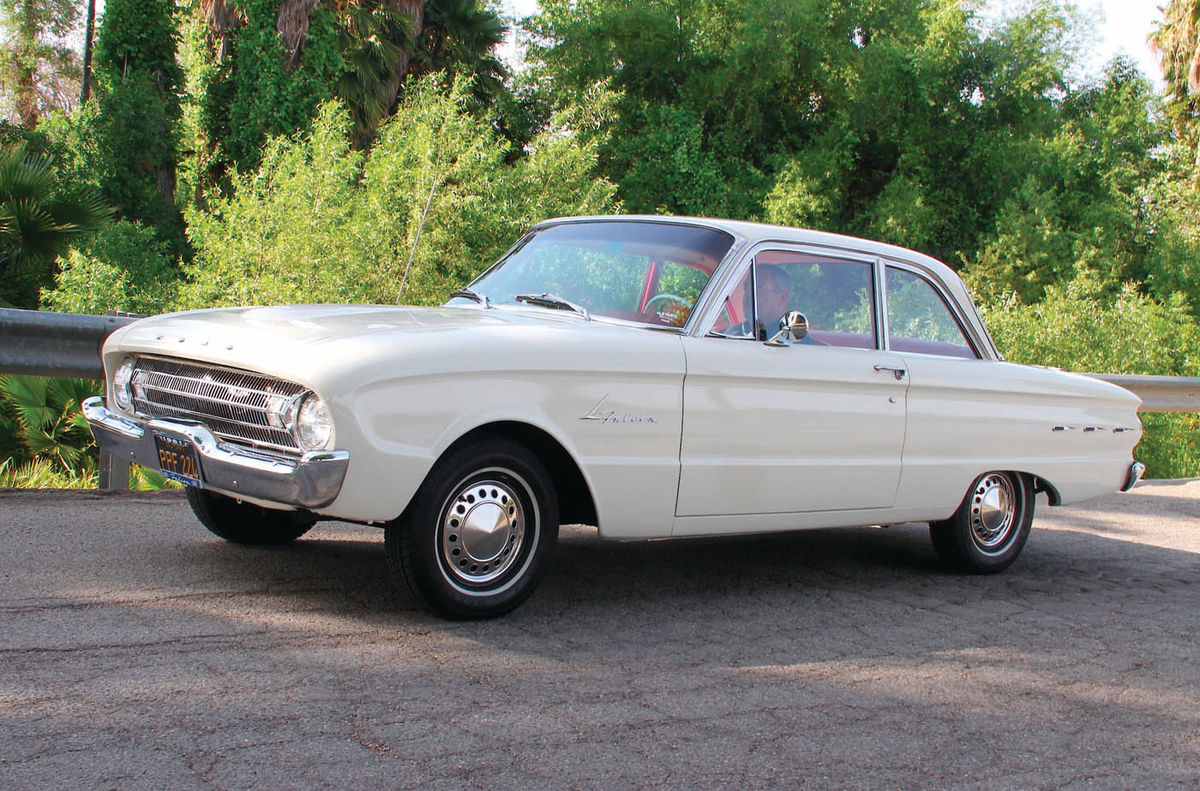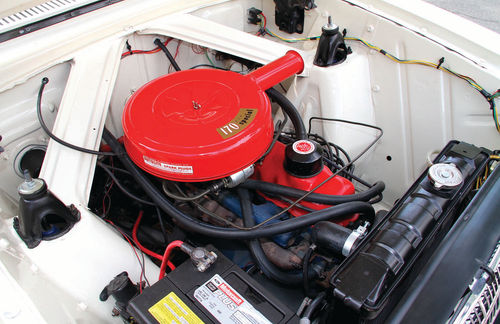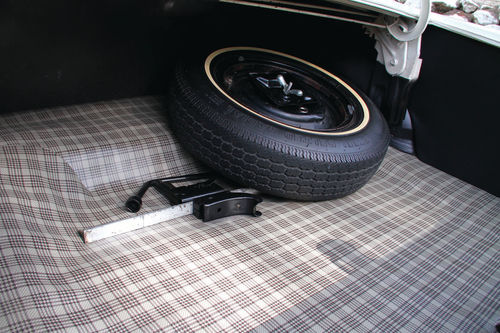 The fuel tank served as the bottom of the trunk making it easy to install and service and saving lots of sheet metal. Also, the sedans had big roomy trunks that allowed for such a thing. Later, that fuel tank innovation would rise up to bite Ford when adapted to the hatchback Pintos, but it was fine for the Falcons, Fairlanes and Mustangs of the period.
Is It Really a Swift Predator?
But one wonders how an "adequate," stubby compact car earned the name "Falcon," which conjures up a fast, beautiful predatory bird. Actually, the moniker had been kicking around Ford since the early '30s when Edsel Ford came up with a handsome speedster built on the Ford chassis as a concept car and dubbed it the Falcon. Henry hated it. Actually Henry hated everything except his Model T. But the name resonated at Ford and was kicked around from time to time unsuccessfully until it stuck with the advent of the company's new economy offering.
A Car You Should Consider
We took Velez' Futura to a local park and drove it around the meandering curvy roads and it was quite pleasant to drive. There was plenty of room in the front seat for two, and the back seat was roomy as well. Leg and headroom in the back seat were good. A long trip in a Futura would not have been onerous. Our car doesn't have it, but air conditioning was also available in 1961, which would have made hot summer days endurable.
In 1961 when I was 19 years old, hanging fenders on Falcons, it never occurred to me that 56 years later I would be driving around in one and enjoying it. Back then I fantasized about a Corvette, though my pocketbook was only up to a 10-yearold Chevy with lots of miles on it. I also didn't understand the virtues of small, simple, dependable, economical cars. These were virtues that more expensive cars did not possess.
Today one of the Falcon's most important attributes is restorability. I am one of those odd ducks that prefers old cars to new, and I like working on and restoring them myself. These days I may not have another classic Packard restoration left in me, but a Falcon could be a lot of fun. Parts are available and there is just about nothing easier to work on. (After all, I can install a front fender in a minute and have time to light a Marlboro.) I could drive it anywhere and be comfortable. Also, my ride would be unusual and interesting, and would go up, rather than down in value if I kept it in good shape.
This Car Came to Him
Willie Velez was not really a car guy even a few years ago, but he told us "I always wanted a classic." However, he never acted on it until his later years when he and his wife Vivian were having a garage sale.
A fellow pulled up in his future Futura, had a walk through the sale and then got back into his car and started to drive away. Velez was suddenly seized by a compulsion and ran alongside the driver and asked him if he wanted to sell it. The fellow said he would consider it, and to make a long story short, Velez got his classic.
It was a very nice original car that had been assembled in Texas and well cared for since. Velez had it painted and reupholstered in the original and correct fabrics and has been working with it ever since. And having been a judge at many shows, I really can't see that there is much, if anything, left to do. After all, it won its class at the huge Fabulous Fords Forever show against stiff competition, and that is impressive.
Willie and his wife Vivian enjoy touring in the car and showing it at meets, and Willie likes tinkering with it when he has time. He also has compiled a large amount of literature on the Falcons, and even has video on CDs of the original ads for the cars using Charles Shultz' Peanuts kids to sell them.
He has had little difficulty finding parts, and says that he has a network of friends that have most of the necessary items and know how to install them.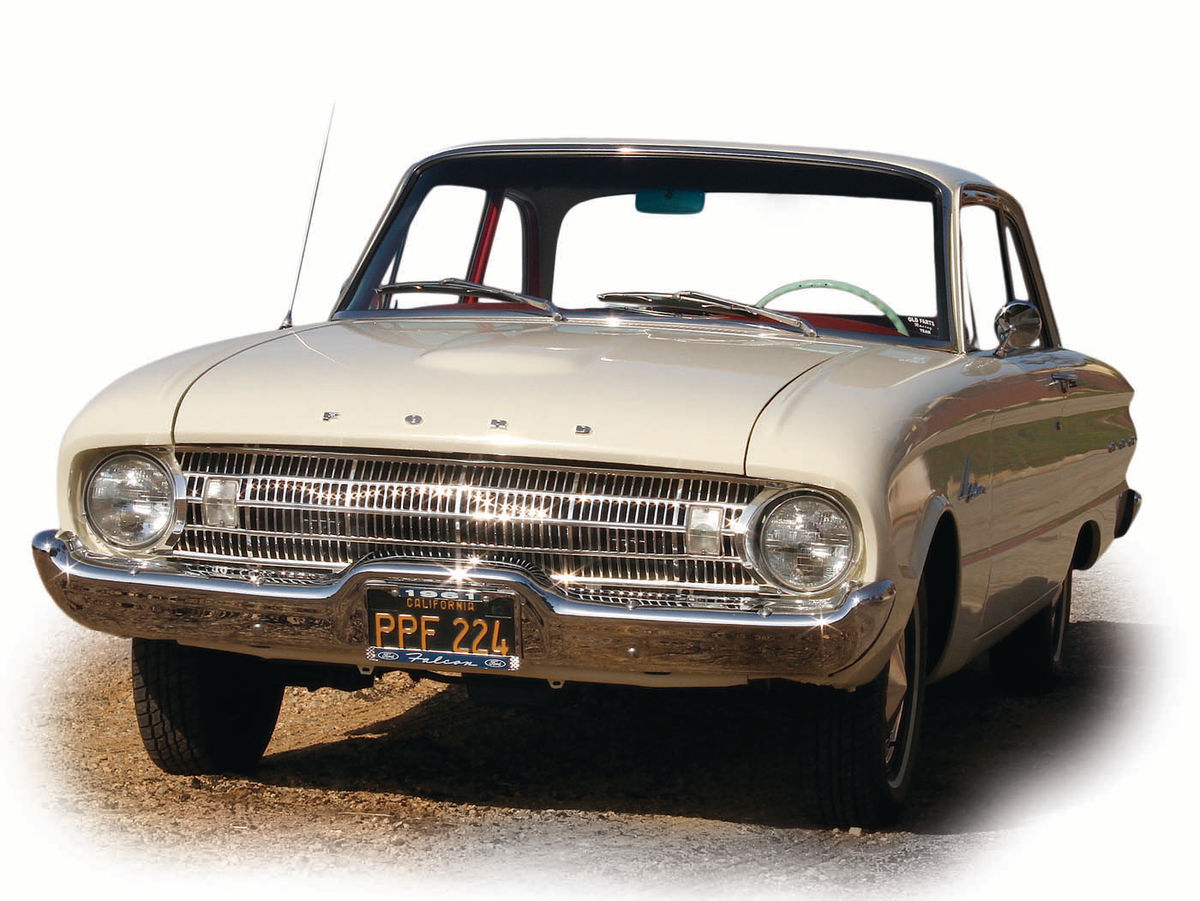 Is There a Ford In His Future?
We pull out of the park and onto the highway and let the Futura stretch its legs. It is steady and smooth, though not completely without road noise at 60 miles an hour.
Once back at the house I turn the car over to Velez to drive it into the garage. It is such a fine specimen that I don't want to scrape anything.
As I take one final look, memories come flooding back. The original correct fabric in the trunk reminds me of the guy who put it in at the San Jose plant. If you weren't careful he would give you a spurt of the greenish glue called "monkey snot" that held it in. And I remember the time someone stole my lunch. I climbed up on a box and shouted that if the uh…gentleman who stole my lunch would tell me, I would have my wife make him one, and I remember the guy a couple of stations away who put on the wheels and who had arms and a chest like Arnold Schwarzenegger in his prime.
Altogether, test-driving the little Falcon was a very pleasant experience, made even better by the nice people who accompanied us on the outing.
Furthermore, the test drive has changed my outlook completely. Who knows, maybe there is a Futura in my future too. There were sure plenty of them in my past.
Body type: Two-door sedan
Wheelbase: 109.5 in.
Transmission
Ford-O-Matic Automatic two-speed
Engine
Displacement: 170 cubic inches
Bore: 3.5 in.
Stroke: 2.9 in.
Horsepower: 101
Torque: 138 lb.-ft.
General
Fuel Mileage: 17.9 mpg
Weight: 2289 lb.
Performance: 0-60 mph in 20.3 seconds
Top speed: 81 mph
Price: $2162
Total production: 44,270