The Jag That Came Home for a Birthday Visit
This Man Had a Surprise Caller On His 83rd Birthday…It Was the Jaguar E-Type He'd Bought New a Half-Century Earlier.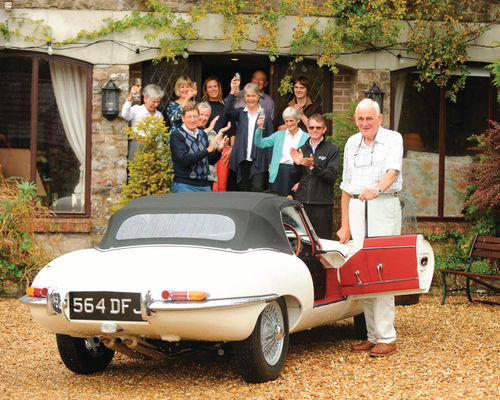 YOU'VE NO DOUBT heard stories about family pets that became separated from their owners and then traveled hundreds of miles to return to their beloved homes once more. Well, here's the tale of a Jaguar that came back to visit its original owner and surprised the man on his 83rd birthday. Only given that this is an automotive magazine, as you might suspect this Jaguar isn't a four-legged jungle cat, it's a rare English sports car.
Among the First of the Breed
The story of this loyal cat begins in the 1950s when Jaguar decided to build a road-going sports car based on its D-Type LeMans racers. The result of their work was the E-Type, which was introduced at the Geneva Motor Show in March 1961. The new car's racing heritage was clear as its shape and many of its structural features were adaptations from the D-Type. Yet this new car definitely was built for the road and was priced below its competition from companies such as Aston Martin and Ferrari.
Among those attracted to this new vehicle from Jaguar was a British Royal Navy Commander named Bob Reed. In February 1965 he bought the 60th E-Type to leave Jaguar's production line and owned it for some 45 years. During that time he drove and raced it, but as the car, which had accumulated 65,000 miles, aged and was clearly showing its years in service, Reed decided it was time to let it move on to a new owner. He couldn't afford to restore it, and he didn't want to see it deteriorate any further.
About the Car
The E-Type—often called the XKE in the US—was built for 14 years with several changes in its running gear, configuration and equipment during that time. The Series 1 cars, like the vehicle seen here, were powered by a 3.8-liter dual overhead cam inline six with three SU carburetors. It was rated at 265 horsepower at 5500 rpm and 240 lb.-ft. of torque. The 0 to 60 mph time was listed as seven seconds and maximum speed was reported to be 150 mph (more about that later). The 3.8-liter engine grew to 4.2 liters in October 1964. Horsepower remained the same but was reached at 5400 rpm. Torque, however, increased to 283 ft.-lbs.
The first of the cars, this one included, were built with a flat floor, making them more rare and thus more valuable. After that, floors were dished to provide additional leg room.
The earliest cars had a non-synchronized first gear in their four-speed gearbox. And, since this car was destined for use in the UK, it was built with right-hand drive.
Off to the Auction
When Commander Reed decided it was time to sell his beloved Jaguar, he contacted the Bonhams auction house which decided to put it up for sale at an auction set for April 23, 2013 at the Royal Air Force Museum in London. Bonhams estimated that the Jaguar would go for $40,000 to $45,000, but as word spread that "one of the most desirable of all E-Types" had become available, "bidders from all over the world fought over the 1961 Roadster."
The first bid came in at about $61,000 (remember, they bid in pounds, not dollars) and in the end the car sold for about $167,000.
"Although in a pretty tired-looking state, this E-Type was so inherently original we attracted an unprecedented level of interest when it was offered at the auction," said James Knight, Bonhams International Group Motoring Director. "It has evidently been bought by the right buyer, who commissioned one of the world's leading Jaguar specialists to bring it back to life, sympathetically restoring the car to its former glory, expertly retaining as much originality as possible during the process."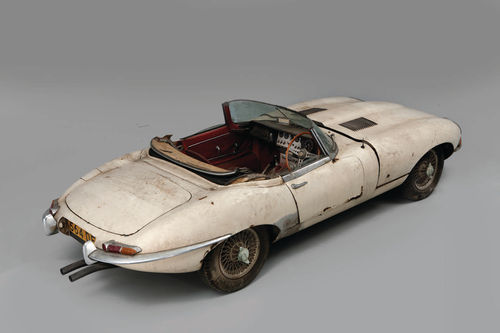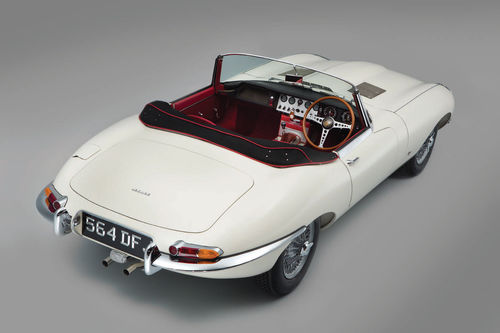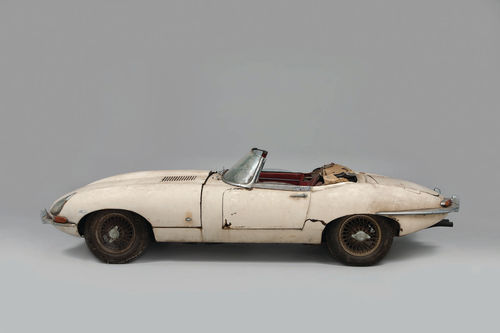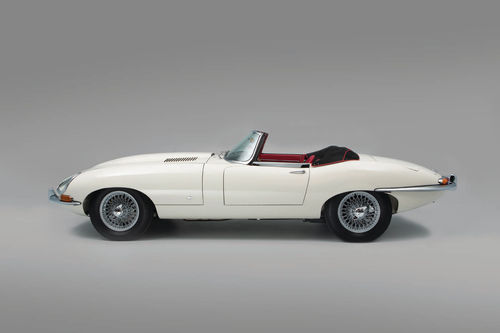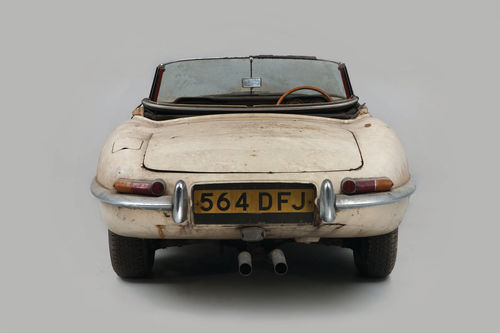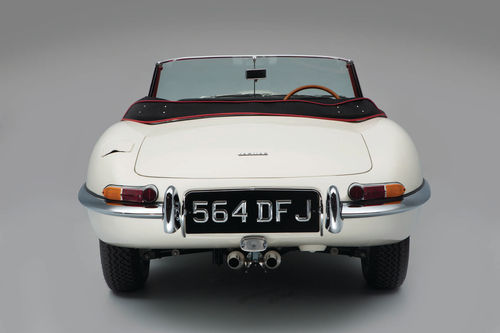 A Total "Nut and Bolt" Restoration
The car's new owner, Chris Anderson, obviously had a strong interest in the Jag. He had opened the sale with the first bid, and stuck with it to prevail in the end. Anderson then decided to turn the Jag over to Classic Motor Cars of Bridgnorth (CMC) located near Birmingham in central England. Billed as "one of the world's premier restoration companies," CMC was founded in 1993 and has a 40,000 sq. ft. shop that's staffed by engineers and technicians. The company says that "with the exception of chrome-plating, every aspect of a car's restoration, servicing and even bespoke (custom) car design is carried out in-house."
New-owner Anderson's instructions to CMC were "to bring it back to the condition that it would have left the factory in 1961."
And CMC took him at his word.
"The car took 3500 hours to restore and since then has received many accolades," said CMC Managing Director Nick Goldthorp.
The car also is now estimated to be worth about $385,000.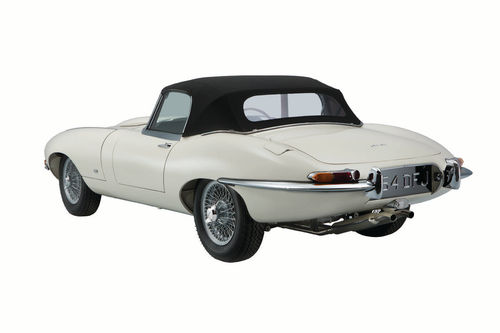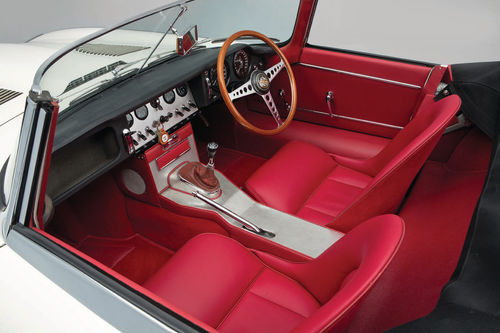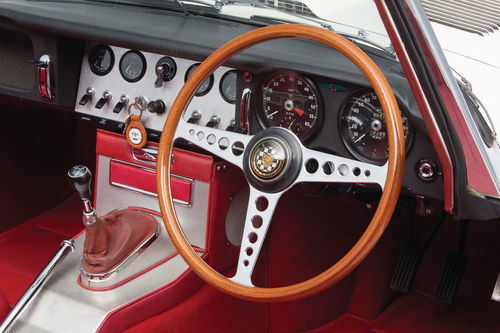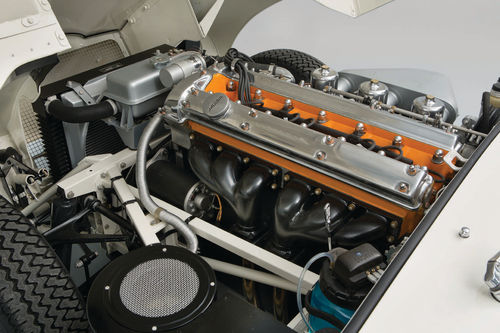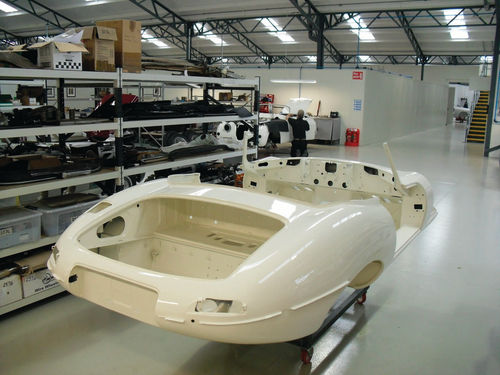 Keeping Tabs On His Former Ride
When you sell a car after 45 years of ownership, that doesn't automatically mean you've stopped caring about it, and Commander Reed wasn't about to turn his back on his long-time friend. After the auction, he contacted the new owner and kept tabs on the restoration as it progressed.
As the work was completed, the commander's daughter Katie contacted CMC and asked if she could have a picture of the restored Jaguar to present to her father on his 83rd birthday.
"Of course," CMC's Goldthorp replied, "but then I think we can do better than that."
Goldthorp got in touch with Chris Anderson, the new owner, and they jointly agreed that the car, which had recently taken Best of Show at the Royal Automobile Club's Mid-Summer Drive-In Concours, should return home to celebrate the birthday of its original owner.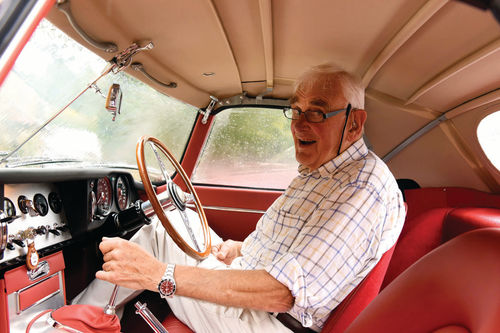 Dropping By for Lunch
"It was a real pleasure to bring the car back to someone who enjoyed it for so many years," Goldthorp recounted. "The look on Commander Reed's face when the car turned up was fantastic and I am sure that it was a day that he will never forget. It is great when a car like Chassis 60 is re-united with someone who owned it for so long and appreciates the work that went into the restoration."
Friends and family in the village of Vobster (don't you just love the names of those English towns) had been told that the car was coming back and had kept the fact from Reed.
But when the car arrived they went over to his house to wish him well and examine the Jag.
After champagne had been opened and a birthday cake that had been sent from Bonhams to mark the occasion was cut, Goldthorp took Reed to lunch in the E-Type Jaguar in the nearby village of Mells.
"This was an amazing birthday surprise; I was absolutely flabbergasted," Commander Reed said. "I wanted to see the car once it had been restored but thought that I would have to travel to it at some point. Little did I think that it would be brought to me. I can't thank CMC and Chris Anderson enough. It made my day.
"The car is fantastic and the level of detail and time that CMC have put into it is just fantastic," he continued. "I am sure that it is better now than when it first left the factory."
As for the current owner, he's looking forward to building the same level of attachment to the car as was enjoyed by Commander Reed during his decades with the Jag.
"The car gave Bob many years of fun and happy memories and I am sure that it is going to do the same for me and my wife Ali." Anderson said. "I hope that Bob had a great 83rd birthday."
And who knows…maybe the restored Jag got a kick out of taking one more ride with its original owner as well.