A SHOW Where the Vintage Vehicles PERFORM
This Year, 60 Hand-Picked Cars Went for a Drive on the Show's Indoor Grand Avenue. They Were Part of 700 Vehicles on Hand for Visitors to "Savor."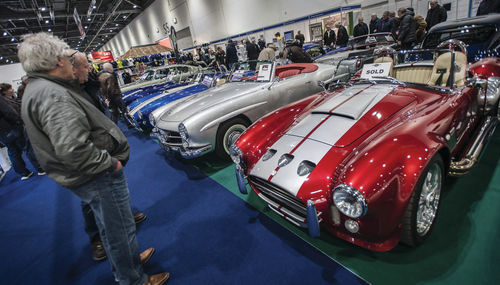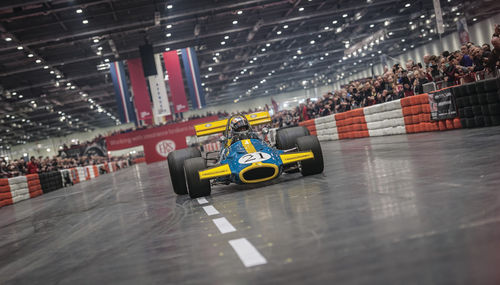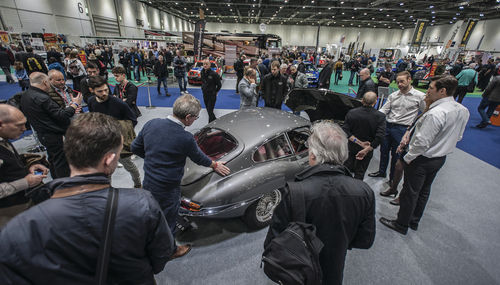 As we all know, walking along the rows of cars and trucks at a vintage event, peering at the interiors and checking out the under-hood displays, makes for an excellent hobby experience.
But wouldn't it be so much better if those gleaming vehicles were to be started up and driven along a roadway so you could see them in motion and listen to them as they start out and gain momentum.
Well, that type of driving event is a regular part of the annual London Classic Car Show that we previewed in the January issue and which took place in mid-February at ExCeL London, an exhibition and convention center.
Here's how show promoters spoke enthusiastically about the driving portion shortly after the show:
"This year's record-breaking London Classic Car Show signed off in dramatic fashion with racing legend Nigel Mansell bringing four days of retro heaven to a fittingly spectacular close.
"The 1992 F1 World Champion wowed Sunday crowds with some dazzling driving displays on the show's central Grand Avenue, a unique quartermile-long highway running through the center of the exhibition hall. Mansell announced his arrival at the capital's premier classic car event with a thrilling wheel-spinning entrance behind the wheel of a Jaguar E-Type inspired Eagle Speedster.
"Later in the day, he returned to drive a scarlet Ferrari 246 Dino front-engined F1 car from the late '50s…"
"I've got to say that I've been pleasantly surprised at just how great this London show is," Mansell commented after his turns on the indoor roadway. "It's always wonderful to see some of my old racing cars and to meet the fans… To drive cars indoors was pretty special, too—I've had a lot of fun and I hope those who came to see me, and the show, enjoyed themselves as much as I did."
Driving on The Grand Avenue wasn't limited to racers and their highperformance vehicles either. Consider this month's cover car, an exacting replica of the Land Rover Centre Steer, a prototype Jeep-like vehicle built in 1947. The prototype's center steer function was designed for use on farms, but when the vehicle went into production the steering wheel was moved to the more-conventional side position. (No one's quite sure what happened to the prototype and vintage vehicle fans continue to search for it. This replica was based on specifications and photographs.)
"No fewer than 60 handpicked classics…were fired up for eye-catching displays on The Grand Avenue," the show's managers said in a statement.
"This year's theme was 'Specials', putting the spotlight on an eye-catching gathering of road and race cars steeped in history and mystique owing to their unique designs and often outlandish performance. Once again, The Grand Avenue enthralled visitors, allowing them to see—and hear—some of their favorite classics in action."
Another Record Turnout
Attendance has grown each year since the show's inaugural event in 2015 and promoters said the current show drew a record 38,500 visitors who "savored close to 700 of the world's finest classic cars on display at ExCeL London. With a combined estimated value of more than $420 million, these ranged from barn-finds and in-progress restorations to unique concepts, concours winners and pure-bred, championship-winning race cars.
"As well as providing a staggering selection of magnificent classic cars for visitors to relish, dealers confirmed considerable interest from buyers with many significant sales," the show statement continued. "Saturday's busy Coys auction also witnessed notable lots coming under the hammer, topped by the sale of a 1984 Ferrari 512BB 'Boxer' for more than $365,000."
Furthermore, the event featured "another popular attraction," the Car Club Square—a hall "dedicated to enthusiasts of popular and affordable classics giving visitors the opportunity to talk to experts and fellow devotees."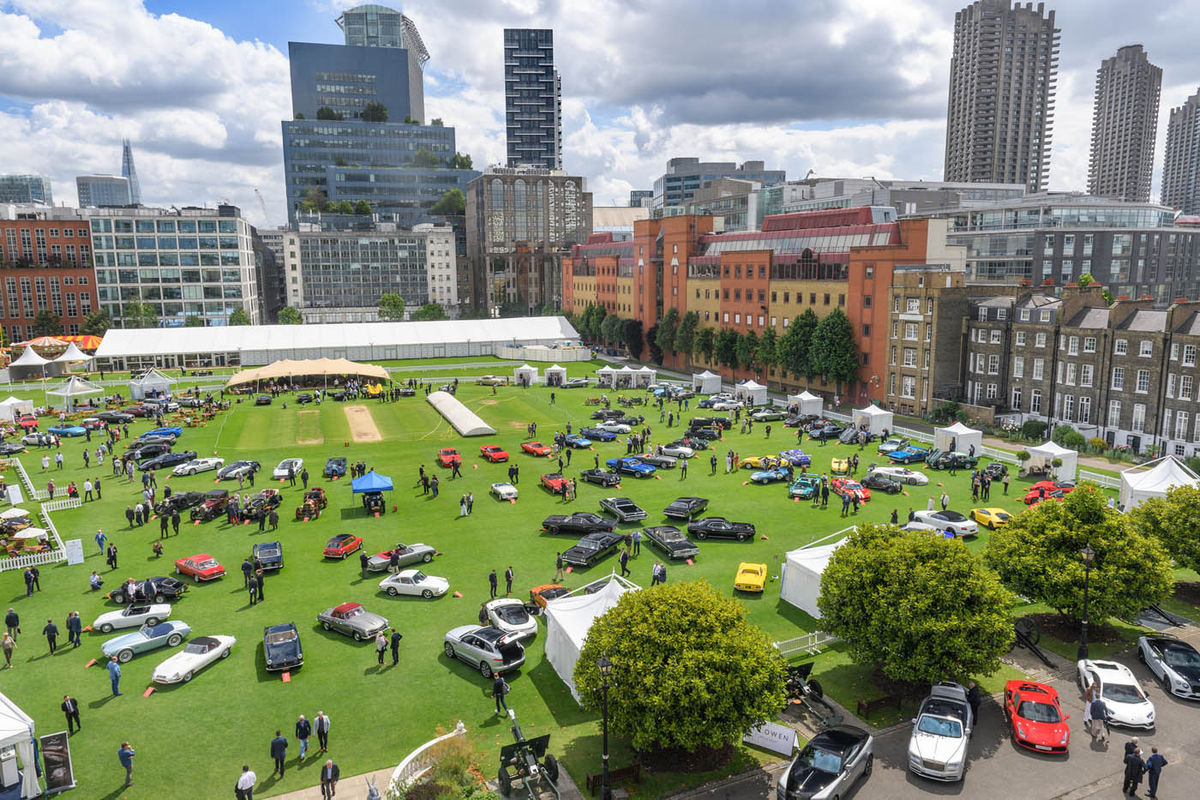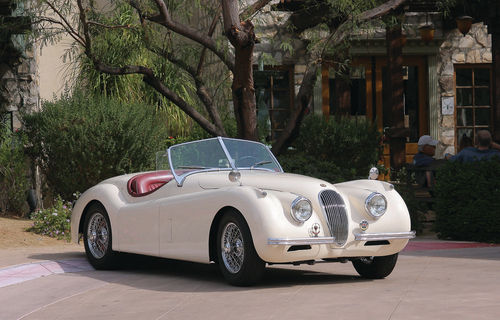 Next Year's Plans In Progress
Commenting on the event, Bas Bungish, Event Director said, "It has been another absolutely fantastic London Classic Car Show. Even so, we are determined to keep building on what we've achieved and are already planning for an even bigger show in 12 months time."
With that in mind, you might want to mark your calendar for next year's show which will be held at ExCeL London on February 14-17.
But First, a "Celebration of Speed"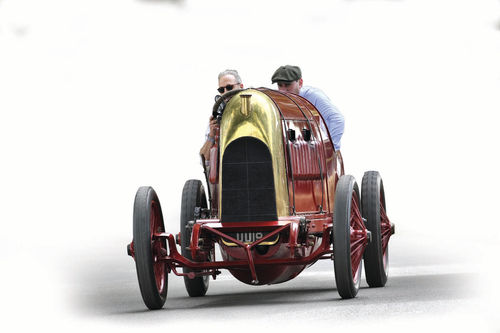 If you find that you can't wait almost a year to attend a London automotive event, you're in luck because The London Concours 2018 is set for June 7 & 8 on "a five-acre oasis of green within the Honourable Artillery Company grounds" (above). Billed as "an outand-out celebration of speed," it brings together "a specially curated selection of more than 80 of the quickest cars ever created, from early 20th Century racers to modern hypercars."
Show promoters announced that "a number of ultra-rare vehicles have already been confirmed to attend, including the Ferrari F50; a flagship of the Ferrari range in the '90s, with a 0-62 mph time of 3.9 seconds and a top speed of 203 mph. But this celebration of speed isn't just about the latest 200-mph-plus supercars. The 1950s Mercedes 300SL Gullwing will be making an appearance, as the fastest road car of its day, alongside the one-time land speed record-holding 1911 Fiat S76, informally known as 'The Beast of Turin'. This 28.5-litre behemoth is capable of 135 mph—not bad for a car over a century old." (By the way, that 28.5-liter engine measurement translates to 1740 cubic inches.)
The Luxury Ingredient
Concours promoters say that while the cars "will be the focal point of the event," this show also is "a destination for luxury, featuring high-end food, champagne, watches and art. A unique 'Investment Conference' will be held on the morning of the London Concours, hosted by experts from renowned classic car specialists, JD Classics. The team will lead a discussion on historic vehicles as a uniquely enjoyable investment…"
Concours tickets go for $50, not bad for a chance to amble among these uncommon vehicles, sample some high-end food and champagne, and then learn more about how the vintage cars and trucks in your garage are "a uniquely enjoyable investment."