Visiting the "New" Petersen Museum
One thing's for certain... its recent renovation has turned it into the most- instantly recognizable auto museum in the world. We're talking about the Petersen Automotive Museum in downtown Los Angeles which has just reopened after what was described by its leadership as an "aggressive" 14-month makeover. And in this case, use of the term "aggressive" is no understatement. The museum, which was founded by auto enthusiast publisher Robert E. Petersen in June 1994 in a former department store building, has developed an entirely new approach. It is now far more upscale in its content and product presentation, and definitely much more dramatic in its exterior appearance.
As you'll recall, we carried a preview article regarding the museum's renovation program in our November 2013 issue shortly before the work began. That article included an artist's rendering of the building's envisioned exterior makeover and its depiction of a flamboyant structure entwined in a web of swirling metal ribbons was true to what the museum has become.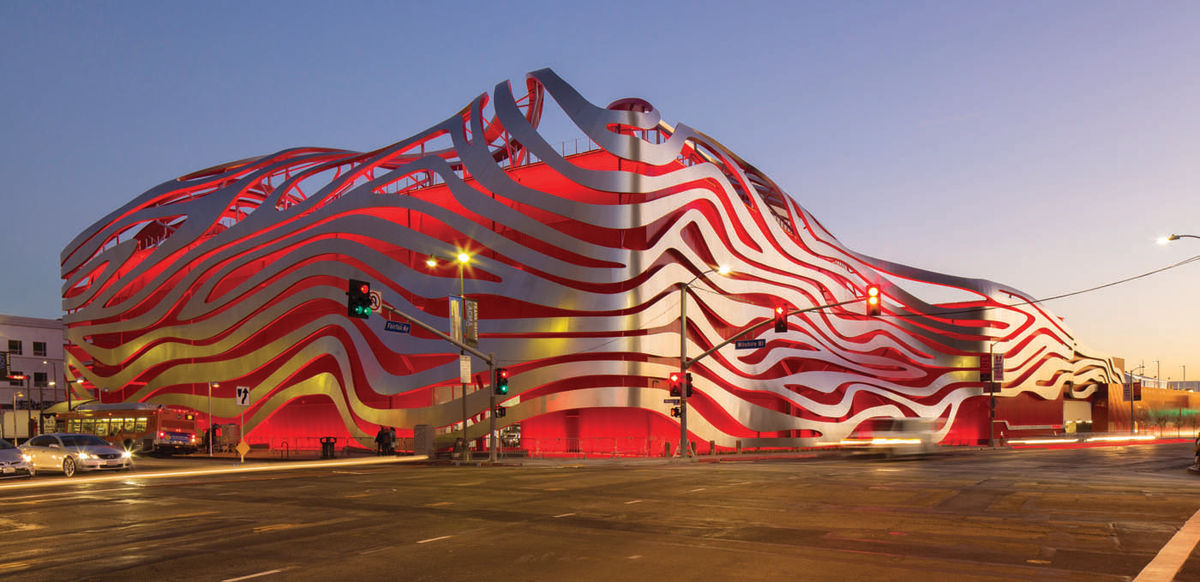 You're Gonna Really Like the New Look, Or...
Take a look at the museum's exterior as it's presented here and don't be surprised if you need a moment or two to discern the rather average-looking, square-shaped building that has now been, as a museum news release put it, "shrouded...with ribbons of stainless steel."
Or as museum Executive Director Terry Karges said, "We have transformed a building that was once an old department store into one of the most groundbreaking structures in Los Angeles."
That transformation called for design work involving 3-D CAD software, 100 tons of 14-gauge type-304 stainless steel with "a proprietary 'angel hair' finish" along with 35 tons of textured aluminum coated with "Hot Rod Red" (Pantone 187C) Duranar paint. To hold everything together, some 140,000 custom-designed stainless steel screws were fabricated specifically for this project "to imitate the appearance of early 20th Century automobile fasteners," the museum said. Some 25 vertical tubular steel supports were needed to hold the metal ribbons in place and in the end, 308 ribbon sections "each completely unique, were assembled to form a single unified structure."
To top off the building's uncommon look, 866 computer- controlled LED fixtures light the building and the ribbons "during the day and at night" to create "a dramatic exterior statement."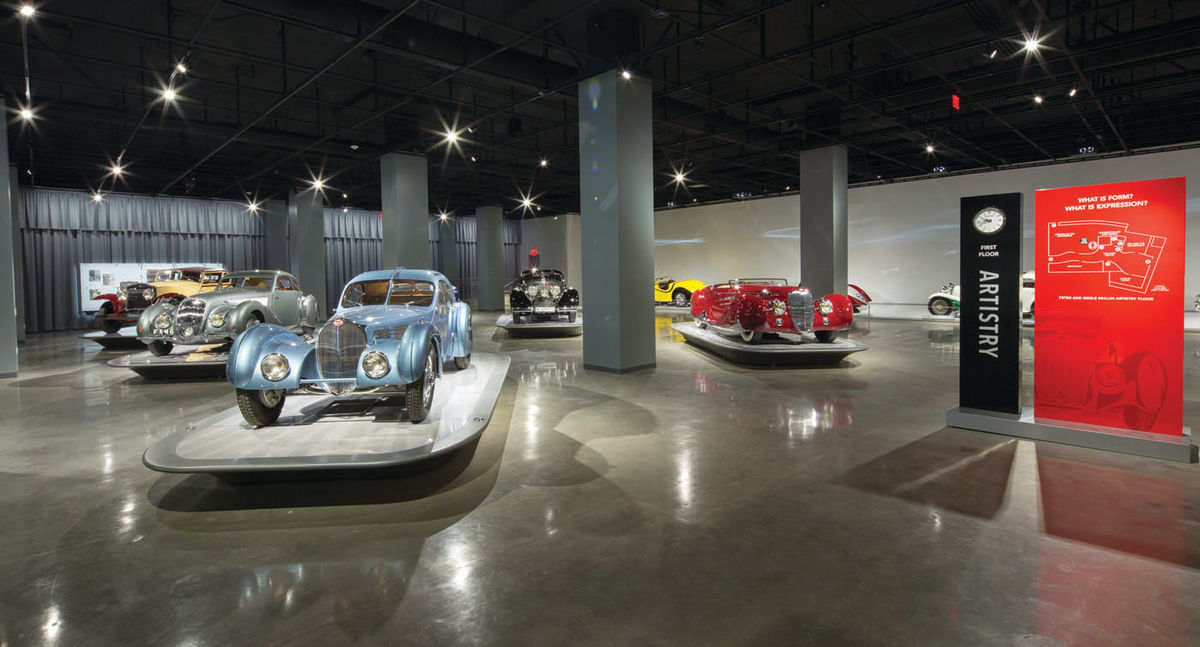 Time to Head Inside...
"What's inside is just as stunning," continued museum executive Karges, "including a three-story spiral staircase that transports visitors through 25 galleries representing the history, industry and artistry of the automobile." (That spiral staircase, by the way, includes 67 steps and took 21 tons of steel and 12,000 labor-hours from drafting through installation to complete.)
Now that we've gone indoors, let's take a virtual tour of the facility courtesy of the museum's descriptive materials:
The "new Petersen Automotive Museum," located at 6060 Wilshire Boulevard at Fairfax on L.A.'s "Museum Row," now has three full floors of content with 95,000 square feet of exhibit space. Relocating offices from the third floor to the building's lower level opened up 12,040 square feet of space for exhibits.
Guests enter through the parking structure off Fairfax or the new entrance on Wilshire. Once they purchase tickets, they take an elevator to the third floor, "where the experience begins."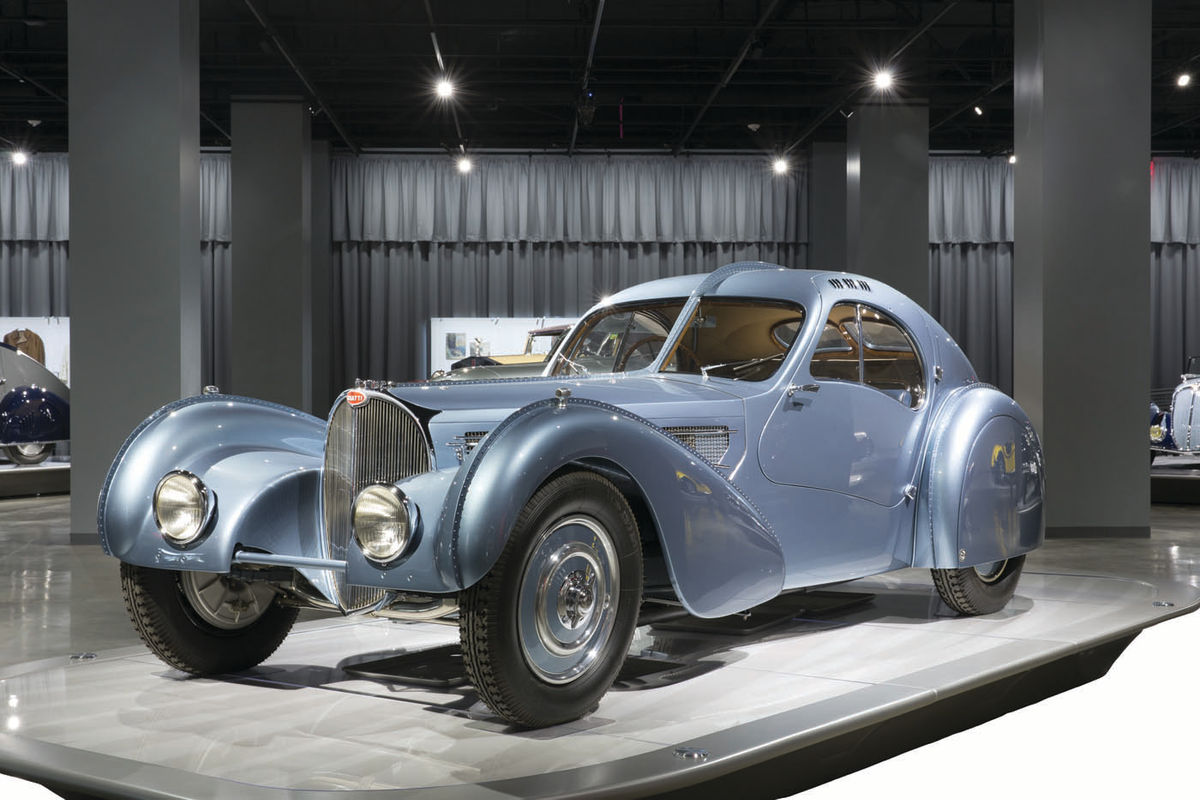 The History Floor (third) will get visitors started with their exploration of the multi-faceted history of the automobile. "Concept Cars as Art" shows how the future of transportation was perceived in the 1950s and '60s, while the Hollywood Gallery includes the Batmobile, the Magnum P.I. Ferrari, several vehicles from Spectre—the latest James Bond movie, and others. Also on the third floor is the exhibit "Southern California: A Region in Motion" which uses interactive video content to show how Los Angeles grew over the years.
Precious Metal & Lightning McQueen
Heading down to the second level, called the Industry Floor, visitors can see some extremely exotic vehicles, gain insight into what it's like to work in the car industry, and get a close-up look at one of the best-known automotive characters from an animated movie. The second floor houses what the museum calls one of its visually stunning displays...the Precious Metal exhibit. It's a gathering of some of "the world's rarest and most exotic cars— all finished in silver." A few examples of what you'll see in this gallery are a 1995 McLaren F1, the 1959 Chevrolet Corvette XP-87 Stingray designed, driven and raced by GM President of Design Bill Mitchell, the 1964 Aston Martin DB5 driven by James Bond in the movie "Goldfinger," a 1953 Fiat 8V Supersonic by Ghia, a 1967 Ferrari 625/250 Testa Rossa by Scaglietti known as one of the most winning Ferraris of its time, and a 1954 Mercedes- Benz W196 Streamliner driven by Juan- Manuel Fangio and Stirling Moss.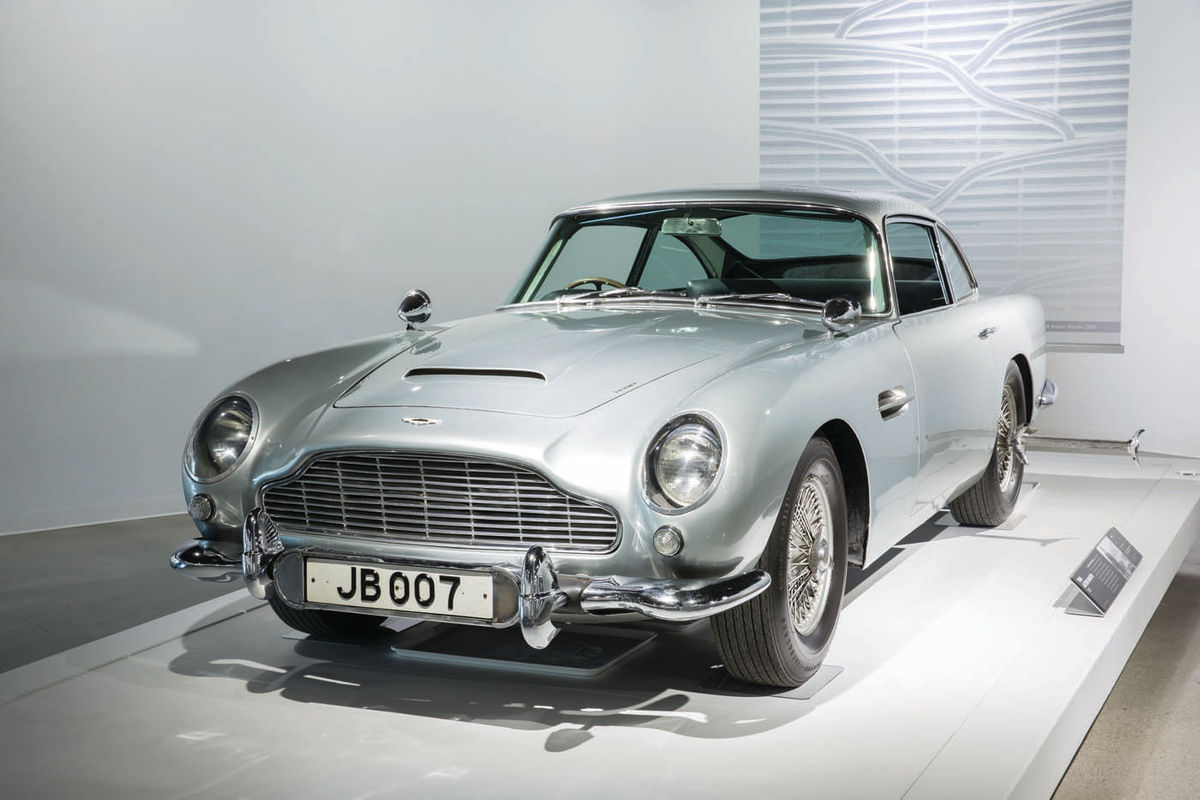 As for the animated movie stars, the Pixar Cars Mechanical Institute features a life-size Lightning McQueen from the Disney movie "Cars," and uses reality technology to teach children how cars work; starring their favorite "Cars" characters on Carspad tablets. Moving on to the Art Center College of Design Studio in the Mullin Design Gallery, visitors can watch students from the school's design program sketch and mold the next generation of transportation.
The Industry Professionals exhibit features filmed interviews with engineers, designers, marketers and executives who take cars from design to reality—all hosted in their talks by Jay Leno.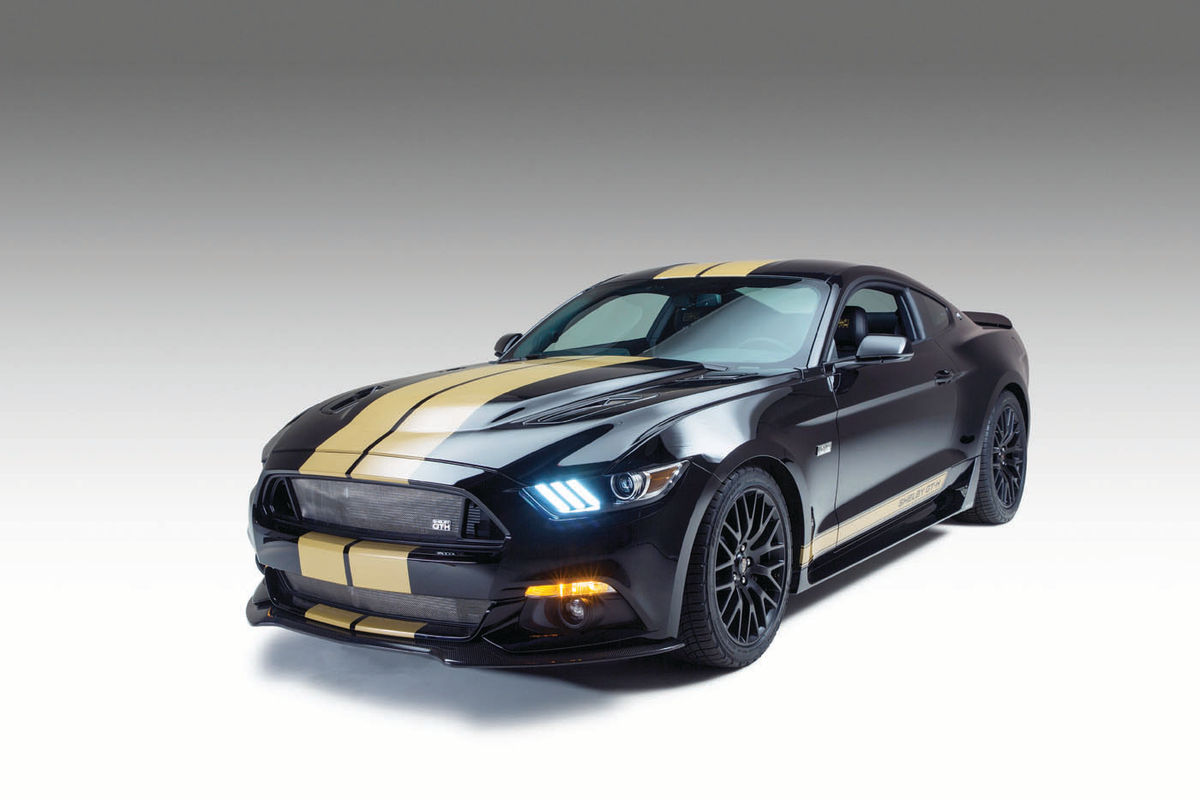 The Alternative Power exhibit showcases the history and future of alternative fuel vehicles—from early 20th century steam and electric cars to the latest in hybrid, CNG and fuel cell technology.
The Production Gallery presented by Maserati features "Made in Italy: Design to Line," an exhibit showcasing how a production luxury car goes from rendering to model to finished vehicle.
Continue down the hall and visit the High Performance Road Cars exhibit presented by Ford Motor Co. It honors the 50th anniversary of Ford's win at LeMans with the museum's GT40 MkIII racer alongside the all-new Ford GT supercar.
From there, racing fans can continue into the Motorsports exhibit featuring some of the fastest race cars of all time,
backed by a 134-foot, 180-degree projection wall with the sights and sounds of these cars on the track. Directly behind the Motorsports exhibit is the Forza Motorsport Racing Experience, where fans can get behind the wheel of a variety of vehicles and try their hand at racing on driving rigs running the latest version of Microsoft's racing simulator. And since this is the Petersen museum after all, the second floor houses the Hot Rod Gallery, an exhibit dedicated to Robert E. Petersen and Hot Rod Magazine, his first publication and the start of his enthusiast publishing business. Along with cars featured in the magazine over the years, the gallery has artifacts from Petersen's life as well.
Cars As (Very Valuable) Art
One last trip downstairs to the first floor and visitors will enter the Peter and Merle Mullin Artistry Floor, housing what the museum calls some of "the most artfully designed vehicles from history, often regarded as rolling sculpture."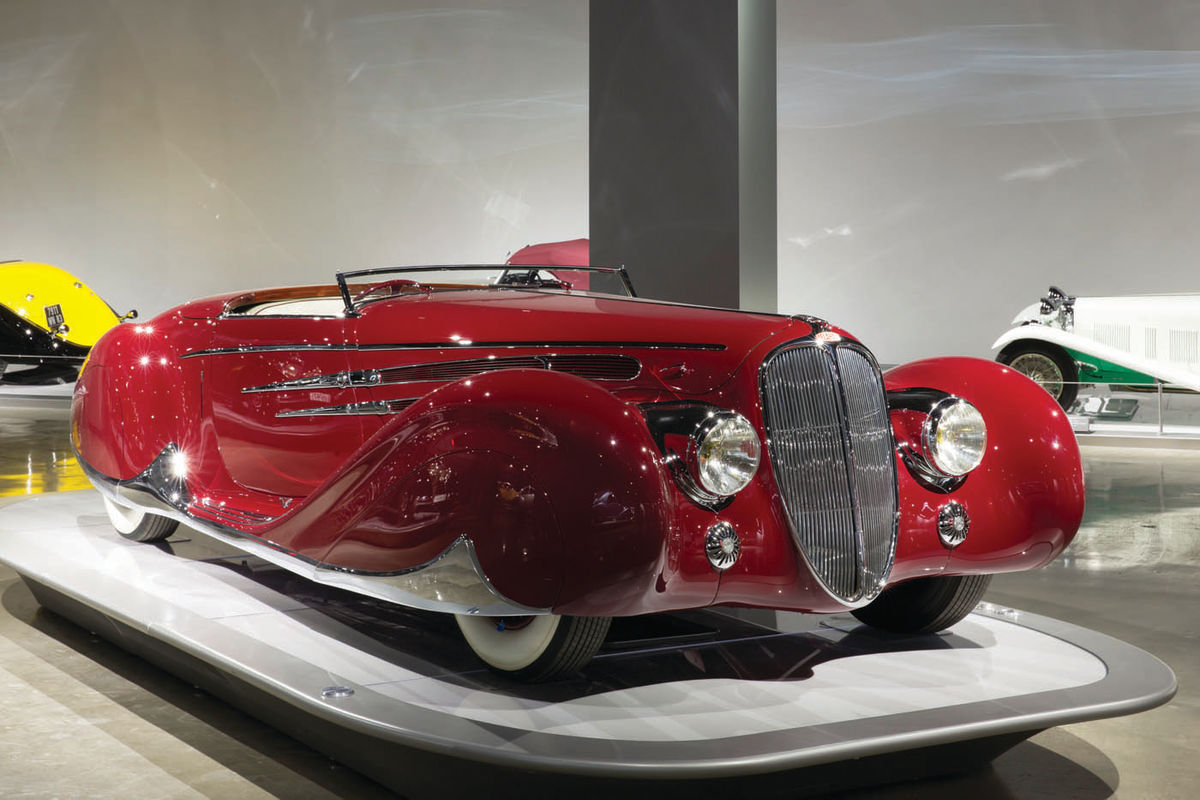 Here you'll find coachbuilt cars of the art deco era, such as the 1936 Type 57sc Bugatti Atlantic coupe seen on the cover. One of only two such cars built with a supercharger, it has been valued at around $40 million. Others include a 1938 Talbot-Lago, a bright red teardrop- shaped 1939 Delahaye Type 165 and a bright yellow 1934 Voisin C27 roadster.
Into the Vault
Actually, there is one more floor in the museum—the basement, which is better known as the Vault. Visiting it as part of a private tour led by a guide is optional at extra cost after you buy your regular admission, but it's something you very well might want to consider.
Museum executive Terry Karges spoke to this as well, saying:
"The Petersen is home to over 400 vehicles, some part of the permanent collection and many more on loan from private collectors, museums and manufacturers around the world. We only have room for 135 cars on display in the museum. That leaves over 300 vehicles...all with incredible stories that need telling. Our new Vault experience will take visitors on private tours led by gifted storytellers, where they can walk the aisles and see 125 of the best cars from the collection in our secure underground facility. It's quite an experience."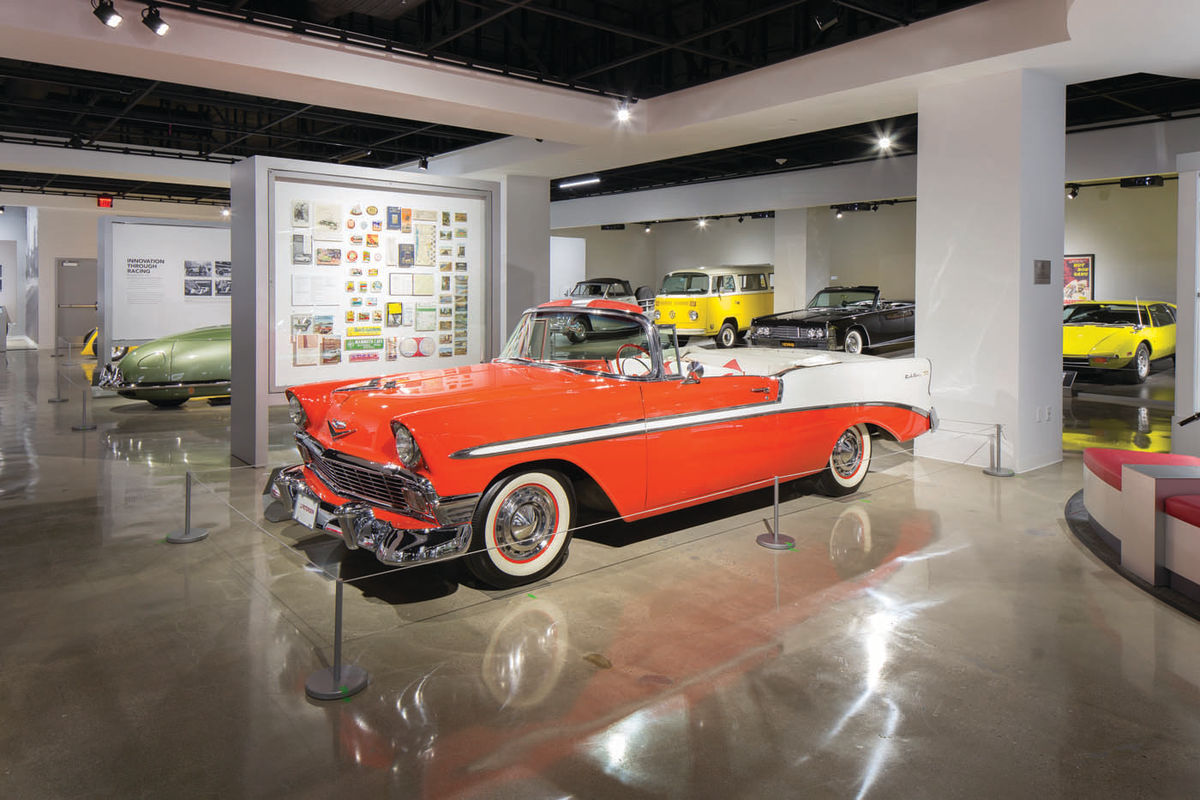 Featured Vault cars include a 1952 Hudson Wasp originally owned by actor Steve McQueen, a 24-karat gold- plated DeLorean, several head-of-state cars including President Eisenhower's Chrysler Imperial and a gathering of "America's Most Beautiful Roadster" award winners.
Vault tour admission is $20 and as noted above, it must be purchased with a general admission ticket. Those under 13 are not permitted in the Vault.
For more about the museum, visit www.petersen.org.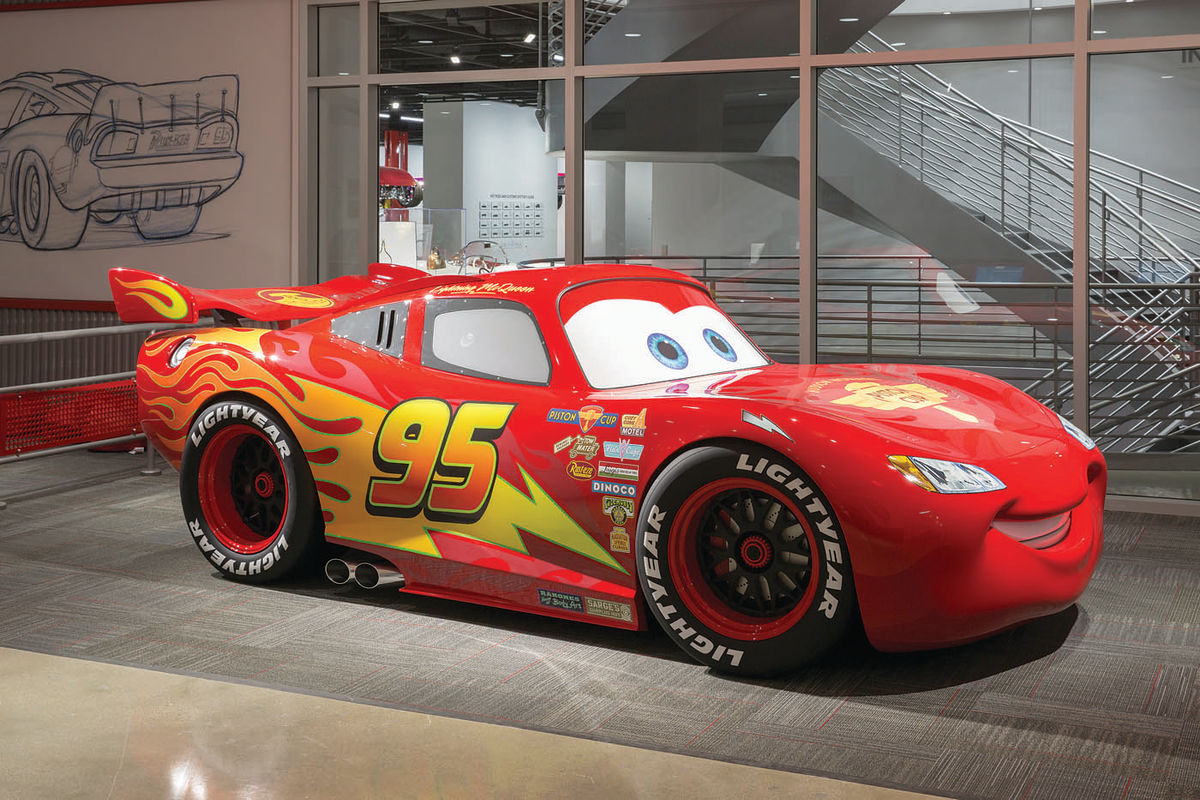 If You Plan on Visiting
We're heading into the summer vacation time of year, so if you're planning on a trip to Southern California, give some thought to adding the Petersen to your itinerary. And if you live in the area, we're told that displays will be changed from time to time to encourage repeat visits.
And to anyone who will be driving on Wilshire, trying to spot the new Petersen for the first time... No doubt in the past you've been given directions to a certain destination and the person ended by saying, "Trust me, you can't miss it." This time, they'd be telling the truth.