When a Gull-Wing Stainless Steel Car Isn't Enough
What Do You Get When You Mix a Computer Engineer With Several DeLoreans? Let Your Imagination Wander For a While.
Editor's note: For our Silver Anniversary issue we felt it was only fitting to feature a silver car, and what could be more representative of the breed than a stainless steel DeLorean DMC-12. Or better still, several of them.
R I C H WEISSENSEL HAS actually restored several of the two dozen DeLorean DMC-12s that he has owned over the years. But today he likes to play the role of sorcerer, turning the stainless steel gull-wing classics into things they are not. To be honest, the motoring Merlin hasn't tried converting cars into frogs, toads or unicorns. He has, however, come up with creations that are almost as, shall we say, uncommon. By way of explanation, consider that his fleet includes DeLorean-based monster trucks, limousines and hovercrafts.
It Started With a Boom In the Computer Business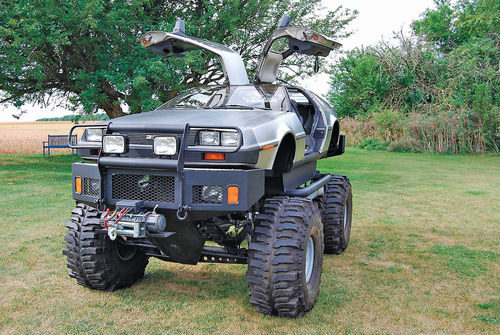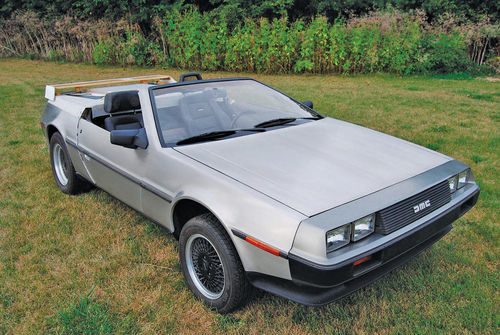 "Blame it on the Y2K thing," the computer software engineer from Illinois said. "As the New Millennium approached, everyone in the United States was certain that their computer was going to crash, so people were buying new computers like crazy. I wound up with a lot of extra money and I invested it in the things I loved and my favorite investment was a DeLorean. I even had the money to realize my dream of making unique versions of the DeLorean."
Weissensel says that he first fell in love with the DeLorean prototype while in grammar school. That was the car that appeared on the covers of dozens of enthusiast magazines back in 1977. Prototype 1 had a stainless frame, mid-mounted engine, air bags and a tire pressure monitoring system long before Detroit adopted such features. Today, the prototype DeLorean belongs to Tony Lerardi of Florida (dmcflorida.com). According to Lerardi, Hagerty Insurance has issued an agreed value policy that values Prototype 1 at $500,000.
The production DMC12 model was supposed to hit the market in 1979, but technical issues and cost overruns delayed actual manufacturing until early in 1981. By that time, Rich Weissensel was in high school. In 1982, production quality improved, but other problems, such as running short of cash, much of which was supplied by the British and Irish governments, arose and the factory ultimately closed. (We won't get into the problems with federal authorities that were encountered by the car's namesake, engineer and auto exec John Z. DeLorean. That's a long and convoluted story in itself.)
From a Corvette to a Porsche to a DeLorean
Even in high school, Weissensel was a car enthusiast. He watched drag races at Oswego, Illinois, and purchased a '58 Corvette drag car shell — that had been raced at Oswego — to rebuild into a racing car. Rich also was a Porsche fan before he got the DeLorean bug. Today he owns a couple of DeLoreans that are "pretty much" original, but he also has his custom jobs including a convertible and a fiberglass replica of the flying DeLorean from the "Back to the Future" movies.
No Originals Have Been Harmed In the Making Of…
Weissensel met John DeLorean at a car club dinner and showed him sketches of the convertible and limousine. "Follow your dreams," he said the onetime automaker told him. From that point on, Weissensel—the Car Show Director and Car Events Director for the DeLorean Midwest Connection Car Club (deloreanmidwest.com) started off on his mission. (One important aspect of that mission is that he decided to use only collision- or fire-damaged DeLoreans in building his projects and to respect original cars.)
Weissensel works in Chicago and keeps the cars around 100 miles from the Windy City on a farm south of Kankakee, Illinois. Due to the distance, he doesn't get to work on them as much as he'd like to. "This is my hobby," he said. "It's something for me to work on and enjoy when I have time on the weekends."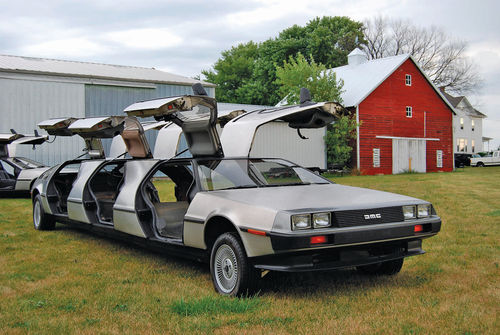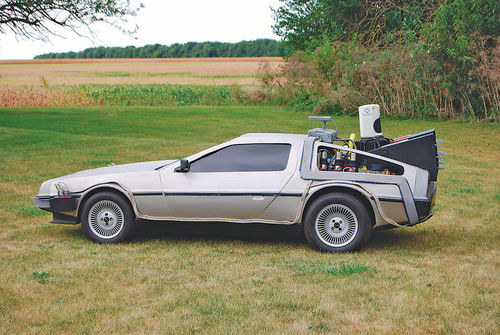 A Monster Of a Beginning
The DeLorean monster truck was built first. A Texas enthusiast actually started it, and Weissensel turned it into what it is today—a DeLorean body on a K-5 Chevy Blazer chassis with a mildly modified Chevy 350 V-8, a lift kit and other 4x4 upgrades.
"To get into the truck you have to step up on the tire cleats and use them as steps," Weissensel explained. This DeLorean body had been damaged to the point that only the left front fender escaped injury. "Strangely enough, that is the panel that usually gets damaged first in a typical DeLorean crash," Weissensel pointed out.
As you might expect, vehicles such as this quickly draw attention and Weissensel's DeLorean monster truck was even used in the making of a TV show pilot. Furthermore, he and some DeLorean club friends who help him build his creations have also participated in the building of a replica Ford Pantera monster truck for TV's "Monster Garage." Weissensel has appeared on that cable TV show several times. In addition to getting his cars screen time, he also rents them out for corporate events.
A Convertible Based On a True Story
The convertible—which is currently in the process of being redone—is based on a ragtop that DeLorean Motor Car Co. planned to build if they sold as many cars as they originally expected to build. Both the convertible and the hovercraft were built in 2002.
"Both of those vehicles are undergoing a version 2.0 refreshing and the convertible is ahead," says Weissensel in typical computer speak.
Weissensel and all his helpers can probably fit into the six-door DeLorean limousine. He has been working on the super-stretched DeLorean for about 12 years. It has a frame that's been beefed up to handle the extra length and weight of the vehicle. As for the stainless steel body panels, Weissensel says they are much lighter in weight than most people think. It is a fairly easy job to lift up and hold an entire front fender as long as you avoid its sharp edges.
Longing for That Rural Life… With Customized DeLoreans
Meeting John DeLorean added excitement to Weissensel's interest in the former GM executive's cars, and he has studied the life and career of the man who made an automotive dream come true—at least for a few short years. He keeps in touch with the automaker's daughter who he says loves the monster truck. Like DeLorean, Weissensel has a generous measure of energy himself.
He's quick to dream up ideas…and quick to remind himself that he already has a half-dozen dreams cooking.
Weissensel says he sometimes lets the pressure of his busy life vent by driving the monster truck. We watched as he climbed up on the tire, jumped into the bucket seat, pulled the gull-wing door closed and drove off over the rolling hills with the exhaust bellowing, strobe lights flashing and the stiff suspension bouncing high.
In this case, at least, it was obvious that customized cars, trucks and limousines can certainly add to the enjoyment of weekends down on the farm.