Gas Crunch Cruisers, Pt. 3
In the first part of this series, we talked about 10 small domestic vintage cars that, given current gaso-
line prices, you might want to consider as your next project vehicle.
In Part 2 (November), we talked about 10 big American collector cars that gave an average "best" economy of around 25.5 mpg. Not bad when you consider the difference between cramming into a small Crosley (46 mpg) and running around in a roomy Rambler Six (32 mpg).
This month, we're going to swing back in size and look at vintage imports. There are dozens of automakers and hundreds of different models in this category, and we could probably spend 100 years breaking out each car, researching its gas mileage and listing them in order so we could pick the top 10 in miles-per-gallon.
A top-10 list is not our intent however. After all, such a list might end up with 10 different Fiats (eight of which you'll never see in your lifetime) on top.
And even if we tracked each car and checked its gas mileage in various books and articles, someone no doubt could challenge us with a real-world experience that differs from the printed word. The reason is, automakers have been known to stretch the truth about how far cars would go on a drop of gas and writers have believed them.
Here's an example: When I drive my MG TD in the summer and stop to fill the fuel tank, without fail someone will say, "A little car like that must get good gas mileage." Now, if you read period road tests like Motor Trend's "sports trial" of a TD MKII (with larger S.U. carburetors than a standard TD), you'll see fuel consumption listed as 29.8 mpg at a steady 45 mph.
That sounds good, but last year the New England MG T Register published the story of a man who drove a restored TD thousands of miles across the United States and kept meticulous records. His engine was rebuilt to higher, modern standards, and his car had the smaller, more economical carbs...yet he averaged 21 mpg.
So the point we're making is that even the most carefully researched fuel economy numbers are really only theoretical guideposts for hobbyists.
Collectible and Efficient
So, while we are going to be somewhat guided in our selections by published economy ratings, our real goal is two-pronged. First, we want to select small imported cars that give great fuel mileage. The MG TD, though it is a true "Midget" car and we love it dearly, isn't going to cut the mustard there. The second part of our goal is to pick vehicles that are great "collector cars" as well and may lead you to consider something that hasn't been on your "must have" list up to this point. Making a list of the 10 ultimate gas sippers and filling it with cars you'll never see, never drive and most likely never have a chance to buy, does the hobbyist little good.
For instance, the fuel economy rating of the VW Beetle is 35 mpg, while the similar-looking German-built Champion is a 39-mpg car. If you are seeking an economical collector car, would you rather own a Beetle that has club support and parts vendors to help keep it running or the more gas-miserly Champion that may be out of service all season if a water pump breaks?
Following this criteria of fuel-economy-balanced-with-collectability, here are our picks for 10 imports we'd recommend to collectors.
1961-68 Amphicar: "Anyone who can drive an automobile can operate an Amphicar either as a car or boat," said the makers of this sporty little machine.
The West German scientists and engineers who developed this car claimed 15 years and $25 million were needed to develop it. The manufacturer was IWK (Industrie Werke Karisruhe), owned by the Quandt Group. The Amphicar Corp. of New York marketed the vehicle.
Its first public appearance was at the International Automobile Show in New York on April 1, 1961. It was billed as "the sports car that swims" and the electrically-welded steel body was guaranteed to float. The car had seating for four people and carried Coast Guardapproved navigation lights and other seagoing equipment.
Standard Motor Co. of England provided the rear-mounted, 43-hp fourcylinder engine. Features included a heater and defroster, a four-speed transmission, a spare tire, turn indicators, twin wipers, a safety glass windshield, doubleacting telescopic shocks, waterproof upholstery (logical, very logical), an outside mirror, a cigar lighter and a tool kit.
The Amphicar was priced at $3395 and about 800 were made in 1961-68. In actual road tests its top land speed was 65-76 mph. It got 32 mpg on land and used about 1.5 gallons of gas per hour in the water.
For years, Amphicars were curiosities. Then about five years ago, prices began to zoom due to their rarity. In 2006, a record price of $124,200 was paid for an Ampihicar. Cheap Amphicars are no longer around, but a good one at a fair price is likely to be a good investment—and think how much you'll save by selling your boat and using your Amphicar instead.
Amphicar Club: International Amphicar Club, P.O. Box 760, Burlington, KY 41005; .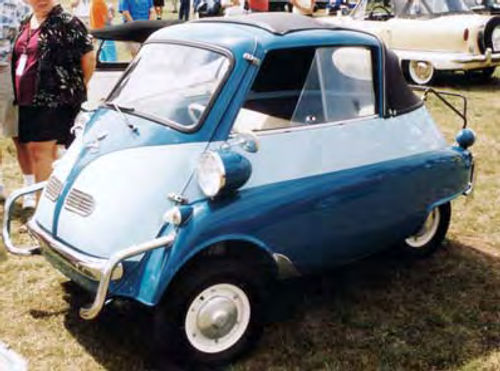 1955-62 BMW Isetta: After World War II, refrigerator maker Renzo Rivolta marketed scooters, motorcycles and 3-wheel trucks. His Iso Works then designed a mini car that bowed at the 1953 Turin Auto Show.
The Isetta or "little Iso" was a mere 41⁄2 ft. wide and 71⁄2 ft. long with a single front door. Its two-cylinder, two-stroke engine was good for 45 mph and 50 mpg. When three Isettas finished 1-2-3 on the index of performance at the Millie Miglia, BMW took note. Iso licensed the Isetta to BMW in 1955.
The first BMW version was re-engineered and given a 247-cc, 13-hp, one-cylinder, four-stroke BMW motorcycle engine. Later, a Coupe Deluxe with sliding windows and a 298-cc engine was exported.
BMW was not the only firm licensed to build Isettas. They were sold all over the world under various names. BMW later offered the 600, which shared the Isetta's front door and had a 600-cc motorcycle engine.
Also offered late in the game was the 700, a more car-like version with a larger motorcycle engine. BMW stopped making Isettas in 1962, after building 136,367, of which about 8500 came to America. This does not include the cars made by other licensees.
These cars are very popular with collectors, are bound to draw looks from the curious and show up at even the most prestigious concours. (For more on the BMW Isetta, see the February 2007 issue.)
BMW 700 Club: BMW 700 Owners Society, 1180 Hollenback Ave., Sunny-
vale, CA 94087. A helpful club for Isetta Owners: Microcar and Minicar Club, P.O. Box 43137, Upper Montclair, NJ 07043; .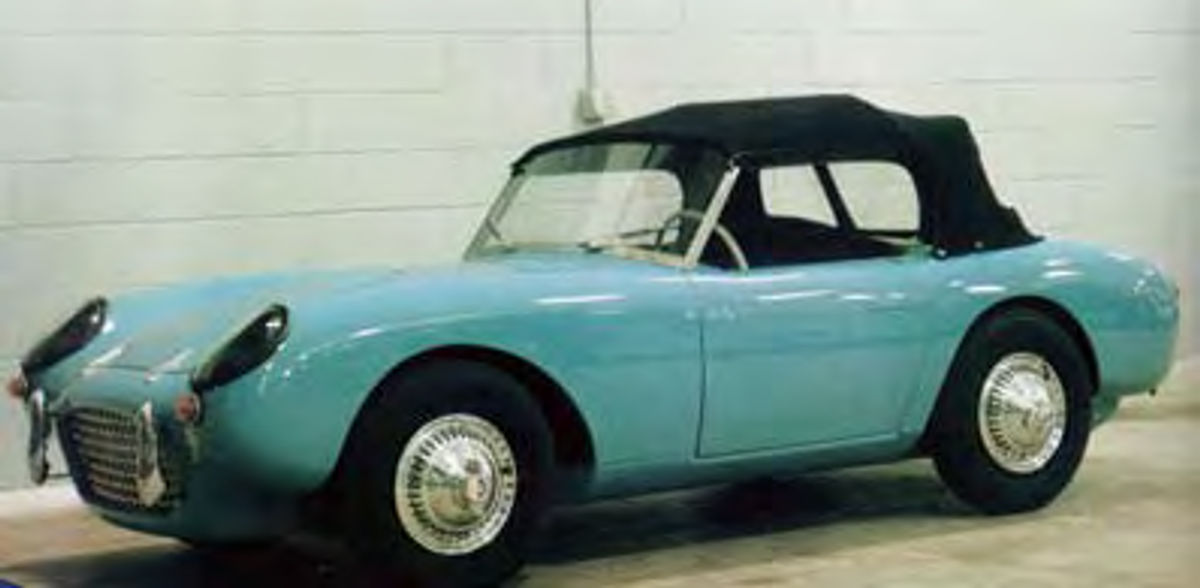 1956-80 Berkeley 328: Created by Lawrence Bond, designer of the 1949 Bond minicar, this sports car took the concept down to its tiniest dimensions. Bond's aim was a sporty car that was cheap to buy and run, but spirited enough to appeal to enthusiasts. He did his work at the request of Charles Panter of the Berkeley Coachwork Company, Ltd., an English builder of house trailers.
The car was made of molded fiberglass with aluminum bulkheads and three crossmembers. A steel sub-frame was provided for drivetrain and suspension components.
The Berkeley bowed at the 1956 London Motor Show. The 616-lb. roadster sold for $1600 in the U.S. Only 3000 were made between 1956 and 1960.
During its first two years on the market, the Berkeley 328 came with either a transverse 15-hp Anzani or 18-hp Excelsior Talisman twin. Both were vertical, air-cooled, two-cylinder engines. The transmission was a three-speed, motorcycle-type with chain drive to a three-plate disc clutch. The wheelbase was 70 in., overall length was 123 in., the height was 41 in. and it was only 50 in. wide. The tread width was 44 in. front and rear. Michelin 5.20 x 12 tires were standard.
Although cars sold in England switched over to a larger three-cylinder engine during 1957, two-cylinder Berkeleys with Excelsior engines were shipped to the U.S. after that. A top speed of 6070 mph was claimed, and reports said it could move from a standstill to 50 mph in about 30 seconds, which wouldn't make them highly recommended for travel on busy freeways. Claimed fuel economy was 60 mpg.
Berkeleys are pretty rare and this gives them collector appeal. Growing interest in vintage racing has helped make them more popular, as they make a very affordable racing car.
Berkeley Club: The Berkeley Newsletter, P.O. Box 1162282, Austin, TX 78716; .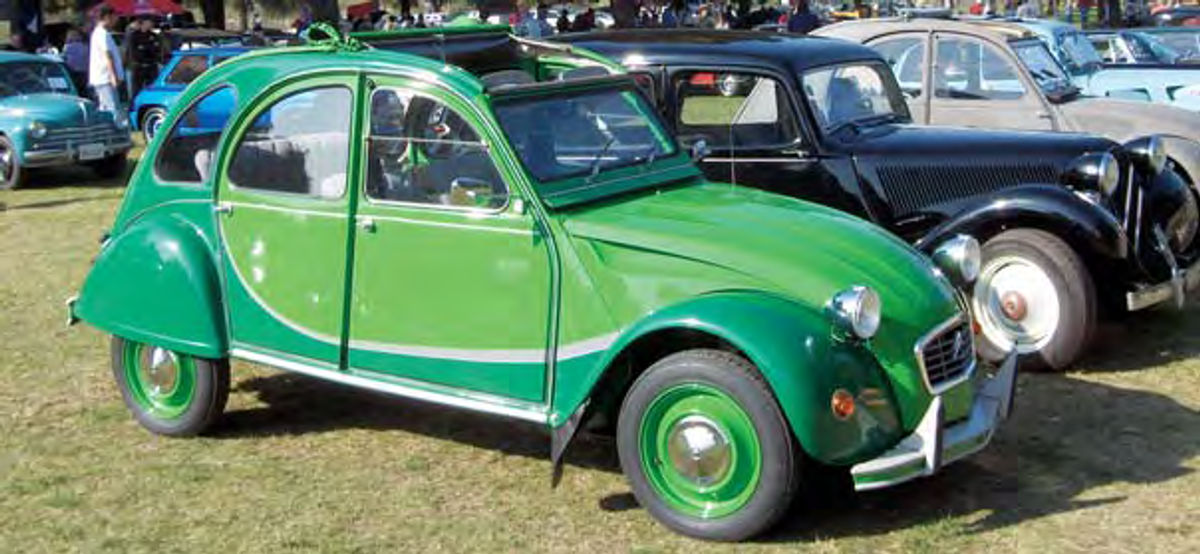 1948-84 Citroen 2CV: The long-lasting Citroen 2CV, created by Pierre Boulanger, was introduced at the 1948 Paris Auto Show. The lightweight, arch-shaped French car was an affordable and economical "people's car."
A 375-cc, 9-hp horizontally-opposed two-cylinder, air-cooled engine gave the Citroen a 40-mph top speed. An oval ornament on the grille of the one-piece bonnet characterized early cars. In 1954, the hood lost its ornaments, but the trademark Citroen chevron remained and the speedometer was illuminated. A new 425-cc, 12-hp AZ model arrived in 1955.
In 1957, the steering wheel, formerly black, turned gray, the backlight was larger and a new AZL model was introduced. Aluminum strips were added on the hood and under the doors. Popular Mechanics' "1957 Cars Fact Book" noted that buyers in France had to wait two years to get a 2CV. It also noted that the seats could be removed and used for beach chairs.
Soon after came the AZLM, which is an AZL with a trunk. A four-wheel-drive Sahara model with a second engine to drive the rear wheels came next. In 1959, the 2CV actually got a heater. This was the first year that the 2CV was brought into the U.S., where it sold for $1298. The tire size changed in 1960, followed by revisions to the hood and grille in '61.
With other small changes and added models, the 2CV stayed in production a long time. Power increased to 18 hp in mid-1968. In 1970, "modern" 12-volt electrics were adopted. There was also a new Berline 2CV4 with a 435-cc, 26-hp V4 capable of 65 mph and a 602-cc, 33hp version with a 70 mph top speed.
Like many cars, by 1975 the 2CV had square headlights and a plastic grille. The five millionth 2CV was made in 1976, when the limited-edition Spot model was introduced. There were a variety of engine changes in the late '70s, along with the discontinuation of some models. A new 602-cc was used in the 1980 Citroen 2CV Special.
The new 2CV Charleston was introduced in 1981. Front disc brakes were added in 1983. The white 2CV with blue stripes called France 3 came out in 1984. There were then no major changes until the last car was produced in the month of July in a plant in Portugal.
The early '50s Citroen 2CVs were said to give 35 mpg in city driving and up to 50 mpg on the highway.
Citroen Club: Citroën Car Club of North America, P.O. Box 655, Inwood, WV 25428; .

1936-55 Fiat 500 Topolino: Known as "The Little Mouse," the concept for the Topolino dated back to the teens. In 1934, Fiat boss Senator Agnelli, decided that Italians needed a "people's car." After setting a price and basic specs, mechanical designer Dante Giocosa and body engineer Rudolfo Schaffer took over.
The chassis and body were joined to produce a durable little car, priced at 8000 lire (a bit over target), that remained in production from 1936 to 1948.
The first type, retroactively labeled the 500A, had a long-lasting, two-main bearing, 569-cc, four-cylinder engine with two valves per cylinder mounted up front. It did 53 mph and averaged 46.8 mpg.
The 500B, built in 1948 and '49, had a new, 569-cc overhead-valve engine. This Topolino was introduced at the 1948 Geneva show. There was a new hood and some differences in mechanical details. Average fuel economy rose to 56 mpg, and 59 mph was tops.
The 1949-55 Topolino 500C had an all-new body with a spare wheel compartment. Mechanical and heating system upgrades were made, but performance and gas mileage were unchanged. Many Topolinos were cut up to make dragsters so they are hard to find, and restored examples are getting pricey.
A helpful club for Topolino owners: Microcar and Minicar Club, P.O. Box 43137, Upper Montclair, NJ 07043; 973366-1410.
1953-55 Lloyd LP 400: This air cooled Lloyd was built by an affiliate of Borgward and had the smallest displacement engine of the entire postwar German car industry. It was a 23.54cid, 13-hp, two-stroke, twin-cylinder job, but it could accelerate the 1150-lb. car to 47 mph while delivering 42 mpg. The front-mounted, vertical engine permitted a low center of gravity and kept the weight down. The Lloyd LP 400 two door sedan had a 78-in. wheelbase and 1341⁄2-inch overall length.
The Lloyd is an oddity with a club, which adds to their collectability: Lloyd Friends in the U.S. Registry, 3205 Sherrill Road, Minooka, IL 60447; .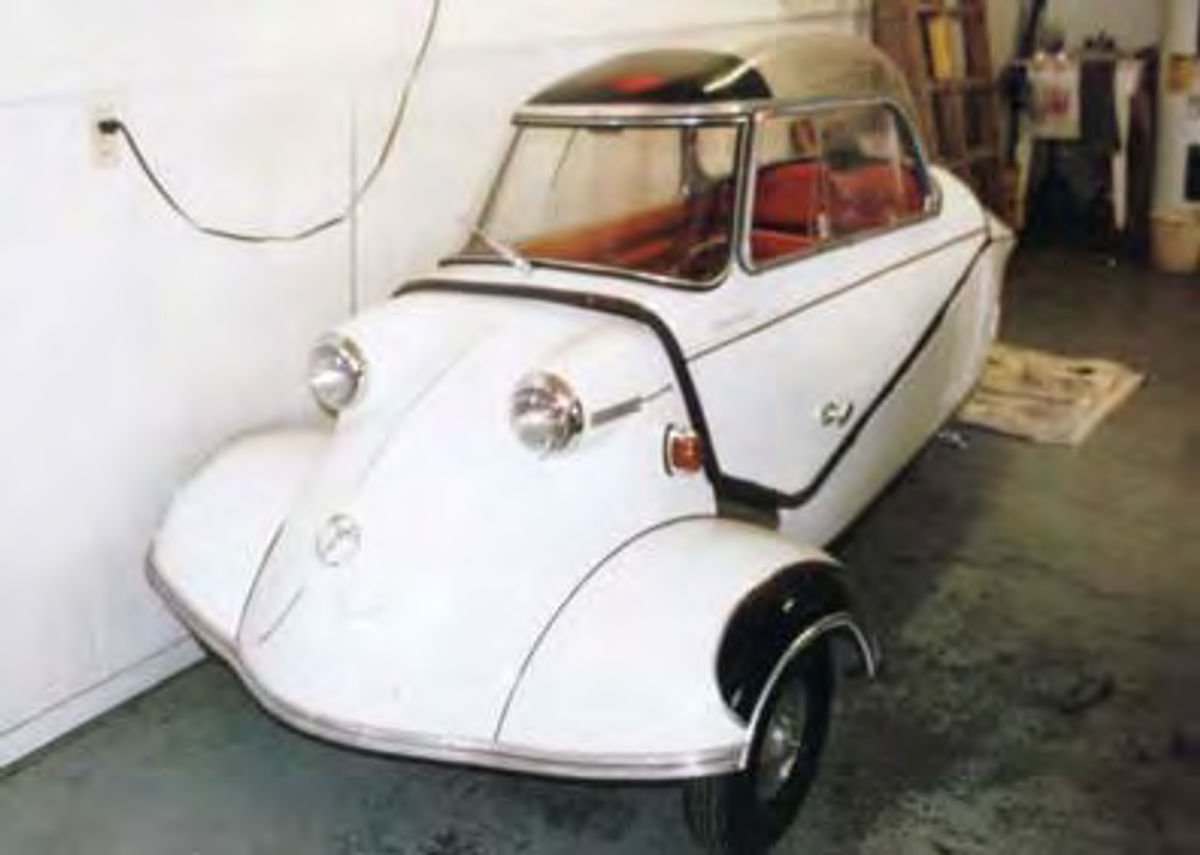 1955-65 Messerschmitt: This odd little car was made by, yes, the same German company that built fighter planes during World War II. A man named Fritz Fend had been producing a series of 3wheeled minicars and wanted to grow his business, so he asked whether the old aircraft factory, then being used to produce auto parts and sewing machines, could be used to build his three-wheeled KR175 Kabinroller—a German tern for a scooter with a passenger compartment.
The car was so scooter-like that it even had handlebar steering. The passenger sat behind the driver. Power came from a 175 cc, 9.5-hp, one-cylinder engine that started with a pull rope.
In 1955, a new KR200 model arrived. Its transmission had a reverse gear (the original model did not) and a 191-cc, two-stroke engine. A top speed of 62 mph was claimed and fuel economy ranged from 60-100 mpg. Messerschmitt Club: The Messerschmitt Owners Club, Birches, Ashmores Lane, Rusper, West Sussex, England.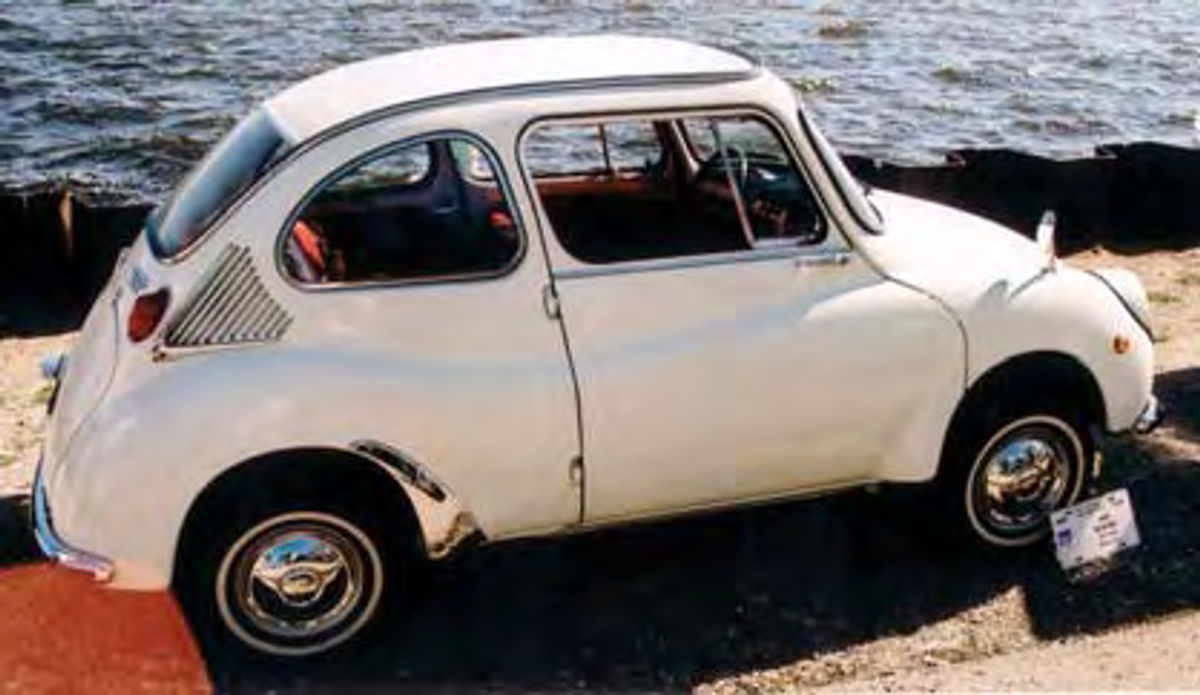 1958-70 Subaru 360: Although Fuji Heavy Industries, Ltd. was founded in 1953, it didn't make cars until the rearengine Subaru 360 arrived in 1958. The 360 had a 70.9-in. wheelbase and 118-in. overall length. It sold for $1297 and weighed 900 lbs. It was powered by a 21.7-cid, air-cooled, two-stroke, two-cylinder engine that got 25 hp at 5500 rpm.
In 1961, Subaru was building about 22,000 of these cars, but by 1970, the total was up to 158,259. Malcolm Bricklin, the same man whose name went on a short-lived, plastic-bodied sports car, imported these vehicles and was bringing over 5500 per year to the U.S. by 1970. Advertisements for the car promoted a 44-mpg fuel economy.
Subaru Club: Subaru 360 Drivers Club, 1421 N. Grady Ave., Tucson, AZ 85715; .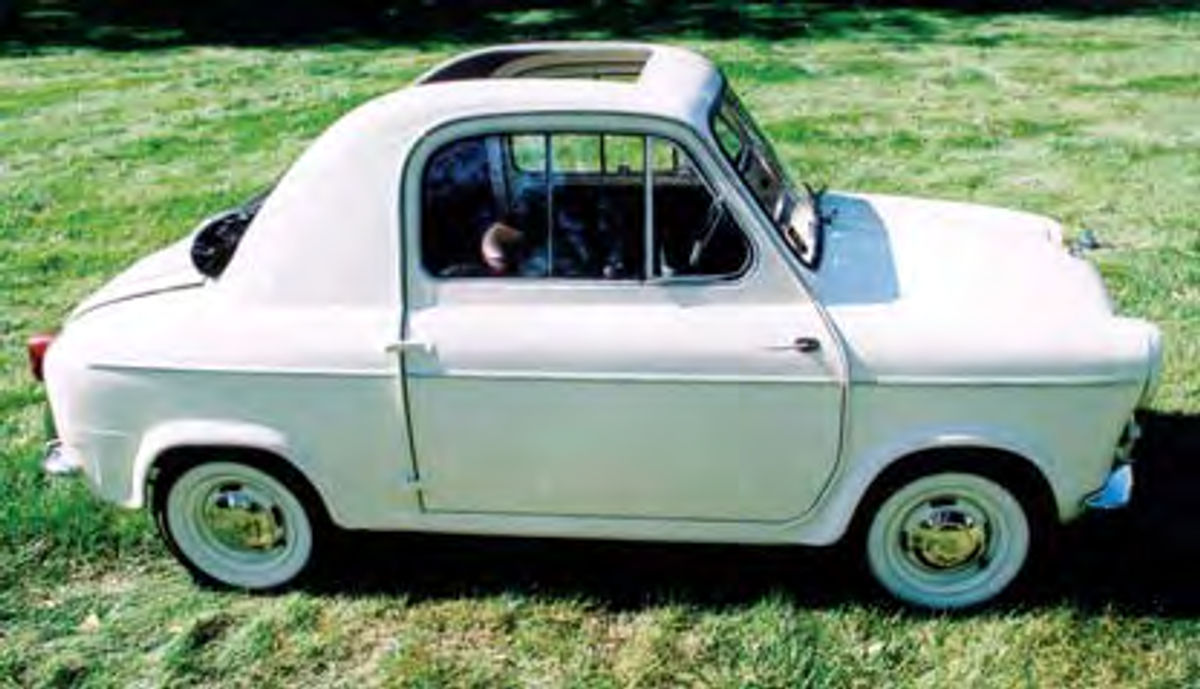 1958-61 Vespa 400: The Vespa 400 was made by the same Italian company that built the Vespa motor scooter. The Piaggio Company's history dates back to 1884. The firm made aircraft during World War II, and then turned to manufacturing scooters.
In 1957, the tiny, two-seat Vespa 400 was introduced. Ironically the car was actually built in France to avoid competing with Fiat.
The car was called a convertible, though it was more like a coupe with a rollback canvas cover for the rear section of the roof. It had a 66.7-inch wheelbase and measured 112 inches bumper to bumper. Its 24.5-cid, 20-hp, air-cooled, two-stroke, two-cylinder, pull-start engine claimed a top speed of 56 mph. The 850-lb. car cost $1080 in the U.S. and could go 60 miles on a gallon of gas.
Vespa 400 Club: Vespa 400 Registry, 100 Prince St., Fairfield, CT 06432; 203336-1505.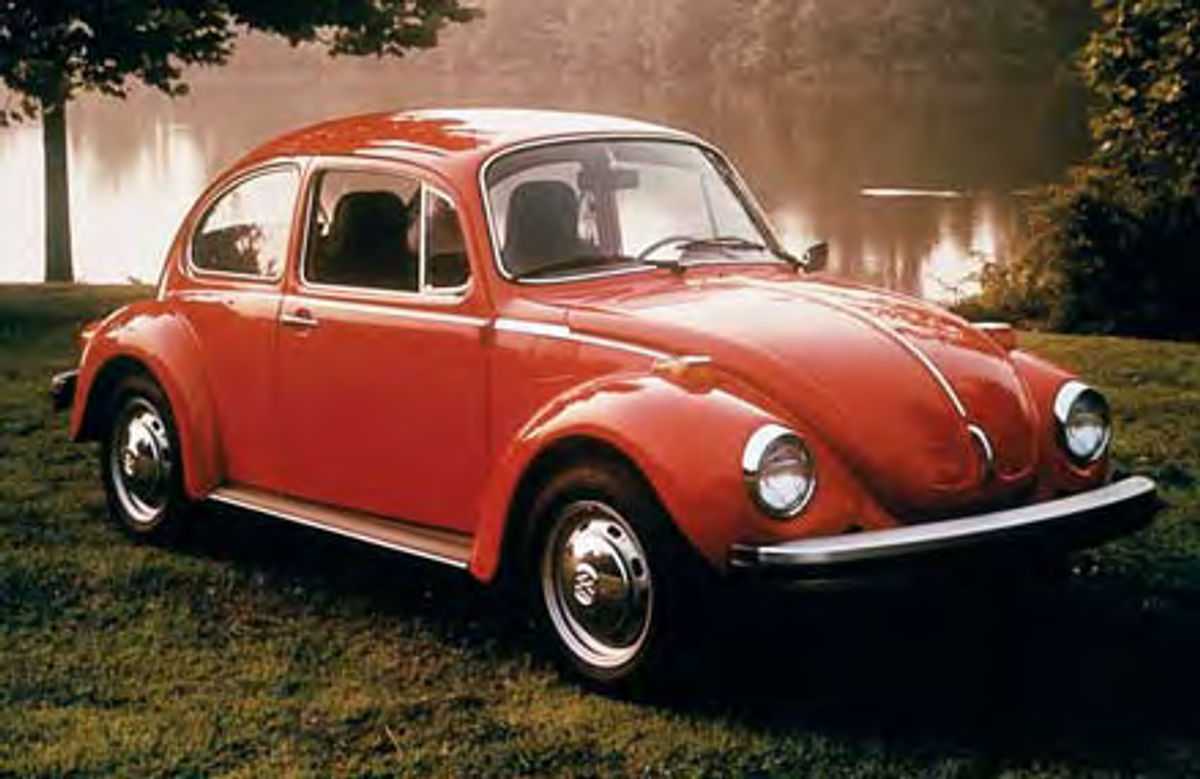 1949-79 Volkswagen Beetle: The Volkswagen Beetle or "Bug" played a major role in changing automotive history. This "people's car" (what "Volkswagen" means) brought motoring to millions of postwar Germans and other Europeans. It had no less of an impact in America after it arrived in 1949.
Although Adolf Hitler was a moving force in the development of this car, the genesis of the Bug started before his rise to power.
In late 1930, Dr. Ferdinand Porsche, his son Ferry, body designer Erwin Komenda and air-cooled-engine expert Joseph Kales started work on a small, cheap car. The firm's very early Project 12 evolved into the Beetle, which featured an air-cooled, rear-mounted boxer engine, lightweight aluminum and magnesium parts, a rear transaxle, a platform chassis, swing arms and a torsion bar suspension. But then, rather than pursue Project 12, Porsche took on other work.
Hitler, in power in 1933, decided Germany should have a highway system and a "people's car" to use on his Autobahn. Porsche was picked to design the car and a prototype was ready by 1936.
A year later plans were made to set up government-controlled production and work began on the Wolfsburg plant in 1938. The cars were to be sold through a workers' stamp-purchase plan but the plant switched to wartime production before any VWs could be built for the consumer market.
(However, in 1961 Volkswagen allowed people to redeem their stamps for a new car or cash.)
After World War II, the British were responsible for Wolfsburg and got car production started. Heinz Nordhoff, a mechanical engineer and German auto industry veteran, took over international distribution in 1947 and turned the Beetle into a '50s and '60s automotive phenomenon.
The original, split-rear-window Beetle was replaced by a single oval pane in 1953. Other improvements were made over time, including several increases in displacement and horsepower.
However, the basic character of the Beetle remained so consistent that Volkswagen ads highlighted the advantages of little change and poked fun at American competitors who changed designs just for the sake of change. Other models, like a Cabriolet version of the Beetle, the microbus and the Karmann-Ghia sports car were introduced over time, but the Beetle was the mainstay product through the late 1970s. The availability of an automatic transmission in 1968 and the addition of the slightly larger Super Beetle in 1971 could not halt the falling popularity of the aging Beetle and the trend towards buying more modern models like the watercooled, front-drive Rabbit and Scirocco. After 1977, only the Beetle Cabriolet was marketed in America and it survived for only two additional model years.
In most road tests that we have seen over the years, the Volkswagen Beetle gets fuel mileage in the 30-36 mpg range. While that doesn't make it the most economical small car in town, the Beetle was almost always a "cult car" and has a huge collector following today.
Furthermore, given its large production totals over a span of some three-plus decades, well-preserved or restored Beetles are abundant, and there are readily available sources of parts to keep the cars going or to restore them.
Volkswagen Clubs: Der Kafer Fahrer (The Beetle Driver), 10 Hardwood Road, Windham, NH 03087; . Vintage Volkswagen Club of America, 5705 Gordon Drive, Harrisburg, PA 17112; https://vvwca.com. Volkswagen Club of America, P.O. Box 154, North Aurora, IL 60542; www.vwclub.org.
Truckers, Take Note
In the final segment of our Gas Crunch Cruisers series, we'll look at some gas sipping commercial vehicles. Meanwhile, send us your economy candidates.