MY FOUR DECADES WITH A MAZDA RX-7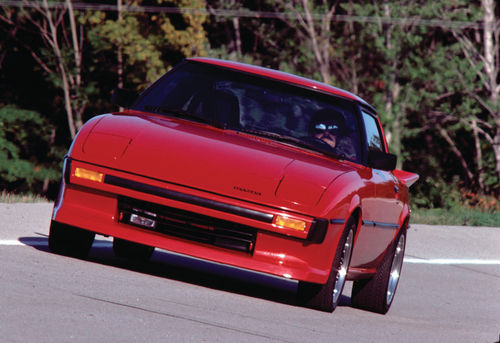 When He Bought His RotaryPowered Mazda Sports Car In 1979 He Was Very Happy With It. Then He Added a Bigger Engine, Wider Tires, Performance Brakes, Recaro Seats &…
Throughout the 20th century, Felix Wankel's rotary was the only new engine to progress from blueprints to mass production. In the 1970s, I couldn't get enough of the weird triangular pistons gyrating like hula hoops inside their housings.
At Car and Driver, we tested one of the first Mazda RX-2s for 40,000 miles, then ripped its innovative engine apart to determine what, if anything, wore out. (Nothing did.)
In 1974, I buzzed an RX-3 across the Bonneville Salt Flats at a recordsetting 160 mph.
In 1979, Racing Beat offered me a seat in their RX-7 GTU racer at the 24 Hours of Daytona. Even though a fractured axle housing stopped us several hours short of the checker, my hearing was impaired for the next two days. That experience and subsequent 180-mph runs across the Salt Flats in a screaming RX-7 only fanned my rotary flames. (Editor's note: Racing Beat LLC is a Mazda parts and accessories supplier that bills itself as "The Heartof Mazda Performance For Over 47 Years." Visit racingbeat.com)
I Wanted More From My RX-7
Totally smitten by Felix's wonder motor, I bought a new Mazda RX-7 in 1979, drove it a few miles, then took it apart with an eye toward making it better. That car still enjoys a prominent place in my garage and currently registers but 22,000 miles on its odometer.
The RX-7 was born a light, cheap, fun-to-drive alternative to Porsche's 924. What I had in mind was a performance profile more competitive with Porsche's 928, so the first step was to replace the stock 100-horsepower 1146cc 12A rotary with a readily interchangeable 1308cc 13B engine. Except for a 0.77-inch greater length, the larger Mazda Cosmo and RX-4 rotary had external dimensions identical to the 12A.
Starting with a short block from Mazda's rebuild center in Irvine, California, Racing Beat in nearby Anaheim helped me bolt on their aluminum flywheel, Holley 4160 4-barrel carburetor and aluminum manifold kit, tubular exhaust header, and Power Pulse muffler. Twin electric fuel pumps and an Ultra transistor ignition were also added. The engine swap and tuning touches boosted peak output to an estimated 150 horsepower at 6500 rpm, a 50-percent increase over the original rating.
Next Up: Tires, Wheels and the Suspension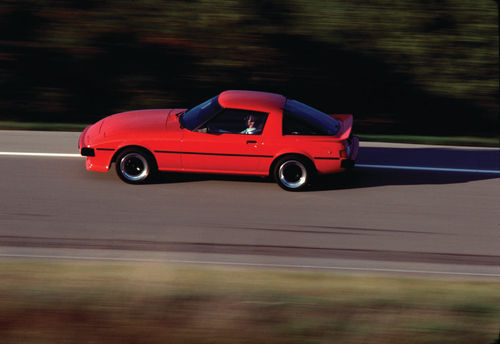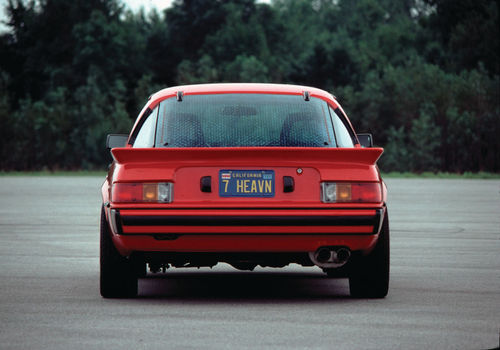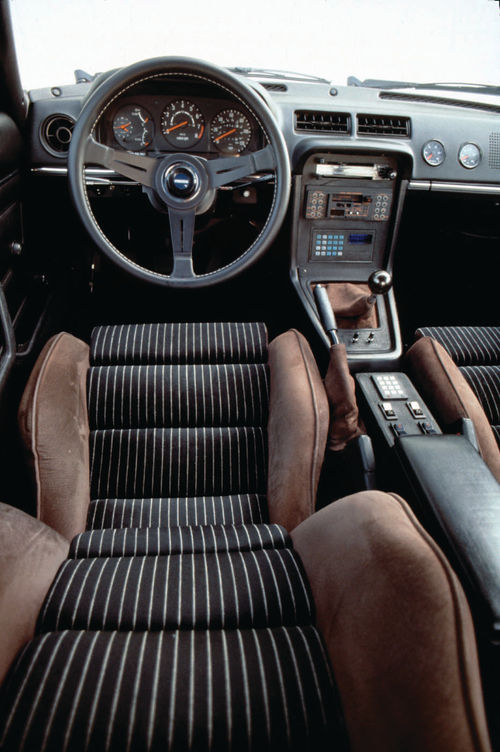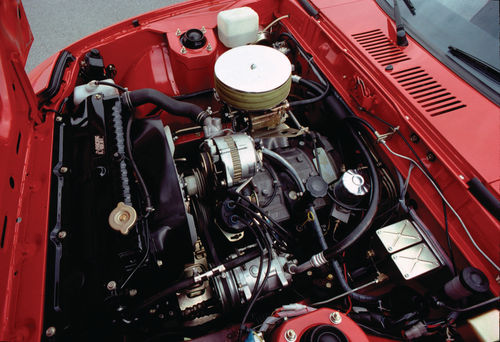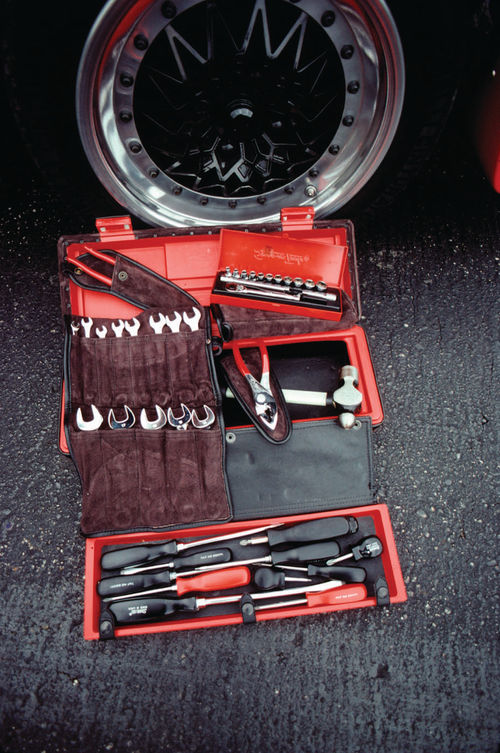 Chassis upgrades were equally comprehensive—from skinny 13- inch steel wheels to more attractive 15-inch rims wearing fatter radial tires (initially Pirelli P7s, later to BFGoodrich G Force Sport tires), and to a larger adjustable rear anti-roll bar made by Quickor Engineering (now Quickor Garage). The larger wheels opened up space for the larger brakes noted below. While the first fitment was three-piece wheels made by Compomotive, I subsequently switched to lighter and more attractive gold-painted center-lock wheels manufactured by Hayashi Racing.
To lower my car, I clipped one coil from each rear spring and installed clever Racing Beat equipment that relocates the tops of the front strut towers upward, thereby lowering the nose without sacrificing suspension travel. Subsequent testing revealed 0.85 g skid pad stick, modest by today's standards but comparable to the target Porsche 928. Factory dampers have served me well for nearly 40 years.
Switching to Performance Brakes
The RX-7's disc-drum brakes were so ineffective that nearly none of the factory parts were saved for use in my project car. AP-Lockeed rotors that were both thicker and larger in diameter replaced the front discs. In back, I switched to solid rotors and mating calipers from a Mazda Cosmo. The flimsy brake pedal was replaced by a custom-made component cut from heavy-gauge steel plate. In place of the feedback-free factory booster and master cylinders, Racing Beat fitted a Tilton Engineering adjustable balance bar and a pair of HurstAirheart master cylinders. Stainlesssteel-wrapped Teflon lines replaced the squishy stock components. The resulting pedal effort is high but my brakes are fade-free and nicely balanced front-to-rear. The new wider brake pedal is perfect for heel-and-toe downshifting.
Accessories Were Added Inside and Out
To doll up my exterior, I installed front and rear spoilers purchased from Mazda's accessory line and a fiberglass front bumper in place of the heavier factory steel beam. Mirrors from a Dodge Colt offered a tidier appearance and power adjustability over the stock mirrors.
The most significant interior upgrade consisted of custom-trimmed Recaro seats supplied by my friend George Venieris who happened to be the company's president. These power-reclining, bun-warming buckets wear a stunning combination of pigskin and velour cloth which does a wonderful job of holding occupants firmly in place during aggressive cornering and braking stunts. Matching boots for the shifter and parking brake plus a box of Snap-On tools slipped into designer pouches were also part of the Recaro up fit.
To supplement the factory instruments, I added VDO oil pressure and temperature gauges set into the right side of the dash pad. A compact Steal Stopper keyboard atop the center tunnel controls the electric fuel pump as a theft protection measure. The MetroSound receiver and CompuCruise fuel-consumption computer I installed way back when were subsequently replaced by a modern Alpine AM/FM radio and graphic equalizer unit. An Ann Arbor, Michigan, shop installed huge speakers and a powerful amplifier in the panel located behind the front seats.
An Award-Winning Project
While rapid advancements in sports car performance eclipsed my RX-7's go-, stop-, and turn prowess ages ago, it's still a fun car to drive and display at collector car gatherings. The highest achievements to date include a Car and Driver cover story in 1981 and a red ribbon at Michigan's Eyes on Design show a few years ago.
While two sons have been eyeing this prize, it will be a few more years before either assumes possession. I hope.