We Have a First-Hand Account of Sports Car Racing in the '50s and Building the Old Yeller Race Car, and Then We'll Hear From a Young Mechanic In an Old-Fashioned Service Station.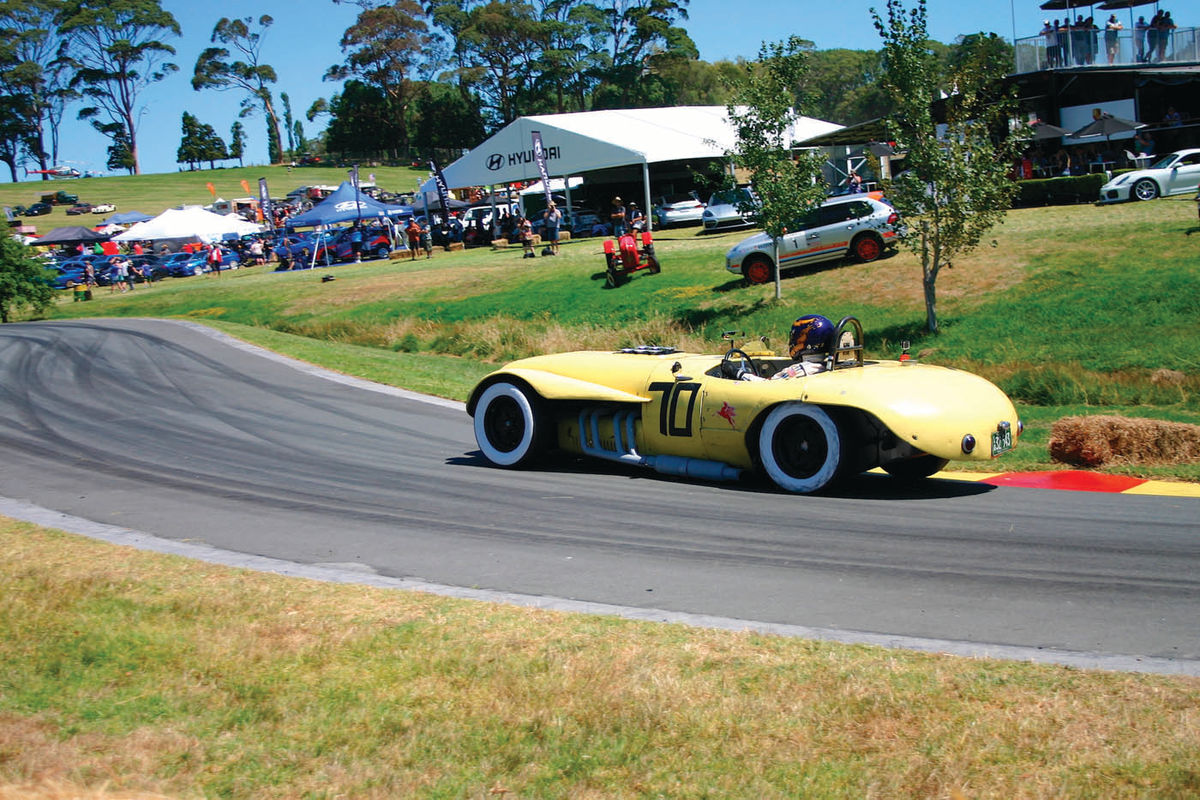 Hi Ted: Here's a little bit of info that corrects a bit of the otherwise fine Jim Richardson article on the New Zealand Leadfoot Festival (June).
I was part of the very small team (4) who actually built the first Old Yeller. We built it in Dick Morgensen's Engine Bearing Company shop in Phoenix, Arizona. Here from my book "An Accidental Life" (search Amazon. com) is the actual story of the genesis of the original Old Yeller:
"In 1956 Dick agreed to also sell the Porsche car line. It was a sports car based on a VW-type platform, but with much more horsepower and better brakes and handling. His first showroom Porsche was a bright red Speedster model. I looked at the car in the showroom for about a week and realized that I had to have it. I had paid $1500 for a new VW. The Porsche was $3000. I arranged to trade the VW and took out my first loan to cover the balance. My Dad was furious.
That red Porsche was my entry to a whole new kind of auto racing. After WWII a few sports cars, mostly MGs and an occasional Jaguar, were brought to the US by returning servicemen. Along with these cars came the European road racing traditions. Sports cars did not race around in circles on a track. Their forte was speed, handling and braking. They originally raced on public roads blocked off for the occasion. The first sports car races were in the East, but soon races were being staged in the West. Many were on airport circuits as there were few suitable public roads.
The Palm Springs airport was close to Los Angeles and became a popular venue. (There was one airline flight a day serving Palm Springs, and the races had to be suspended so the plane could land.) This was the time when drivers who later would be famous were just learning their trade. Dick and I were fortunate to be able to associate with and race against some of the best, among them Phil Hill, Carroll Shelby, Dan Gurney and Britisher Stirling Moss.
I raced my Speedster, driving it to the races and fortunately always home again. Dick wanted to race with the big guys in their Maserati and Ferrari rides. Without the luxury of their kind of budget he decided to build a car from scratch. A fine welder, Boyd Hough, built a frame of chrome moly steel tubing. Dick designed an innovative torsion bar front suspension. We removed the four-speed transmission from a Mark IV Jaguar and bred it to a flathead Plymouth six-cylinder engine. Rear fenders were from a '49 Chevrolet Pickup truck. The rest of the body was sheet steel rather crudely attached to the frame. Dick chose red, white and blue for the paint job and called the car "All American."
By 1952 there were other races being held in Riverside, Pomona, March Field and Torrey Pines in California. The first outing for the All American was in December of 1952 at Torrey Pines near San Diego. We drove the car there from Phoenix. Dick finished second in the novice race. His homemade racecar had turned out to be quite successful, though he later broke several Plymouth crankshafts by over-revving the engine when downshifting for corners.
Eventually a "Nailhead" Buick V-8, complete with a multiple-carburetor intake manifold fabricated in the shop, replaced the Plymouth six. With over twice the horsepower, the new engine put the car in serious contention. The Buick-engine Morgensen Special first raced at Palm Springs in March of 1955, finishing 3rd in the big-car class.
For reasons I cannot recall, someone promoted a Sports Car Club of America race in the tiny southern Arizona desert town of Willcox on April 4, 1955. The airport circuit there was paved but dusty and featured a very long straightaway, with a right angle left turn at the end.
I took a 1951 MGTD to the race. All classes ran together in the main event that day. I was going down that long straight as fast as the MG could go, about 70 miles per hour, when in the mirror I saw Dick coming up from behind to lap me. He was leading the race comfortably so he decided to give me a little help. He pulled up behind me and gently started pushing. I had to put in the clutch on the MG to avoid over-revving the little engine. Before I knew it we were flying along at over 100 miles per hour. I could see the big grin on Dick's face in my mirror. What I did not see was how little runway we had left before that left turn. I could not begin to slow down until Dick quit pushing me. When he finally pulled away and passed me there was no way I could even try to make the turn. The only option was to go straight off the end of the runway and into the desert. That I did. It was months before I got all of the sand and desert plant growth out of the MG. Dick won the Main Event race that day. Boyd Hough also drove the car and won the Novice event and a lady Dick knew named Margaret "Pete" Pritchard won the Ladies race.
Three months later we took the Buick-powered car to Torrey Pines on the Pacific cliffs north of San Diego. This was an important Sports Car Club of America event.
As was the custom, a Ladies Race preceded the main event. "Pete" Pritchard drove Dick's car. The race was run from a standing start. On the front row next to Pete was Josie von Neumann in a big Ferrari.
When the flag fell it was a drag race to the first turn. All we could see from the starting line was a big cloud of dust at the end of the front straight when the field of about 10 cars got there. We waited for the racers to come around at the end of the first lap…but none came.
As we determined much later from someone's home movie footage, "Pete" and Josie had arrived at the corner side-by-side. "Pete" had no room and was forced off the track. The All American rolled over.
All that Dick and I could find out was that she had been taken to Scripps Hospital in La Jolla. We got there as quickly as we could, made our way to the emergency room and were told that Ms. Pritchard was dead. There was no rollover protection built into racing sports cars in 1955.
"Pete" Pritchard's husband was in the Army overseas. It fell to me to try to notify him of his wife's fatal racing accident. All I remember is a phone booth in the lobby of the hospital and a lot of long distance operators who tried to help. I did finally reach his commanding officer and I asked him to break the news.
The next day Dick and I returned to Phoenix in my VW. It was only about a 375-mile trip, but it seemed like a thousand. Pete's funeral was the first I ever had to arrange, and I will never forget it.
Dick retrieved the damaged race car from California and was back driving it in Palm Springs by December of 1955. He sold the car to Eric Hauser, a gentleman from Oregon, in mid-1966.
Hauser then teamed with ace mechanic and designer Max Balchowsky who based the car in his shop in Hollywood. The car was painted bright yellow and took on the name of a Disney character, "Old Yeller." (Disney later forced Max to change the spelling of the name to "Old Yellow.") I would rejoin the car later when I lived and worked briefly in Hollywood."
As you can see, Max and Ina's last name was spelled Balchowsky and was misspelled in the article. Max and Ina later built at least one clone of the original car. There is a good deal of info available via Google.
I have been an Auto Restorer subscriber for decades. I look forward to every issue.
I have a small (4) collection of antique Buicks, a '30 Sport Coupe, a '37 unrestored Roadmaster, a '64 Wildcat Convertible and an '83 Riviera Convertible. These keep this 84-yearold active with repairs and minor restoration chores, and I show the cars at close-by events.
Chuck DeMund Waxhaw, North Carolina
A Full-Service Station and a Young Mechanic
Ted, You recently asked the readers for recollections of and news about the old full-service gas stations.
I think you'll be interested in Bridwell's Automotive Center in Scottsdale, Arizona, where my son Adam works. The station has offered full-service gas and full-service auto repair since 1971. Here's their website: bridwellautocenter.com
I am also writing because in almost every issue lately there are running comments about the status of young people being interested in the automotive restoration world.
My youngest son, Adam Sporrer, age 33, is an automotive technician (mechanic). The following is something he posted on Facebook recently and may give some insight to the ongoing debate as to whether young people are interested in the automotive industry.
"So as some of you know, I left Porsche a couple months ago. Although I have nothing really negative to say about my employment there, I realized that after some time, it just wasn't where I really felt happy. The people were great, the cars were awesome and it was like working in a museum. But I felt my connection with what I truly loved about being a mechanic was falling short. Mostly the challenge.
I know! It's Porsche! How could it be less challenging?! I guess the dealership fell short for me when most days consisted of working on brand-new cars doing computer updates and recalls. Sure there were some days where things would challenge my inner tinkerer, but most days seemed repetitive and well...boring. It's funny... You spend your whole life working to achieve something only to find out that it's not the destination that ultimately makes you feel fulfilled, but the journey. I wanted to work there my whole life! And I did it! But it turns out it just wasn't for me.
Thankfully I was lucky enough to land my old job back with a company that I truly love being a part of. Something different every day with a wide array of awesome cars and interesting people. If you've ever visited me there, you know. It's cool! It may not be Porsche, but I look forward to coming to work every day. They believe in me and push me to be better and nurture my love for the trade. My motto in life has always been, "do whatever makes you happy." I know I won't work here forever, but for the time being, I feel at peace with where I'm at."
Michael Sporrer Phoenix, Arizona