A Look at Some Irish Classics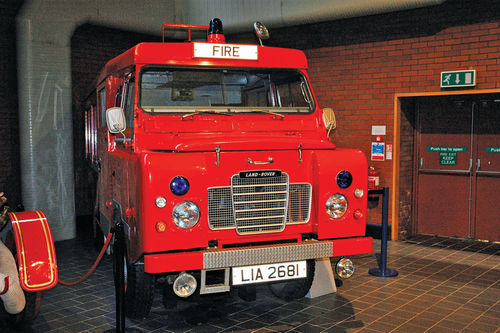 Small Vintage Vehicles Rate High With Many Irish Drivers. Tight Roads and Cramped Parking Make Them Smart Rides.
Editor's Note: Last month we visited some vintage car events in Germany, so we thought we'd continue our European automotive trip with a stop in Ireland. If any readers have an international vintage vehicle story they'd like to share, by all means send it along.
IT'S NOT TOO uncommon to see classic vehicles on the roads in Ireland, which might seem surprising considering that the Republic of Ireland in year 2000 implemented a European Union-mandated, nanny-state National Car Test to get those unsafe and polluting old cars off the road. (And wouldn't you really like to buy a shiny new car and support the European automobile industry anyway?)
Despite the NCT, classics do survive in use. This is in part because Irish politicians, with 800 years of experience living under British rule, are extremely gifted at appearing to do one thing while doing something else entirely. When faced with the NCT, they adopted the EU party line on national car tests but put a back door in the legislation that allows cars registered prior to 1980 to escape back onto the roads.
Common among the survivors are Austin Minis, Land Rovers, Morris Minors and MGBs. One even encounters older Minis and Land Rovers in apparent daily use. Farmers and other rural folk like the original, square-rigged Land Rovers, sometimes in short-wheelbase 4x4 forms, and frequently in long-wheelbase pickup truck form. (I have also seen examples of the early Toyota Landcruiser FJ40, the kind that has been bringing ridiculous prices at U.S. auctions of late.) And everybody in Ireland loves the Mini.
In Ireland, Small Makes Sense
It is in part the narrow roads and streets but also the parking challenges that inevitably leads one to an epiphany regarding the utility of very small cars in Ireland. Try to squeeze even a smallish mid-size car, like a Volkswagen Passat, into on-street parking in tourist towns like Kilkenny or Tipperary or, worse yet, into an underground parking garage in Dublin, and the mini- and micro cars began to look more attractive. One learns to cope (and appreciate folding mirrors), but the margin for error seems more appropriately measured in coats of paint rather than centimeters.
My family and I lived in South Dublin County in the foothills of the Wicklow Mountains for most of a year in 2004-05. I bought a used, first-generation Audi A4 and found a local mechanic to get it sorted for the NCT. When I first visited his garage, in the historic Dublin suburb of Rathfarnham, I was dumbfounded at the lengths to which he had to go just to get the Audi into his two-car shop, which bordered a tiny, ancient alley separated from the main street by a high stone wall. Most villages and cities in Ireland are hundreds of years old with streets that were laid out for horse-drawn vehicles and pedestrian traffic. The countryside generally has a low population density with much of the land in agricultural use. But all but the M roads (modern motorways, comparable to our Interstates) or the newest N (national) roads, share the same infrastructure history. Most of the R (regional) roads and especially the L (local) lanes were originally built and located in the equine era, and it shows. It is very common when driving on an R road to pass between an aged stone farm cottage built right up against the pavement on one side, while on the other side an equally aged high stone wall, embellished with hedge growth, extends its reach even more against the edge of the pavement.
When driving on an R road, if you can't hear the soft, comforting murmur of hedge greenery brushing the rearview mirror on your left door, you are probably in the path of a great hulking lorry — which, unaccountably, will be longer, taller and have more wheels and axles than its U.S. brethren — and is approaching at speed just around the next bend.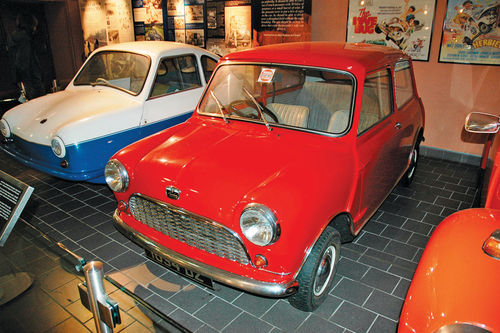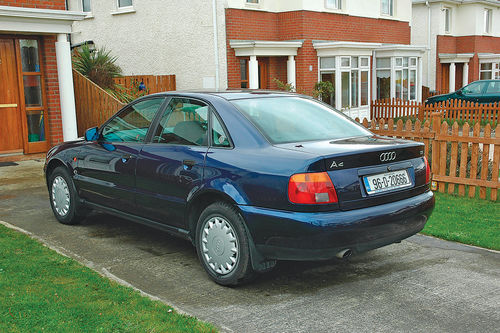 Sometimes one wishes for a smaller, or at least narrower, car. And even before considering the very high cost of petrol or diesel, one begins to understand why folks are devoted to — for example — their Minis and are willing to maintain them, in the case of a post 1980 example, equal to the challenges of the NCT.
In Northern Ireland, which is part of the UK, old car fans face an even greater hurdle. Only cars registered prior to 1960 and that have not been substantially modified are exempt from the MOT, or Ministry of Transport test.
Several Favorite Vehicles
The original Mini, built in Mark I, Mark II and Mark III versions from 1959 through 2000, has several great character traits that devoted owners appreciate. They are nimble and great fun to drive, are phenomenally fuel efficient, have nearly 360-degree visibility and fit in spaces other "small" cars must pass by.
The earlier versions are also simple and utterly devoid of the annoying and frequently troublesome electronic nannies that plague all modern cars, including modern mini-car iterations, such as the Mercedes-built SMART, the Nissan Micra and the BMW-built, retro Mini-Cooper.
On the original Mark I and Mark II Minis, pop the bonnet and you can actually see the little 948, 1098 or 1275cc Austin engine, and there are the spark plugs, carburetor, distributor, intake and exhaust manifolds. You and I can actually work on them. Many other older cars — including Morris Minors and many other Austin, Morris and MG models, VW beetles and Rovers plus a multitude of arcane and mystifying Renaults, Citroens and Fiats — fall into this category and have their devotees, too.
A Great Spot to See the Local Classics
For any classic auto enthusiast who appreciates automotive history and happens to be in Ireland, there is a don't-miss destination — the Ulster Transport Museum in Northern Ireland. From the Republic, the museum is only about two hours from Dublin on modern motorways.
The conflict that plagued Northern Ireland for much of the 20th Century is now mostly an unpleasant memory with surviving residue dealt with primarily in the political arena rather than in the streets. Driving from Dublin to Belfast on the M1/AI now encompasses a lot of beautiful countryside and little indication you are passing from one country to another, aside from the speed limit signs switching from kilometers per hour to miles per hour. The museum is easy to find just east of Belfast on the Bangor road. It houses interesting vehicles from all eras, beginning with horse-drawn, through the early days of internal combustion and finally to my favorites, cars of the 1960s, when I was a teenager. This part of the museum highlights ordinary cars that ordinary people drove in the UK and Ireland — all the brands previously mentioned plus Ford Cortinas and Zephyrs, Humbers and Riley's, to name a few.
The Ulster Transport Museum also houses what has to be one of the most impressive collections of steam locomotives in existence plus some truly jaw-dropping double-decker buses, motor-driven rail cars, trucks, etc. The exhibits also include, in a spot of honor, an original DeLorean, born of the failed attempt by John Z. Delorean to manufacture his dream car in Belfast.
I Left My Audi In South Dublin County
What are the future prospects for those who appreciate and drive older vehicles in Ireland? When my family lived in South Dublin County, a beautiful red Fiat Dino Spyder lived just up the street. A decent-looking, older Jeep Cherokee lived next door. A lot of these older, XJ diesel Cherokees are still cherished by their owners. Affection for older automobiles — and the will to keep them on the road — remains much in evidence. A lot of Audis, BMWs and Mercedes-Benz automobiles were sold in Ireland as the economy improved in the 1990s up into the country's boom time in the first decade of this century. One still sees a lot of these older 3- and 5-series BMWs and especially a lot first-generation Audi A4s, like the one we owned.
Despite the best efforts of the NCT technicians to take our Audi off the road, when we moved back to Florida in the summer 2005 we left behind a well-kept 1996 Europa Blue Mica A4 with a current NCT certificate displayed in its windshield slot. The buyer was an appreciative Romanian immigrant who brought an envelope stuffed with Euros to pay for it.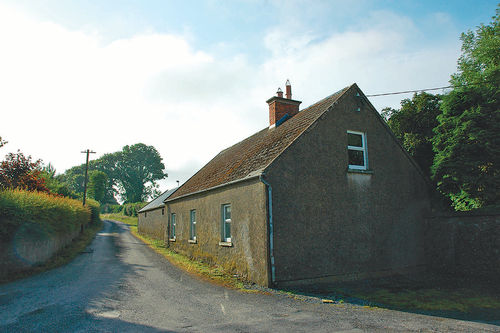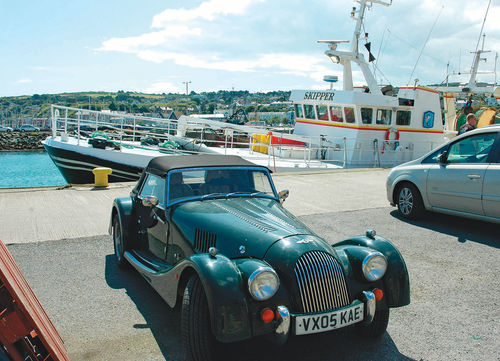 I wanted to bring the car home with me, but it wasn't practical to do so (right hand drive plus shipping costs), so I brought the registration plate instead. I had to replace it during the NCT because it didn't meet EU appearance standards. The plate that failed its road safety test is now on the front of my 1994 Jeep Cherokee as a fond reminder of the year we lived in Ireland.
And every time we go back to Dublin, I still instinctively look for registration number 96-D-20666 whenever I see a dark blue, first-generation A4.