Our Discussion Covers Staying Connected But Safe, Conjuring Memories, Paint Prepping and Dealing With Potential Rodent Dangers…
Emotional "Triggers" In a Garage…
Ted, first I want to thank you and commend this publication for publishing comments from your readers, including previous comments from myself. I have tried similar communications with other car magazines, and received zero response. In the October 2012 issue, you even printed a photo of my raggedy old '70 Dart. I showed this to the neighbor who gave me the car. He was tickled, to say the least.
This comment is about inspirations. If you study psychology (which I don't), you will read about "emotional triggers." These are little things that trigger an emotional or sometimes physical response from a person, whether good or bad. I had one of these just today. My garage is not the nicest in the world; it even has dirt and an old wooden floor in part of it, but it's all mine and chock full of my stuff. This morning, as I entered the large door which leads into a 28' x 30' addition I added some years ago, I took a long whiff of the sweet aroma of dust, that old wood, and paint fumes from earlier projects, and thought about how much it smelled like grandpa's garage from my childhood. Whenever we visited our grandparents, that was one of the first places I would go, and dream of having a garage like it someday (complete with wood floor!).
That's when it really hit me — sitting there next me was my 1948 Austin which I inherited several years ago — the same Austin that used to sit in grandpa's garage! That's it, I told myself, I have got to get my current project done so I can start on this one.
Just for the record, my current project is a 1954 Chrysler New Yorker that I started as a "summer project" about five years ago. Anyone who has ever tried to restore a car will understand how one seemingly small task can turn into a big one. I have also recently had a change of heart regarding its "restoration." Rather than try to restore the car back to its factory look, I have decided to turn it into a mild custom with wide whitewalls, full wheel covers, a mild frenching of the headlights, and maybe different trim. This may also be a cheaper and easier route, since a lot of the replacement parts for this car have eluded my searches.
Today, I blew the dust off a pair of old, glass-lensed tail lights that I've had since "I-don't-remember-when," and to my surprise they are almost a perfect fit, and would make a "kool" addition to my "kustom" platform. I don't even know if they are from a car or were made for a trailer, but what the heck, they have the proper wiring for tail, turn, and stop lights, just need to be cleaned up and used. My conjuring may end up being the only custom four-door Chrysler around, but I always did like to be different.
Daryl Conley Truth or Consequences, New Mexico
…And Memories From a '39 Ford
Milt Webb, Thanks for the series on a 1939 Ford ("Tuning Up a '39 Ford V-8," April-June). My Dad bought a 1939 Deluxe Tudor after WWII off the back row of the High Point, North Carolina, Hudson dealer. It had 160,000 miles, smoked, and was painted yellow with a paint brush. He built a new engine for it, stripped the body of several coats of paint, repainted it a very dark green, then headed off to North Carolina State University (NCSU) in Raleigh on the GI bill. It was our family car growing up then I got it in high school in 1970 and drove it when I later went to NCSU (and guys, I still have my first car).
For some reason, Dad had removed the resistor so the coil got a full 6 to 7 volts. It ran good like that but would burn the points.
When I got it, I would change the oil every 1500 miles since these old flatheads didn't come with an oil filter. I learned to get my pan under the car and pull the big plug to let the oil DUMP out then quickly remove the distributor to file the points while the last bit of oil drained. Since these distributors only go on one way, I didn't have to worry about marking anything. I would put the oil plug back in and start refilling the engine letting each can, yes can, of oil sit and drain a bit as I worked on the points.
Once the points were clean and regapped, I could bolt the distributor back on and finish the last can of oil and be done. I did find that some brands of oil would "ash" and turn gray after about 100 miles which wasn't good; probably due to extra heat in the block where the exhaust ports run down and out at the bottom (the back port is right next to the main oil passage). I finally tried Valvoline "Racing" oil in a 20W50 and have never had an ashing problem since. Milt, thanks again for the great articles.
And Ted, thanks for a great magazine.
John Blair
Steamboat Springs, Colorado
"Moments to Remember" With My '62 Ford
Just read your June Rearview Mirror after getting up at 4 a.m. today to drive into Sherwood (Oregon) to be a TV camera backdrop for the Annual Cruisin' Sherwood, our biggest local car event. (The column was "These Moments to Remember," regarding high school graduation and the cars the kids were driving.)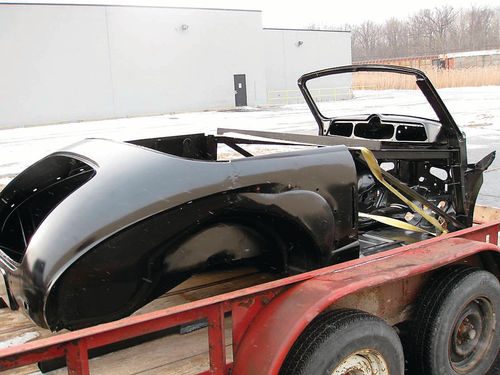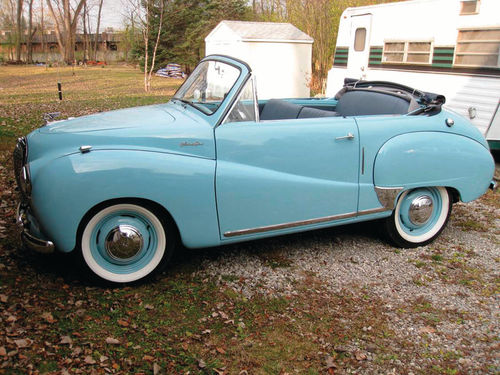 Just loved your thoughts...as always and every month. My 1962 Ford Country Squire was built my year of high school graduation, and is now my "everyday driver." This morning it so fit your description of nostalgia! I've attached a photo, which owes some of its personality to tips I get monthly from reading my Auto Restorer cover to cover.
The car is equipped with a swamp cooler. It works slick, after a learning experience not to fill it up too much... it soaked down my passenger seat that time. Dad had one and so it's part of my memories too. It took awhile to find it.
Dave Beach Sherwood, Oregon
That's Dave's Country Squire, with a swamp cooler on the front passenger side, on the previous page. And for more on the annual Cruisin' Sherwood Classic & Custom Car Show, visit cruisin sherwood. com.
Being Connected, Not Irresponsible
I read with interest your editorial in the August issue titled "Staying Connected With Your Car" and agree with what you expressed as that is how I stay connected. However, I feel there is another, much more important reason to "stay connected" the old-fashioned way. (The column spoke of being "connected" with a '66 Valiant through its AM radio tuned to a favorite station instead of through the high-tech dashboard gadgets that fill today's cars and trucks.)
While the woman you wrote about was pleased with the gadgets her new car had, the dangers associated with using one's cell phone (including hands-free-devices) or texting while driving cannot be stressed enough. Many reputable studies have shown that cell phone use while driving causes reaction times to be impaired as much, or more, than drinking alcohol and driving.
Personally I do not believe that handsfree calling should be an option in new cars. I don't believe car makers should be encouraging irresponsible driving by making it easier to conduct phone calls or texting while controlling a car, any more than they should be encouraging motorists to drink alcohol while driving.
Below is a web site showing the laws in each state regarding cell phone and texting use. I sincerely hope that these laws become more standard and car makers are discouraged from offering such devices in new cars.
http://www.ghsa.org/html/stateinfo/ laws/cellphone_laws.html
Carl Worstell Sandy, Utah
How My Car Was Prepped for Paint
I have nearly finished the restoration of my 1953 Austin Somerset Drop Head Coupe. I spent most of my career working for companies that designed, built and installed the large paint finishing systems in automobile assembly plants, so I am very familiar with the benefits of e-coat primer on automobile bodies. Properly done, all visible and hidden surfaces receive a uniform coating of primer, thus minimizing hidden rust in places that spray paint just can't reach. I was warned that the process removed all rust, lead, and plastic filler that might be present and that more than one body had come out of the process in bushel baskets — but I was confident that my car would make it intact.
(Editor's note: This letter is in response to the July article "My 1964 Mercedes 230SL, Pt. 5," where the Mercedes was being sent to a shop for a hot caustic dip followed by an acid bath to strip the car and prepare it for painting.)
Rather than a caustic dip, my contractor baked the car out at 800 degrees F, leaving just a little ash where the undercoating, paint and body lead had been. Once it was thoroughly baked out, it was shipped to their coating facility in Indiana along with the pile of sheet metal parts I had removed prior to delivering everything to them, and the parts were also baked out. Once at their other facility, the body was acid dipped, washed and then e-coated. The results were fantastic. My car came back to me with a beautiful shiny black foundation for finishing. Remarkably, there were only a few rocker panel area holes where it had rusted through from the inside to the old paint.
I never did see the facility that did the priming, although I know what the conditions would have to be to provide a first class job. The facility I took the car to, where the baking was done, was anything but the clean, well-maintained place where you would want to leave your pride and joy. It was dark and stinky and no fun to visit, but they sure knew what to do and did it well.
Ken McGuire Via email
That's Ken's Austin Somerset Coupe at the top of this page. On the left it's sporting its e-coat as it returns from the shop and on the right it's in its nearly completed condition.
Use Caution With Rodent Nests and Droppings
I read an article recently in Auto Restorer that caused alarm ("Ruby, the Farm Truck, Pt. 6," May). In the article someone was cleaning out a glove box full of mouse dung. It showed a shop vac sucking out what appears to be mouse droppings. The exhaust on the vac could be shooting (atomizing) viral particles all over.
Be advised, this type of cleaning procedure is a dangerous endeavor if you are not prepared. Hantavirus lives in mouse droppings.
Go to the CDC (Centers for Disease Control and Prevention) for recommendations. Hantavirus (HPS) is very dangerous and can be fatal.
This happened near my hometown a few years ago. A young woman sweeping mouse droppings in a garage died 10 days later. Use this link for more information: http://www.cdc.gov/hantavirus/
I might seem overly sensitive but I worked in a hospital lab for 30 years and my wife is a microbiologist. I have retired from clinical hospital lab work but it's still with me.
Michael McNamara Wenatchee, Washington
We followed Mike's advice and found the following tips regarding rodent clean-up procedures among the CDC's information pages:
First, Clean Up Any Urine and Droppings
When you begin cleaning, it is important that you do not stir up dust by sweeping or vacuuming up droppings, urine, or nesting materials.
• Wear rubber, latex, or vinyl gloves when cleaning urine and droppings.
• Spray the urine and droppings with a disinfectant or a mixture of bleach and water and let soak 5 minutes. The recommended concentration of bleach solution is 1 part bleach to 10 parts water. When using a commercial disinfectant, follow the manufacturer's instructions on the label for dilution and disinfection time.
• Use a paper towel to pick up the urine and droppings, and dispose of the waste in the garbage.
• After the rodent droppings and urine have been removed, disinfect items that might have been contaminated by rodents or their urine and droppings.
Next, Clean and Disinfect the Whole Area
• Mop floors and clean countertops with disinfectant or bleach solution.
• Steam clean or shampoo upholstered furniture and carpets with evidence of rodent exposure.
• Wash any bedding and clothing with laundry detergent in hot water if exposed to rodent urine or droppings. Lastly, remove gloves, and thoroughly wash hands with soap and water (or use a waterless alcohol-based hand rub when soap is not available and hands are not visibly soiled).
Dead Rodents or Nests
Wear rubber, latex, or vinyl gloves when cleaning up dead rodents or nests.
• Spray the dead rodent or nest and the surrounding area with a disinfectant or a mixture of bleach and water.
• Soak rodent, nesting materials or droppings in solution for 5 minutes before wiping up with a paper towel or rag.
• Place the dead rodent or nesting materials in a plastic bag and seal tightly. Place the full bag in a second plastic bag and seal.
• Throw the bag into a covered trash can that is regularly emptied.
Remove gloves, and thoroughly wash hands with soap and water (or use a waterless alcohol-based hand rub when soap is not available and hands are not visibly soiled).
Obviously, Mike is a vintage vehicle fan himself and that's his wife Pam standing by their 1976 Bill Blass Lincoln Continental Mark IV on this page. The photo was taken on Stevens Pass not far from their home.
My Older Cars Get Good MPG
Kevin Temple (Letters, July) has a much more optimistic expectation for new vehicles and a much more pessimistic expectation for classic vehicles than my real-world experience has demonstrated.
For newer cars, considerably more than half of the vehicles on the road today get 25 mpg or less overall, including virtually every pickup, van and SUV. A quick check of http://www.fueleconomy.gov/ reveals that, for the most part, cars getting more than 25 mpg are limited to hybrids, diesels, and 4-cylinder econoboxes. For 2013, Toyota and Honda offer a total of 69 vehicles with more than 25 mpg, but 90 vehicles with 25 mpg or less. The popular Accord gets 27 (4-cyl) and 24 (6-cyl) and the Camry gets 28 (4-cyl) and 25 (6-cyl).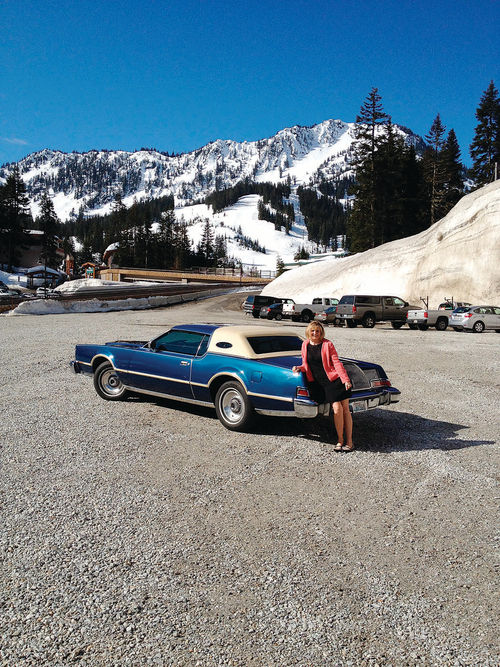 As to older cars, I have over 50 years' experience and can provide real-world mileage for cars my best friend and I have owned as follows:
1940 Packard Super 8 (356 CID, std.): 10 mpg overall, 11 mpg hwy. 1949 Chrysler 6 (251 CID, std.): 16 overall, 20 hwy. 1948 Nash 600 (173 CID, O/D): 22 overall, 30 hwy. 1959 Rambler Rebel V-8 (250 CID, auto.): 18 overall, 22 hwy. 1960 Chrysler Windsor (383 CID 4-bbl, auto.): 16 overall, 21 hwy. (80 mph). 1962 Buick Invicta (401 CID, auto.): 16 overall, 22 hwy. (85 mph). 1964 Riviera (425 CID, auto.): 12 overall, 15 hwy. 1965 Chrysler Newport (383 CID 2-bbl, auto.): 13 overall, 17 hwy. 1965 Mustang (289 CID, auto.): 17 overall, 20 hwy. 1965 Riviera (401 CID, auto.): 13 overall, 15 hwy. 1965 Riviera (425 2x4- bbl, auto.) 8 overall, 13 hwy. 1966 Mustang (289 CID, auto.): 18 overall, 21 hwy. 1966 Mustang (289, std.): 20 overall, 22 hwy. 1966 Mustang 6 (200 CID, std.): 24 overall, 29 hwy. 1967 Barracuda (273 CID, auto.): 15 overall, 16 hwy. 1973 Buick Century (350 CID, auto.) 15 overall, 17 hwy.
As can be seen, my experience is that older cars can deliver surprisingly good gas mileage. All but five cars were driven primarily in California; the five were primarily in Colorado.
There were similar results for tailpipe emissions: I had two cars that required a smog check when I bought them back in the 1990s. They destroyed the assumptions as to pollution by older cars as follows:
1965 Mustang V-8 289: Passed the smog requirement for new 1994 cars for all three pollutants (CO, NOx, Hydrocarbons).
1963 Dodge Polara 500 V-8 383: Passed the smog requirement for new 1994 cars for two of three pollutants (CO, Hydrocarbons) and was only about 15% over the standard for a new 1994 car on NOx.
Each car had about 100,000 miles, no smog devices, engines never rebuilt, and with a fresh factory spec. tune-up. Each polluted less than 10% of the assumption by the clean-air folks.
John McMahon Via email