A Number of Other Cars Have Come and Gone, But the Studebakers Have Had Real Staying — and Growing — Power.
Editor's note: When Bob Halgren sent us a note about this month's Cool Classic Car Show, hosted by the San Diego Chapter of the Studebaker Drivers Club, we were curious about his cars and what drew him to Studebakers in the first place. His answer turned out to be a tale of lifelong involvement with vintage cars…especially Studebakers. (For more on that upcoming show, see the Events listings on Page 3.) And now, here's Bob:
WHY STUDEBAKERS? THE reasons are many. First off, the cars are, as they say, different by design. Studebaker had some of the best designs of all time with Bob Bourke and Raymond Lowey. Secondly, they are affordable. While the Big Three cars have jumped out of a lot of people's price range, Studebakers with a few exceptions are still affordable. You can have two or three to one Chevy. Thirdly, they had excellent engineering. They were both solid and fast. Lastly, and most important, are the people. The Studebaker Drivers Club (my wife Mimi is a past president and current vice president) and The Antique Studebaker Club are both wonderful clubs with lots of meets/events. The SDC has about 12,000 members worldwide while the ASC has about 1200.
I've Been Involved with Studebakers (and Fords) Since My Teens
My life has pretty much revolved around cars! From the time I was a young boy, I was in love with cars. I knew all the makes and years. When I was 13 I started to count the days until I was 16 and could buy my own car. I had two morning paper routes so I had plenty of disposable income to dispose of on an old car.
My dad and I started looking at old cars in preparation for the fateful day. One source in particular I remember was a fellow that wanted to sell a couple of '36 Cords. One was complete, the other disassembled. He wanted $600. Too much!
I had been following the classifieds leading up to my birthday in 1964, looking for a 1939 Ford Deluxe Coupe. On the appointed day, I spotted a 1939 Ford Deluxe Tudor — close enough! For $160, I was the second owner of a 60,000-mile beauty. Never mind that it burned a quart of oil every 50 miles. At last I had a car.
Fortunately, I had taken auto shop so I had an idea of how to fix things. While in high school I changed the engine out four times, the transmission twice, and painted the car a dark metallic blue. My dad had seat covers installed.
High school also introduced me to Studebakers. My high school shop project was a valve job on our '54 Land Cruiser. We also bought a '37 Dictator four-door sedan for my brother.
Time for Some Bright Yellow Muscle…and a Yellow Bug
In 1966 I went away to the Naval Academy. Most of us got cars earlier than allowed and took our chances on getting caught. I bought a Daytona Yellow 427 Corvette Coupe — $4700 out the door. Although the build quality was poor, it sure was fun! After that I bought a yellow 1970 W-30 442. It was actually faster than the Corvette, and got 7 mpg on premium! This one lasted 15,000 miles before I realized I couldn't continue to feed its habits on an Ensign's pay.
I proceeded to buy a 1956 VW sunroof bug and fix it up. I painted it Daytona Yellow, with all the chrome and interior black, and with my uncle's help made some curved laminated mahogany bumpers. Looking good! This car had the 36 hp engine which of course sucked the number three exhaust valve while driving down Highway 99 outside Selma, California.
It was about 10 p.m. so we pushed the bug off the freeway, down the ramp, under the highway, and into a friendly Chevron station. Fortunately, the station was staffed with some teenagers who took pity on us and let us use their lift. We put the engine in the dumpster. We stuck our thumbs out the next morning and who should pick us up but the local transmission shop owner. He proceeded to tow the VW to his shop and lent me his pickup to drive to a Fresno wrecking yard to get a used engine.
(I once read about a fellow car enthusiast that used to take his most unreliable car on trips. His theory was that uneventful trips were quickly forgotten, but when you broke down you had an opportunity for adventure. Those were the trips you would remember.)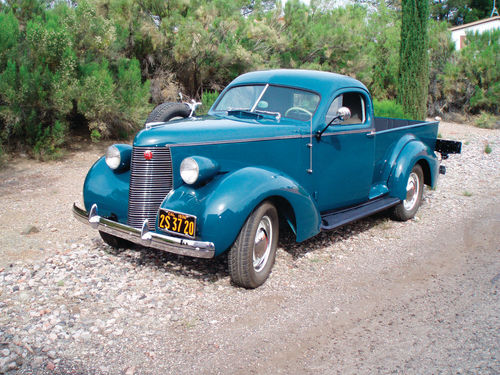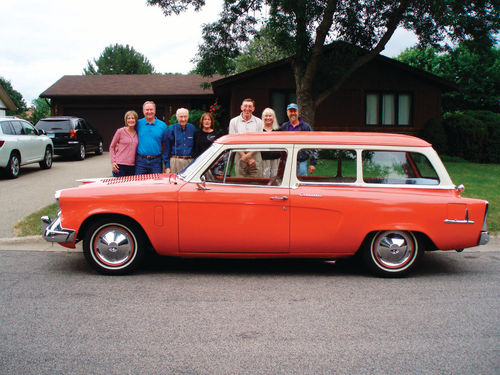 A Ford Panel Truck Enters My Life
I was in the Navy until 1975, and had to have projects. I bought a 1959 Porsche 356 and restored it. It was beautiful, with a tan interior and a metallic burgundy exterior. I also bought a 1937 Ford ½-ton pickup. It had no engine, so I found a nice 283 with a floor-shifted 3-speed. It had its issues, not the least of which was losing axles when going around a corner. It had apparently gotten too hot when I welded the spring perches on resulting in the axle separating from the bearing.
I kept it stored outside, and as it turned out, that wasn't too smart. The air cleaner was the bowl type with foam and a screen on top. The hood had a center hinge which leaked when it rained, funneling water into the engine.
We pushed it up and down the street at 40 mph, dropping the clutch trying to break the engine loose and frying the tires. Eventually it did break loose…but it broke a piston in half and bent a rod.
Another memorable car from this period was a '39 Ford ½-ton panel truck. I found this one up near the entrance to Yellowstone Park. It had been a delivery truck for a cigarette distributor in Pocatello, Idaho, earlier in its career, and had been abandoned in a field by the second owners when the transmission locked up. I made a deal with the owner of the store nearest the field it was in. I think it was $120.
After rebuilding the engine (a 59AB flathead) and fixing the transmission and brakes, it was time to get it registered. I went down to the county courthouse, and they told me to put an ad in the legal section of the newspaper and if no one could prove it was theirs, it would be mine! So I did this, got only a response from a person wanting to buy it, and went back to the courthouse. They asked me what the serial number was, and not knowing where to look, I told them I had no idea. So they said fine, go down to the local blacksmith shop and borrow their stamps and stamp in an assigned serial number into the frame.
It was winter and I was leaving Nuclear Prototype School in Idaho to go to Pearl Harbor to pick up my submarine. My dad flew up from San Diego to join me on the drive south. The panel truck's back was totally packed with a friend's motorcycle, car parts, tools, clothing and topping things off…a crazy Irish Setter. (Is there any other kind?) Being a rich Lt. (junior grade), I had put farm implement tires on the front of the truck and recap snow tires on the rear. To ensure our comfort, the panel even had a Southwind gas heater.
We made it about 100 shivering miles when the first recap blew. But not to worry, I had my trusty side mount spare. Uh-oh. So the knife blade incision on the backside is why this was a spare!
We went slowly on the side of the road for 50 or so feet when the spare gave up the ghost. But we were in luck. We stuck out our thumbs and in a few minutes a local farmer in a flatbed pulled up.
We found a gas station in the next small town that happened to have two tires the right size, and got them mounted.
With the tires in place, we finally made it home on the battery after the generator went out in St. George, Utah.
I had the panel in Hawaii and Newport News, Virginia, where it was lots of fun. I painted it Daytona Yellow and dropped in a full race flathead. I remember getting the crank and rods out of a '51 Merc. It had a full race Isky cam, Edelbrock Super manifold, Fenton Headers, Jahns pistons, Offy heads, an aluminum flywheel, and a relieved and ported block. I drove it cross-country to San Diego, and while crossing the Rockies noticed the left and right temperature gauges went up to 195 climbing a hill but hadn't come down. I pulled over and found the generator pulley had spun off and wedged itself between the frame and inner fender. The engine had been cooling with natural circulation! And who says flatheads run hot!
My next car project was a '33 Ford 3 window coupe. I bought this as a total basket case, my first introduction to this type of purchase. This was a real learning curve event, trying to locate missing parts. I also had to fabricate new wood for the doors. No one was making reproduction wood at the time. The car came out beautiful. It was silver and black with the panel truck's full race flathead and a LeBaron Bonney interior.
Succumbing to a Studebaker's Lure
It was 1980, and I was entering the next phase of my life: married with children and making the big bucks as a general building contractor. This necessitated selling the '33 Ford (and a boat and dune buggy) and finding a better work truck. I had been getting by with a '73 Datsun but it was time for a he-man rig.
I found a '51 Studebaker ¾-ton pickup in the paper. It was owned by the son of the original owner. It had the Stude 245 six, 3-speed o/d, and was tan and rust on the outside with assorted dents.
The owner had taken the truck in to be painted and they had sanded the original paint job down to bare metal on about a quarter of the body. It had then been parked outside and never painted. It ran, but needed work on most systems.
I offered $400 but was turned down. We went on vacation and when we got back, the seller had reconsidered and I had myself a truck. It was quite an adventure driving it home — about 50 miles — on the freeway. We lost the entire exhaust system on the ground almost right away and then had the transmission lock up in third gear.
I sandblasted the truck, painted it a baby blue with red wheels, and redid the brakes and transmission. The restoration was a real eye-opener for me. It turns out that for the most part, Studebaker always ordered parts for way more vehicles than they would ever build each year. This has led to great parts availability at reasonable prices. I got an NOS transmission and later all the new components to put together a Studebaker 289 V-8. At the time, there was also a large Studebaker parts vendor in San Diego with his own wrecking yard. It was easy to own a Studebaker and I would use this truck as my work vehicle until 1999, putting on around 300,000 miles.
A memorable moment with the truck came when I was working in north county and noticed the right front wheel rubbing. I assumed I must have run into something or something had run into me and continued home at 70 mph on the Interstate. When I got home I took a look at the right front wheel and noticed it was cambered out about 5 or 10 degrees. It turns out the spindle had cracked right where it necks down from the grease seal!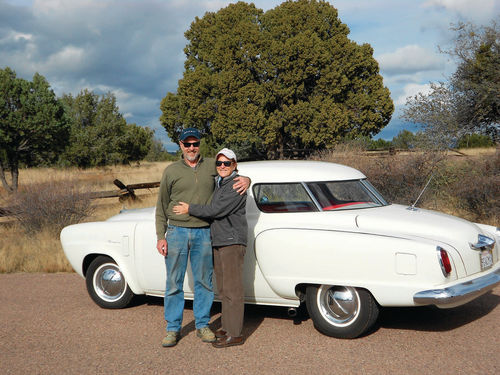 Adding Studebaker Cars to the Fold
My first wife noticed a '62 Studebaker Gran Turismo Hawk that I had fixed up. It had been smashed in the front, but still had a good rear body and engine. I had found a used frame and front clip, painted the car, and then sold it to my brother.
She let me know she would like one also, so I found one for her. (Unfortunately [hee-hee], I had to purchase a '51 Commander Land Cruiser as part of the deal.) I ended up totally redoing the GT, painting it silver with a red interior with air, power steering, power brakes, and converting the trans to an FMX.
We used the GT for the next 15 years as our daily driver family car. After retiring from family duty, my son drove it to high school.
I think the coupes ('53-'64) are the nicest road cars Studebaker ever made. They are comfortable, great-looking, and handle well.
Now, back to the '51 Land Cruiser I got with our GT Hawk. This was a nice original-type car, an extended wheelbase four-door sedan with the first-year Studebaker V-8 and automatic. I got it running and drove it around some, but had to sell it when we moved.
A few years later, what should I see but my old car in a Home Depot parking lot. I excitedly walked over to the car to check it out. The current owner, knowing that people would be peering inside, had left a girlie magazine open on the front seat for our further entertainment! I thought I would never see the car again, but on our drive up to the Studebaker show in La Palma last year there it was. It still had its Fort Ord bumper sticker, and had been reunited with an owner prior to me.
In the late '90s, the '39 Ford entered the scene again. My first wife and I had divorced, and as my son was 14 and needed something to do when visiting on the weekends, we decided on a father/son project with him becoming the car's new owner.
It was fortunate that I still had the car. I had painted it yellow and put another engine in it, but didn't drive it often enough to keep it up. I had tried twice to sell it to friends of mine, but both times their wives made them bring it back.
We made it into a nice street rod installing a Mustang II front suspension and Chevy 350-350. We even painted it a dark metallic blue. Apples don't fall too far from the tree.
My son still has the car. In fact I got to fly back to Minneapolis and help him drive it and his Mustang to Austin a couple of months ago. What fun!
Studebakers Became a Husband & Wife Endeavor
My next or should I say our next car project was a '50 Studebaker Starlight Coupe. It was the early 2000s, and my girlfriend had been seduced by the Studebaker's unique designs. I had bought several basket cases back in the '90s, and decided to give her the pink slip to one for her birthday.
She proceeded to dive into the project, and by 2003 the car was done and we were married. We named the car Miss Em. (I know, naming cars is a girl thing, but it is handy when you are fumbling around trying to tell someone which car you are talking about.)
We had bought several parts cars and made them into a Wimbledon White beauty with a red leather interior. Mimi redid the gauges in white, and we built the Champ 6 with period speed pieces. It has a 3-speed/overdrive tranny, and is a pleasure to drive. It got Best of Show at the 2003 Studebaker Drivers Club Southwest Zone Meet. We still have the car.
As we had enough leftover parts, we decided to build a 4x4 camper. We started looking around and discovered that Ford Explorers and Chevy Trailblazers had the same wheelbase as the Champion Starlight Coupes. So we found one that had been t-boned behind the driver's door, got the frame straightened, and proceeded with the transplant. We used all the drivetrain, harness, computers, etc. We narrowed the dash, and grafted in the firewall and floorboards. We removed the Studie's back seat and made a sleeping compartment out through the trunk. The ultimate drive-in car! This is Mimi's daily driver. She has put about 50,000 miles on it including a trip to the Midwest.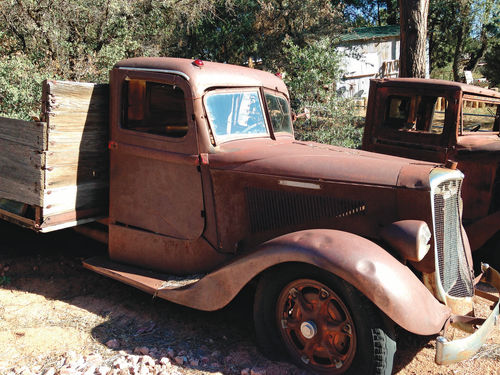 The Studebaker Collection Continues to Grow
Over the last 10 years our car craziness has accelerated. We retired and bought another place in Arizona to store cars. We bought four 1.5-3.5 ton Studebaker trucks from the '30s and now have them lining our drive. Our plan varies, but we are talking about making a Class C motorhome or a pickup out of parts from the four.
Some other interesting cars we have had and restored include a 1938 Studebaker Coupe Express (only 1000 made), a 1964 Studebaker convertible, a 1935 Commander 4-door sedan, and a 1955 Studebaker Conestoga Wagon (supercharged Studebaker V-8).
Our current fleet includes a 1953 Studebaker pickup with a high-performance Studebaker V-8, auto trans, and Fatman front end; a 1937 Studebaker Dictator 3 window coupe with a fuel-injected powertrain similar to the pickup, and a 1955 Studebaker Commander coupe with a '53 front end powered by an LS-2 on an Art Morrison chassis. (As you can see, my taste generally runs to the modified side.)
Our choice of the color for the '53/'55 coupe was an arduous one. We probably had 10 paint samples made…before settling on 2006 Chrysler Classic Yellow.