GU30 GEARHEADS UNDER THIRTY My 280Z Had a Split Personality
This Young Restorer's '78 Datsun Ran Perfectly…Sometimes. So He Kept Working; Looking for a Solution.
MY SEARCH FOR an early Datsun Z started as a teenager, when, while driving my MGBor dad's 280ZX, I would see a pristine brown 240Z racing about. This was southern Indiana, mind you, and rust had eaten its share of these cars, making my search very difficult.
Now fast forward some years, to Jan. 3, 2002, to be exact.
I was in Eugene, Oregon, visiting my father, and was heading back from the airport as my flight home to Indiana had been postponed for a day. Along the way, we passed a St. Vincent de Paul thrift store, which sold donated cars.
In the front row was a brown 280Z.
"Turn around," Isaid. Walking up to it, I knew. I ran my hand along the underside of the rockers; no rust. About 96,000 showed on the odometer, and the perfect interior told me it hadn't rolled over. I sat in it…and the clutch pedal went right to the floor. I tried the key, nothing. But after a jump, the car started right up and ran smoothly. They were asking $1000, we got them down a bit, and added $40 for a tow to the homestead.
The car had been on the lot for only four days.
I flew home as scheduled, my dad took delivery of the car, and he sent me a simple message: "You stole this car."
He put a clutch slave and a battery in it and drove it every day, reporting to me back in Indiana on what I would need to do to get it ready for a cross-country trip. As it turned out, tires and shocks were it…the car had been well-treated. I ordered the parts, he installed them— what a great dad—and he continued driving it every day, with no issues. He installed a set of lowering springs for me as well.
An Interrupted Trip
On June 2 my roommate and I flew out to pick up the car, and after a few days of visiting we headed east.
The plan was to zigzag across the West…seeing everything we could. But that plan changed about two hours south on I-5, as the Z died, rolled to the shoulder, and refused to restart.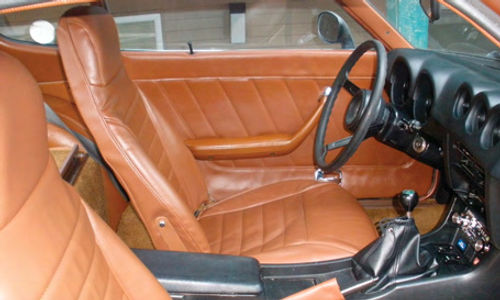 We had been going 70 mph with no overheating, no weirdness; then, nothing, like the key had been shut off.
We lifted the hood and checked everything we could think of but found nothing amiss. Then, a couple hours into it, the Z started and we were off, heading east again, although we had decided to shorten the trip by a few zags. There would be no stopping until Colorado, and we'd spend some time there instead.
The Zran perfectly for 400 miles…and I mean perfectly. We began to forget the issue, and then the car earned the name "Christine" (after the demon-possessed 1958 Plymouth in the Stephen King novel). We had pulled into a Nevada rest stop, and the Z refused to restart…for 8 hours. We were starting to realize why the car had been donated.
The Pattern Continues
Let me say we were just two 21-year olds with mechanical inclinations and not much experience, but we went through the car very thoroughly…and found nothing. The wiring in Christine had never been molested. The engine and manifold were clean, good spark (Ow!) and fuel pressure…and the car just looked perfect—not like something that belonged on the side of the road. We were stumped.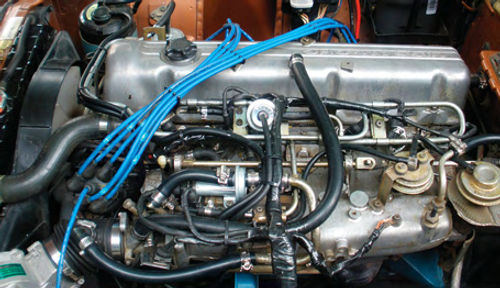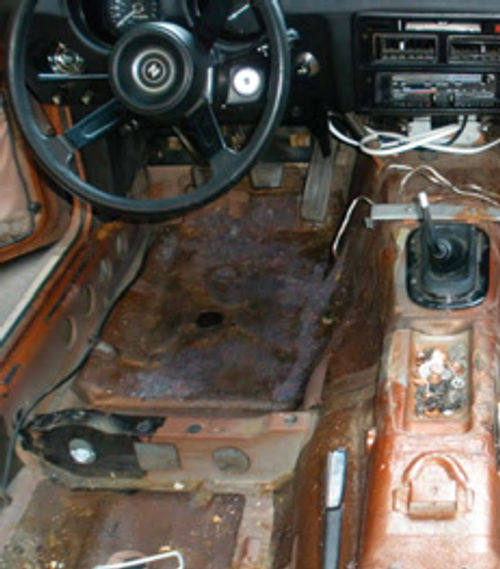 We managed to make our way to Golden, Colorado, where a friend loaned me his garage for a couple of days. After sightseeing around Colorado, we changed the plugs, cap, rotor and fuel filter…and when Christine started right up we thought, sure, let's try Kansas.
We eventually made it, but Christine would randomly die, or refuse to start, with no pattern. She just had a mind of her own.
I changed a few things out over the next few months,subject to a mechanic's and friend's recommendations, including the fuel pressure regulator and electronic ignition control module, and I cleaned every connection I could. Christine would run flawlessly for a while, and just when I'd forgotten about her problems, she'd act up.
Hit By a Second "Curse"
I moved to Colorado, with everything I owned in the Z, and the car ran nearly perfect. Once a month or so the car would die or refuse to start, but it wouldn't stay that way for more than 5-10 minutes at the most. Whatever her issue, it was getting better. It seemed like a loose or dirty connection somewhere…but where?
For the next year I put 12,000 miles on the car without a single issue. I drove her to work every day, road-tripped to Utah, Albuquerque, the Grand Canyon, and all over Colorado. She ran like a champ.
Then the next curse appeared: The boss's son ran over the rear end with his Suburban. I had been saving my pennies, hoping to have the car painted anyway, as there were a couple small dents here and there. The boss paid the exterior restoration bill, and I spent the summer working off my share of the payment. She looked good with her perfect body and fresh 301 Brown Metallic.
But the day after I wrote the last $100 check, my neighbor ran into Christine, crumpling the headlight bucket and front fender. And he had no insurance. I wound up collecting a few hundred bucks, and I obtained a lightly dented fender from a Nissan dealer, and a headlight bucket from a Z guy. I painted them black and tried to forget the image of the perfect Z I had once owned.
Time for a Name Change
I drove her to Oregon (no issues with dying) and spent the winter with my dad.
That winter Christine received a heater core, hoses, new plugs, wires, cap, rotor, tires (I had been hard on them), weatherstripping, battery cables, and we painted the fender to more nearly match the correct color.
In the spring I went back to Colorado, and stayed there for several years. I drove the Z all over the place, and the issue of dying randomly all but disappeared; now it was just a little glitch I hardly noticed anymore. Along The way,I Rebuilt the front end: ball joints,tie-rods, calipers,rotors…
It was then that Christine was renamed. An old friend flew out and her first reaction to seeing the Z was "Eleanor"(after the 1967 Shelby Mustang GT 500 in the movie "Gone In 60 Seconds"). Given that the Shelby was also a little cantankerous, it fit and I rolled with it. We drove 800 miles that weekend, all over Colorado
I've now forgotten that girl's name, but the car ran so well for the next few years that I forgot about "Christine," as the Z truly was "Eleanor."
The Z Becomes a Storage Trunk
Then I moved to Whidbey Island, Washington, once again with everything I owned in the Z. I got a job at a shipyard, bought a boat, restored it and moved aboard. Sadly, Eleanor became a storage container for things that didn't belong on board. These were dark times for the Z; she sat, neglected, in a marina parking lot.
My plan (of sorts) had been to buy a boat, sail around the world alone,and then eventually find some island girl to marry.
Instead, I wound up dating the girl at the fuel dock and we eventually got married. We sold the boat, packed everything into my trusty Z, and moved to Seattle.
Around this time I was given a Jeep Cherokee with a blown engine; something about not adding any anti-freeze. I rebuilt the engine and then parked the Z. It was time for the ultimate tune-up.
I pulled and rebuilt the engine to stock specs, and did a 240 bumpers wap. After 8 years of keeping the car original I felt the need to make some subtle changes including a new oil pump, timing kit, rings, main and rod bearings, water pump, valve guides, wheel cylinders, radiator, Konig Rewind 15x7's,Goodyear 205-60s and an Optima Red Top battery.
Eleanor was given a new lease on life. I was up to 1000 miles on the rebuild when that second curse returned and I was rear-ended in Seattle.
Fortunately, the insurance adjustor turned out to be a Z fan, and was easy to work with. Since the accident and the resulting bodywork I've also added: a fiberglass rear skirt, fiberglass front bumper, temp sensor, air regulator, heater core and hoses, wiper linkage and arms, door panels and carpet among other items.
Tackling the Restart Problem
But even after all that,with 1500 miles on the rebuild, Eleanor still liked to randomly die. Enough is enough, I said, and I went out with the intention of making the car die. I found that when the car hiccupped, if I tapped the computer with my foot, the car would immediately restart. Then I tempted fate by tapping the computer while the car was running: Immediate death. Another tap and the car would restart.
Now, a $25 eBay computer has eliminated the driving issues, and my original is on its way to be rebuilt. I'm also hoping to give the car a coat of paint and to continue suspension work as well, replacing all the rubber bushings under the car, and installing new performance shocks and springs.
A Visit to Show and a Dealership
I recently parked my Z at a Datsun show in Canby, Oregon, just for kicks. I built a driver, not a show car, but I must admit I really enjoyed showing her off and getting advice from the many others who have done the same.
On another automotive outing, my wife and I went to look at the new Z the other day, the 370. The first thought in my mind was, "If I bought a 370, in 20 years it would be gone, but my Z would still be in the driveway…"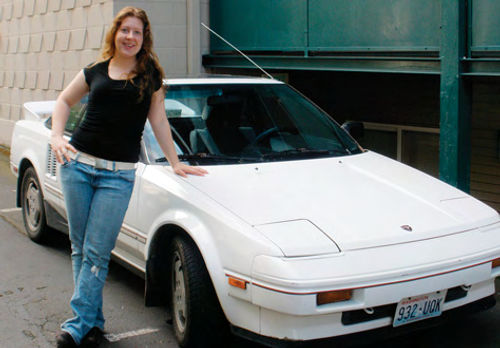 Forming a Restoration Team
You should also know that my wife Ragina has an '86 Toyota MR2. It was her first car and she took great care of it, but her father sold it. For her birthday this year I bought the car back. It is still rust-free, very straight, with a nearly perfect interior, but the clutch has started to slip, and oil consumption has gotten pretty high.
Now we're looking forward to our first engine build as husband and wife…