There's a Debate On Two-Foot Driving and Non Original Wheels. We Also Heard About an Isetta Daily Driver and Received a Warning About Glass.
Editor's note: Two recent letters to Auto Restorer brought a good deal of response from our readers. One letter had to do with whether people should drive with one foot or two, braking with the left foot instead of the right (December), and the other was from a reader who doesn't like non-original wheels on vintage vehicles. Let's start with the one-foot, two-foot driving debate.
More On Whether People Should Drive With One Foot or Two
I'm a left-foot braker. I started doing it in the mid/late '70s when I road raced a Camaro in the SCCA. I learned the technique of "trailing brake" or "trail braking." The technique is used to shift weight to the front end for steering control. For example, if two turns are close together and there is no need to downshift, gently roll out of the throttle (right foot) and at the same time, apply slight pressure to the brake pedal with the left foot while steering into the turn (aka "corner" for NASCAR folks).
Later on, I taught a modified version in emergency vehicle operations courses. This application is called "cover the brake," anticipating that another driver may do something that could result in a collision. For example, when approaching an intersection while responding with lights and sirens and the EV doesn't have to stop.
I agree, it is possible to forget to remove the right foot from the gas pedal while trying the brake with the left foot. I've done it. Someone told me years ago not releasing the gas pedal all of the way was not a bad thing. In a panic stop situation, it may keep the rear wheels from locking up which makes rubber marbles out of the tire rubber. With ABS brake systems, this is a moot point.
Ossie DeLay Woodstock, Georgia
I've no issues with driving my auto box '94 Jeep and auto box '83 Jaguar with left-foot braking. Although a musician I'm not, a decent piano player can use two feet and two hands simultaneously.
Now I've come across emergency situations and jumped right foot to the brake pedal with no coordination issue at all.
Although even at 84 my reflexes are pretty d.m. good, I ain't the only one. Most anyone could handle this with training.
Carl Hutchins, Jr. Via email
After more than 40 years as a traveling salesman and two-plus million miles using both feet, with no accidents and brake linings lasting 100,000-plus miles, I think I'm qualified to say two feet can be more safe.
I'm 80 now and still using that method.
However, never try backing a "T" off a trailer using the two-foot method. In that case, you have the left on the reverse pedal and right on the brake. I did just that.
The brain says "brake," and the left foot reacts. The brain says "I said 'brake'" and the left foot pushes harder.
Kenneth Ward Williamsburg, Virginia
I just finished reading the Mechanic On Duty response about two-foot driving in the December 2013 issue, and I have to throw in my two cents. For normal everyday driving, I agree that the right foot should handle the accelerator and brake. (I also believe that the left foot should actively operate a clutch pedal, but not everyone is fortunate enough to have a car so equipped.)
My caveat comes from a lesson I learned several years ago when attending a winter driving school at the Keweenaw Research Center in Michigan's Upper Peninsula. One of the exercises had us applying the brake pedal with our left foot as a means to counteract understeer as we headed into a snowy corner. I believe the premise is that is causes a slight weight transfer to the front wheels which helps them regain traction after they have started to slip. It works amazingly well, although some practice is required to get it right. Next time you're on a snowy back road or in a slippery (deserted) parking lot, give it a try. You'll look forward to the next snowstorm just to try this trick again, and it may keep you out of the ditch when the weather turns bad.
And for the record, since this technique is for turning and not stopping, it works great on manual transmission vehicles as well as automatics. Drive safe.
Matt Kaufer Holly, Michigan May your engine be in tune, and all your roads be twisty.
Re: Mechanic on Duty, December 2013, "Should people drive with one foot or two?"
I would like to add two examples of what can happen with left-foot braking.
First, in the early 1980s my neighbor in Denver, Colorado, had a late 1970s A-body Buick with the time-tested 231 cid V-6.
He took it in to the local Buick dealer and complained about poor braking performance, primarily having to use excessive pressure on the brake pedal. The service manager asked him which foot he used for braking and my neighbor replied that he used his left foot. The service manager explained that the vacuum-assisted power brakes relied on the high level of vacuum developed with sudden engine deceleration. When using the left foot on the brake pedal, the right fool usually still applies some pressure on the accelerator pedal, thus impeding the engine deceleration and the amount of vacuum being produced and available to the power braking system. My neighbor stopped using his left foot on the brake pedal and the braking efficiency of his Buick Was then more than satisfactory.
Second, in 1969 I was driving my one year-old Pontiac GTO down an arterial street in Denver and was struck by a car coming from a cross street on my right. A police officer was parked a half-block away, witnessed the accident, and was checking on the well-being of the other driver before I got out of my car. The other driver explained that she used her left foot to brake as she was approaching the stop sign on a downhill grade. Her left foot slipped off the brake pedal and pushed her right foot down on the accelerator pedal. Her car hit mine just behind its right rear wheel and spun me 360 degrees. She was already under a doctor's care for her right leg, but neither of us was injured further.
Thanks for listening to my two-cents' worth of comments. I enjoy your magazine very much and it is one of the few where I keep all back issues and refer to them as needed.
Glenn Mallory Salida, Colorado
Hey, Who Are You Calling "Frumpy"?
In January's article on the 1957 BMW Isetta 300, the BMW 502 and 507 were called "frumpy." Perhaps it was a proofreading error. While the 501 and 502 certainly fit that description, the 507 was a sleek 2-seat roadster that, according to Wikipedia, had a total production of 252, because BMW lost so much money on each one. Nothing baroque about that car...
John Bromer Via email
We forwarded your letter to Jim Richardson, author of the Isetta article, and here's his reply: "Quite right, the 501 and 502 were fat and frumpy, but the 507 was a beauty. Sorry for the typo. Unfortunately, the 507 was far too expensive to have much sales success, and it was not really a production car. BMW was saved from oblivion by the Isetta."
That's a photo of a BMW 507 right below this text. More than likely, most people would not classify it as "frumpy."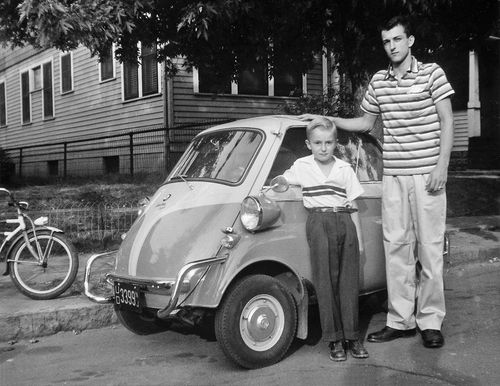 A BMW Isetta 300 Was Our Family's Commuter Car
It was fun to read Auto Restorer's feature story on the 1957 BMW Isetta 300 in the January issue.
As much as these cars have become a great novelty of the old car hobby, most people who see them now find it hard to believe that they were ever considered a practical means of transportation. But they were, and served well for local commuting and even the occasional longer jaunt.
In 1957, when I was eight years old, my family bought one of these, brandnew, as a second car (the family car at the time was a '53 Ford). My 18-year-old college student brother commuted to a university that was 12 miles away.
At first he drove a '47 Buick that Dad bought from the widow around the corner who didn't drive and had no use for the car when her husband passed away the previous year. But that boat on wheels got gas mileage in the single digits, so dad embarked on a quest to find an economical commuter car for my brother. Volkswagens, Morris Minors, Renaults, English Fords and even used Crosleys were among the candidates considered. But for some reason, Dad absolutely fell in love with the little Isetta 300. The funny part is that my brother didn't have a say in any of this; it was Dad's quest and he seemed to be having a blast. Once he made up his mind, my brother had his new commuter car and the Buick went to the junkyard.
This car was loads of fun and was always an attention getter. When my brother wasn't using it, Dad enjoyed tooling around in it—often with mom and me. (We called it a two-and-a-half passenger car.) This Isetta took my brother through college and graduate school and on a couple of longer summer trips. Yes, there were problems with those rubber universal joints and an occasional clutch cable that snapped, but once Dad learned what the usual expected problems were he kept the necessary inventory of spare parts on hand and pretty much stayed on top of the situation. When my brother finished his education and got a job and another car, the Isetta was taken over by mom who used it for several years to commute to her job at the local library three miles away.
The bottom line is that little 1957 Isetta 300 saw almost 10 years as a practical and very economical second car in our family.
Attached is a photo that our mother Helen Kanzler took of her two sons, George, Jr. and me, with the Isetta when it was brand-new in 1957.
Auto Restorer is my favorite old car publication. Keep up the good work.
Owen Kanzler Linden, New Jersey
Are Non-Original Wheels OK?
In reply to Wendell Newman's letter in the January issue about non-original wheels. I agree with him. I know that different people like different things, and everyone's entitled to their own opinion, but…if some of the contemporary wheels I've seen belong anywhere, it's NOT on the fine vehicles of the '50s, '60s and '70s.
Tom Nolte Cromberg, California
Regarding the letter to the editor in the January issue, "I Don't Like Non-Original Wheels" by Wendell in Carson City, Nevada.
Well, he is right on. It is about time our voices got heard. I also hate seeing non-original wheels on classic and restored cars. Why would anyone spend a ton of money restoring a beautiful car and then waste money on modern aftermarket wheels?
And for stock classes in car shows, cars with aftermarket wheels should be docked points.
Stock is what you could buy from the dealer the year the car was sold, not 30 years later.
And almost all cars sold in the '50s through the '80s had whitewall tires. Of course they have to be kept clean, but black walls ruin the looks of older cars.The main reason new cars come with black wall tires is they are cheaper.
I drive luxury muscle (a '67 Riviera) to shows. The gals love the Rivs.
Gene Moran Neenah, Wisconsin
In regard to Wendell Newman's opinion in the January issue, I agree very much with him. It amazes me that many restorers work hard on the restorations and then give up and put on new-style rims and put the originals in the trunk. Especially pickup truck restorations are almost all without original wheels and that makes them look awful.
Maybe it is easier not having to look for original hubcaps to go with the original wheels.
George Wuszke Eau Claire, Michigan
Regarding Wendell Newman's "Non Original Wheels" letter in the January issue, I must agree with him.
My recent experience with restoring my '67 Chevelle Malibu convertible, after reading your convincing (almost) series on disc brake conversions, involved a decision — go to discs or stay with drums. The conversion required going from the stock 14" wheels to 15 inches to accommodate the rotors and calipers. It also meant giving up the stock 14" hubcaps for later year or aftermarket 15" caps. So I stayed with drums and the original hubcaps. The car stops fine and looks great (original).
Love Auto Restorer. Many articles have been very helpful in the restoration of the Chevelle and my 1940 Ford Standard Coupe which I've owned since 1961… from high schools days! Both efforts are ongoing, like many resto projects.
Lad Price East Longmeadow, Massachusetts
In regard to using non-original wheels on your ride. A person's vehicle is an expression of personal taste and is very subjective.
I personally have original wheels and hubcaps, but a set of Cragers are bitchin' on a '60s muscle car.
David Sweet Chico, California
In the January issue Mr. Newman from Carson City, Nevada, expressed dismay with the lack of owners keeping original wheels and hubcaps on their cars. In early 1973 I purchased a '71 Ford Ranchero. The original full-wheel covers were uuuuugly. I drove it through the winter while saving up, and in the spring put a set of true spoke aluminum wheels and raised white letter tires on it. The only other mod was a black tonneau cover for the bed. It was sharp then.
If I had that truck today, I would keep the original wheels and caps in the back of the garage for Ford-only shows, and put the mags back on to drive and impress my friends.
Gary Mehl Battle Creek, Michigan
This letter is in response to whether or not one should use non-original wheels on their ride.
Several years ago I completed a nut and-bolt restoration on a '65 Chevy Corvair Monza, right down to a set of impossible-to-find NOS wheel covers.
I was always one to keep everything as original as humanly possible.
A few months ago I decided that I wanted to change the look of the car by changing the wheels, and it isn't something I did in haste. (It took me three years to do it.)
I installed a set of GM rally wheels from the period with trim rings and Derby caps. The look is stunning to me. The tires are a little wider; it changes the look of the whole car. Most that have seen it like the look.
Done with some thought and research, a wheel swap can be a good thing.
Jim Kazilionis South Portland, Maine
About aftermarket wheels. I too generally prefer to see stock wheels on a restored car but in some cases aftermarket wheels are superior in appearance and performance. The factory wheels and hubcaps on a Datsun 240Z come to mind. They were hideous and almost universally scorned by the automotive press and buyers alike. Nearly every new purchaser of those cars would immediately remove them and replace them with wheels more appropriate to a sports car.
If aftermarket wheels are used I do prefer to see wheels appropriate to the era of the vehicle rather than the current 22" wagon wheels and low profile tires that are so popular today.
In the end, though, it is the owner's choice and I would rather see a nice car with ugly wheels than not see the car on the road at all.
Forrest Ward Via email
Mr. Wendell Newman's letter concerning non-original wheels on restored cars and trucks and his dislike of them has me puzzled. Unless a car is competing in some kind of show why should it need stock original wheels or wheel covers. Shouldn't personal preference be the guideline here?
Mr. Newman is entitled to his opinion, but if he thinks everyone should share that opinion, I'm afraid he's going to be disappointed. Heck, if everybody liked the same thing everybody would be chasing my wife!
Pete Wardman Via email
Regarding the aftermarket wheels on my '62 Country Squire, I'm a "whatever turns-you-on" advocate for cars. It's your car. Besides, American Racing Wheels were pretty standard aftermarket in 1962, so it works for me. That Country Squire draws interest wherever it's parked, always drawing a smile from someone.
Love your magazine because it celebrates everyone's passions.
Dave, the OSU Beaver, Beach Sent from my un-vintage smartphone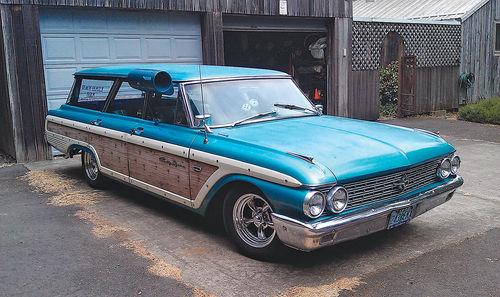 I'd like to share my insight about installing aftermarket wheels on restored vehicles. Writer Wendell Newman of Carson City, Nevada, voiced his preference for stock wheels on restored vehicles, and I can certainly agree with this feeling where 100% restorations are concerned, especially if they're to be shown and judged as such. I differ otherwise. Ever since there have been aftermarket and high-performance parts available to personalize our cars, us car guys have been swinging wrenches and swapping parts.
Most notably, for any popular car from the '60s and '70's, try to find some of these original, non-consumable parts; air cleaners, steering wheels, radios, wheels and hubcaps, ignition systems, carburetors, exhaust manifolds & shifters. These were the first things we changed when we bought the car of our dreams, and if the next owner was lucky he got whatever we had hanging on our garage walls as "spare parts," but more often these items were never to be seen again, lost to the junkyards and landfills around the country. I can clearly remember seeing (and installing) some car-related parts on the go-carts my friends and I built as kids too!
As a car show judge I can attest to the fact that many clubs have softened on their rules, allowing a few previously unheard of select modifications to a car even in a stock class. The underlying belief is that items like these can be swapped out over a weekend (or less) to return the car to its stock condition, yet making it more enjoyable and dependable to drive between shows. The biggest nod to this dictum is when judges turn a blind eye to dual master cylinders as well as disc brake conversions on older cars that weren't so equipped.
That said, I'm one of the guys who much prefer a set of Cragar mags, Hurst shifter, and Hooker headers on my older cars if not only for the performance, but for the killer looks as well. Just be sure to keep those stock parts for future use or resale, because they're sure worth their weight in gold these days! For further clarification on my feelings about how older cars should be preserved, I'm currently building a restomod '65 GTO, but let's not go there right now as I've probably already ticked off Wendell enough for one letter!
Ray Guarino Co-host: MotorMouth Radio Merrick, New York
Ray's MotorMouth Radio automotive talk show originates in Long Island, New York, and is broadcast live on 90.3 FM every Thursday and Sunday from noon to 1 p.m. Eastern Time. Or you cancatch the Internet stream by visiting MotorMouthRadio.com.
I understand Mr. Newman's preference for original wheels for an original or concours restored car. However, the decision ultimately rests on the preferences of the car's owner.
We have many classes of judging in the Vintage Thunderbird Club International and some classes will allow non-original wheels. The reason is that the enjoyment of the car by the owner is the ultimate goal.
Like you suggested in your January Rearview Mirror, variety will keep our hobby fresh and lasting.
Brad Kershaw Burleson, Texas
Only Drive With Safety Glass
I greatly enjoyed the article about the '32 Pontiac V-8 (February). At least I did until I got to the part where they said he left in the old non-safety glass. Some 40 or so years ago as I was training as a fireman and EMT, we were shown some pictures of what happened in accidents before safety glass. People had ears, scalps and even faces sliced off.
No car that is ever driven should be left with that old glass in it. If it has to be original, it should only be in a museum or trailered to a show.
Alex Magdaleno Camarillo, California