ONCE UPON A TIME... THERE WAS THE FAMILY SEDAN
If you've had any doubts about the direction of the U.S. automotive market, remember to look to your left and right the next time you back out of a parking space.
Sure, you automatically do that for safety's sake, but as you're looking back and forth, more than likely you'll also have the thought that many folks have these days. It goes something like: "How am I supposed to see any oncoming traffic as I back out? There's a huge SUV parked on either side of me."
Obviously, this parking lot scenario comes as no surprise as the market has been moving away from cars to SUVs, crossovers and pickup trucks for decades. There was a time when utility vehicles were generally owned by folks who went camping, hunting, fishing or off-roading, but now it's readily apparent that these once-uncommon vehicles have become the market's choice for daily drivers.
Still, it came as an unpleasant surprise when the Ford Motor Co. recently announced that it was dropping traditional sedans, including the Taurus, Fusion, Focus and Fiesta, from its U.S. lineup. By 2020, the Blue Oval's car line will consist of only the Mustang and a crossover version of the Focus to be called the Focus Active. Beyond that, Ford's business in the U.S. will concentrate on SUVs, pickups and the possibility for additional crossovers.
Here's how the company expressed the major decision:
"... Ford will create long-term value by: Building a winning portfolio and focusing on products and markets where Ford can win. For example, by 2020, almost 90 percent of the Ford portfolio in North America will be trucks, utilities and commercial vehicles. Given declining consumer demand and product profitability, the company will not invest in next generations of traditional Ford sedans for North America. Over the next few years, the Ford car portfolio in North America will transition to two vehicles—the bestselling Mustang and the all-new Focus Active crossover coming out next year. The company is also exploring new 'white space' vehicle silhouettes that combine the best attributes of cars and utilities, such as higher ride height, space and versatility."
And it's not just Ford that's moving away from the sedan market, either. Fiat Chrysler dropped its Dodge Dart and Chrysler 200 more than a year ago while General Motors has scaled back production of the Chevy Cruze and Impala, the Buick LaCrosse and the Cadillac ATS and CTS. Meanwhile, Cadillac, once known for nothing but luxury sedans, is rapidly shifting its emphasis toward more SUVs and crossovers.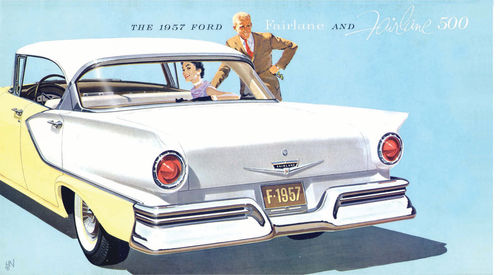 OK, so it's all a process of the automotive industry's ongoing evolution. But if you're of a certain age, you have to stop and reflect for a moment on the time when sedans were the backbone of the Big Three's product offerings. Years ago, when you heard that someone on the block had a new car in their driveway, you immediately hustled over to admire the shiny sedan as the proud owner looked on with a pleased smile.
It's a sentiment that's vividly expressed in vintage ads such as the ones seen on this page. People praised the new sedans with enthusiastic statements such as "Seats Sofa-Wide," and "Picture Window Visibility." Stylish people posed with their gleaming sedans as they prepared to head off on an enjoyable outing while trim folks dressed for the great outdoors loaded their cars with sports equipment.
And now all of those enthusiastic, stylish and athletic people will be singing the praises of their favorite truck or SUV.
Well, that's not completely the case. There certainly will be ads extolling the virtues of sedans from Toyota, Honda, Nissan and Hyundai, for example. So the supply of sedans hasn't totally dried up.
Or you could take another approach and continue to maintain and use the vintage domestic sedan you're currently driving. And think of it this way... You are now the proud owner of a vestige of American automotive history that's becoming ever more rare with each passing year. –Ted Kade, Editor