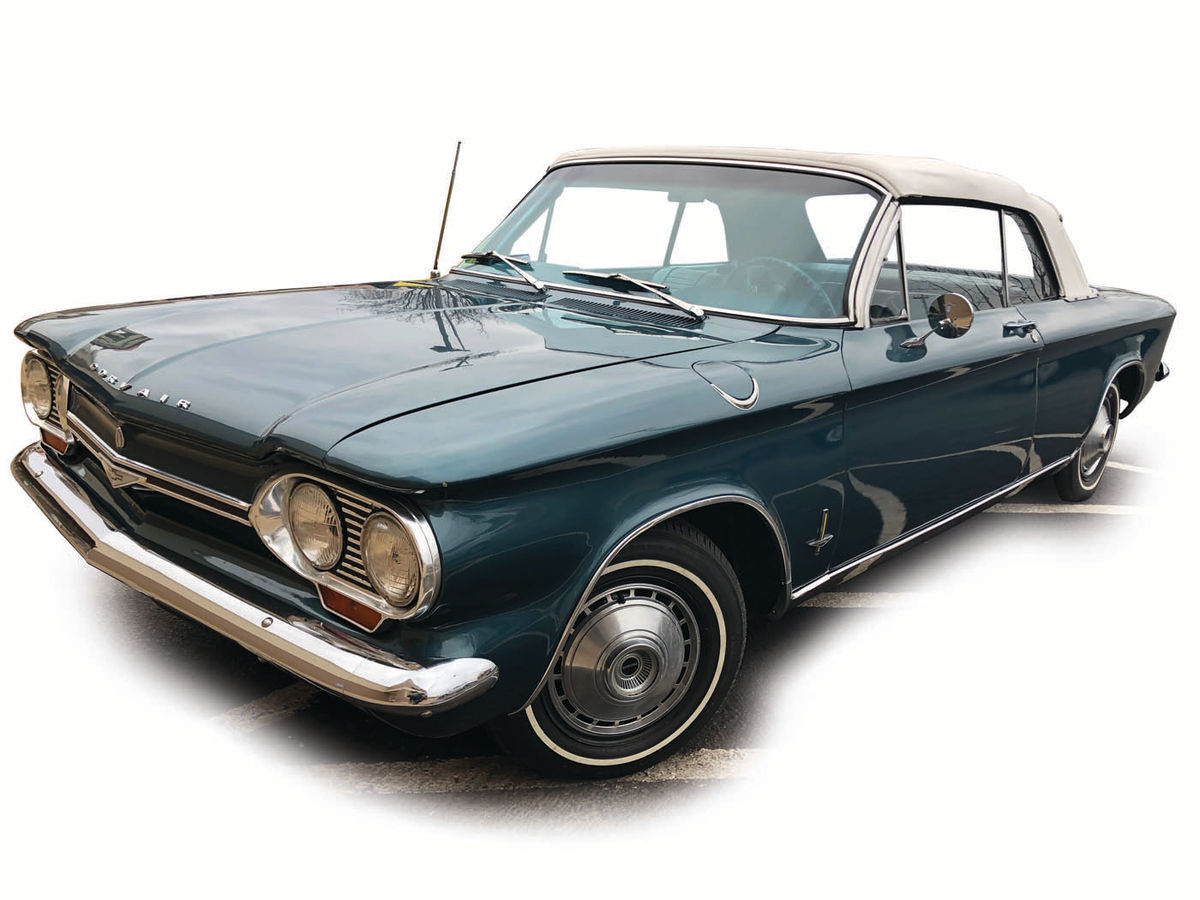 Spotted in Stilwell – these classic cars seem to have small-town roots here in Stilwell, Kansas.
Even the smallest towns can have the coolest classics. These two beauties were spotted just down the street in my old stomping grounds in Stilwell, Kansas. Stilwell is where I grew up (from age 10 until I went away to college) and has always had a small-town feel to me. I usually don't expect to see any classic cars in Stilwell – the majority of my neighbors drive more modern sedans or SUVs, and there are always the pickup trucks, of course. So when my mom, Judy Sipple, sent me these photos I was a little surprised to see not only one, but two classic vehicles spotted only a short time apart from one another!
1960's Chevy Corvair
A Corvair is always a fun and retro car to spot while out and about. This one was spotted in the parking lot of a local automotive shop called Burnett Automotive. It just goes to show you, you never know what may turn up when you go in to have your oil changed or your tires rotated!
The rear engine configuration and independent suspension makes for a fun and unique style. The first Corvairs were made as four-door sedans, and then followed with two-door coupe versions, such as this one pictured.
While researching Corvairs, I came across a fun quote from Jay Leno in Bloomberg's article "Why You Should Buy a 1960s Chevy Corvair Right Now" by Hannah Elliott and Chris Rovzar. "'This is a wonderful road car,' Jay Leno said on his YouTube show about his '66 Corvair Yenko Stinger. "'A lot of people put down the Corvair, but I consider it one of the 10 best General Motors cars of all time because it was just so different from anything else they built. They really handle. They're built nicely. They're a lot of fun.'"
Keep a lookout next time you take your car to be serviced; you may just see a classic in the parking lot next to you!
Reference: "Why You Should Buy a 1960s Chevy Corvair Right Now" by Hannah Elliott and Chris Rovzar published September 23, 2016, on Bloomberg's car page online: https://www.bloomberg.com/news/ articles/2016-09-23/why-you-should-buy-a1960s-chevy-corvair-right-now
1971 Datsun 1600 Pickup Truck
The Datsun is always a classic indeed – and although this one has a touch of rust, it still looks pretty good! The weather here in Kansas can be very harsh – the severe winds, storms, hail and ice can really take a toll on any car, so it's always impressive to see an antique vehicle like this still driving around. This particular Datsun was spotted in Custom Alignment's parking lot (a local automotive shop).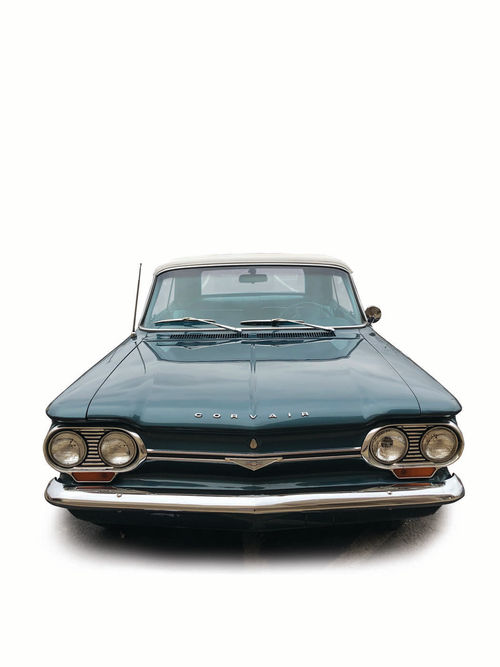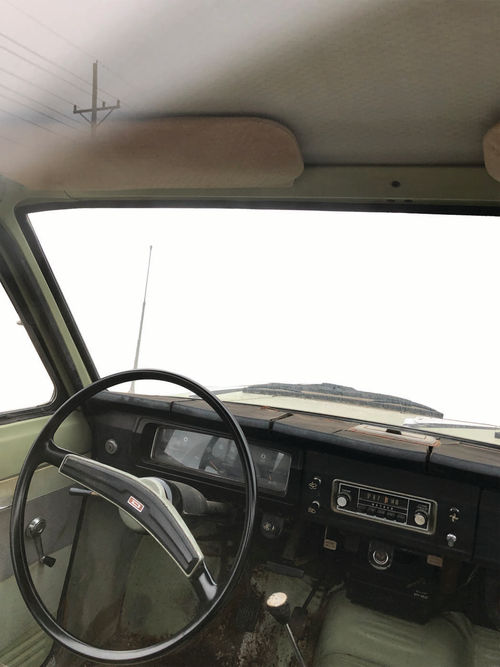 I'm always a fan of unique colors on cars and trucks, especially original colors, and this mint green does not disappoint. Even the interior looks original as you can see from this peek at the dashboard and steering wheel. One of my personal favorite parts of classic cars and trucks is the hand-crank windows (instead of the automatic roll-down windows of modern vehicles). There's something about physically rolling the window up or down that is really satisfying.
What's In A Name?
I found the history of the name Datsun especially intriguing. For those who aren't familiar, the Datsun brand got its start in Japan, with engineer Masujiro Hashimoto establishing the Kwaishinsha Co. which launched a car called the DAT-Car (or DAT_GO in Japanese). The first initials of the company's three investors spelled "DAT," which meant "lightning fast" and also stood for: "Durable. Attractive. Trustworthy." which would be the company's principles. Eventually Kwaishinsha Co. merges with Jitsuyo Jidosha to form DAT Jidosha Seizo Company. This new company later became affiliated with Tobata Foundry Co. where a new lightweight car is designed. This light, economical vehicle is called "DAT-son" (son of DAT) which is later changed to the name "Datsun."
Small-Town Charm
If you also reside in a small town (or perhaps are traveling through one) be sure to keep your eyes peeled for classics. Most people know everyone in small towns and we become accustomed to recognizing our neighbor's vehicles. It is always an unexpected surprise to spot a vintage car just down the street, and certainly a welcome sight.