GU 30 His Auto Enthusiasm Started Very Early
Did They "Create a Monster" By Putting Him Behind the Wheel? No, But It Eventually Led to a Restoration Job.
IN LIFE WE are all fortunate enough to have at least a few things go right for us, whether they are due to hard work, the right connections or downright good luck. As I sit back sometimes and think about all that has happened to bring me to the gearhead life I now live, I have to believe it was a combination of all of those…but mostly the hard work. Unless you magically have everything go right for you the first time, all the time in life, then you already know that you have to be a hardheaded type who's willing to spend every penny, lose countless hours of sleep, and work up seemingly endless amounts of sweat to build the machine of your dreams. It took all of that and more for me to build my very first dreamcar; and ultimately my livelihood.
Getting a Very Early Start
Before I get to that first car and its trials and tribulations, let's rewind back to the beginning. I wouldn't say I was born into a "car family," we sort of became one together. When I was growing up, my father had a 1976 Datsun 280Z that he'd bought new and still has to this day.
There are pictures of me as a toddler sitting behind the wheel of the car…if only my poor parents knew of the monsterI was going to become! That car may have sparked it all…hitting just the right cerebral note to set me on a path which led to where I am today.
Now we'll move ahead to the summer before I started the 7th grade. My father had decided to take on his first vehicle restoration and I definitely was curious. It just so happened that at the same time I wanted to get my first job and when you're that young there are few or no jobs available. So my father offered to employ me to work on his car, doing what I now realize were menial, dirty and downright not fun jobs on the Datsun. I spent my days that summer removing undercoating off of the underside of that car with a heat gun and a scraper and was happy to do so.
Saved From a Wrong Turn
Fast forward now about three years to the time I was 15…about two years before I could actually get a driver license.I was definitely interested in cars now…American Muscle to be exact. The speed bug had bitten me hard like it does many teenage boys. I knew that when I turned 17 I needed a car…a cool car…a fast car.
However, my knowledge of cars at the time was still a drop in the bucket and my bank account wasn't exactly overflowing. So I did what I always did when I needed guidance in life. I looked to my father, specifically to what he drove as his first car. This was the man I looked up to in life and I wanted to be just like him.
Well, as it turned out, my father's first carwasa1967CamaroRSconvertible.As I mentioned, my budget wasn'thuge, but I'd worked hard every summer saving up money for the day I could buy a car.
Obviously, a '67 Camaro was out of the question; one that I could actually drive, anyway. However, I had taken a real liking to the third generation Camaros that were produced in 1982-92. The bodies look like a stock car, long, low and sleek. I had to have one!
At this time I was 16 and had my learner's permit so I began to look around at cars with the help of my parents. Being young and naive I almost made a mistake…however lady luck and my father both intervened.
I had gone to look at a nice, blue 1991 RS model near my home and became starstruck by it. Stupid kid! The car was only a 6-cylinder and in retrospect I laugh at my intense interest in it. We actually made an offer on that car…a low one. I waited for about a whole day and got frustrated and almost begged my father to let me call back with a higher offer. The car gods were having none of this, however. Our original offer stood and I never heard back from the owner.
One Day, There It Was…
A few months later it happened…the car that would change my life came into the picture. My father had found it sitting in someone's front yard on his drive home from work.
It was a white 1989 IROC-Z with the gold-and-black decal package, a 305 V8 engine, and extremely clean with only 53,000 miles on it. My father, mother and I went back up to look at the car and talk to the owner. I took it for a test drive and everything seemed just right. We made an offer and a few days later she was mine!
Since I was still only 16 years old, I had to convince my parents to let me drive them around in that car as often as possible. Over the next few months I became acquainted with my baby, the way she reacted to ever blip of the throttle, the way she felt in every hard corner, and her every shake, rattle and roll. I even convinced my parents to let me upgrade the stereo system in the car before I had my license. In went a Kenwood CD player,some Pioneer 6x9s, and a 10" bass tube in the trunk. What more could a high school kid want? To go faster, obviously.
So, for the duration of my junior and all of senior year of high school after receiving my actual license, I studied what I could understand at the time in magazines, considered what I could afford, and began my pursuit of speed. That included things like a Flowmaster cat-back exhaust, K&N air filters, and some new KYB shocks and struts for better handling just to round off the package.
Parental Intervention
Man, I was hot stuff then. I could drive "fast" now with my hopped-up V-8. Of course this garnered the typical attention it would for any testosterone-driven young male. Within two weeks of getting my license I got squirrels in the rain one day and intimate with a guardrail. Before I could even drop the car off to have a new rear bumper installed and painted I was up to my stunt driving again. That resulted in a speeding ticket…55 in a 35 mph zone.
Fortunately, my parents got over it and I got my new bumper. Then, a couple of months later, I was driving home from my part-time job and, sure enough, someone hit me…in the brand-new bumper. So, on goes bumper number three for the car since I've owned it. And along the way for the next year or so I had a few more run-ins with the law over my heavy foot.
Then my parents issued the ultimatum: If I got one more ticket, I was going to have to sell the car.
A Collision Changed My Life
I behaved myself, for the most part, for the rest of high school, and during freshman year of college I couldn't have my IROC on campus so I only saw her on the weekends if I went home.
Then sophomore year something happened that changed the course of things for the car and me. I was out getting a haircut and on my way home I had stopped at a light. I heard someone yell over to me from the side of the road asking if I had jumper cables. Their car was dead in the parking lot off to my left and it was another Camaro.
As I began to turn left into the lot, another car pulled out from behind the car facing me turning left as well and hit me head on…totaling my IROC. The hood, fenders, grille, lights, everything on the front clip was mangled…and I was devastated.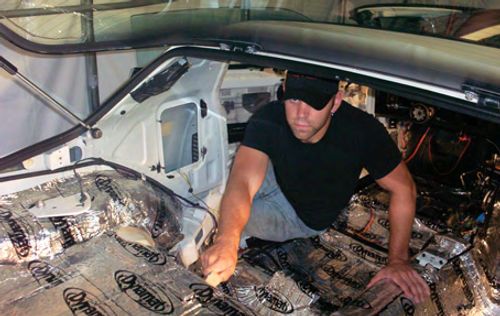 But, being the stubborn gearhead who loves his car, I was determined to fix it. I spent all of the money I had in the bank on new GM body panels and had just enough money to have some decent paint sprayed on it. This was just a band aid fix as far as I was concerned. Decent just wasn't good enough for my car. So a plan began to formulate over the next few months of school.
Answering That Need for Speed…and Looks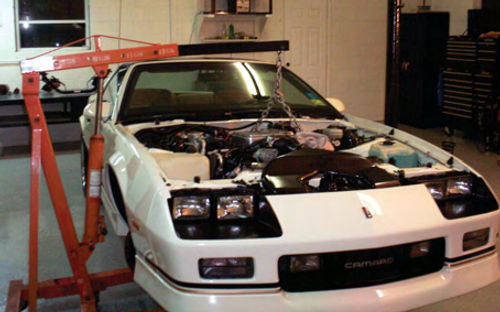 The summer after sophomore year I ripped the car apart—it was time to start my first restoration. I would do everything I could myself to keep costs down, as working on a college kid's budget isn't easy. But I knew that to do it right, every nut, bolt, bracket, etc. had to be redone.
After seeing the way my father's old Datsun turned out, I knew I wanted a show car. I still had the speed bug but now things had to look great too. So my plan was to remove everything from the engine bay so it could be painted, repaint the whole exterior of the car, detail the suspension and undercarriage, get new rubber, new wheels…and a new engine.
Now, this time it wouldn't be another 305, mind you. Remember, I still had speed on the brain. It was time to step up into the big leagues and in my mind a 383 stroker was the way to do it. Furthermore, being a prideful young man I had to build it myself.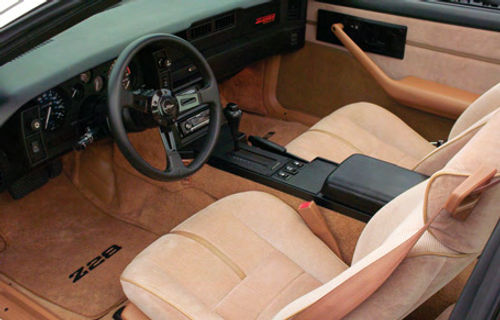 So, I got a junkyard 350 block and dropped it off to be machined. In the meantime, I purchased a rotating assembly, some AFR cylinder heads, a big Comp Cam, and a full aftermarket tuned port intake system…the Lingenfelter Super Ram.
A few weeks went by with my block being machined and I plugged away at cleaning and repainting every nut and bolt from my engine bay. I stripped all the parts using a wire wheel on a buffing machine and repainted them all with rattle cans. The underside of the car was stripped and treated to a few coats of POR-15 paint to help prevent future rust issues. It was the same recipe for the suspension, however a few new items made it into the mix. Spohn tubular control arms for the rear, all polygraphite bushings, and some Eibach lowering springs.
At that point the car was a roller again and it went off to be painted while I got my engine block back. I had read everything I could about building a stroker motor and knew that checking clearances for the rotating assembly was a big thing. Sure enough the rods I had were going to cause the rod bolts to hit the bottom of the cylinder bore at the top of the stroke. No problem…I had read about this. You mark the contact area and remove some material from the bottom of the bore with a grinder. Well, I got the first few opened up without incident and was feeling good. Then, while happily grinding away,I hit daylight. Yup…I had popped a hole right into a water jacket. My freshly machined block suddenly had become un-repairable junk. Somehow I scraped together the money to get another block and have it machined. And you know that I was much more careful with clearances this time and I managed to get the engine together.
Now the car was back from paint. It had a fresh coat of white with new striping and decals…and it had cost me a small fortune. This was what pushed me hard enough to learn how to paint a few years later. I was raised to never pay for something you could do yourself and I knew I had to be able to paint. (Now I turn out some of the best paint jobs around…but that's another story for another time.)
So the car is back and I continue the reassembly of the engine bay and its many sensors, lines, wires and smog equipment. We had come to the moment of truth…it was a cool fall day, right before Halloween in 2002.
Would my engine fire up? Would it be fast? Or would I hear catastrophic failure? I turned the key and the beast rumbled to life…I was in hot rod heaven. Some adjustments were necessary to get it running properly. Timing, fuel pressure and computer tuning all got me to the point where I considered the car streetable. Gobs of torque kept me grinning ear to ear in the driver's seat for the next year or two.
Then things started going downhill. The engine never seemed happy…it just wouldn't run right. Allsigns pointed to an internal problem.
A "Professional" Setback
So out came the engine again and this time I decided to justsuck it up and have a "professional" rebuild it. After several months of waiting, the new bullet was back. The engine builder never told me what was actually wrong with my motor when I had brought it to him…and to this day I still wonder.
Well, in goes the new engine and sure enough she fires right up and seems to run well.I baby itforthe first 3000 miles to let everything break in properly and then I start to have some fun with it. The year is 2006 and I've got one thing on my mind…Power Tour. That year it started in Florida and ended in my home state of New Jersey and I wanted to do the whole trip. There's only one issue to consider…my engine is burning oil. The builder assures me it's OK and the rings were still seating…but how could this be possible after 3000 miles?Well,I decided to chance it and went on the trip. During that week I went through probably two gallons of oil in 2500 miles and, even worse, had to endure the taunting of my friends asI changed the oil-fouled spark plugs out in a hotel parking lot every night. My new "professionally built" engine was turning into a nightmare. I insisted that there was a problem and we decided that I'd drive the engine the rest of the season to avoid any downtime with the car and pull it for a free rebuild over the winter. Fair enough…except the engine builder and subsequently the warranty on the motor expired before that winter.
The "Little Voice" Speaks
What should I do at this point? I'd dumped every penny I had into the car, was frustrated and felt like the car was just cursed to never run right again.
I was ready to give up and sell it as a really nice-looking roller.
Then that little voice inside my head intervened and convinced me that this was an opportunity to make the car even better. Years had gone by since I first restored the car. I was now gainfully employed and my automotive knowledge had grown by leaps and bounds. In fact, after graduating from college and working in a corporate environment for a few years I knew deep down inside that it wasn't the path for me.
That fire that burns inside of every real car guy or girl was growing hotter and hotter and starting to take over my being. I knew I needed to be a builder. There was nothing in the world that made me happier and more at peace than working on my IROC and I wanted that feeling every day. That little voice, that fire, they made me decide that this time I was going to get the car right and it was going to be my catapult into what I've become today…a professional restoration tech.
A Better Job This Time
Out came the engine again, along with every nut, bolt and bracket that I had painted years ago. The finish just wasn't holding up the way I wanted. Things were becoming dull and I had to have it all perfect. This time the engine went to Competition Engines speed shop in Raritan, New Jersey. They had a reputation for building great race as well as street engines. While it was there I upgraded to larger 195cc AFR aluminum cylinder heads, a larger Comp Cam, larger fuel injectors, and I ported the manifold base from the tuned port setup. While they were busy working their magic on my engine I was determined to build the nicest-looking IROC-Zaround.So all of those nuts and bolts were stripped down yet again, this time with a wire wheel and in a blasting cabinet. And I also was turned on to the magic of powder coating. Any part that I could fit into the oven my father and I had procured was treated to two coats of nice shiny powder. The finish is durable, beautiful and easy to keep clean. It's light years ahead of the old rattle can job.
My engine came back and went into the car and ran like a dream. Good power, no oil consumption,reliable and fun. I still haven't had the car dyno'd, but I'd guess the engine makes 400+ horsepower.
And now that I was going fast I knew it would be smart to be able to stop equally well. I was still working with a budget so big aftermarket brakes were out of the question. Instead I did my research and decided the best way to go was retrofitting C5 Z06 Corvette front calipers onto the car. The swap involved modifying the stock IROC spindles, machining the stock rotors down into hubs for the slotted/drilled Vette rotors, some custom brackets for positioning the calipers and, of course, the 4-piston Corvette calipers.
Finally…my IROC was running, handling and stopping great. There was one final step for me to complete before I considered it perfect. While my factory interior had been very well-maintained for over 15 years, it was beginning to show some wear. The driver seat had some small holes beginning to wear through the cover, the dash had a few small cracks, and the carpeting was looking a bit worn. As the plan had been with the rest of the car, I wanted to completely gut the interior and start over fresh.
However, I decided not to remove the dash from the car so I repaired the cracks, prepped the factory plastic dash, and painted it right inside the car. After that the entire floor was treated to Dynamat soundproofing front and rear as well as on the insides of the doors. New carpeting, new factory seat covers, seat belts, door panels, repaint of all the plastic trim, new carpeting for all the plastic trunk panels, weatherstripping and, of course, a custom stereo setup rounded off the package.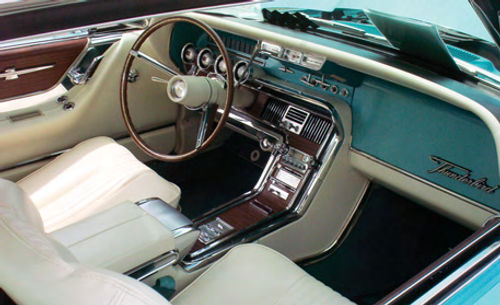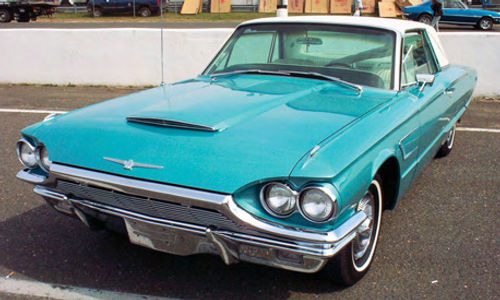 From a Hobby to a Business
It has now been about five years since I completed my car and I still take it out as often as possible to shows and for the occasional pleasure drive. I've won more awards with it than I can count. More importantly, the car has served as a rolling advertisement for my restoration shop and helped me to start and grow my business.Since starting my shop I've built a few other personal projects along with my father, never losing sight of who and what got me started in this lifestyle. Among my projects have been a 1965 Thunderbird, a custom 1980 Harley, and currently I'm in the middle of a chopped '48 Ford F-1 street rod for my shop.
Not many people can say that their first car,some determination and a lot of hard work have led them to start their own successful business. With a little direction from my father and that gearhead fire that has always burned inside of me, I've used my 1989 IROC-Z to accomplish my goals…and at the same time, it still brings a smile to my face every time I turn its key.
Editor's note: Paul's shop is RPM Resto & Custom in Hillsborough, New Jersey. For more, visit RPMRestoAndCustom.com.