1955 Plymouth Plaza Wagon with Camper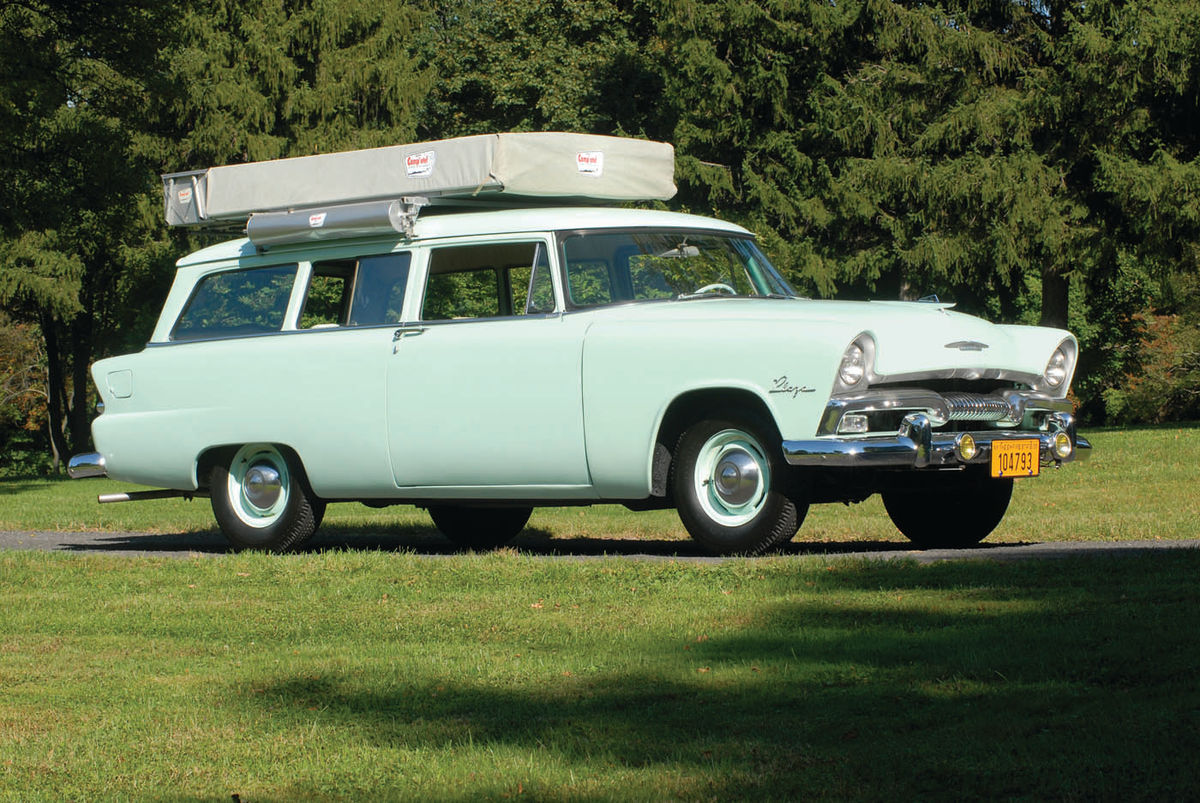 This Mopar's Uncommon Accessory Provides a Different Approach to Roughing It In the Woods. But to Use It, You'd Better Be an Agile Outdoorsman.
Rich VandeWater's limited experience showing his Plymouth with its very large accessory has given him a good idea about the comments he'll hear.
"Everyone wants to know 'did you ever sleep in it?'" he said. "At Norwich, that was all they asked me. Every single person wanted to know whether I'd ever slept in it."
"Norwich" is the Rolling Antiquers Old Car Club show in Norwich, New York. VandeWater's 1955 Plaza two-door wagon would be unusual at any show, but it was impossible to miss at Norwich because of the Camp'otel 4-person Cartop Sleeper on its roof. The unit is made of a canvas cover over a steel-and-aluminum framework. Built in Fort Worth, Texas, by Camp'otel Corp. between about 1960 and 1974, it was handled by several national retail chains.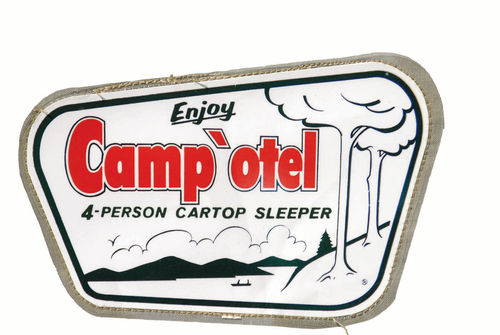 "They sold them through Western Auto stores," VandeWater said. "That's where this one came from. It was probably special order because the thing is kind of heavy and you wouldn't want to have a bunch in stock."
He doesn't know what vehicle toted his Camp'otel before he bought it about four years ago at an estate sale in Utica, New York, where he lives.
"You could walk through the entire house and what they had called a dinette set was sitting on the garage floor in its original cardboard box," he said. "I opened up the box and looked at it and it looked like restaurant equipment.
"But it was my wife who said 'were you in the garage?' I said 'yeah. I'm trying to figure out what that aluminum thing is. It came out of a restaurant.' She said 'did you see what's hanging on the ceiling?' I said 'no' and she said 'it's some sort of a camper.'"
At that point, the asking price he'd seen on the dinette set suddenly made sense, given that the dinette set was part of the Camp'otel hanging on winches typically used for handling boats. That arrangement, he said, is the only realistic way to deal with the Camp'otel when it comes to installing it on and removing it from a car, but he didn't know that or much else about it at the sale.
"There was a piece of paper hanging off of it," VandeWater explained, "with an advertisement for the unit, the Camp'otel, and it showed a picture of one on a car. My wife said 'I've never seen anything like that' and I said 'I've never seen anything like that, either.'
"You couldn't open it up because when it's hanging off the winches, it's impossible to open and so you can't tell what it looks like inside. You can peek, but it's high up and you can't tell. That's how we saw it."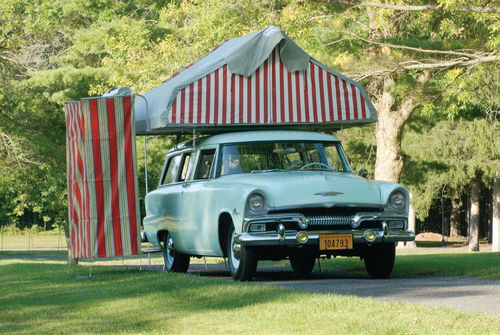 Start With a Station Wagon and…
He already owned the Plymouth seen here, but didn't immediately make a connection between the two and effectively dismissed the Camp'otel as being overpriced.
Still, he didn't forget about it and fortunately, his wife, Carol, recalled its name. Thus armed, he searched the Internet the following day and learned that the Smithsonian Institution has an example in its collection. While he didn't find much information, he did locate several photos and the possibility that a Camp'otel might look good on the Plymouth now came to mind.
A second look seemed like a smart move. The sale was over, but VandeWater phoned the company that had handled it, learned that the Camp'otel was still in the garage and—trying not to sound eager— arranged to see it. The seller wouldn't budge on the price and told VandeWater his plans for the unit.
"He said 'I have an auction house,'" VandeWater recalled, "'and either you're taking it or it's going to auction.' I thought 'nobody's going to buy it at an auction. You've got to try to get this thing off the ceiling first of all.'"
Getting It Home Wasn't Easy
However small the risk that somebody would buy it, he looked it over and with the seller's promise of original paperwork and brochures, made the deal. The seller left—wishing him luck in removing the Camp'otel—and VandeWater went home for his Chevy Suburban with the plan of easing the unit onto the truck's roof, tying it down and driving it home. He considered that the Suburban might not fit into the garage and loaded a compressor into its cargo area, a wise precaution since he had to let air out of the tires to get through the door and under the Camp'otel. After carefully lowering it onto a pad on the truck's roof, the next hurdle appeared.
"It would not clear the garage door-opener," VandeWater said, "so I let more air out. I kept letting it out until I got the tires so flat that I had a quarter-inch clearance on that canvas to get it out. If I'd caught it and ripped it, it would've been bad. I was by myself, so basically, I inched it out maybe a few inches at a time, got out and looked. It took me about 45 minutes to finally get it out of the garage. Then I had to put the air back in. Then I had to go up and take the winches off of the ceiling."
While that was unfolding, a relative of the Camp'otel's owner stopped by and said that the unit had been used rarely even though the owner had later bought the accessory dinette and shower. The dinette that VandeWater had originally taken for restaurant supplies and the shower were now on their way to his garage. After installing the winches there, he again deflated the Suburban's tires, positioned the truck and lifted the Camp'otel free.
Now that he was home with his new camper, the first problem he discovered was that it was backward. The second problem was that VandeWater still had no idea as to what was inside of it, but he made the logical assumption that he could correct both at once. The solution was to take the Suburban outside and winch the Camp'otel to the floor, which proved to be the third problem.
"When I lowered the ropes all the way down," VandeWater said, "it ended up about four-and-a-half feet off the floor. There was no more rope. 'OK, now what am I going to do? It weighs 200 pounds.' But I'm retired and didn't have anything else to do. So I made a dolly that I could drop it down on and balance it on and then I just rotated it and lifted it back up again."
He later put longer ropes on the winches, but before that, he still wanted to know more about the Camp'otel and the smartest way to find out was to mount it on the Plymouth, take it outside and open it.
"The inside was perfect," he said. "There were a few mouse-droppings, but only a couple. There were cushions in there and the cushions were in excellent shape. It looked like it had hardly been used. The outside canvas used to have sewn-on labels and they had long been gone. You could see the thread-holes where they were originally on there, so I looked it up online and I found some details. I photographed them and laminated them and just sewed them on with an industrial sewing machine.
"That's the only thing that really went on it. The rest of it was good. I ended up taking it apart just because I wanted to take it apart and put it together. The canvas was very dusty so I washed it very gently and put it back together."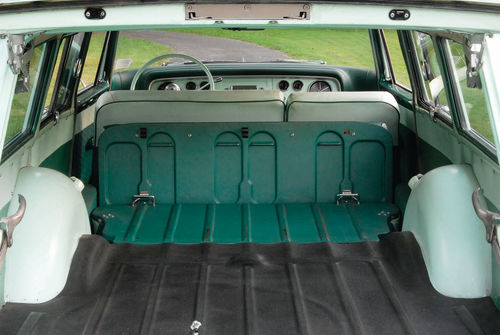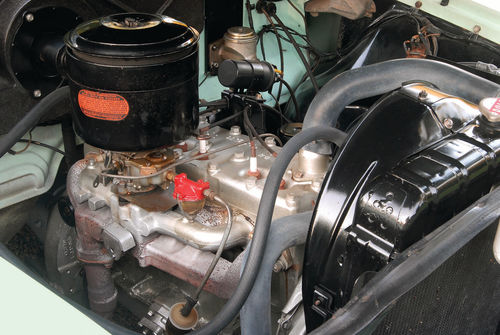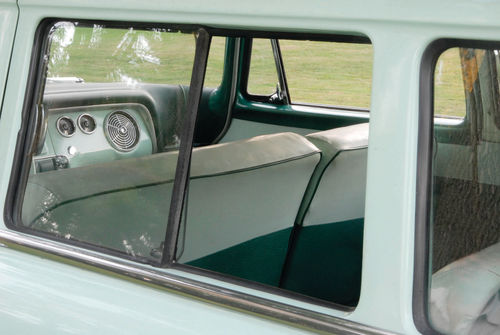 A Natural Team
The really good news was that the Camp'otel fit the Plymouth perfectly. Adjustable clamps attach it to the car's roof gutters and while the Plymouth predates the unit by several years, the combination looks right.
It doesn't hurt that any mid-1950s station wagon is the very image of family travel in postwar America and that the Plymouth was almost completely new in 1955. A sales brochure explained that "from the sharply hooded recessed headlights to the distinctive new extended-lens taillights, here is a taut and eager-to-be-off new interpretation of the automobile which tells you at a glance, 'nothing here is borrowed from the past!' Lower, wider, more than 10 inches longer…this is a Plymouth such as you have never seen before."
But while the company's comments about the car's looks may have been true, writing that "nothing here is borrowed from the past" overlooked the flathead six that had returned for yet another year. Displacements had varied over the years, but Plymouth Had firmly believed in flathead sixes since 1933 and would do so through 1959. At this point it called the 117-horsepower, 230-cubicinch six the "PowerFlow 117" and described it as "by far the simplest, most efficient six-cylinder engine on the market today…smooth-running, rugged, reliable." Their claim of "flashing breakaway at the traffic light" is a stretch, but Mopar flatheads in general are well-regarded and the six under the feature car's hood didn't matter to VandeWater. He hadn't been hoping for a V-8 because he hadn't been looking for a 1955 Plymouth or any other car when he found it in the spring of 1997.
"Not at all," he recalled. "I already had my '63 Impala and I had a '61 Chevy at the time. I didn't have much room.
"A friend and I were eating lunch together at work and he was looking at the paper. He said '1955 Plymouth two-door wagon. There's a rare beast.' I said 'what is it again?'"
Curiosity won and after a quick telephone call, he and his co-worker decided to look at it. The Plymouth, while not perfect, was licensed and on the road, so a test drive followed. VandeWater learned that the car had been in a Utica garage from 1973 until 1996, when the seller rescued it by removing garage doors blocked by layers of pavement in the driveway.
VandeWater told himself that he didn't need another car and left, but later called the Plymouth's owner with an offer that, to be polite, was not well-received. Observing that any offer was better than no offer didn't help and VandeWater assumed that was the end until the owner called months later with a slightly higher counteroffer.
"I went back and took another look at it," he explained, "and by this time, there were no brakes at all. The pedal went right to the floor. I said 'I can't even think about this. It's just too much work.' "But it ran great. He started it up and he talked to me for 20 minutes. I realized that car was sitting there running for 20 minutes and I couldn't even hear it. He said 'what do you think of that?' I said 'that's amazing.' That's when I said 'but I still can't take it."
An Offer He Didn't Refuse
That wasn't the end, however, as the seller called a day later and agreed to accept the offer VandeWater had made six months earlier. He closed the deal and since the problem list began with the brakes, a temporary repair and careful driving got the car home so that he could work on it.
"He'd already put a new master cylinder in it," VandeWater said, "and I flushed it all out with alcohol and put silicone brake fluid in. Some of the wheel cylinders were a little leaky so I replaced a couple of them. I put new brake shoes on it."
Removing the rear drums, he explained, stumped him and so he turned to a technician he knew at a local brake shop.
"He said 'you need a special tool for that,' VandeWater recounted. "He walked into the backroom and came out with this big heavy puller and he set it down on the table. He said 'that's what you need, right there' and I'm thinking 'wow, what a nice guy' and he picked it up and took it back and he said 'good luck. You're going to have a hell of a time finding one.' What am I going to say? 'Thank you very much' and I left…I couldn't believe it."
But the cliché about the last laugh would soon be proven true.
"I'm at a garage sale, another estate sale," VandeWater said, "and I'm in the back of this garage and there's one of those pullers on the ground. They hadn't even priced it and I thought 'I know what this thing is.' I brought it up front and said 'it looks like some sort of a puller.' The owner said 'how does two dollars sound?' I said 'yeah, I guess I'll give it to you. I don't know what I'm going to use it for.' So that stays with the car no matter what. That's how you get the back drums off."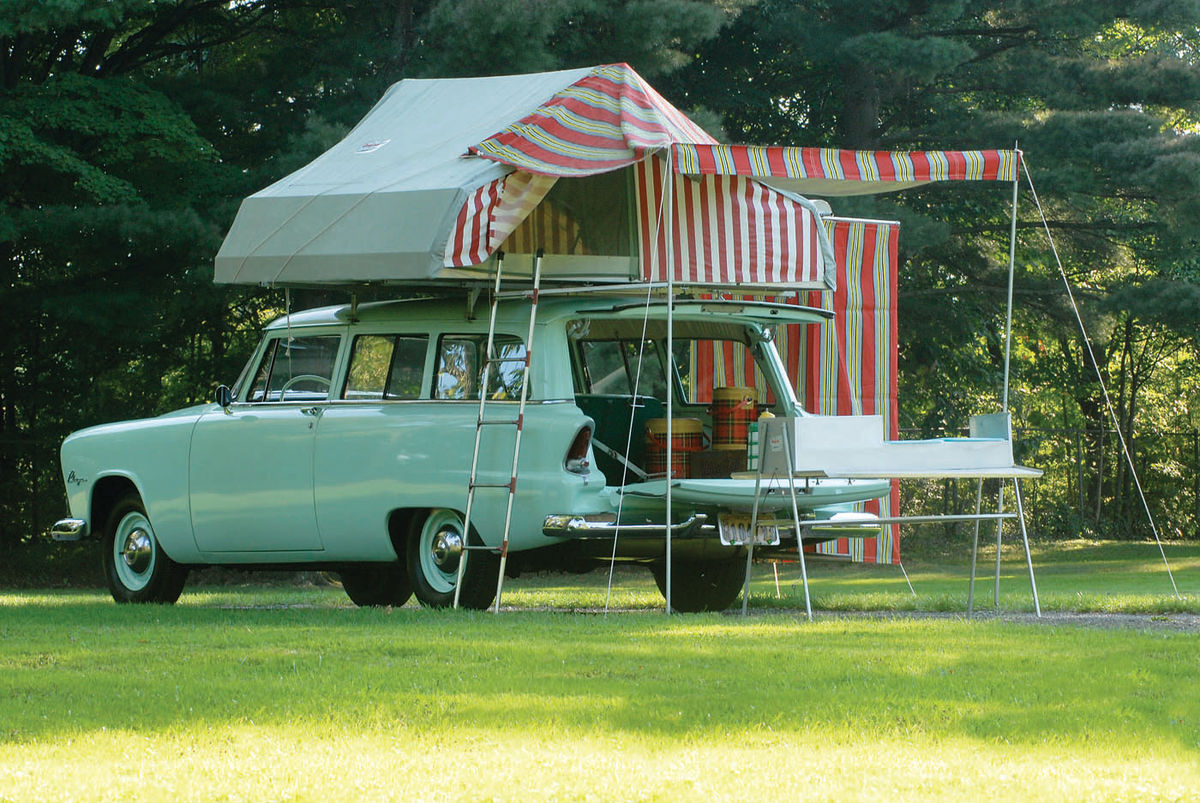 Challenges With the Fuel System
At least some of the brake problems were surely due to the Plymouth's years in storage and the same was true for the fuel system's headaches. VandeWater said the engine would starve on hills and when he dropped the tank, it held a thick layer of sludge. The fix was cleaning and flushing; messy, but nowhere near as complicated as repairing the fuel gauge years later.
VandeWater said that the reading would vary by as much as a half-tank from day to day even if the car had not been driven. He removed the sending unit and its appearance alone convinced him to replace it, so he ordered one from a Mopar vendor who assured him that all 1955 Plymouths use the same part. The exception, VandeWater said, is the wagon and when he consulted the shop manual while attempting to install the replacement, he found the adjustment procedure and followed it carefully without success.
"I spent two years on and off trying to get the gas gauge to work," he recalled. "I finally said 'look, I've got to do this one last time.'"
He drained the tank, removed the gauge from the dashboard, mounted it temporarily in a bracket he'd fabricated and began following the recommended procedure. The short version of the story is that he filled the tank with water and made the adjustments for the gauge to read properly, then emptied the tank and adjusted for another correct reading. Finetuning meant repeating the steps until it was accurate at both extremes and then drying the tank before the real fill-up. The effort succeeded, sort of.
"The gas gauge doesn't work for the first minute," VandeWater said. "It's got to warm up, but it's still weird and I think it's the sending unit, which you can't get because it's a special one for the wagon. But when the gas is full, it's pretty much correct. In between, it'll vary all over the place, but when it's empty, it's empty. At least it works, but I'll never get it any better."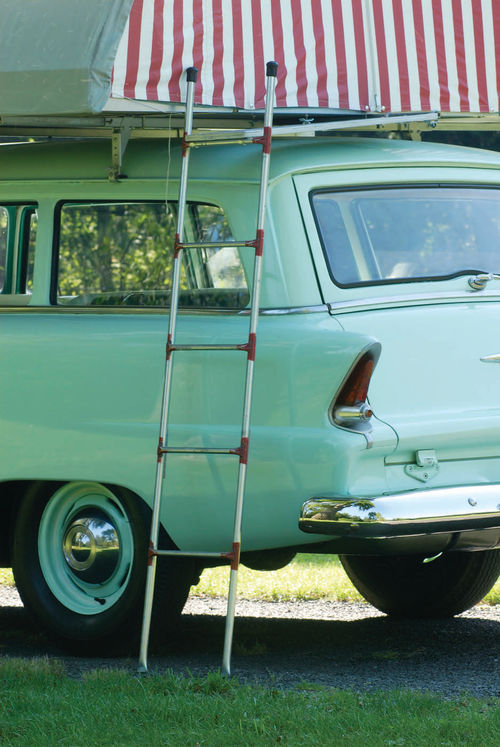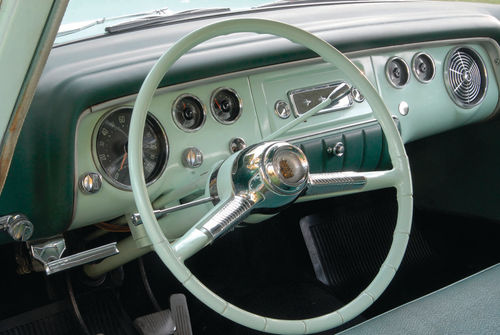 It Still Had an Original Belt and Lights
The Plymouth Had no major mechanical needs when he bought it and its 37,000 miles seemed right.
"I started cleaning up the engine compartment within a year after I got it," VandeWater explained, "and the fan belt was frayed, so I said 'I probably should take it and clean things up, degrease things.' I took the generator off to get the fan belt off and I looked at the fan belt. It still had the 'Plymouth Chrysler DeSoto' stamp on it, embossed into the belt. Then when I took the adjusting arm and cleaned it up, I found one mark where the bolt that adjusted the generator was. It had never been moved from that spot.
"On the radiator, there was a sticker showing when antifreeze was put in back in the '60s. It had the mileage. It was something like 25,000 in the mid-'60s."
Only slightly less conclusive is another feature, the correct headlights.
"I don't even want to use the lights," VandeWater said, "because you can't replace them... They don't look like anything else. They've got to be the originals. That's another reason I believe that's the original mileage."
Several years ago, VandeWater decided to replace the clutch and while the transmission was out, he renewed its seals and degreased and repainted it right down to the numbers stamped on the case. The only surprise was some very minor damage to one of the gears.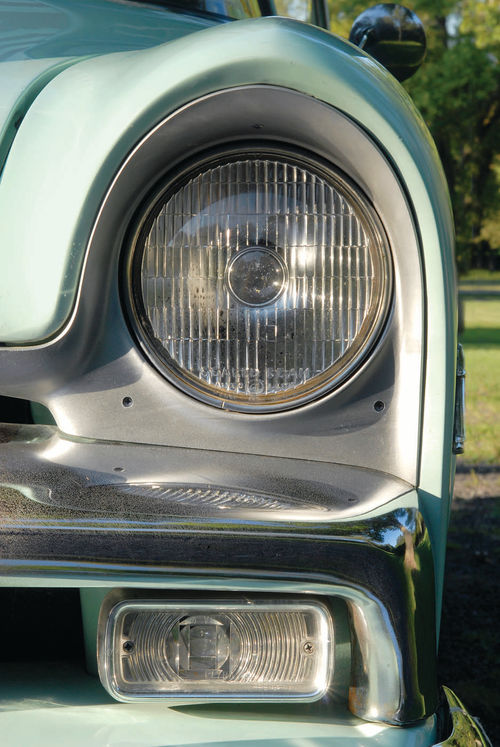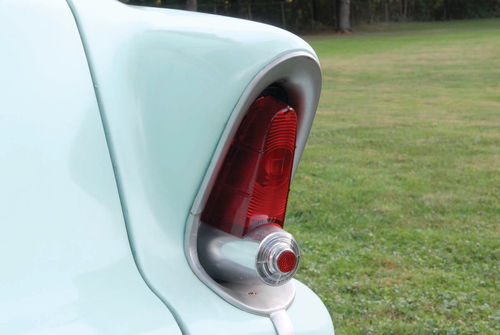 A One-Time Government Car?
The low mileage was even more critical to saving the Plymouth's sheet metal from decades of upstate-New York winters and road salt, although it didn't survive completely unscathed. There were minor dents, VandeWater said, and the rocker panels and fenders showed rust, but the quarter panels had only pinholes.
"I did it mostly by myself," he said, "except that I had the dents pulled out by a body shop. I painted it... It has the stripes on the wheels and the wheels were kind of rusty, but I really didn't know what to do with that, so I just taped them off and I painted around the stripes. From 10 or 15 feet, it's fine. When you get close, you can see that."
As a Plaza, the Plymouth is the entry-level model and that's more of a plus than it seems at first. The car has a heater, standard electric windshield wipers and little else.
"There's nothing on it," VandeWater said. "There are no backup lights, there are no windshield washers, there's no radio, there's no clock."
There is one outside mirror—like the bumpers, its mount has been re-plated— which is almost an extravagance on such a basic car. The initial conclusion might be that it was a fleet vehicle, although VandeWater noted that the interior shows neither traces of previously installed equipment nor significant wear.
He added, however, that the Plymouth's working life was made slightly more intriguing by an encounter at the Mohican Model A Ford Club's show in Wampsville, New York.
"I was there six or seven years ago and I left the car," he said. "My wife was sitting there with the car and when I came back, she said 'these two guys want to talk to you... They were all over this car. They said "does your husband know whether this was owned by the U.S. government? This car is exactly what they used in the exact same color, a stripped-down model, and it looks to us like it was originally a government vehicle."'
The two didn't return and so were unable to shed any light on the Tamiami Green Plymouth's past. Paperwork that came with it supports the fleet explanation, though, as it shows the Plymouth sold new to a leasing company by an Ohio dealership. A receipt indicates that the owner who parked it in the Utica garage paid for its state inspection in 1964, although it doesn't specify whether he owned it or leased it then.
The Camper System Has Its Drawbacks, But It's an Attention-Getter
Mysteries aside, the Plymouth is a good match for the Camp'otel. VandeWater liked the combination the first time he placed the unit on the roof and was sure it would be appreciated by those saw it.
"It pretty much was," he laughed, "because everybody wanted to go into the shower. Of course, the people next to me at that car show weren't too happy with me because I was drawing all the attention."
The shower assembly's shipping appears to be dated April 16, 1972, meaning the shower and water tank would have been among the last made before the company went out of business. The gas shortages of the early 1970s might have been partly to blame for its demise, but it's at least as likely that something more basic—the gradual disappearance of roof gutters from cars—was behind the shutdown. The Plymouth, of course, has gutters and VandeWater said the assortment of thumbscrews and wing nuts holding the Camp'otel in place do their job well and the unit can be handled by one person.
"You'd crank the winch up on one side," he said, "and then you'd go to the other side. It's fairly easy that way, once you get it adjusted. I didn't scratch the car doing that, not at all, so that was a pretty good design."
Setting it up and then actually using it, though, are somewhat different matters.
"I tell everybody it's the most user-unfriendly thing ever," VandeWater said, "because No. 1, you could fall out of it. Forget you're on top of a car or just simply lose your balance trying to climb into it. And there's a bunch of sharp edges on it where you can get yourself cut. You can hit your head on about 25 different things and cut your head. You can pinch your fingers inside of it when you close it up. Things can fall off if you don't have them tight. It's crazy. It's the most crazy thing.
"Luckily, I can stand on the tailgate to open it. I don't know how you would do it if you had a car with a trunk. You'd almost have to get up on a ladder to get it open... There are no instructions to be found on how you're really supposed to do it, what order you open it up in. You kind of figure it out. Every time I open and close it, I learn there's a better way to do this."
But not everything about the Camp'otel is as challenging.
"When you fold the thing up," VandeWater explained, "the canvas pulls around in a different direction and it forms a complete cover. That's the thing that was engineered incredibly. How the guy figured that out must've been trial-and-error."
If so, it was a lot like figuring out how to open and close it, processes where VandeWater still hasn't had a lot of experience. The Norwich show was only the second meet for the Plymouth with its Camp'otel, and he hadn't been sure about attending.
"I said 'well, we ought to go,'" he recalled. "'We usually go if the weather's good, so let's take the Plymouth out and try the camper…but maybe they won't like it because the thing sticks out a lot.'
"I underestimated the attention. They all wanted to know 'did you sleep in it? Did it come with the car?'"
The answer to the second question will never change, but when it comes to the first, VandeWater said, he's going to spend a night up there.
"I will," he promised. "I've decided that I will because I want to know what their third question might be. When they say 'did you sleep in it?' I'll say 'yes. What's your next question?' because when I say 'no,' they're done."