Feature Restoration 1968 MGB Roadster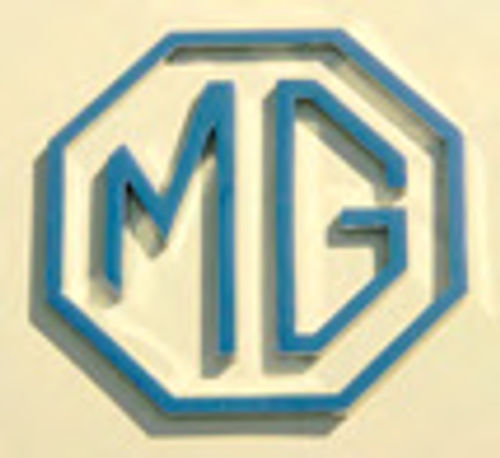 He Bought It New and at One Point Had PLanned to Sell It. But Now It's Become Part of the Family.
CHARLIE DEMMY HAD an advantage when he made the decision to restore the 1968 MGB roadster shown here.
"Being the original owner," he said, "I knew the history of the car—obviously— and it was a great one to start with."
A Look at Morris Garages
There are those who'd flatly state that almost any MG is a great one to start with and they wouldn't be far off. For The most part, the cars with that name have been rugged or fun and often both since MorrisGaragesrolledoutitsfirstMGin 1924.
Through the '20s and '30s, the virtual definition of an MG was a combination of small size, seating for two, a four-cylinder and a simple fun-to-drive quality all wrapped in a reasonably priced open body. That helps to explain the badge's seeming unending popularity, even if the first MG many Americans would see was the 1946 TC Midget.TheTC, which traced itself back to the TA of 1936 and the TB of 1939, can claim to have played a role as large as any and bigger than most when it came to introducing to this country what had by then become the traditional British sports car.
The TC was unlike any American car of the postwar years, but nearly every thing that had made its predecessors successful in the home market appealed to Americans. It was enjoyable to drive and handled well—even if its top speed was a mere 75 miles per hour—just as it was uncomplicated and actually looked like a sports car.
As noted, it certainly couldn't be mistaken for any domestic product and that touch of exclusivity offset such curiosities as the side curtains, suicide doors, freestanding headlights and wire wheels that might have been described in 1946 as anachronistic. It wasn't exactly cheap, either, as its 1946 price of $1995 exceeded a 1946 Chrysler Windsor convertible's $1845 and approached the New Yorker convertible's $2175. In today's money, the 1946 TC cost $22,477 and even from that perspective, it wasn't cheap, but it was affordable enough that most of those who wanted one could likely find a way to own it.
In 1950 MG replaced the TC with the TD, a car that looked at least slightly more modern, and followed that with the 1954 TF.
The uprightness and angularity were further reduced with the TF and the freestanding headlights were replaced by units smoothly blended into the fenders at the sides of the grille. The grille itself was made smaller and blended into the sheet metal.
Then 1956 brought what could at last be described as a modern MG, the A. The new car was a complete break with the past thanks to features such as slab sides, conventionally front-hinged doors and even an alligator hood. The MGA's 1498-cc four produced 68 horsepower and according to the 1957 True Automotive Yearbook, the A "hits 96 mph, gets to 60 mph in 14 seconds, and is a good road, rally and race car."
A coupe joined the roadster for 1957 and brought with it such up-to-date amenities as outside door handles and glass door windows that could be rolled up or down. MG was becoming civilized, although that didn't prevent it from adding a dual-overhead-cam engine to create the MGA Twin-Cam. The new engine was barely larger at 1588 cc, but it produced 108 horsepower.
Moving From A to B
The Twin-Cam didn't remain in production for long, as MG dropped it in 1960, but the A continued into 1962 when it was followed by the MGB. The new model represented less of a radical step than had the TF-to-A shift, but it was still very different in appearance.The A's rounded quarter panels and flowing fenders that hinted at the various T cars were gone and in their place, the B used an almost-flat beltline from front to back. Its 1798-cc four produced 94 horsepower and could push the B to just over the 100-mph mark. Few, however, could have realized at its 1962 introduction that the MGB would be in production until 1980. It changed during that time, of course, with the most obvious visual difference being the larger bumpers for 1973 onward.
By the time the B disappeared, the changes hadn't been enough to keep it anywhere near current and its biggest market—the United States—was experiencing a major push of governmental regulation that was causing most automakers to struggle. The MGB was caught up in that, just as it was being overlooked by its manufacturer, British Leyland. The conglomerate also built Triumphs and chose instead to focus on that line.
But regardless of where British Leyland placed its attention, for many the MGB was able to stand on its own merits, and it continues to do so today.
At First, He Wanted a C…
"The car has great looks and a great history," Demmy said. "More of these have been raced and rallied and pleasure-driven than anything else, more than Triumphs, more than Sunbeams, more than anything. I guess just the total numbers make it appealing.
"A lot of people at some time in their lives have had MGs and there's just that appeal to bring it back again. And because they sold 500,000 MGBs, that's what people are going to look for."
It's an appeal that Demmy understood even before he bought the feature car. He explained that he'd decided on the six-cylinder MGC and ordered it, but in June of 1968, the Cs were in short supply. After a long wait, the dealer called to tell him that an identically equipped B had arrived and he agreed to take it. Twenty or so years later, he said, he realized that buying the B instead of the C was the right move.
"I autocrossed this car for a while," he said, "and they put the Cs in the same class. I was beating the Cs. They didn't have the handling the B had, so all things considered, the B ended up being the better choice.
"My wife and I both auto crossed it. We usually ran with about 15 cars in my class and about eight in hers. There was a Datsun 2000 in my class and I could beat everybody except him. The only time I took first was when he didn't show.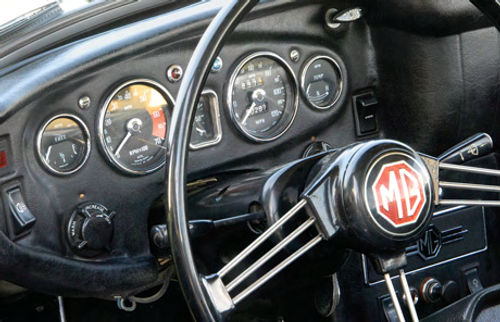 "Ann had a girl by the name of Ashley in a Corvette. And she could not beat her in that Corvette no matter how she tried. She was so mad, she'd come home from an event saying, 'I cannot beat that Ashley no matter what I do.'"
In and Out of Retirement
While autocrossing it, the B also served as Demmy's daily driver until sometime in the 1980s, when it became mostly a show car. By then he was working at a Dodge dealership and bought a Neon Sport to set up for autocrossing. That was both good and bad for the MG.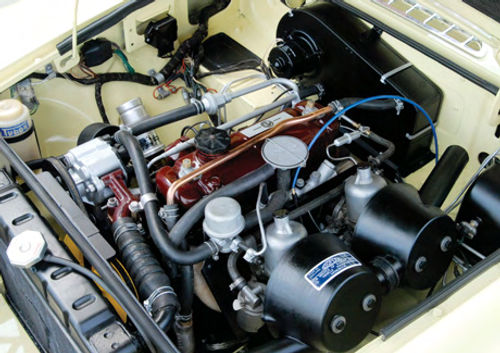 "I sort of lost interest in the B," he recalled. "It went back into the corner of the garage and I was putting probably 200 miles on it just to keep fluids flowing. That was my big thing at the time, playing with Dodge products and autocrossing the Neon and promoting that.
"Then the Hershey (Pennsylvania)Hillclimb came back. I had a big part in that, I was hillclimb chairman and involved in all the Hershey Hill Climbs, so I got interested in the MG again. I sold the Neon and bought a more family kind of car and I started deciding 'I guess I'll play with the MG again, now that I'm back into the sports car racket and the old cars.' That's when I decided to keep it.
"During that period when it sat in the corner of the garage, I was tempted several times to sell it, but my daughter was born in '72 and she grew up with that car. She said 'no way. You're not getting rid of that car.'I said 'OK,I'll put it in the will. If anything ever happens to me, it's your car.' And I'll keep it just because it's like a family heirloom."
1968 MGB
GENERAL
Front-engine, rear-drive, two-seat roadster
ENGINE
Type Overhead-valve in-line four
Displacement 1798cc/109.7 cu. in.
Borexstroke 80.26mm x 88.9mm/3.28 in. x 3.5in.
Compression ratio (:1) 8.8
Carburetor TwinSU
Power 92hp @ 5400rpm
Torque 110lb.-ft. @ 3000rpm
DRIVETRAIN
Transmission Four-speed manual
SUSPENSION & BRAKES
Front Independent, coil springs
Rear Live axle, leaf springs
Brakes(f/r) Disc/drum
STEERING
Manual rack-and-pinion
MEASUREMENTS
Wheelbase 91in.
Length 153.2 in.
Height 49.75 in.
Width 59.9 in.
Track(f/r) 49/49.25 in.
Weight 1920 lb.
Tire Size 5.60x14
Ask the Man Who Maintains Them
For Those who don't have MGBs waiting in their garages and wish they did, finding a good one shouldn't be too difficult, but the fact that they're out there doesn't reduce the need for careful hunting. Demmy said he wouldn't buy sight unseen and then went a step further.
"You find one locally," he said, "and the best way to start there is to find a shop that specializes in sports cars.
"The best-case scenario would be a British shop, ask if he knows anybody who has one that he's maintained and wants to sell it. He knows the history of the car, go that route. I don't care if it costs a lot to buy a good one. That's better than buying a junk and trying to fix it up. Just buy one that someone has already cared for.
"People have personalized these cars, not just MGs, but all of the British cars over the years. They've hacked them up, put stereo systems in them, cut speakers into the doors, done just awful things to them and if you want a car that's going to have some lasting ability, don't buy one that's been butchered up by somebody. Find one that's fairly stock."
Demmy also advised that you look for signs of rust on the car, citing the rocker panels and inside of the fender wells as two potential problem areas. The doglegs at the fronts of the quarter panels and the floor at its front bend also need careful checking. The feature car was taken down to bare metal during the restoration in order to find any rust that might have been there and ended up with new rockers and patches for the doglegs and floor.
"Everybody wondered why I was doing it," Demmy said, "butI knew. There were telltale signs of blistering in those areas that I mentioned, so I knew there was something happening underneath the paint. And I had polished it so much over the 40 years that the paint was rubbing off on the nose and some areas of the trunk. It needed freshening. It was time. The interior was getting worn and you could see after all those years of rubbing against it, the carpeting was starting to look like it needed help. So I said 'OK, we're going to strip it down. I decided it was a keeper, so we're going to bring it back to the way it looked when it was sold."
At first, he planned to keep the original leather seats, which he said had finally begun to show their age.
"Once the rest of the interior was done," Demmy said, "the seats really looked bad. It's got the original door panels and they've really stood up over the years. They look like brand-new, but I decided it was time to get rid of those old covers after the rest of the car looked so good. We rebuilt the seats with new leather covering and new cushions."
Now, About Lucas…
The dashboard and gauges are the originals, but there's some news that's mostly good when it comes to cars less solid than Demmy's. It begins with the fact that it's possible to buy a new tub for a B.
"From England through British Heritage," Demmy said. "You can build an MG. Without the tub, you can still build an MG. You can get fenders and doors, but the stuff's getting very expensive. Supply and demand, but you can still build one up."
Just as important, he said that the MGB's drivetrain is fairly bulletproof if cared for properly and mechanical parts are easily available. But there's a down side that he warned of, despite its not having been a major problem for his car.
"Everybody has horror stories about Lucas electrics," he said, "but it's got the original regulator,starter,wiper motor."
Still, he doesn't let Lucas off the hook that easily.
"Their batteries are terrible and they're extremely expensive, and I happened to find a little 12-volt Interstate battery the size of one six-volt. I just changed some cables around, popped that into one side and then I have a 12-volt system that's reliable and that I can buy at any garage. I got rid of the Lucas, those two six-volt batteries. That was a horrible thing and they knew that. By the time the rubber bumpers came out, I think, they had a single 12-volt back there."
Demmy's reference to the "rubber bumpers" goes back to the federal law that required stronger bumpers on cars sold in the United States beginning with the 1973 model year. Very few manufacturers figured out how to meet that demand without sacrificing appearance and MG wasn't among the few, having started with the addition of large black bumperettes, followed by a switch to huge urethane bumpers in 1975.
The later MGB with the larger bumpers has never caught on among more than a handful of MG fans. Those bumpers do their job and are capable of providing a surprising level of protection to the car, but when it comes to aesthetics, the majority opinion isn't a favorable one. In the MG's defense, though, it should be pointed out that the same argument was made about nearly every big-bumper car of the day from a BMW 2002 and a Saab Sonett to a Continental Mark IV and an Eldorado.
An Uncommon Factory Hardtop
Like the bumpers, some features on Demmy's car come down to taste, practicality or both.
"The top that's on this car is a factory hardtop," he said. "You could buy it on the assembly line with the car.It's different from the ones that were on the aftermarket in that this one has a headliner in it and it's got a full quarter glass where some of the aftermarket tops have portholes.
"If it was ordered on the car from the factory at that time, it was a $300 additional purchase. If you bought it from the parts department at a dealership, it was $600. Mine was ordered specifically. I ordered a pale primrose MGC with wire wheels and hardtop. (The dealer) knew he was going to have trouble getting that C, so he ordered this B the same way.
"You won't see many of them. I've seen pictures of guys racing with them on. The Sebring racers had those hardtops on them, the factory racers, but you don't find many of them anymore and any that are lying around are probably pretty rough. This one is in perfect condition. It's fiberglass and has glass in the rear window."
While it eliminates the leaks that have an annoying habit of showing up in British roadsters, the tradeoff is that installation and removal are no simple tasks. When the photos shown here were made, Demmy said that he'd put it back on the car after some 20 years in storage.
"It was interesting to bring it out," he said, "because people say 'I've never seen one of those.'"
Going from Red to Amber
Some might gasp at the thought of an MGB with a hardtop in anything other than the nastiest weather, but only the most hardcore purists might be stymied by some easily reversible modifications to the car. It all began back in the 1960s, when Demmy worked for a Lucas distributor and made a connection at a Lucas warehouse.
"He sent me a four-inch-thick catalog, an English publication, of Lucas accessories," he recalled, "and I saw that they had the amber lenses for almost everything where we had white or red in this country. I thought 'you know, there could be a market for that,' so I started buying everything that was available in amber and he'd import them for me."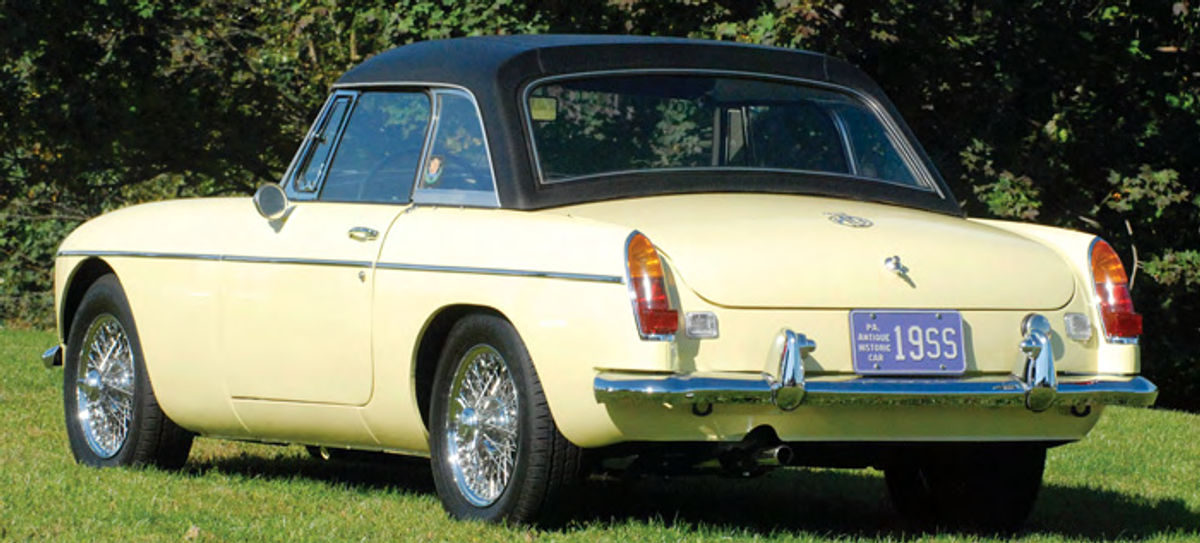 That led to the red-and-amber taillights on his own B, whose lenses should be all red. Demmy didn't need to change the parking light lenses because by the time his car was built, MG had already switched them from white to amber, but there was more.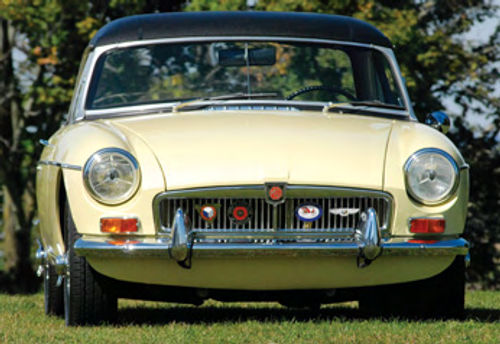 "When I was working for this outfit," he said, "the Lucas PL light (with the tribar design on the lens) was very popular. It was original equipment on a number of high-luxury British cars and it was a neat look and I sold a lot of them. I had sealed beams in this car until I decided to do this renovation and I thought 'I'd like to go back to that original British PL look.'
"They're still available; expensive as the devil. They're $94 apiece. It depends on how badly you want that English look, but I like the way it looks so I just went ahead and bit the bullet."
The Newest Is Now 30
Like many British cars, MGs have a reputation for problems—and Lucas equipment of that era has its own dismal reputation—but as with nearly all cars, some examples are better than others, some problems are real while others are anecdotal and some strengths find themselves overlooked. Through all of that, MGBs have never really stopped being popular and anyone who's put more than a few miles on one probably understands. Other cars are faster or handle better, some are more reliable, but few can match the MGB for simply being easy to live with, strongly supported and fun to drive, which explains why they've never gotten to the point of being rare.
They're out there competing and they're being driven on the streets, but while seeing one isn't exactly a shocker, keep in mind that the newest B is 30 years old.
"Every year as these things get older," Demmy observed, "they get more prone to problems. They've been out there sincethefirstMGBin'62; we're looking at a long run of these cars that are still out there on the road. A lot can happen to them in that period of time."
That's certainly true, but they wouldn't be on the road in any significant numbers without good reason. The reason might or might not be coolly logical, but that doesn't necessarily matter very much.
"Now that it's been brought back," Demmy said, "I think it was a good decision to hang onto it."