Feature Restoration 1940 American Bantam Riviera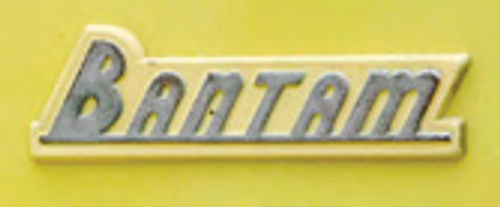 With Small Cars Back In the Spotlight, Here's a Vintage Version. Wait Until You Hear How Easy It Is to Lift the Body.
SOMEWHERE IN MARYLAND in the 1940s, a Bantam caught Joe Heisler's eye and while many of its details are lost, the car left an impression that never went completely away.
"Early in World War II," Heisler recalled, "my parents and I lived in Cecil County, Maryland, just below Elkton. And there was a yellow Bantam that lived at a service station. I don't remember the body style, but it was yellow and that was one of the reasons why we picked yellow for this car."
It's not especially surprising that a Bantam would have stood out even in its own time; it was tiny in comparison to virtually all of its contemporaries as had been every one of its ancestors right back to the earliest, the 1930 American Austin which was produced in Butler, Pennsylvania. That car's name told the customer that his $445 check was buying essentially a British Austin Seven with a body designed to appeal to Americans instead of the body used in the English home market. Furthermore, the Americans weren't alone in coming up with a new interpretation of the Austin Seven. BMW's Dixi is probably the best known of the licensed (and unlicensed) Seven derivatives, but others include Holden's Austin in Australia and Datsun's copy in Japan. The concept worked out well in some countries, but the United States wasn't among them since only a relative handful of American drivers wanted such a tiny car in 1930.
Let's Get Small
How tiny was the American Austin? Consider that Chevrolet's smallest 2012 model, the new Sonic, rides a 99.4-inch wheelbase. Nobody would dispute for even a moment that that measurement qualifies the Sonic as a very small car, but some basic math skills reveal that a Sonic is slightly more than two feet longer in wheelbase than the Austin. (To find something current with a similar-size wheelbase, consider the Smart fortwo coupe which has a measurement of 73.5 inches, only slightly smaller than the Austin's 75-inch wheelbase.)
The Chevy Sonic's base engine is an 83.2-cubic-inch four rated at 135 horsepower and while the Austin's is also a four, it manages 14 horsepower from 45 cubic inches. Obviously, technology has evolved so much since 1930 that it's a completely unfair comparison in every way other than by illustrating size, so matching the Austin to a 1930 Chevy might be more reasonable. The least expensive Chevrolet that year cost $495
to give the Austin a small price advantage, but the additional $50 for the Chevy bought a 107-inch wheelbase and a 50- horsepower 194-cubic-inch six. If a customer chose to compare the Austin to a 1930 Ford, the Austin gave up even its lower initial cost; the Model A used a 200- cubic-inch 40-horsepower four, was built on a 103.5-inch wheelbase and could be purchased for $10 less than the Austin.
Even today very small cars aren't wildly popular in the United States, but they're popular enough that the notion that they should always be cheaper than larger cars has mostly faded away. That wasn't necessarily the case in1930 and the benefits attached to a car of the Austin's size didn't mean as much then as they do today. Forty miles per gallon was excellent fuel economy—it remains so eight decades later—and small dimensions meant easy parking in ridiculously small spaces and garaging virtually anywhere with a door wide enough to drive through; keeping it in a spare bedroom was not completely out of the question.
The American Austin had another key point in its favor in that it looked good. Whether in its own time or today, most articles on the Austin use descriptions such as "cute" or "charming" and while they're accurate, they overlook the fact that styling a very small car isn't especially easy and the Austin managed to avoid the fate of those that have ended up somewhere between disproportionate and dumpy. It has Alexis de Sakhnoffksy to thank for that and while the result might not be breathtakingly beautiful, it certainly is attractive. A roadster with two-toning running along each side rearward from the radiator shell to end in a scallop on the door was splashy without being tasteless and what appeared to be a two-door sedan was actually a coupe with small side windows through which imaginary passengers in an imaginary rear seat looked out at the world.
All of that might have been enough to ensure at least a moderate level of success for the American Austin and at first that seemed to be exactly what was happening. Selling 8558 cars in its initial year might not appear to be a triumph, but 1930 saw the Great Depression hitting its stride and settling in for the long haul. The devastated economy combined with a short production year plus the previously mentioned general lack of interest in tiny cars makes the American Austin's 1930 sales record better than it might seem at first glance. However, 1930 also saw the sales peak and by 1935, it was all over.
Back for Another, Updated Try
The Production Figure Book for U.S. Cars states that approximately 20,000 American Austins were built during the entire run, but actually, it wasn't over yet and while tiny cars might lack a major following in the United States, they do have their dedicated believers. One of them was Roy Evans, who might best be described as a salesman's salesman. American Austin's failure wasn't due to a lack of trying on Evans' part, so when a new American Bantam Car Company was formed in 1936 from American Austin's bankrupt remains, he was running it.
Evans saw to the corporate details of automobile production and retained outside experts to update the car itself. Once again, de Sakhnoffksy handled the styling, this time by updating his original American Austin.
In tune with the general direction of the industry, the new Bantam would be round and smooth, the Austin's flat exposed radiator, unskirted fenders and deep-sided hood were all gone. Up front, a sheet metal grille with horizontal slots curved to a point at its center and bullet headlights atop the fenders replaced the earlier units mounted on the Austin's crossbar; after dark, the Bantam seemed wider than the Austin in the eyes of approaching motorists. The side view was helped considerably by the deeply skirted fenders and at itslate-1937 introduction, the entire package was now curvy in a pleasantly bulbous kind of way.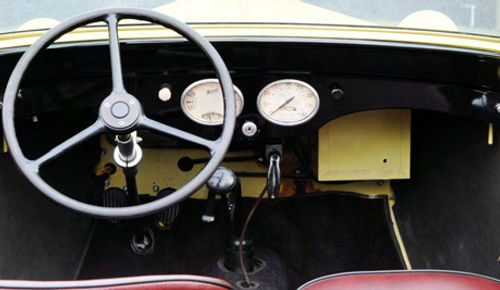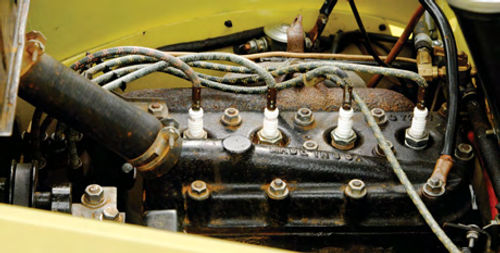 Mechanically, too, the new 1938 Bantam—when it finally appeared—was a genuine improvement over the Austin. Harry Miller tweaked the engine with a better manifold, but changes also included a full-pressure lubrication system, higher compression and a switch from roller bearings to Babbit bearings. It added up to 19 horsepower, according to MoToR's Handbook 17th Edition of 1940, and if that didn't quite make the Bantam into a rocket, the reality of a 35-percent increase is difficult to dismiss.Although it continued to use mechanical brakes, the Bantam saw a big drivability improvement over the Austin through the adoption of Ross cam-and-lever steering.
On paper, the Bantam seemed primed for success even if only as a niche car. Advertising promised that "Bantam's a Better Buy!" and cited "Stamina… Style…Safety…in America's Only Economy Car." Offerings eventually ranged from a station wagon to the exoticsounding Hollywood and Riviera open models and even to commercial vehicles such as the Boulevard Delivery. If none of this was enough to convince a potential buyer, there was the matter of price as the costliest Bantam was the $565 station wagon offered from 1938 through 1941. Chevy and Ford were no longer in the same market segment, but the bonus of affordability wasn't enough to save Bantam from a fate similar to that of Austin.
In 1941,the last civilian Bantams Rolled out of the Butler plant. Sources vary, but production apparently totaled less than 8000 Bantams before the company became involved with the American military in the project that produced the first jeep. Bantam ended up building several thousand examples of early versions, but the large contracts for standardized models went to Willys and Ford. Bantam then was contracted to build trailers for the war effort and continued to build civilian trailers until its closing in 1956.
1940 Bantam Riviera
GENERAL
Front-engine, rear-drive, convertible
ENGINE
Type Inline four-cylinder flathead
Displacement 50 cu.in.
Bore Stroke 2.25in.x3.125 in.
Compression ratio (:1) 7.4
Carburetor Zenith Single-barrel
Power 22hp@3800rpm
Torque 34 lb.-ft.@3200 rpm
DRIVETRAIN
Transmission Three-speed manual
SUSPENSION & BRAKES
Front Solid axle, transverse leaf spring
Rear Solid axle, leaf springs
Brakes(f/r) Drum/drum, mechanical
STEERING
Ross cam-and-lever
MEASUREMENTS
Wheelbase 75in.
Length 129in.
Track(f/r) 40/42.5 in.
Weight (approx.) 1300 lb.
Tire Size 4.00x15in.
A Rare Automotive Sight
With its low production figures from 70 years ago and the fact that a Bantam wasn't a high-end car likely to stand out or be saved, it's slightly surprising that those outside of the hobby might sometimes recognize the car. It happens, Heisler said, but only in certain circumstances.
"If they ever were around one or saw one or there was one in the neighborhood," he explained, "but they're going to be my age. I remember a couple of them, just a couple of them. I remember more Austins than Bantams.
"The last one that I remember as a normal car on the road (was) when I was in high school. My parents moved from West Philadelphia out to Wayne, Pennsylvania, and only two or three blocks from where we lived, there was a house that had a little roadster. It was gray, solid gray, and the thing I never forgot about this car was that they kept it on their front porch. They parked it on the front porch."
That still doesn't explain why he wanted a Bantam, but Heisler admitted to the fact that he's always found them to be fascinating cars. The push came in 1996 when he sold a Continental Mark II and vowed that his nextrestoration—if a next restoration ever happened—had to be on a car that was of a more manageable size and much less complex. Asif on cue, he spotted an ad for a Bantam in Arizona, but he took the safe course and waited.
"It was kind of hard to justify a trip to Scottsdale just to look at acar," Heisler explained. "We lived in Medford, New Jersey, at that time and I finally called him one day and he said 'I sold the car.' I said 'well, that's OK I don't see how I could've gotten out there to look at it.' He said 'you're in luck. It's back in the east. It's pretty near to where you are' and it was. It was up in Connecticut. He said 'the guys who bought it are dealers and they want to sell it,' so he gave me their phone number and I called them. The next week we went up."
And the week after that, the Bantam left Connecticut on a trailer for its new home in New Jersey.
Some Benefits of Small Size
The Bantam looked presentable, Heisler said, and the initial plan was to leave it as it was, but a magazine photo changed that. The Bantam in that picture was yellow, just like the Bantam in the Maryland gas station 50-plus years earlier, and while that was enough to get the restoration started, the basics of a plan were falling into place.
"We did it right away because our goal was to take it to the Bantam show in Butler (the home of Bantam production) in '97," Heisler said, "and we finished the night before, got it on the trailer and headed for Butler with it."
It had been a running car when he bought it and that suggests its general condition, but it still needed help and he pointed to the layers of paint and the fenders of different colors as evidence of the Bantam's having been hit at some time in its life.
Despite the fact that it underwent a body-off restoration, he agreed that much of the work was a matter of disassembly, cleaning and reassembly. The Bantam's size can be a big advantage in an instance such as this, as there's the truism that a restoration requires an area at least two or three times the size of the car just to deal with the post-disassembly components and the Bantam's plus in that sense is obvious, but there's another bonus.
"It was a body-off restoration just because the car comes apart so easily," Heisler's son,Joe III said. "The two of us lifted the body off. We had a whole crew set up to come and help us take the body off. We got all the bolts done that Saturday morning and we looked at it and said 'I wonder.' One of us got on one end and one got on the other. 'We're airborne.'"
The floorpan had some rust damage, Joe Jr. said, and the car needed a windshield frame because it had rusted out at the bottom. Having to replace that frame turned out to be a lucky break.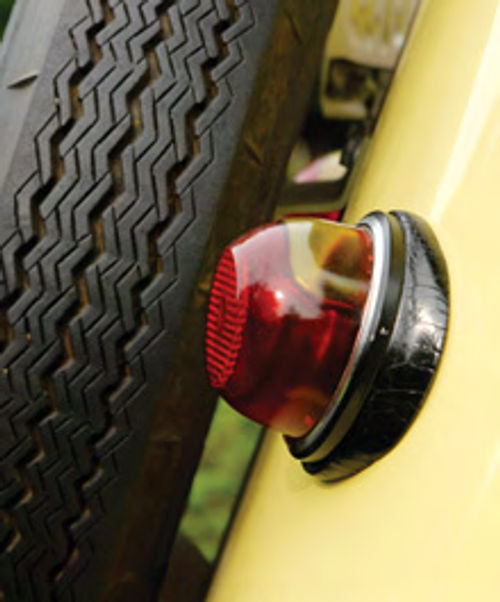 "You know the old saying," Joe Jr. asked, "that you can find whatever you want for an old car at Hershey? That was our introduction to Joe DeAngelo at Hershey and there was our windshield."
DeAngelo's Golden Mile Sales in Allentown,Pennsylvania,is an American Austin-American Bantam specialist (austinbantam.com). Fortunately,Heisler's Bantam didn't needtoo much from DeAngelo or any other vendor—it still has the top it wore when he bought it—but some pieces were missing.
"The only things we had made when we took the paint off were in the way of trim," Joe Jr. said. "There were holes in the grille bars on the car, so we started looking at pictures and we realized that there was an option where you could get stainless strips."
Chances of finding a set of those strips are not good, he said, and his son spoke of the challenge presented by the taillights. The feature car had incorrect units when his father brought it home and they might have been from a Crosley, he said, since Crosley lenses will fit the Bantam housings. From there, it gets complicated.
"Every Hershey, every Carlisle, I'm sitting there looking in any box that has red glass parts in it," Joe III recalled. "We never got anywhere and we finally got them from Joe DeAngelo, but the taillight has a clear piece in it.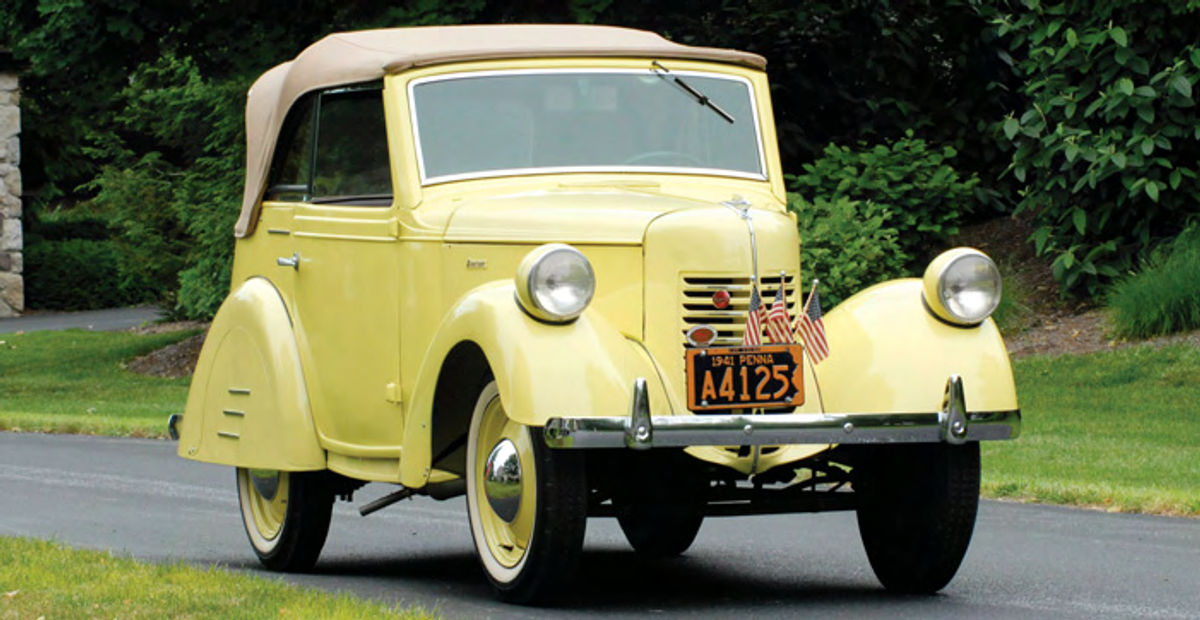 "That's what's on the car, but I always keep looking to see whether I'll ever find a flat red one.
"The Riviera also has a different rake and so the flat spot on the taillight is different than the flat spot on a Hollywood," Joe III continued. "There were at least two versions of it to get those flat spots perpendicular. But there are lots of little parts like that that are next to impossible to find."
The explanation for confusion over such parts, he said, probably lies in the fact that Bantam was not a large company and when necessary, it purchased parts off the shelf or bought small quantities from various vendors.
"The fact that your car is different from a car that came down the line 50 cars later," he said, "does not necessarily mean it's wrong. It's not that somebody cobbled something together or somebody messed with the restoration. It could very well have completely different bolts."
It could very well have different assembly details, too.
"The little trim strips on the fender skirts," Joe IIIsaid, "because of the way the hole pattern is they can be either horizontal or vertical. The same strips will fit the same holes, so you've got cars both ways. Who's right?"
Some questions might be virtually unanswerable, but Bantams have enough serious enthusiasts that matters more important than trim have been addressed. Joe III said that interchange information is available to help restorers and owners find suitable mechanical parts to keep their Bantams running. He recommended DeAngelo for many of the major parts such as suspension and transmission components, but he also said that big parts sometimes just appear. He recalled a car show where he saw what were reportedly two complete Austin-Healey engines for sale in the flea market. The name was close, but…
"I knew instantly that it wasn't from an Austin-Healey," Joe III said. "He wanted almost nothing for them, so they both came home. That was fairly early and we didn't know whether the engine was going to be reliable."
He and his father never had to find out, as they had the feature car's engine rebuilt as a precaution. That was a task completed literally at the eleventh hour before that Bantam meet in Butler.
"We had fired the engine," Joe Jr.said, "but we hadn't driven it other than onto the trailer."
"Luckily," his son added, "they have that nice park in downtown Butler. That was where the meet was that year. We had plenty of closed roads where you could go for a test drive, tweak and tune."
Chancesthatthecarwouldn'tstartin Butler seemed remote and even if the worst had happened, it wouldn't have been a problem.
"Well, when you're going to a national Bantam meet," Joe Jr. observed, "if it won't start, there are going to be plenty of people there to help."
It Lends Itself to Offbeat Anecdotes
Tight support among the Bantam community members is a good reason to consider a car like Heisler's and while they're clearly not for everybody, they have everything from the above-mentioned size to a unique kind of character as points in their favor. A restorer searching for a Bantam today,Joe III suggested, would likely come across a restored car rather than a restorable one.
But beyond that, there's one quality about these micro vehicles that depends very little on the car's condition. Anyone with even a little bit of imagination can see that something about Bantams and their Austin predecessors makes them not only memorable, but also the kind of cars that are featured in slightly out-of the-mainstream stories. The Bantam on the porch, for example, isn't the only one that Joe Jr. recalls.
"I had an uncle who was only 15 years older than I was," he recalled, "and so he was like the big brother. A friend of hisin this really tiny town had an Austin and they were in high school, about three miles up the road. They were coming home from high school one day and there was what today would be a fast food place.
"They decided they were going to go in and get a Coke or something and he turned too sharp and they rolled it over onto its side and slid into the parking lot. They just got out and pushed it back up, just the two of them, got their Cokes and went home."