At First, It Was Different and In Some Ways Even Exotic. Now, It's a Nice Driver…When You Can Find One.
IF GOOD FUEL economy, adequate interior space, uncomplicated styling, a practical size and an affordable price tag add up to something approaching an ideal car, the first hurdle might be finding one.
"I looked for an Omni for about three years and the first one I bought on eBay," said Richard Fairbairn, whose 1985 sedan is shown here. "I kept watching for them and this was the second one to come along. I put some bids in on it and I won it."
The seller was in Indiana and that's what Fairbairn knows of his car's history. But the fact that he was watching for one and the Omni he found was that far from his Bainbridge, New York, home is evidence that the Dodge Omni and its Plymouth Horizon twin are becoming rare.
That's not too surprising since the newest of them was built in 1990 and as cars intended as inexpensive, basic transportation, Omnis and Horizons were mostly used up and discarded. Those still on the road vary in condition—most seem to be in the lower half—so it's easy to forget that they once seemed to be everywhere.
Small Cars Stretch Way Back
Looking back further, it's even hard to remember a time without them, but they arrived only some 34 years ago in 1978.
However, while American small cars' success was relatively recent then,small autos have been around since the industry's beginnings. An 1899 Locomobile steam runabout, for example, rode on a 58-inch wheelbase while Ford's first Model T of late 1908 came in at 100 inches. (The Omni/Horizon wheelbase, by comparison, is 99.2 inches.)
Other examples from over the years include the 1930 American Austin on a 75-inch wheelbase, the 80-inch Crosley that arrived in 1939 and the 100-inch Rambler introduced by Nash in 1950.
Entering the Modern Small-CarEra
Facing competition from the Independents and imports, the Big Three began introducing compacts in 1960. With regular styling updates, they gained size, upscale versions and larger engines so that a new slot opened and in 1970, subcompacts began filling it.
Aiming to repeat its ancestor's success with theRambler, American Motors introduced the Gremlin, a hatchback on a 96- inch wheelbase. In 1971, Chevrolet's new Vega rode a 97-inch wheelbase while the Ford Pinto's measured 94 inches. The three presented a problem for Chrysler and not just as routine competition.
Chrysler had nothing like them and therefore chose to rely on captive imports, an approach already used successfully by American automakers. It would now sell Mitsubishis as the Dodges and Hillmans as the Plymouths in the subcompact segment.
Then 1978 brought the Omni and Horizon. Like the Pinto and Gremlin, the new L-car was a hatchback, but it was a four-door, was front-wheel-drive and carried a transverse four. Comparison to Volkswagen's Rabbit was inevitable, as was the suggestion that it was a Rabbit copy. (It didn't help that they looked similar and that Volkswagen supplied the Omni's engines.)
But in 1978, the subcompact hatchback was on the upswing in the United States. "Energy crisis" had entered the language, government was regulating the auto industry and,significantly,small cars were being increasingly seen as both practical and fun. The Omni was a good match to all of that. Its 104.7-cubic-inch four developed 75 horsepower and its overhead-cam design was still perceived as intriguingly exotic. MacPherson strut front suspension with a sway bar and rack-and-pinion steering, also viewed as exotic, produced good handling for those who understood front-wheel-drive.
Barely topping a ton and with the aforementioned 99.2-inch wheelbase, the Omni was the right car for the time. First-year sales of almost 71,000 examples proved that as did Motor Trend's Car of the Year award (to the Omni and Horizon).
A month before MT's award announcement, it analyzed the new small Chryslers. It was January 1978 and Karl Ludvigsen summed it up well when he wrote that "skipping the whole Vega Pinto-Gremlin era of conventional subcompacts, Chrysler becomes the first American company to offer a modern front-wheel-drive subcompact with all independent springing and dazzling space efficiency. The wait was worth it: of the more than two-dozen small cars now on sale here, none offers the American driver more of all the qualities he looks for in an automobile than the Dodge Omni and Plymouth Horizon."
A 50 MPG Omni/Horizon?
Things became even more interesting for the Omni sedan as 1981 brought the Miser package. Motor Trend tested the identical Horizon Miser in April 1981, reported that the Environmental Protection Agency had rated its fuel-consumption at 50 miles per gallon and called the car "elemental transportation." The magazine revealed the secret to the car's minimal thirst by explaining that "the Miser name does not really identify a unique hardware configuration, but rather a standard Horizon with the base 1.7-liter engine and a long-legged transmission (0.88:1 4th gear and 2.69 final drive)." Even so, the car managed only 42.2 miles per gallon at a steady 55.
Similarly, MT looked at handling and while the magazine understood that the Horizon wouldn't threaten a Corvette in the curves, it praised the lack of torque steer as well as the control and feel of the steering and brakes. The tires were another matter as the P155/80-13 polyester radials, it found, "reduce rolling resistance and aid fuel efficiency, but their adhesion capabilities are unspectacular. The Horizon's good basic balance (despite liberal body roll) and diminutive proportions give a zippy feeling that invites elevated cornering speeds, but the OEM tires just aren't up to much more than sedate cruising. We heartily recommend the optional 165- section steel-belted Michelins."
That Bout With Consumers Union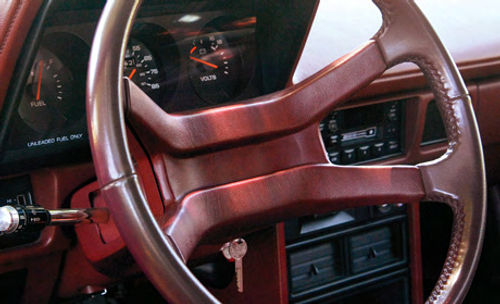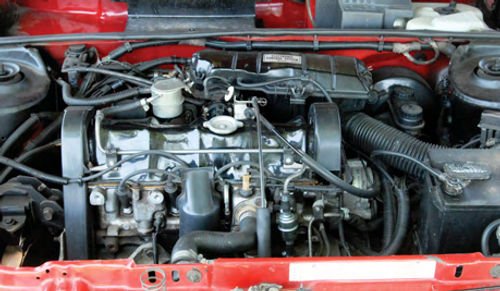 The Omni/Horizon was "no road racer," but Motor Trend liked it three years after the Car of the Year award and continued to like it after Consumers Union, the publisher of Consumer Reports, alleged that the cars had handling problems.
CU "decided to tag it'unsafe' because it failed an unusual hands-off-the-wheel, vehicle-control test maneuver," MT wrote. "The enthusiast publications (and, of course, Chrysler Corp.) were mystified by CU's complaint and seriously questioned the validity of the test procedures. The National Highway Traffic Safety Administration entered the fray and ultimately 'could not find a safety problem involving the stability and control characteristics of the Omni-Horizon cars.' Still, all the controversy confused the buying public and sales suffered. Obviously, popularity of the Omnirizon has improved since then."
The car had improved, too, as nonMisers in 1981 could be equipped with the 135-cubic-inch, 84-horsepower four. It was a small step, but a step nevertheless, as was the Euro Sedan variant. The new package included better tires on aluminum wheels, a tach, four-spoke steering wheel, upgraded interior trim and black exterior accents. A five-speed arrived for 1983 and a Peugeot-built 92- cubic-inch, 62-horsepower four became the base engine at mid-year, but the Miser and Euro were gone.
It Goes Like What?
Anyone suspecting that the Omni was winding down, though, was set straight when Dodge rolled out the 1984 GLH version with specifications confirming that "GLH" was no meaningless letter combination. A 110-horsepower version of the 135 and a five-speed lifted from the Shelby Charger—itself descended from the two-door Omni O24—ensured that it really would go like hell. Better suspension, alloy wheels and blackout trim distinguished it from the everyday Omni, but only to those who knew. Most who saw it had no clue that it could hit 60 in under 10 seconds, a figure entirely acceptable in that day. Those who didn't find it acceptable had only to wait another year for the 142-horsepower turbo and if that still wasn't enough, the 175-horsepower GLHS appeared in 1986 courtesy of Carroll Shelby.
1985 Dodge Omni
GENERAL
Front-engine,front-drive, four-door hatchback sedan
ENGINE
Type Overhead cam inline four-cylinder
Displacement 135 cu.in.
Bore x stroke 3.44in.x3.62in.
Compression ratio (:1) 9
Carburetor Two-barrel
Power 86 hp @ 5200 rpm
Torque 119 lb.-ft.@3200rpm
DRIVETRAIN
Transaxle Torque Flite three-speed automatic
Final drive ratio (:1) 3.02
STEERING
Rack-and-pinion
SUSPENSION & BRAKES
Front Ind., MacPherson struts, coil springs, sway bar
Rear Trailing arms, coil springs, sway bar
Brakes (f/r) Disc/drum
MEASUREMENTS
Wheelbase 99.2 in.
Length 164.8 in.
Width 65.8 in.
Height 53.1 in.
Weight 2095 lb.
Track (f/r) 56.1/55.6 in.
Tire Size P165/80R13
Fuel capacity 13 gal.
Simultaneously Fun & Practical
Like most high-performance cars, the GLH and GLHS weren't huge sellers and it's probable that the small market niche was satisfied, but it's just as probable that nearly all who bought less-outrageous Omnis for daily transportation appreciated their practicality first. Add the bonus that even a basic Omni is pleasant to drive and that effectively sums up Fairbairn's position on the feature car and his others.
"I've had many of them," he said. "Right now, I even have another Dodge Omni. I figure I've had at least a dozen of them. They're small, economical cars, you can go anywhere with them in the wintertime, they ride nice and get good gas mileage."
The feature car shows 28,000 miles while his 1988 Omni driver has 42,000. Keeping it on the road in snow country, he agreed, means constant washing to remove winter road salt. The battle won't be an easy one.
"There are some rusty spots on the two doors," Fairbairn said, "so I'm going to get it repaired and repainted. I'm going to keep it in nice shape and driveit."
Some Sturdy Little Cars
When it comes to the feature car, the story is different and not what might have been. After all, he bought it without having seen it.
"This is far better than what I expected," he explained. "It might've had a little rust on it here or there, dents that you couldn't see, (but) it's not dented, there's no rust on it anywhere. All I've done is washed it and polished it."
Deciding which of the car's problems have been serious is difficult since it's needed only a fuel pump, a fuel filter and brake work. A 1978 Omni he owned, however, experienced troubles that illustrate the complexities of seemingly simple cars.
"It would be running right along and it would just quit," Fairbairn said. "I had no idea why. Finally, I knew a guy who had worked on Chryslers in a garage and he knew quite a lot about them, so I took it to him and he said 'I'll check it out for you.' I kind of thought it might be the computer, so he checked it out and he said 'yeah, it's the computer.' He put a new computer in and that was it, no more problems."
Restorers end up dealing with such headaches, but in the Omni's case, shop manuals, information and help are available, mechanical interchange is broad among contemporary Chrysler products and it's a mostly reasonable car for the less-experienced restorer. High-mileage trouble-free examples are not unheard of, naturally, but a potential purchase seeming to run well still calls for close inspection. Among the points to consider are the completeness of emissions-system components and confirmation that those components are correct, but the basics remain important.
"I had one of them and the head cracked on it," Fairbairn said, "but that was one of them out of all that I've ever had. I think somebody had run it hot before I got it. Other than that, I've never had any really bad problems with them."
As with any engine, a compression test can be revealing and it's worth identifying the source of any visible leak. Fairbairn spoke of the Horizon his daughter had bought from him. After about five years, he said, she told him it was leaking oil badly and a local garage claimed that it needed an engine. After stocking up on oil,she drove it from her Virginia home to Bainbridge, where her father had found a Ford Escort as a replacement. The deal was made and the Ford went home with her while the Horizon stayed.
"I wiped the engine down," Fairbairn recalled, "and I could see oil running down the back side of it. I drove it around and when I got back home, I put it in the garage with a paper under it. Oil was dripping down onto it, so I traced it back through. It was a $2.40 seal that I put on the end of the camshaft."
The story doesn't end there, as he used it for a year or two and then gave it to his sister when her car died.
"It had, I think, 121,000 miles," he said, "and she drove it for a couple of years. I don't know whatever happened to it."
In addition to providing good service, the car convinced Fairbairn of the value of front-wheel-drive. His critical experience came on an unplowed road.
"I was pushing snow with the front bumper," he said. "When I got up to the house, I took it up around the lawn and stopped. I opened the door and I was pushing snow with the door."
Winter roads are an Omni's worst enemy, but any Omni living outside of desert conditions is a candidate for rust. The likely areas are mostly the obvious ones such as the wheel wells, rockers, door bottoms, quarter panels and fender heels, but floors and shock towers are also possible problems. A car wearing the optional exterior wood grain appliqué requires specialized inspection since a perfect one can easily hide body problems. Even a slight unevenness should be taken as a serious warning about what might lurk below and a bubble is likely to be full of water.
On the interiors, Fairbairn said that he's had no problems with switches, controls or handles and that the seats have held up well. Cloth seats might be less durable, he agreed, but are far more comfortable than vinyl. The other tradeoff is an automatic with its lower gas mileage, but he's owned nothing else and none developed any problem despite their frequent shifting.
He's replaced front-end constant velocity joints in several of his high mileage cars and while he said that doing so isn't difficult, he added that problems with the joints are no surprise on a well-traveled example. On the feature Omni, though, he's had to replace the brake calipers as mentioned above and that might seem unexpected because of the car's low mileage, but he was a few miles from home when they refused to release completely.
"I could feel it, I could smell it, I knew exactly what it was," he recalled. "I blame it on the fact that it sat for so long."
Fairbairn said that he'd have no worries about driving the feature car to California, but that's not going to happen.
"I guess the farthest I've had that is probably Oneonta," he said, "25 or 30 miles. I don't want to put a lot of miles on it. I wouldn't be a bit afraid to go with it; it's just that I haven't done it."
The limited driving he has done, though, has produced everything from the compliments and observations on condition typically directed at any older car to specific questions. Many of those who recognize it, he agreed, ask whether it's an Omni or a Horizon.
"The older people know what it is," Fairbairn said. "The younger people are curious. A lot of the younger guys say 'oh, that's nice. I've never seen one like that before.'"
Local residents who know him say "there he is with another one"—he owns three now and has stories about the others dating to the 1980s—but what makes their spotting it remarkable is that the Omni had a somewhat generic look in its day.It might be a Rabbit, but it might also be a Fiesta, a Chevette, an Austin or even a Yugo.
Getting Behind the Wheel
The Omni shares something else with other inexpensive cars in that it's often dismissed with a subtly condescending air that's not necessarily appropriate. Few would say that it's a modern subcompact's equal, but put aside such unfair comparisons, take one for a ride and it quickly becomes clear that it's a car with much in its favor.
I concede that I'm not objective about them; I liked them when they were in production and I like them today.
It's probably 20 years since I've been in one, but having driven a lot of them over the years, Fairbairn's Omni was instantly familiar.
The first noticeable feature on the plus side is the driving position. The bucket seat seems crude by today's standards, lacking as it does the numerous adjustments deemed necessary on modern cars. Instead, it's like a chair whose bottom cushion provides enough support and enough height for long legs.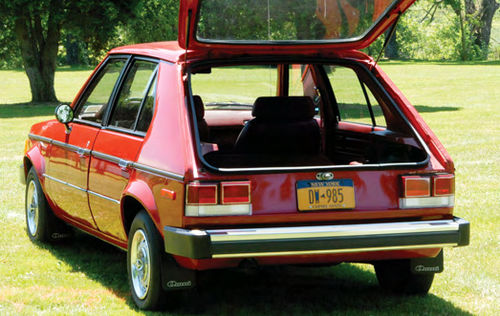 The low shifter requires a reach, but that's minor on an automatic, and the remarkably stiff gas pedal(that I'd forgotten about) is something I can accept much more easily than one that's too soft. Commendably, the Omni's interior is much less claustrophobic than are some of its descendants, probably due to its combination of good visibility and a rather minimalist design.
Liking most small hatchbacks from the original Mini onward and having had more than a few, I've always enjoyed them and I've often been surprised at how they offer decent handling and easy driving. In this case, the Omni is user friendly enough that a driver who'd never before been in one would be comfortable in a mile or two.
And while the Omni was far from distinctive in its time, we quickly find that we're not flying under the radar in 2012. The car's styling is simple—a box is a box—so at first it's hard to imagine that we're being noticed for any reason beyond the Omni's rarity.
Some who point and smile, though, are most likely realizing as I did that it's familiar. After I got back into my own car, I followed Fairbairn for a few miles down the road; a couple in a Wrangler with no top didn't even try to avoid staring at the Omni when it was stopped at an intersection. Maybe they liked it or maybe they were merely curious.
It's all a matter of taste, of course, and while Fairbairn's taste might seem unusual enough to mean he finds scant competition for any Omni or Horizon that turns up, that's not exactly true. Fairbairn knows this from an Oneonta salvage yard.
"The (yard) guy was never around," he said.
"One day, I saw that their garage door was open. I stopped in and his wife was there. I said to her, 'I've been here quite a few times. You've got a little Omni or Horizon out there in the junkyard and I was wondering whether it was anything that could be bought and fixed up to drive.' She said 'you're too late. A guy just came in and bought it.'"
He also kept an eye on one outside of Unadilla, New York. A friend investigated and reported the owner planned to return it to the road.
"It sat there for darn near another year. Finally, he did," Fairbairn recalled. "I've seen him driving it quite a few times."
The 1978 Motor Trend article offered the fairly bold prediction that "well into the 1980s, the L-car will have to carry the whole market burden for Chrysler in the car sizes smaller than the Aspen and Volare. I think the assignment is in good hands."
They were very right as the Omni and Horizon went on into the 1990 model year. However, few in 1978 might have expected that to happen and fewer still could have seen the day when the cars would be set aside as collectibles.