Gas Crunch Cruisers, Pt. 4
Yes, You Can Have Your Truck and Reasonable MPG, Too. With Today's Fuel Prices, Consider One of These.
IN PART 1 of our Gas Crunch Cruisers series we talked about small domestic cars with good fuel economy. Part 2 covered larger cars that did the same thing while Part 3 highlighted gas-sipping imports. This final part will cover trucks from all three categories.
Since we started this series in September 2007, the average price of gasoline in the United States has risen from $3.08 to around $4 per gallon. Most likely, hobbyists who switched to driving a fuel-efficient collector car have saved more than enough to renew their Auto Restorer subscription. Now let's see if we can save a little money for those who like to take to the road in a vintage truck.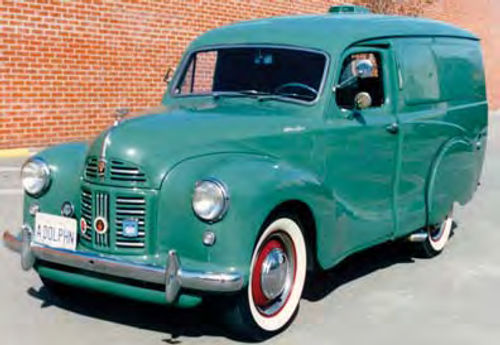 In addition to hobbyists, many business owners use vintage trucks for business and promotional purposes, and gas-sipping commercial vehicles are a way for them to keep expenses down as well. There is no reason that hobby suppliers who use old trucks for promotional reasons can't get big exposure value out of a small, economical truck. Joe Curto, of College Point, New York, restored a tiny 27-mpg Morris Minor van that is well known to British sports car lovers. It is lettered up to advertise his business of rebuilding S.U. and Weber carburettors (as the Brits spell the word).
Curto's truck also brings back memories of the early days of Moss Motors, Ltd., a large supplier of parts for British cars and Mazdas based in Goleta, California. Al Moss started the firm in the '50s by bringing parts for MGs, Triumphs and Austin-Healeys out to sports car races. Al carried the parts in an MG TD roadster that he had converted into a pickup truck! His "high-revving hauler" made a big impression on enthusiasts and really helped get his company off the ground.
Many Factors to Consider
As we'll see, the idea of building a truck that travels farther on a gallon of gas is one that dates back at least to the 1930s. And in selecting models for our list of gas-crunch trucks, smaller vehicles were a natural. It's obvious you're not going to find tonners or semis on this list. However, as with the cars, we didn't choose vehicles strictly by size or maximum miles per gallon. In making our choices, we also attempted to blend in subjective factors important to motor vehicle collectors such as rarity, historical significance, club support, parts support and overall "coolness."
After all, this series is supposed to be about gas-sippers to drive to car shows, cruise-ins and on enjoyable leisure weekend drives…and not just about squeezing the most miles you can get from a gallon of fuel.
Speaking of shows, we tend to think that those who like competing for trophies will find an advantage in getting involved with gas-sipping trucks over similar cars.
At most (though not all) events, the amount of competition in the "Truck" or "Commercial Vehicle" classes is less than it is in the various car classes. So if you put your energy into restoring an economical truck, you may not only gain more miles per gallon of gasoline, you may wind up with more awards as well.
With these caveats and advantages in mind, let's take a look at our picks for 10 gas-sipping commercial vehicles we'd recommend to collectors. And, as always, we encourage you to give us your opinions on vehicles you believe should be part of this list.
Ten Trucks to Consider
1949-64 Austin A40 (Britain): The history of Austin dates back to 1906 and carries forward after 1962 and we're not exactly sure which years the curvaceous little Austin trucks were sold in the U.S. In fact, we're not even certain which models you could bring in. Austin did make a big push to sell A40s in the United States immediately after World War II, when domestic cars were hard to get here. The idea was to push the balance of trade in Britain's favor so the country could be rebuilt after the Blitzkrieg.
The A40 trucks are very cool and go a long ways on a gallon of fuel. The commercial vehicle versions of the A40 were a derivative of the A40 Countryman station wagon and both pickups and vans were offered. They shared art deco styling motifs with rounded hoods, swoopy front fender lines and skirted rear fenders. The A40 uses a 73.2-cid inline overhead-valve four that produces 40 hp, from which it derives its name.
The little trucks were priced in the $2000 range at first and actually grew a bit more affordable as time marched on. In 1951, Austin merged with Britain's Nuffield Group to form British Motor Car Corp. (BMC) and use of the Austin engine was expanded to many other cars. This makes the spares situation quite good for collectors nowadays. In fact, Kip Motors in Texas, (www.kipmotors.com) a firm that specializes in parts for British "orphan" cars, carries many Austin items.
The A40 had a top speed of around 72 mph and delivered up to 35 mpg.
Austin Club: Rob Stuart, 800 S. Pacific Coast Highway No. 8343, Redondo Beach, CA 90277. austinworks.com.
1930-41 Austin-Bantam (USA): Based on the English Austin 7, the American Austin looked like a scaled-down version of American commercial cars of the day. American Austin cars and trucks were built in Butler, Pennsylvania, from 1930- 34. The company's initial truck line included a Coupe Delivery and a Panel Delivery. In 1933, the Bantam van was added. The Panel Delivery, a Pickup and the "Pony Express" were offered in 1933, and the 1934 models included just a Pickup and a Panel Delivery again. All of these tiny and boxy-looking trucks had a 14-hp four-cylinder engine and a 75-in. wheelbase. Original prices were in the $330 to $450 range.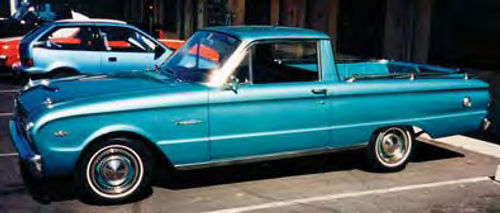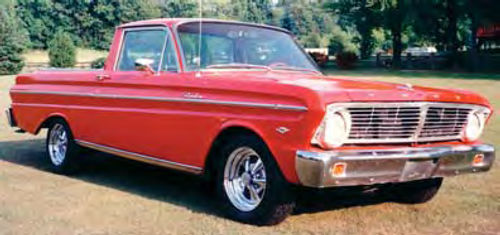 About 8558 units were made before a bankruptcy that led to the company reorganizing under the name Austin-Bantam. With styling by Count Alexis de Sakn off ski, a master of the art deco look, the Bantam name reappeared in 1937. It was now used on an entire line of small cars and trucks. They retained the same wheelbase and drive train as the earlier American Austin versions. Introductory prices below $400 increased to as high as $497 for a fancy Boulevard Delivery truck made in 1938 and 1939. A Business Coupe was also available in 1938 at $439. A chassis-only model, the Pickup and the Panel survived through 1941, with increased horsepower the last two years. Published reports have indicated that the 1933 American Austin averaged 35 mpg and got 50 mpg at its best.
Austin-Bantam Club: American Austin Bantam Club, 714 Maple Dr., Kirkville, NY 13082 or visit www.austin-bantamaabc.com.
1961-64 Corvair 95 (USA): Chevrolet's answer to the Volkswagen Beetle was the Corvair and its answer to the Volkswagen Van was the Corvair 95. These were driver-forward models based on the Corvair platform. A 95-in. wheelbase gave the series its name.
There were also Greenbrier passenger-van models, but the versions that Chevrolet considered trucks were the Model R1205 Corvan, the Model R1244 Loadside Pickup and the Model R1254 Rampside Pickup.
The pickups had a 105-in. long x 43.5- in. wide cargo bed and could carry sizeable loads. The Loadside was made only during 1961 and part of 1962 before being dropped. The Rampside had a unique "door" in the side of the box that dropped to the ground to make a cargo loading ramp.
Standard equipment included a rear mounted 144.8-cid "pancake" six-cylinder engine that generated 80 hp. The Corvair trucks did not change much over the four years they were offered and 1964 production was extremely low. About 20,000 pickups were made in total. The Corvair trucks usually delivered about 22-23 mpg. With careful tuning and carburetor balancing and/or certain aftermarket modifications, fuel economy can be boosted to near 30 mpg.
Corvair Club: Corvair Society of America (CORSA), PO Box 607, LeMont, IL 60439-0607 (www.corvair.org).
1939-52 Crosley (USA): Appliance maker and Cincinnati Red Legs owner Powell Crosley built his first miniature cars in 1939 and offered the same vehicle in truck models, too. There was a Pickup and a low-cost Sports Utility vehicle with side curtains instead of doors.
After building military trailers during the World War II, Crosley got back to making cars and trucks in 1946. Even a few fire trucks were made for companies to use around their plants and for clowns to use later on.
New postwar design vehicles arrived in 1947. A 44-cid 26.5-hp four supplied the power and carried the cars far on a gallon of gasoline. While some books put Crosley fuel economy at 25-32 mpg, the company advertised "up to 50 mpg." According to a contemporary magazine road test, the 1952 Crosley's best fuel economy was 30.5 mpg at 45 mph and it averaged 28.4 mpg.
Crosley Club: Crosley Automobile Club, Inc., 307 Schaeffer Rd., Blandon, PA 19510.
1960-65 Ford Falcon Ranchero/ Sedan Delivery (USA): The Ford Ranchero was an innovation of 1957 based on the Australian "Ute," a model that dated back to the 1930s "down under."
In 1960, the Ranchero concept was transferred to the then-new Ford Falcon compact. This was really a "small big truck" with a 109.9-in. wheelbase and a 189-in. overall length. Though scaled down from full-size trucks, the Falcon was conventional in design and engineering. It used a 144-cid 90-hp overhead-valve in-line six. Starting in 1961, a 170-cid "big six" was optional. A three speed manual gearbox was standard and an automatic transmission was available. Later, a four-speed manual was added.
With a dummy hood scoop, wrap-over rear fenders and big, round Ford trademark taillights, the clean-lined, good looking Falcon Ranchero was advertised as "America's lowest-priced pickup." It featured a two-passenger cab and a 31.6 cu. ft. load box. There was over 42 in. of cargo room between the wheel wells.
The Falcon pickup had no trouble cruising at 50-60 mph and Ford promoted 30 mpg economy and 4000-mile oil changes. A sedan delivery model was added to the lineup in 1961 and sold for $2109 compared to $1867 for that year's pickup.
Grille changes and minor trim alterations were seen in 1962 and 1963. In the middle of 1963, a 260-cid 164-hp V8 was added. The V-8s got about 22 mpg. For these years, production was in the 20,000-21,000-unit range.
The '64 model featured the small Ranchero's first completely changed look with a forward-thrusting sculptured body that was boxier in appearance. Combined production of the pickup and sedan delivery dropped to just over 10,000, with the pickup accounting for 90 percent of the build, as before.
The last year for the smaller Ranchero was 1965, when a 105-hp, 170-cid six cylinder engine and 120-hp, 200-cid "big six" were available, while a 289-cid V-8 with 200- and 225-hp options replaced the 260 engine. Last-year production was 10,539 pickups and 649 sedan deliveries.
With their rarity, the sedan deliveries are real collector vehicles, but the Falcon Ranchero pickups are right up there.
Falcon Club: The Falcon Club of America, PO Box 113, Jacksonville, AR 72078- 0113 (www.falconclub.com).

1966-71 Ford Bronco (USA): A TV commercial called the boxy little first generation Bronco "a stablemate of Mustang." Ford's answer to the Jeep and the Scout came as a Roadster ($2404), a Sports Utility ($2480) and a Wagon ($2625). Of the three, the wagon (12,756 built) was almost twice as popular as the pickup-like SUV and more than three times as popular as the Roadster.
Bronco specs included a 90-in. wheelbase, 152.1-in. overall length and 170- cid 105-hp in-line six. A 289-cid V-8 (302-cid after 1970) was optional and very popular with enthusiasts.
In 1967, the SUV was renamed the Pickup (because it really was) and both it and the Roadster lost lots of ground in sales, while the Wagon dipped just slightly. Ford dropped the slow-selling Roadster after 1968 and eliminated the folding windshield on the Pickup. With the 1969 Wagon selling nearly 19,000 to the Pickup's 2317, the buying trend wasn't hard to pin down. There were minor styling changes in 1970 and 1971. By 1972, the wheelbase grew to 93 in. and while it wasn't a big change, it did signify that the classic Bronco "fun-wheel-drive" models were starting to turn into the luxo SUVs that we all know today. For a four wheel-drive vehicle, the 20-mpg six cylinder Bronco was economical.
Bronco Club: Early Bronco Registry, C/O Steve Sampson, PO Box 1525, Poway, CA 92074-1525; .
1961-65 IH Scout 80 (USA): In 1961, International Harvester's truck division became a pioneer in the RV market by introducing the Scout 80. This boxy little sport-utility pickup rode on a 100-in. wheelbase and had a 151.84-cid 93.4-hp inline four made from a single bank of a V-8 engine. The cab held three people and the 5-ft. pickup box provided ample cargo space. The cab roof, doors and windshield could be removed to convert the Scout into a Jeep-like convertible. A vinyl roof was available. Another option was a station wagon-like Travel-Top which was available in vinyl or steel. Both two-wheel-drive and four-wheel drive Scout 80 models were marketed. The base version cost only $1771. With 28,000 sales, the first Scout was very popular. The Scout continued in this form into the 1965 model year and was replaced at midyear by a new Scout 800. The Scout 80 delivered 25-30 mpg.
IH Scout Club: National International Harvester Collector's Club, Inc., c/o Allen Dummler, 310 Busse Hwy., PMB 250, Park Ridge, IL 60068-3251.
1937-41 Plymouth Pickup (USA): Plymouth called its new-for-1937 PT-50 truck a "Commercial Car," but it was in all ways a full-size 1 ⁄2-ton pickup truck. It had a 116-in. wheelbase and a 201.3-cid L-head six that made 70 hp at 3000 rpm. For $525, you couldn't beat its hard working but economical design, but selling it turned out to be a difficult task. Only 10,709 were built that year—and that would be the high point!
In 1938, the company's PT-57 pickup was modestly restyled and only 4620 were made. A longer, 116-in. wheelbase was adopted for the 1939 PT-81, which was also completely restyled. These changes helped a bit, as production rose to 6181. The spare tire, formerly carried in the right front fender, was now attached below the cargo box.
The PT-105 model of 1940 was a handsome offering and 6879 were put together. It had sealed beam headlights and nine more horsepower. The PT-125 of 1941 was the last Plymouth truck until the Trail Duster SUV of 1974. These trucks got the same new styling as Ply mouth cars. By this time, the price tag was $625 and production was 6073. The engine fitted was a 217.8-cid flathead inline six that was good for 97 hp. The 1937-1941 Plymouth trucks delivered 15- 21 mpg on average.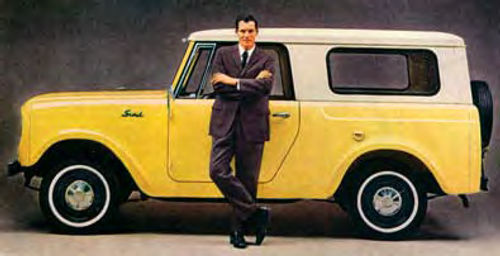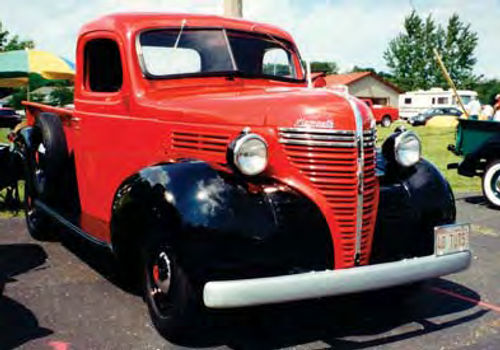 Plymouth Club: Plymouth Owners Club, Box 416, Cavalier, ND 58220-0416; www.plymouthbulletin.com.
1954-56 Powell Sport Wagon (USA): The Powell Manufacturing Co., of Compton, California, built a pickup based on reconditioned Plymouth components and taxicab frames. Hayward and Channing Powell made use of reconditioned Plymouth six-cylinder engines from the '40s. The pickup body's top rail was a long tube that a fishing rod could be stored in.
Powells were fairly large vehicles with squared-off lines, a simple grille with three fat, flat horizontal plastic bars and single round headlights. The front bumper was made of wood and the nose section was made of fiberglass.
An article about how Powells were built appeared in Motor Trend magazine and gave the firm some notoriety. Not enough, though. Historians guesstimate that 500-1000 were built before the project collapsed when the cab company folded up shop. Only a handful remain. Fuel economy was supposed to be in the 25 mpg range.
1950-67 Volkswagen Type II Transporter (Germany): The design of Volkswagen's rear-engined Transporter model was finished in 1949 for introduction the following year. Transporters were characterized by their two-piece "split" windshield and round body shape. All were powered by Beetle Type I motors, although larger displacement versions were substituted in the earlyand mid-'60s. All Transporters had reduction gears on their half axles.
A 1954 Transporter sales brochure listed six models, of which three—Delivery Van, Pickup Truck and Ambulance— were commercial vehicles. The "split windshield" Volkswagen Transporter became an icon of the '60s, as it became a hippie favorite.
Panel and pickup truck versions continued to be marketed in the United States. Beginning in 1963, larger, round front turn-signal indicators were installed. A fresh-air heating system also became available. Transporter-based commercial models for 1963 included the Model 211 Panel Delivery, the Model 261 Pickup and the Model 265 Deluxe Cab Pickup. Microbus production continued without major change, with the option of a new, larger 50-hp engine arriving in 1964. The Deluxe Cab pickup of that year was renamed the "Double Cab" (or Doppelkabine) pickup. This was a 1 ⁄2-ton truck that had three doors and seating for five or six people.
The split-windshield styling survived through 1967. To Volkswagen fans, these trucks are classics and the commercial versions are particularly rare. Fuel mileage in the 22-28-mpg range was reported.
Volkswagen Clubs: Der Kafer Fahrer (The Beetle Driver), 10 Hardwood Road, Windham, NH 03087. Bill Collins, 603- 425-6129. Vintage Volkswagen Club of America, 5705 Gordon Drive, Harrisburg, PA 17112. Volkswagen Club of America, Box 154, North Aurora, IL 60542.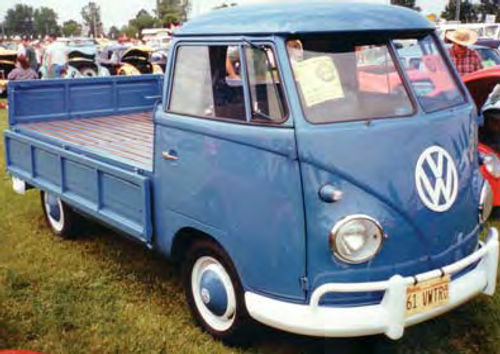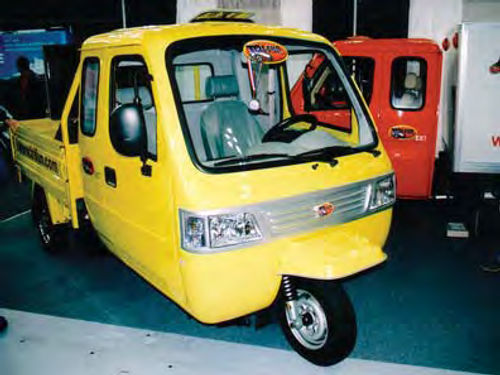 Is This the Truck of the Future?
As we've seen this month, the idea of small, economical commercial vehicles is nothing new. In the early 1930s, the Austin American pickup was a hit in more than just "Little Rascals" films. A few years later, Bantam models—especially the classy Boulevard Delivery— drew attention wherever they went.
Where I grew up in the South Beach section of Staten Island, New York, there was an Italian shoemaker who drove around in an Isetta with a van-type body. People would bring shoes to his shop to have them repaired, but I think at least half of his clients also wanted a closer look at his truck.
Now, with the current spike in gasoline prices, Howie Neal of Lighthouse Point, Florida, has big hopes for the three-wheel trucks that he is importing from China for the American market. Neal was promoting his Tri-Fun products at a show in Indianapolis when we spotted his EXT pickup.
The EXT is a three-wheel commercial vehicle with a large cab that seats two people. It is powered by a 970cc four cylinder four-stroke, water-cooled Wuling/GM (Delphi) ECM fuel-injected engine with solid state electronic ignition. A 5-speed manual overdrive Wuling transmission is attached.
A 6-ft. pickup body is standard and a box-type body is optional. (See the photo on this page.)
The truck incorporates power disc brakes, rack-and-pinion steering, light alloy aluminum wheels and radial tires. It has a coil spring front suspension with internal shocks and rear leaf springs with overlong shocks.
The cab has fully adjustable vinyl seats and includes safety features like headrests, seat belts and turn signals. It has air conditioning, carpeting, floor mats and even a leather-wrapped steering wheel. An AM/FM stereo with MP3 input is standard. You even get a digital clock.
The 1 ⁄4-ton rated Tri-Fun truck has a 100.4-in. wheelbase and 155.9-in. overall length. It is 57.5 in. wide and 76.8 in. high. It can climb an 18-degree grade and its turning radius is 19.7 ft. It can brake to a dead stop in 24.6 ft. The truck has a top speed of 60 mph and it gets 40 miles per gallon of fuel.
Anyone interested in a Tri-Fun can visit www.trifun.com on the Web or call Howie Neal at . But be sure to check with your local government before you make plans to put one in your garage. Because while some communities say trucks like the Tri-Fun are legal for street driving, in many places this type of truck can only be used as an off-road vehicle on private property.
After all, while this may be representative of the truck of the future, it's not exactly mainstream just yet.