A Restorer's Story In An Audi State of Mind
He Owns Five Cars From This German Firm.
I'M 37 NOW, but by age 20 I had owned and given a new lease on life to three American classics: a 1965 Pontiac Tempest, a 1973 Mustang Mach I and a 1973 Cadillac Fleetwood Brougham. On those first cars I learned to do basic body, interior and mechanical projects, including the brakes, exhaust, tune-ups and suspension work.
From an early age my father fueled my love of cars with his stories and old home movies of racing his 1970 AAR 'Cuda. He taught me the basics, and I have been fortunate over the years to have learned from others who also knew what they were doing.
Then Audis Entered My Life
Before I was out of high school I picked up my first Audi and was smitten. For the past 15 years I have driven nothing else.
As parents of young children my wife and I tote our boys around in modern A6 wagons, but I have three vintage Audis that will be with me for the long haul. We have made many memories with them, and the root of my affection for them began as an adolescent, growing up very near an Audi dealership. From an early age I admired the various models I saw come and go on a daily basis.
My special three are a 1974 100LS that I have owned for 14 years, a 1982 Coupe that I have owned for five years, and a 1984 4000S Limited Edition that I have owned for 11 years.
My 100LS
he 100 LS is the car that has undergone the most work (just shy of calling it a true restoration), but all three have received lots of attention and been personalized.
The 100, identified by Audi asthe C1, was introduced in 1968 and first came to the U.S. in 1970. The C1 benefited from styling and engineering that took place prior to Volkswagen buying the Daimler Benz share of Audi. Mercedes-Benz Influenced styling cues, both interior and exterior, are obvious when one considers the offerings of the time. The engine was a "high swirl" overhead valve four cylinder, introduced at 1.8 liters, but displacement was soon increased to 1.9.
The most uncommon feature of early C1s was the inboard disc brakes. Jaguar and several other European marques had experimented with the design, and the goal was to reduce unsprung weight. The configuration made the brakes difficult to service, although the objective may have been met, as the C1 handled well.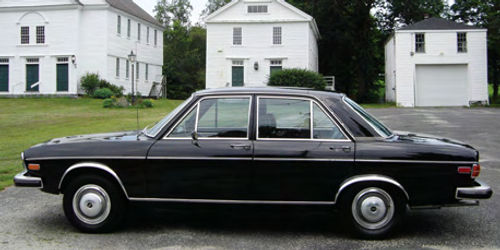 Although Audi sold more than 140,000 of these cars in the U.S. from 1970 to 1977, there are thought to be just 30 orso examples remaining.
Now at just 51,000 miles, my 1974 100LS came to me needing light restoration but was a solid candidate and is now in top shape. I replaced the exhaust system, the electronic ignition control unit, front and rear shocks, control arm bushings, ball joints, tie rod ends and valve cover gasket. I rebuilt both front axles, replaced the boots, replaced the brake light switch, voltage regulator, fan temperature sender switch, a motor mount and carburetor.
The entire braking system is freshly redone, including resurfaced drums, new shoes, resurfaced rotors,rebuilt calipers, new pads, new parking brake cables and new brake lines, front to back. The car also received a full tune-up including points, cap, rotor, spark plugs, and wires.
The body received a full repaint following bodywork. Any surface rust was blasted away, and anything more significant was cut out and new metal was welded in. The chrome, aluminum, and/or stainless trim pieces were cleaned and polished.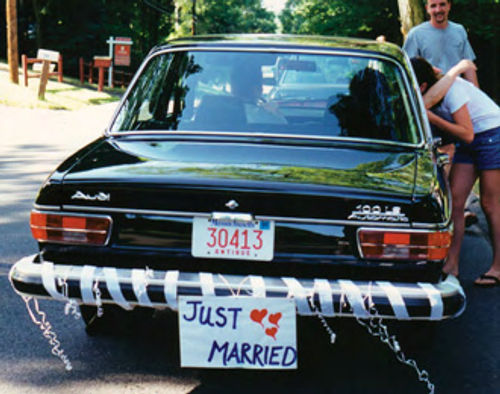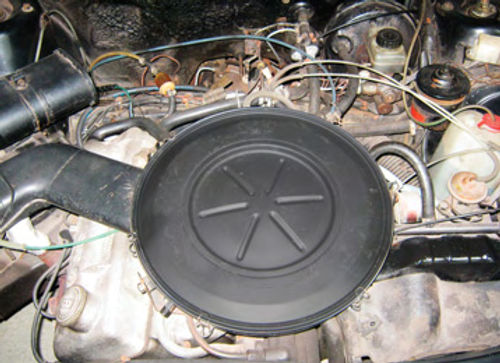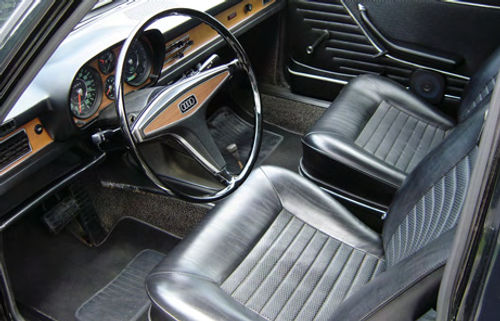 The seats and door panels originally were red and in great shape, but I had a black interior from another 100LS and installed it for a more formal look. I replaced the dash pad with a perfect OEM unit and installed a modern audio system, although I have another set of black door panels and a rear parcel shelf that can be replaced to return it to "stock" condition.
The wheel covers were an option from the parts department and were found as NOS (new old stock) parts. The tachometer was also added optional equipment.
The car runs like new and handles great. The black-on-black color scheme with lots of brightwork is a classic, classy look, and the car continually turns heads. We've taken the car to shows all over New England, New York and New Jersey. My wife and I drove the car to and from our wedding, and have taken it on holidays and other special occasions.
At one point we nearly sold her to make room for an even rarer C1, a 100 Coupe S, but our attachment to the 100LS won out.
Then We Added a Coupe
In 1980, Audi introduced a new Coupe. This model was based upon the B2 floorpan, which served the 4000 and Coupe here in the U.S. and the 80 in Europe.
The B2 offering that garnered the most attention was the Quattro, or Ur Quattro ("Ur" for original) Coupe. The Quattro combined the Coupe floor pan and shell with a four-wheel-drive system that had been used by Volkswagen in its Iltis military vehicles. Powered by a turbocharged five-cylinder engine, the Ur Quattro dominated rally racing and made Audi legendary for its all-wheel-drive quattro system.
My 1982 Coupe is a front-drive, normally aspirated vehicle; not a Quattro. This car sold for less than half what the Quattro cost, yet it offered buyers very similar styling along with pleasing performance. I've been tempted by several of the iconic Quattro Coupes over the years but have stayed away, preferring the bulletproof reliability, low maintenance and greater parts availability of the front wheel-drive Coupe.
My Gobi Beige beauty has covered just 47,000 miles. I rebuilt one for my brother 20 years ago, and have wanted one of my own ever since. After a few that got away, I located this one on the other side of the country in Washington State.
My goals for the car were to (1) bring it to cosmetic and mechanical like-new condition, and (2) give it a slightly more aggressive look, echoing that of the Ur Quattro.
I replaced the AC compressor and then leak tested and charged the system. I replaced the plugs, cap, rotor and air filter. I installed new front struts and strut mounts, as well as the exhaust from the catalytic converter on back. I pulled the driver's seat for some minor upholstery work and replaced the sunroof seal.
I added the 15" Ronal R8 wheels. Similar 14" wheels came stock on later Coupe GTs, and Audi used the 15" x 8" R8s on the later Ur Quattros. Ronal produced the different varieties of the R8 for Audi, and these in a 4x100 bolt pattern and 2" deep lip are very, very rare. I also added the 1984 4000 Quattro rear valance. That was the only year and model that the valance was used in the U.S. and it adds a sense of balance to the aesthetics of the car. My Coupe looks, runs and drives great. It handles tightly and the five-cylinder engine puts out a recognizable sound and pulls nicely.
And Here's Our 1984 4000S Limited Edition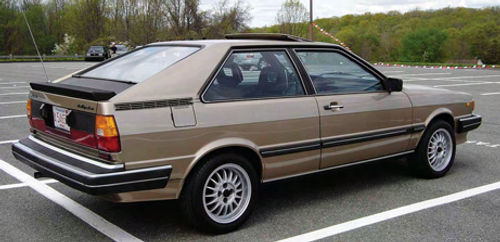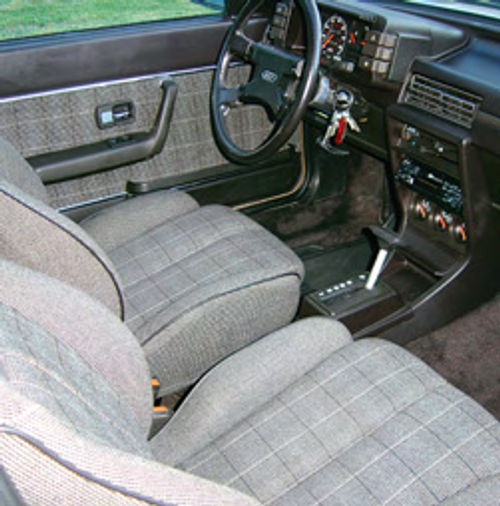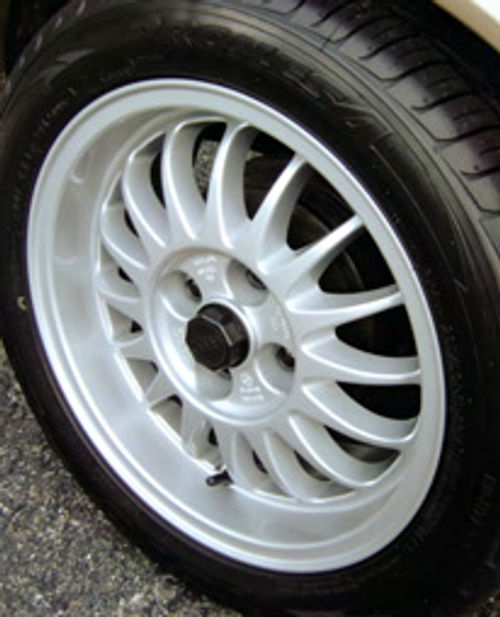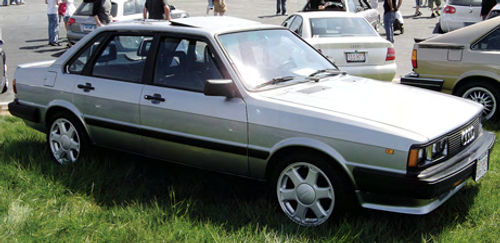 When Audi began selling the B2 platform here in the U.S. in 1980, the 4000 was its sporty-yet-economical offering. Initially powered by a 1.6- and then a 1.7-liter engine, by 1984 the 4000S would feature the same 1.8-liter powerplant installedintheVolkswagenRabbitGTI.
In 1984 Audi firstofferedits all-wheel drive Quattro system in sedan form in the 4000s Quattro, and it was halfway through the 1984 model year that they offered the 4000S Limited Edition.
The Limited Edition 4000S was a front drive version that featured a few items from the 4000 Quattro, and a few items from the upcoming '85 4000S model. The LE has the sport seats and rear decklid spoiler from the 4000 Quattro, a power sunroof, and was available in a limited number of colors.
I bought this car in 2000 and have returned it to beautiful condition. There was no rust, but the body had a few dings and imperfections that needed to be removed so it received a full paint job. I added an updated audio system and a set of Lloyd's mats to the interior.
Mechanically the car was ready to be "freshened up." It has received several new hoses, new axles, control arm bushings, ball joints,sub-frame bushings and strut mounts. The timing belt, tensioner, cam seal, accessory belts, and lifters were replaced. The fuel pump and filter were replaced. I converted the air-conditioning system to R134a. I replaced the battery, voltage regulator, both mufflers, a connecting pipe, and installed a new OE catalytic convertor. The rear shocks are new as well as rear axle bushings, and the front brake pads have been replaced. Also new were the water pump, thermostat, electric radiator fan switch temperature sensor, valve cover gasket and oil pan gasket. The car also received a full tune-up including a distributor cap,rotor, spark plugs, wires and oxygen sensor.
In the name of maintaining a stock look I have also added a few upgrades from the factory parts bins: the '84 4000 Quattro rear valance (under the rear bumper), the '87 grille (with larger chrome rings), and the 16" S6 Avus Style wheels. As with my Coupe, the objective was to make the car as close to or better than new as possible, and give it a bit more of an aggressive look, using factory Audi parts. The outcome is a car that handles great, is dead reliable, and looks sharp, if distinctly boxy.
The Audi Attraction
So just what is it about these cars that does it for me?
I believe it is a combination of brand imprinting at a young age, appreciating the styling of 1970s and '80s European cars, and getting a kick out of driving something a little different.