Feature Restoration 1965 Chevy Malibu SS

Taking a Hard Look Before He Bought Paid Off With This Car, Even If He Isn't One to Test Its Performance Limits.
WHEN IT COMES to inspecting a car before buying it, there's thorough and then there's thorough. Really, really thorough.
Sandy Parks followed that approach on his 1965 Chevelle Malibu Super Sport, beginning in a very general way in 2003. That was a year before he and his wife, Cathe, bought it, but the car was owned by the son of a dealer Parks knew and so he decided to check it out.
"His dad took me down to the boy's house to look at it because he knew I was into them," Parks Recalled. "I looked at it and it was fairly decent, and I told him 'tell your boy that if he ever decides to sell it, I would be interested.' It went along about a year or so and I saw it (advertised) for sale, so I ran right up. I told him 'I'd like to take it home and put it into my garage before I do any commitment here because I want to look it over.' His dad said 'get it out of here.'"
Parks did, but getting it out of there and getting it into his own garage 10 or so miles away in Hallstead, Pennsylvania, produced one of those great moments of understatement and resignation familiar to anyone even vaguely interested in cars. Fortunately, Like many of those moments, the problem behind it turned out to be minor.
"Something was not right," Parks said, "so I stopped and I looked around. I kicked the wheel and then I looked and saw the lug nuts. I said 'this is no good' and I came back here to get the wrench and then went back out and tightened them up."
Most likely, he speculated, someone had begun to steal the wheels from the car while it was in storage, but was interrupted before finishing the job.
"We got it back here," he said, "and I got all of my cleaning stuff and started cleaning the underneath. That was mainly what I wanted to check because the outside appearance you can easily tell. It was just like new underneath, so I thought 'well, this has got to be a good one.' I checked some more and we decided that we'd take it."
Chevy's Strong Automotive Bloodline
The car's condition obviously played a big part in that decision, but a Super Sport 327 Malibu in any reasonable state would be enough to tempt more than a few enthusiasts.
It's not just emotion or hard-core Chevy fever at work. The various factors making the first-generation Chevelle SS so appealing actually date to a decade earlier—even Ford fans know that 1955 was a very big year for Chevrolet—and the entire story goes back much further.
Ford Motor Company was already eight years old when Chevrolet was established in 1911 and had found success with its Model T in an industry still young enough to be sorting itself out. Chevy pushed into that with its 1912 Classic Six, a car whose concept was very different from that behind the Model T. The Classic Six rode a 120-inch wheelbase while its T-head six displaced 299 cubic inches and was good for 40 horsepower. That made it 20 inches longer than the Model T with almost twice the output of the Ford's 176.7 flathead four, and each of the two lines would follow its own path for a number of years.
At Chevrolet, that meant 1914's introduction of the overhead-valve-four Series Hand the flathead-six Series L, followed three years later by the arrival of the Series D. The D brought a 288-cubic-inch overhead-valve V-8 but that was dropped after 1918. Since six-cylinder models had been gone from the end of the 1915 model year, Chevrolet was now exclusively a four-cylinder car. That placed it squarely against Ford, which had been building nothing but fours from the Model T's 1909 introduction.
The earliest years of Chevrolet's history are often overlooked and when the feature car was built, many drivers would probably have happily wagered that it had produced nothing but sixes until 1955 brought the Small Block V-8 and no fours until the arrival of the Chevy II in 1962. They would've lost, naturally, but Chevrolet's OHV six was so wellknown and so highly regarded for so long that in 1965, there would've been no shortage of takers for the bet.
As for its legendary association with the six, Chevrolet left the four-cylinder world behind in favor of a smoother-running six when it introduced the 1929 Model AC. Its OHV six displaced 194 cubic inches and returned 46 horsepower. And while none but the most optimistic called it a high-performance engine, it offered the key virtue of simple durability and turned the AC into the basic formula that Chevrolet would follow for the next quarter-century.
A V-8 Worth the Wait
Things might have happened fasterfor Chevy had World War II not intervened, and truly significant powertrain improvements didn't begin until 1949 with the launch of modern overhead-valve V-8s by Cadillac and Oldsmobile.
Comparing Cadillac's 1948 flathead V8 to its 1949 OHV engine proved that the older design's days were numbered, as did the new Oldsmobile and Chrysler V8s when matched up against the straight eights they replaced. Ford recognized that in 1952 by dropping its flathead six for an OHV unit and again in 1954 by doing the same with its flathead V-8, but Chevy had been building OHV sixes since 1929 and was free to concentrate completely on a new V-8. In 1955, that focus paid off.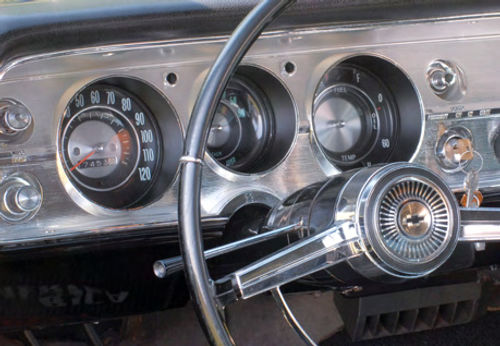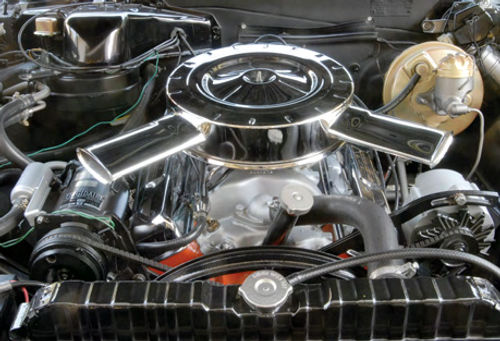 The new engine displaced 265 cubic inches and, depending on equipment and application, its output ranged from 162 to 195 horsepower. Like the postwar V-8s of other manufacturers, the OHV 265 was a modern design with the length of its stroke being shorter than the diameter of its cylinders. Chevrolet advertised it as "the hot one" and despite its near instant success, few could have foreseen the legendary status it would acquire as it went on to a long list of displacements and horsepower ratings. Small Blocks powered everything from compacts to trucks, but the car in which the first example was introduced has never lost its appeal.
A Direct Descendant From the'55
The 1955 Chevy broke cleanly with its past as it all but eliminated the earlier roundness of the roof panel, trunk lid and hood. The beltline was made straight with just a small dip behind the B pillar and the smooth quarter panels banished the last traces of what had once been separate rear fenders. The new car looked clean and modern, but hadn't fallen into the trap of seeming futuristically goofy. Updates In 1956 and '57 held to that thinking, but tastes then changed, so Chevrolets and their competitors turned to a longer and lower look.
1965 Chevy Malibu SS
GENERAL
Front-engine, rear-drive, coupe
ENGINE
Type Overhead valve V-8
Displacement 327 cu. in.
Bore Stroke 4.001in.x3.25in.
Compression ratio (:1) 11
Carburetor Four-barrel
Power 350hp@5800rpm
Torque 360 lb.-ft.@3600rpm
DRIVETRAIN
Transmission Four-speed manual
SUSPENSION & BRAKES
Front Independent, coil springs
Rear Solid axle, coil springs
Brakes(f/r) Drum/drum
STEERING
Recirculating Ball
MEASUREMENTS
Wheelbase 115in.
Length 196.6 in.
Width 74.6 in.
Height 53.2 in.
Track(f/r) 58/58in.
Weight 3115 lb.
Tire Size 6.95x14 in.
The Big Three and the remaining Independents also took another turn at about the same time and began adding smaller, simpler cars at lower prices to combat the foreign compacts then starting to arrive. Chevrolet's first effort was the 1960 Corvair, which was certainly compact, not especially frugal and soon to be loved more by enthusiasts than by fans of economy cars. The Chevy II followed in 1962 and, unlike the Corvair with its air-cooled six at the rear where the trunk should've been, it was flatly conventional and simple. Available as anything from a two-door sedan to a wagon and even a convertible, it offered the buyer a choice of a four or a six and with the heaviest version weighing less than 2900 pounds, that was enough.
The Chevy II was likeable, but it was small. Its 110-inch wheelbase was nine inches shorter than that of the full-size Chevrolet so for 1964, the Chevelle arrived to fill that gap.
The new car bore a clear family resemblance to other Chevrolets, but with its flat surfaces and straight beltline, something else about it was familiar. It started with the 115-inch wheelbase of the 1955 model and a 193.9-inch overall length that was less than two inches shorter. The uncluttered styling brought it that much closer to the earlier car, but there was a significant difference.
The Chevelle was lighter than the 1955 Chevy and had access to engines about which its ancestor could only have dreamed; although its base engine was the 120-horsepower 194 six, a 327 V-8 with up to 300 horsepower was listed in the options column by year's end.
The Malibu was the upscale Chevelle and the Super Sport was its performance variant, so Chevrolet had advertised earlier in the 1964 model year that the Malibu SS "charges the Chevelle with a flavor you can trace right back to the Corvair and Corvette. In a word, sporting. It includes bucket front seats, all-vinyl interior trim,special instrumentation (oil and water temperature gauges and ammeter), and Super Sport wheel discs, trim and identification. Chevelle's performance options include all-synchro four-speed shift, Positraction and sintered-metallic brakes. And a 283-cubic-inch 220-hp V-8 with 4-barrel carburetion and dual exhausts."
Things would soon get better, as an ad just over one year later called the "350-hp Chevelle by Chevrolet the perfect squelch. That's a potent squelch to all those others who keep talking about lions, tigers and such. A 350-hp squelch goes into any '65 Chevelle you specify. It's that big blue-jowled 327-cubic-inch V-8 of song and story, fortified with an extra helping of brute force in the form of an 11.0:1 compression ratio, big 4-bbl. carb, dual exhausts and 360 ft.-lbs. of torque. With hydraulic lifters. Then, too, you can order a 4-speed fully synchronized transmission. A beefier special front and rear suspension package. Sintered metallic brakes. Positraction with 3.31:1 axle ratio. And an electric tach.
"All this performance would go great in a heavyweight. Just run your imagination over what it does in the welterweight Chevelle."
It doesn't take a lot of imagination to figure that out nor does it call for extensive pondering to understand why Parks would go through so much before buying the Malibu SS featured here.
"For probably three weekends," he said, "I puttered around with it, checking it out, and then I decided I'd buy it."
The Floorpans Told a Good Tale
The car wasn't perfect, but it looked good and that makes sense based on the history that Parks Since pieced together. The original owner, he said, bought it in California when he was discharged from military service. He then took it to Texas—if a black car in Texas Seems a little strange, that probably explains the Malibu's factory air—and from there, it went to a hobbyist in Ohio. A frame-up restoration was started, but only partially completed before the car was sold again. The restoration shop which bought it finished the work and then the car sat for several years. Eventually, it went to an Ohio dealer who, in turn, sold it to the Pennsylvania dealer from whom Parks bought it.
The car's early life in California and Texas seems to have served it well, as Parks pointed to one of the areas susceptible to rust and said that it's straight from the factory.
"I'd thought it had had new floor pans put in," he said, "but they're not new. You'd expect to see weld marks somewhere and there's nothing. There's nothing anywhere that shows anything that pans have been put in there."
While it's always possible that he somehow missed something, his having spent all of that time inspecting the car before he bought it seems to rule that out. And if he did overlook something then, he probably would've noticed it in the more than six years that he's owned it.
Instead, he found that the body's biggest problem was the condition of its finish. He estimated that the paint is about 18 years old and said that it needed help when he bought the car.
"It was just full of scratches where someone had dusted it off with a duster or whatever," he said. "From what I could tell, it could be cleaned and that's what I did. Everything was done by hand…I used Meguiar's Swirl X and I just kept working section by section. I've done it three times now and whatever's there is going to stay there. You're not going to get it out."
The Malibu predates the era of outrageous colors, stripes and trim and, in fact, can accurately be described as understated. The red-line tires and the brightwork are just enough to set off the black paint and, of course, it certainly doesn't hurt that the body is as straight as it is. But the body isn't everything and the car did have some mechanical difficulties that Parks discovered along the way.
About That Cam…
Once the lug nuts were tightened properly he encountered another problem that wasn't quite as minor but it had an easy fix.
"It had a little noise in the rear end," he said, "and that was because it needed a shim, but that was it."
A new clutch and pressure plate installed later required more adjusting than expected, but replacing the bellhousing which years ago had been cracked and welded turned into a somewhat complicated process when the new one was not quite the right one. A transmission specialist solved that mystery.
"It took him a while," Parks explained, "but he discovered it and said 'Sandy, that's the wrong bellhousing. Put the other one back,' so that's what I did. It appears to be all right now."
Then there was the fact that the car had never run quite right from the day he bought it.
"It didn't run like it was supposed to," Parks said. "We were coming back from a show and we started hearing this clattering. I thought 'oh, this isn't good,'so we stopped and got some gas and checked the oil."
The oil was fine, but since one of Parks' other cars was at a friend's garage not far out of the way, he drove the Malibu there and switched.
"I left it there," Parks said, "and he investigated. It had chewed the lobes right off of the cam. It was supposed to be a 350 cam, but I don't know what it was."
Show Us Some Muscle…
It might have been the wrong cam or the correct cam badly ground, he said, but the car has run as it should since the new one's installation. That's Important, since he shows it frequently and doesn't trailer it, which means there's at least a slight downside as the Malibu isn't invisible. It has no problem keeping up with traffic on an Interstate and could pass a lot of it, so there are those drivers who encourage Parks to do something spectacular with the car.
"They'll pull up alongside," he said, "and I don't even bother with that. It is tempting, but I'm too old for that now."
Perhaps, but he can't claim difficulty in finding replacement parts as an excuse when he declines their urgings to run the car hard.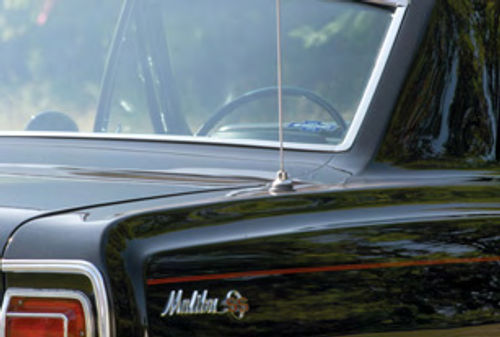 "I think you could get about everything nowadays," he said. "There's not so much new old stock for the Chevelle. It's available,but a lot of it's aftermarket. A lot of it's good and some of it isn't."
The answer to the last point, of course, lies in doing the necessary research and buying from trusted vendors, but Parks added that many of the day-to-day mechanical components are available at nearly any well-stocked parts store.
It's a comparable situation when it comes to repairs on the road because there's not much about the Malibu which can be considered exotic; it might lack the electronics of today's cars, but Parks doesn't see that as a concern.
"A good mechanic," he said, "should be able to work on it."
Those are all compelling reasons to consider a Malibu like his, but while the drivetrains are tough and mechanical support is good, these cars rust and not just in the floorpans where Parks expected to see it.
"Up underneath in the fender wells,"he said, "you've got to check them. Inner fenders. The trunk. The whole underneath, because that's where they used to rot."
The fender heels, rockers and quarter panels are potential rust areas as they are on most cars, but several less-than-universal points— notably the metal around both the windshield and the backlight—also warrant inspection. Parks said that interior components, trim and sheet metal are available, but he added a qualifier to the latter.
"It's aftermarket," he said, "and it doesn't always fit well. You have to fit it yourself."
The feature car didn't need that level of help, something that Parks established for himself before he bought it. All in all, he agreed, his pre-purchase inspection on the Malibu might rank with the longest in history.
"I'd never spent a whole lot of money—that kind of money—on a car before," he said, "and I just wanted to make sure that I wasn't getting a rust bucket. (The seller's) dad understood me. I've bought vehicles from him and he knows how I am.
"What did he say? I 'go overboard' with my detailing."