Browsing Through JOHN'S TOOL CHEST
This Time We'll Find a Video Inspection Tool, an Unexpected Way to Retrieve Hard-to-Reach Hoses and a Fluid-Removal Pump.
Video Scope Camera
These tools are not inexpensive and there are many different manufacturers to choose from. If you decide you are going to purchase one, do some comparisons.
The one I currently own is an "OTC 3880X Advanced Automotive Video Scope" shown in Photo A. I purchased this through my local NAPA store, but naturally it's available online too.
But after using it for close to two years, I am rather disappointed. It has a 39-inch optical cable and initially that sounded great; after all you can reach those faraway places. In reality it's so long that I find myself backing up, attempting to coil the excess cable or repositioning myself to be able to use it. Photo B gives you a better feel for just how long it is. A common practice is to coil up the optical cable like you see in Photo C. This also makes it all too easy to lose track of what's up, and what's down. This might sound funny, but it happens, and is confusing. Possibly marking a line along the length of the optical cable to indicate the top would help eliminate the problem. I thought I had seen another OTC model with a shorter optical cable, so I called the company to find out if a shorter cable could be purchased, but no luck.
Inside the end of the cable there are 4 tiny lights that surround the lens, and their intensity can be increased or decreased by rolling a wheel on the hand grip. The diameter of the lens end of the cable measures .228" (tiny enough to fit most anywhere). The monitor has a 3.5" screen, and is detachable from the grip. They provide a magnetic base which the monitor can be mounted to as seen in Photo D. In this fashion, it can communicate a good distance away from the grip. I never tried to see exactly how far, as the need has never arisen, but certainly 10' or more.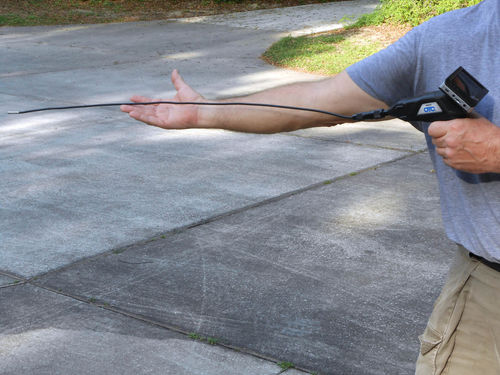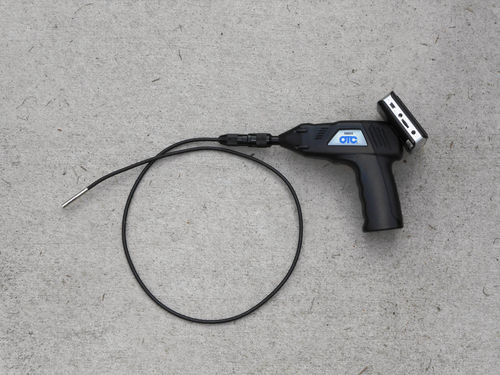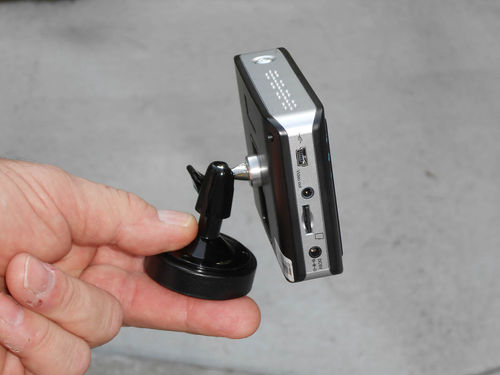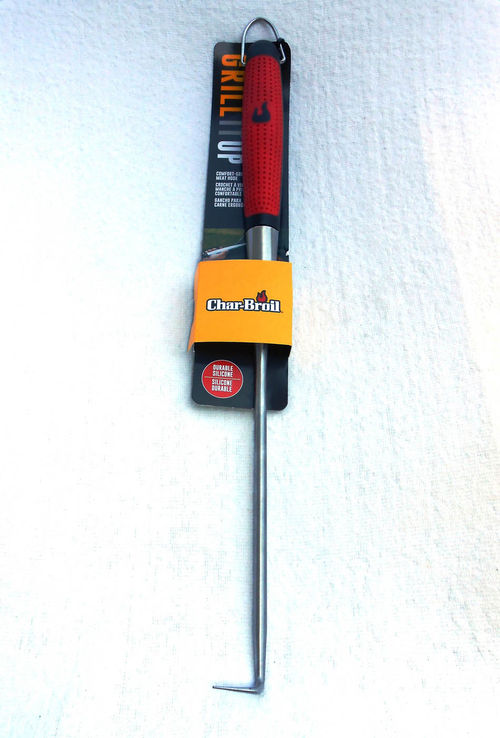 The monitor uses a micro SD (secure digital) card and can capture single images or short videos. The images are always somewhat grainy, so the resolution leaves a bit to be desired. While the lights in the end of the cable seem bright, possibly they aren't bright enough, thus the low image quality. Looking over the reviews on Amazon there were several complaints about OTC customer service.
It's made in China, and when I purchased it from NAPA it was $349. Currently it's available from both Amazon and Tool Topia for $291.
If I were to do it all over again I would attempt to find a camera that had a shorter optical cable: 24" would be much better. Also higher resolution would be near the top of my list as well. I noticed one marketed under the AC Delco name that advertised a variable magnification. That would certainly sound like a good feature. So check the reviews and decide what features are important to you before making a purchase.
The Hawkeye V2 Video borescope appears to be a fabulous piece of equipment with all the features you could ever think of, and is made in the US, but the pricing starts at $8995. It appears their target audience is the aircraft industry.
Extended Reach Hose Removal Tool
Always keep your eyes open when shopping because you might come up with a good tool idea in a place where you wouldn't expect to find one. While in the outdoor garden center at Walmart, I was poking around in the grilling accessories department and spotted the tool you see in Photo E. This is called the "Char-Broil comfort grip meat hook," and my first thought wasn't to go home and fire up the grill, but open the tool box drawer and add this to my collection.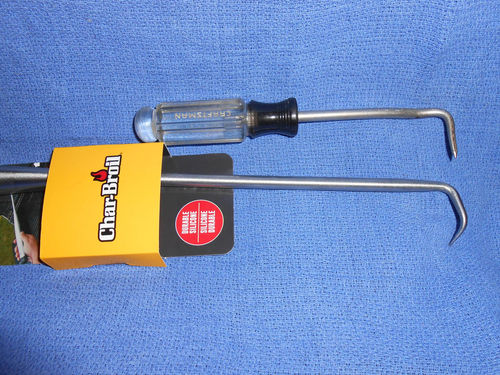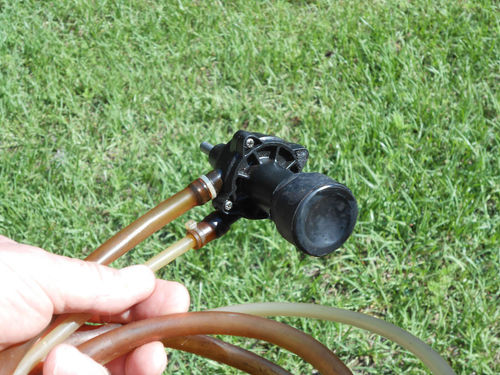 I have talked about cotter pin and hose removal tools before, but they are all the length of a standard screwdriver. A great way to save the skin on your knuckles when stretching for some of those difficult-to-reach hoses would be to have something longer, and this is it. The metal tip forms into the shaft and becomes part of the handle. In other words all but about 1" of the tool's length is one piece of metal. As the name implies there also is a grip molded into the top. Keep in mind this won't eliminate the need for a conventional hose removal tool, because in many situations this one would be too long to use. But for those hard-to-reach water pump and lower radiator hoses this will be handy. It could also be used to pull a cotter pin that's hard to reach. In Photo F a Craftsman cotter pin tool (7" in length) is placed next to the shaft of the 18" Char-Broil hook. The hooks on both tools are surprisingly similar. This one is made in China and was priced at $9.97.
Electric Drill-Powered Fluid Pump
Pictured in Photo G is a pump that was marketed under the name "Oil-OChanger." The idea was that the customer could do their own oil change—and never get underneath the vehicle—by pumping the crankcase oil through the dipstick tube. This approach never addressed the oil filter, so unless it was easily accessible while leaning over the fender, you still were left with an old, dirty filter and even some oil.
So why did I buy it? No, I wasn't considering going into the dipstick oil changing business. If memory serves me correctly it was on clearance, very inexpensive and there were visions that it might serve some other usefulness in the future. This particular product came and went prior to the Internet; however there are plenty of other drill-powered pumps still available.
It's been put to use to remove excess transmission fluid through the fill tube, and engine coolant as well. An example that comes to mind would be removing the head(s) from your engine, but the block drain plugs are seized up or are extremely difficult to reach. In that case the pickup tube can be inserted through the open coolant port in the head(s), water pump mounting ports, etc. An electric or battery drill is then connected to the pump, and with the squeeze of the trigger coolant begins to pump out. This is an easy way to make certain the coolant level is lowered sufficiently to avoid having the fluid going places you don't want once the head(s) are removed. Once off, you have more direct access and can do a pretty fair job of pumping out 99% of the coolant if desired.
Naturally, you want to clean out the pump after use to avoid any cross contamination when pumping different fluids. Furthermore, these pumps are not for use with flammable liquids.
A quick search shows Home Depot offers an Everbilt drill pump for $10.98, and Amazon has a Shurflo product for $25.95. Shurflo has been around for ages manufacturing pumps for the RV industry, so they do have some history. Regardless, these pumps can be found through many suppliers, so locating one won't be difficult. Expect most if not all of them to be imported from China.