TEST-DRIVEING A REPLICA OF THE FIRST CAR TO TOP 60 MPH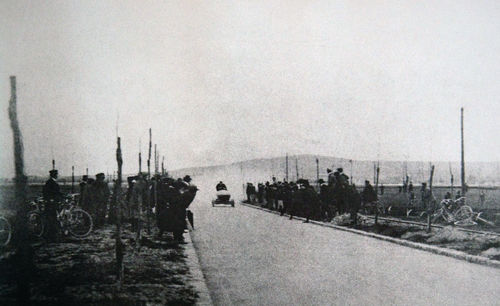 Nearly 120 Years Ago a Cigar-Shaped, Electric-Powered Vehicle was the First Car to Travel Faster Than a Mile a Minute. Many Decades Later, Our Contributor Got Behind the Controls of an Exact Reproduction.
The car in which you travel seems to leave the ground and hurl itself forward like a projectile ricocheting along the ground. As for the driver, the muscles of his body and neck become rigid in resisting the pressure of the air; his gaze is steadfastly fixed about two hundred yards ahead; his senses are on the alert."
If you guessed this is Briton Andy Green recalling his epic fracture of the sound barrier, you're off by one century and 700 mph. Rather, these are the words of Camille Jenatzy celebrating the very first drive in excess of 60 mph in a single-seat open-wheeler called La Jamais Contente (never satisfied).
This Belgian engineer was 30 years old when he was timed by French Auto Club officials at 65.8 mph in an 1899 race against Frenchman Count Gaston de Chasseloup-Laubat. Competing at a park near Paris, the two took turns boosting the land speed record from 39.2 to 41.4 to 43.7 to 49.9 to 57.8 mph before Jenatzy finally posted a speed his rival couldn't match. Back then, the medical community doubted whether humans could breathe at velocities exceeding 60 mph.
These seminal speeders were both powered by electric motors. The clever Jenatzy used his bullet-shaped vehicle to promote the more-practical electric taxis he built and sold for Parisian taxi use. Adorned with a flaming red beard, Jenatzy was nicknamed Le Diable Rouge (the red devil).
An Inspiration From the Sky?
At the turn of the 20th century, the fastest land machines were steam locomotives. Jenatzy's inspiration may have instead come from airships which required minimal power to glide through the sky. While the cigar-shaped body was a clever attempt to minimize aerodynamic drag, his streamlining shrouded neither the driver nor this car's undercarriage.
The steel-and-wood chassis supported 100 two-volt batteries energizing two AC motors providing 67 horsepower to drive the rear axle.
Another innovation was pneumatic tires. Michelin fitted Jenatzy's 22-inch wooden wheels with experimental rubber, what had to be one of the first racing sponsorships. Robert Thompson, a Scottish engineer, patented what he called an aerial wheel in 1846. Another Scot, John Dunlop, created the first successful tubular tire in 1889.
While they're rock hard now, Michelin tires are still fitted to La Jamais Contente which resides at the Musee National de la Voiture et du Tourisme, one of Europe's first land transportation museums, located at the Chateau de Compiegne 50 miles northeast of Paris. Aside from a few dents and missing electrical components, the first automobile to top 60 is in excellent condition.
If I Can't Borrow the Original…I'll Build My Own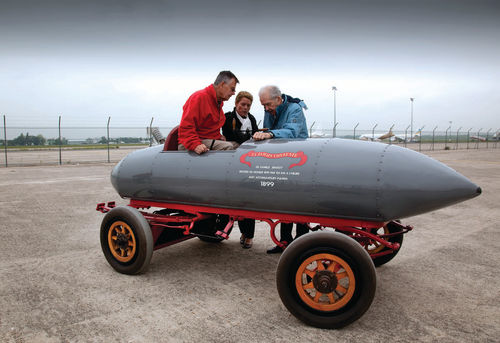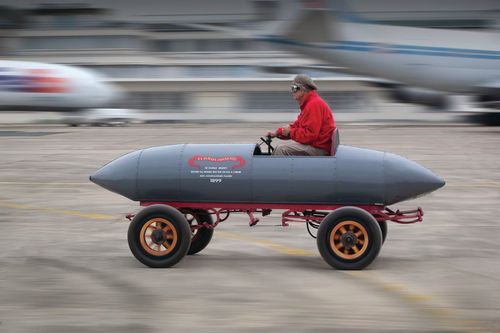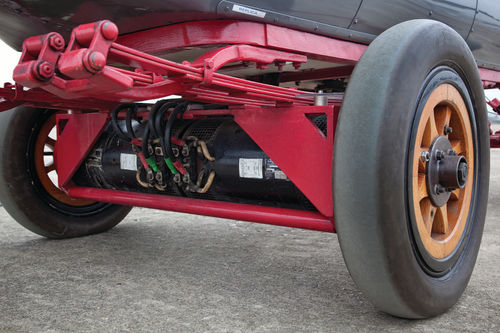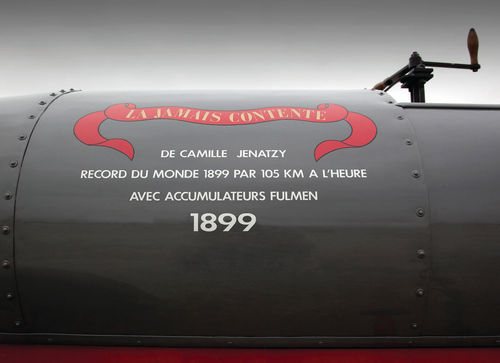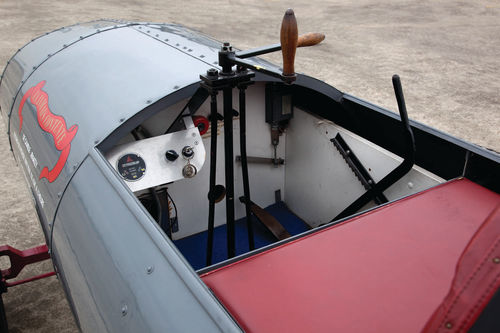 In the early 1990s, Frenchman Christian Wannyn petitioned the car's keepers to release it for occasional public demonstration runs. Their inevitable response was the French equivalent of 'no way!' Undeterred, Wannyn, who served with Allied Signal Corps forces in Germany during World War II, convinced France's cultural minister that the construction of an accurate replica was in the nation's best interests.
A technical university in Compiegne handled fabrication using the original type of sheet aluminum and copper rivets. Fulmen contributed 13 lead-acid batteries providing 52 volts to twin Leroy-Somer electric motors. Michelin supplied both the tires and the wheels.
A First Run In the Replica
After construction was completed in 1994, Wannyn climbed aboard for the maiden run around the Montlhery Autodrome's steeply banked 1.6-mile speed bowl. While there wasn't room to match Jenatzy's speed, he came close with a documented 58 mph maximum.
Taking Over In the Driver's Seat
My turn came in 2010 when Wannyn arranged a test drive and photo session at France's air and space museum located at Le Bourget airport (where Charles Lindbergh landed in 1927).
Climbing into Le Jamais Contente's red leather seat felt like mounting a theme park ride. My uniform consisted of a flat cap, vintage goggles, and a red jacket in tribute to the red devil. The tiller used to steer the front wheels provides both vertical and horizontal handles but I found that minimal effort was required to guide this car. A dash switch engages the forward, reverse, and neutral modes. A pedal hinged to the floor operates a switch that determines how much electrical power is sent to the drive motors. While a long lever operates the rear brakes, I was asked to ignore that control altogether. Instead, my "emergency" braking option was to step aggressively onto the power pedal after engaging reverse.
Not Fast…But Fun
There was no hint of the "instant" torque provided by today's Teslas and Chevy Bolts. Instead, this electric oozed forward with glacial determination. I suffered none of the neck strain Jenatzy mentioned and had no difficulty breathing. Not wishing to bump into any of the fighter planes on display, I lifted early and steered through gentle arcs at the end of each acceleration spurt.
If I topped 35 mph crouching low against the tiller I was lucky. That didn't stop me from enjoying a taste of what Jenatzy must have felt that day when he was the first to top a mile-aminute in an automobile.
In his honor and with apologies to my high school French teacher, I say, "Vive La Velocity!"