THE IMAGE OF EUROPEAN OPULENCE…A CENTURY AGO
When you think of a luxury automobile, what sort of vehicle comes to mind? Perhaps a Cadillac or a Lincoln. Or maybe a Packard, Imperial or Duesenberg. If you're more inclined toward European iron, you might be picturing a Mercedes or one of the larger offerings from Audi or BMW.
Well, if that same question had been asked of you, say, 108 years ago, you very well may have conjured up a vision of the French 1912 Delaunay-Belleville seen on this page.
It just goes to show what a difference a century can make in the automotive world.
In the years preceding World War I, some folks regarded the Delaunay-Belleville as the best car available and one reviewer said it drew buyers who favored "quiet, unostentatious dignity."
Furthermore, consider that the original owner of the car seen here was Evalyn Walsh McLean, a wealthy American mining heiress and socialite who reportedly spent the equivalent of $5 million on her European honeymoon and was the last private owner of the 45-carat Hope Diamond which she bought in 1911 for $180,000 from Pierre Cartier, the famous jeweler. The fabled diamond now belongs to the Smithsonian Museum of Natural History and is valued at $350 million.
As for the car itself, the DelaunayBelleville Type 1 was introduced in 1908 and this particular car was built in May of 1912 with a Park Phaeton body by Brewster of New York. Their styling gave the vehicle a distinctly upscale horsedrawn carriage look prevalent in luxury automobiles of the day.
But even though the vehicle somewhat looked like it could be hitched to a team of spirited horses, Delaunay-Belleville was the first French manufacturer to produce six-cylinder engines and this car was powered by a 2.9-liter straight-six engine teamed with a manual transmission and equipped with rear-wheel brakes. It's been said that the company's six-cylinder engines were so well-engineered that some were known to cover as many as 200,000 miles between overhauls.
In addition, the car was based on a ladder frame chassis that tapered toward the front to facilitate a smaller turning circle, and it featured an all-around semi-elliptic leafspring suspension that included a "helper" transverse leaf at the rear.
A Low-Mileage Used Car
Despite its upscale pedigree, the Delaunay-Belleville had been sparingly used, reportedly showing just 1100 miles on its odometer, yet had not been well cared for when Charles W. Bishop of New Haven, Connecticut, spotted it on a dealer's lot in the McLean's hometown of Washington, DC in 1938.
Bishop later recalled how "The strange round hood, and the graceful sweep of the Victoria body with its bay-buggy top enchanted me so that I scarcely noted the four dried-out tires on which it had been carelessly dragged from its sanctuary. Neither did the dried-out leather fenders and the checked paint deter me. Gasoline was poured into the tank and after a few turns, the motor began to tick over contentedly."
Disassembling the engine for the first time after completing the 1950 Glidden Tour for antique vehicles, Bishop was impressed to find it in good condition. He then had the car painted, installed new roof coverings and made several upholstery repairs before running in the 1954 Glidden Tour.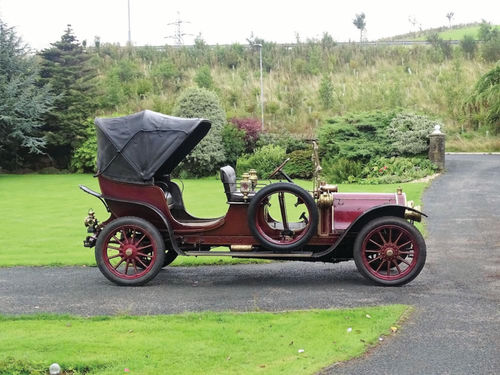 The vehicle was again sold 37 years ago and the new owner ran it in numerous rallies and even drove it on a 460-mile trip in 2018. Then late last year he put it up for sale with the H&H Classics auction house in London and the auctioneers said that after an inspection, "the original engine burst into life…and ran evenly. The radiator has been re-cored in the last few years and the car is said to be amazingly tolerant of modern 'stop/start' traffic."
H&H projected that the car would change hands for somewhere between $116,000 and $155,000…but when the auction was held last October, the car went unsold.
So if you're always saying that you'd like to own something totally uncommon; here's your chance. Imagine the crowd you'd gather at your next local car show. And when someone asks about your special ride, you could start out by saying, "Have you ever heard of the Hope Diamond?" –Ted Kade, Editor