Have You Visited A Concours, Lately?
Most of Us Don't Take Part In These Displays of Rare Vehicles. So, C'mon Along for a Quick Concours d'Elegance Tour.
IF YOU'RE LIKE most folks in the Auto Restorer family, you haven't been to a major concours d'elegance lately. We, and that includes yours truly, tend to be found more often at local events, prowling around meets in parking lots and municipal parks, inspecting vehicles that were driven to the event and then detailed on the spot by the owner.
But that doesn't mean there isn't a certain level of fascination with the gleaming, rare, mega-bucks cars that most often are found displayed on the greens of an upscale country club or decorating the sprawling grounds of a countryside estate. After all, many of these pieces of what's often referred to as "rolling artwork" were hand-made by artisans from a different time and reflect a level of monetary investment, component quality and overall craftsmanship that couldn't be repeated today…even on a limited basis.
With that in mind, we've gathered together some photos and information from two recent concours events, Meadow Brook in suburban Detroit and Pebble Beach on California's Monterey Peninsula, for sort of a vicarious visit. You're more than welcome to come along…if you promise to not touch anything or try to climb behind the wheel of any of the show cars.
Cars and Celebrities Converge at Pebble Beach
The Best of Show winner at the 59th Pebble Beach concours was a 1937 Horch 853 Voll & Ruhrbeck Sport Cabriolet owned by Robert M. Lee of Sparks, Nevada. He also took the top honor at the 2006 Pebble concours with his 1931 Daimler Double-Six 50 Corsica Drophead Coupe, so he must have a special affection for German automobiles.
The Horch Company, founded by August Horch in 1899, is one of the four automakers that joined together to form today's Audi AG. The other companies involved were Audi, DKW and Wanderer and together they account for the four rings in the modern company's logo.
"The Horch has wonderful lines, a great proven chassis and all the beauty that make it the whole package," the car's owner said after receiving the Pebble award. "It's been a wonderful day for us here and I have the best team to thank for making it happen."
Given all of the media attention showered on the Pebble show, it's also become a great place to introduce new vehicles alongside all the vintage iron on display. For example, Bentley, a featured marque at the concours, and the largest presence on the show field, took the opportunity to pose its new 2011 Mulsanne nose-to-nose with a 1930 Bentley Mulsanne on the awards ramp. And if for some reason you failed to notice the special Bentleys, a passing group of marching bagpipe players was certain to grab your attention.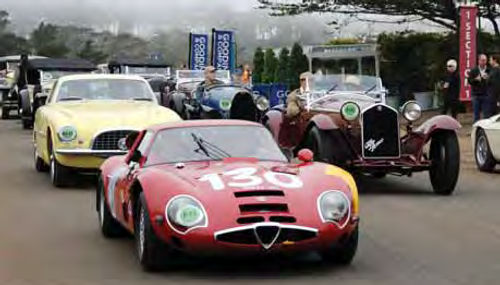 Also on hand to tout a new car was Charles Morgan, head of England's Morgan Motor Co. and grandson of the company's founder. Morgan, which built about 700 sports cars for sale in Europe last year and now has its eye on the North American market, introduced its lightweight luxury Morgan Aero SuperSports.
Among the better-known patrons of the hundred-year-old British company are the late actor Peter Sellers and rock star Mick Jagger.
And speaking of celebrities, this being California, TV host and noted car collector Jay Leno was on hand again, this time with his 1928 Bugatti Type 37 A 2 Seat Sports. He also got on stage with California Governor and former Terminator Arnold Schwarzenegger to auction the governor's signed bomber jacket, which brought in $30,000 for charity. Another notable participant was comedian Jerry Seinfeld whose 1970 Porsche 908/03 Spyder took second place in the Porsche class.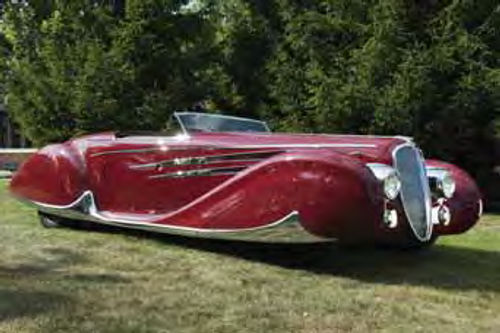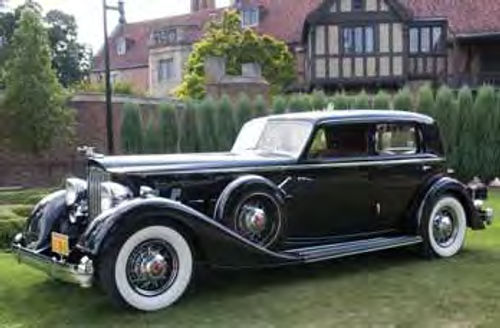 Next year's Pebble Beach concours is scheduled for Aug. 15. For more on that event, visit pebblebeach.com.
Gathering Just North of Motown
Shortly before the automotive festivities took place on the West Coast, a group of about 10,000 enthusiasts gathered on the grounds of Meadow Brook Hall in Rochester, Michigan, for the 30th Meadow Brook Concours d'Elegance.
At Meadow Brook, some 230 collector cars were in the running for one of two Best of Show awards.
The Best of Show—American, went to a 1934 Packard V-12 Sport Sedan by Dietrich, owned by Ray Scherr of California, and Best of Show—European was won by a 1939 Delahaye 165 Cabriolet by Figoni et Falaschi from the Peter Mullin Foundation of California. The Delahaye also took the People's Choice award.
The Meadow Brook field ranged "from drag cars to Duesenbergs" and included a vintage motorcycle class as well. The Best of Show—Motorcycle went to a 1938 Brough Superior SS-100 owned by Jack Wells of Florida.
The show also paid tribute to the current domestic automakers with a Best of Detroit award. That went to a 1934 Cadillac V-16 Convertible Sedan owned by David Kane of New Jersey.
"A fantastic cross section of collectors was showcased on the field with cars and motorcycles hailing from 25 states and Canada," said Larry Moss, chairman of the Car Selection Committee.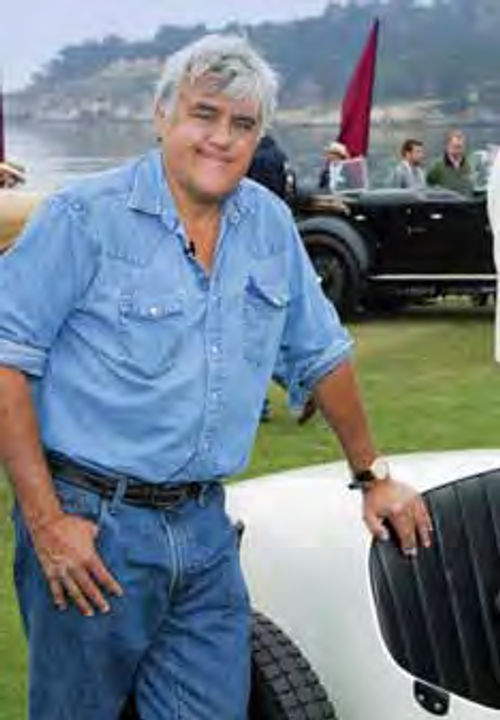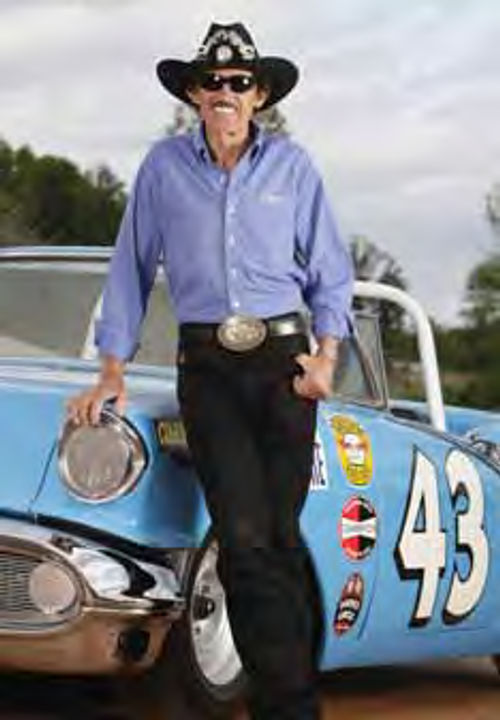 Also of real interest at Meadow Brook is Meadow Brook Hall itself, which was built between 1926 and 1929 as the residence of Matilda Dodge Wilson (widow of auto pioneer John Dodge) and her husband, lumber broker Alfred G. Wilson. The 110-room 88,000-square foot Tudor revival style mansion is complete with original art and furnishings. Tours are available, including the famous Holiday Walk, set this year for Nov. 27-Dec. 23, when the building is decorated for the season. For more on the concours, visit mbhconcours.org and for information on the building and grounds,call .
An Upcoming Concours
If long about now you're finding yourself all fired up about visiting a concours and can't wait until next summer, don't fret, because the 15th Annual Amelia Island Concours d'Elegance will be held March 12-14 at the Ritz-Carlton, Amelia Island, and the Golf Club of Amelia Island, all near Jacksonville, Florida.
Some 250 "rare classics from seldom seen private collections" will be on hand and this year's honoree will be NASCAR legend Richard "The King" Petty. He'll serve as the keynote speaker at the concours dinner on March 13 and some of his race cars will be on display.
For more regarding Amelia, visit ameliaconcours.org.