I have a bug for Volkswagens.
When I think of the beaches in Southern California, I think of the miles of sand and ocean with surfers catching rides on the rolling ocean waves. Of course where there are surfers, there are Volkswagen Busses, one of the most iconic choices of vehicle for surfers.
Spotting a VW Bus at a beach in Southern California is quite common. I see at least one almost every time I visit. On one of my most recent visits to Seal Beach, I spotted not only a VW Bus, but also two Volkswagen Bugs parked alongside it. They were lined up in the parking lot facing the ocean, which made for some stunning photos.
A Surfer's Dream
This VW Bus was painted in one of my favorite color combinations for classic cars: a gorgeous mint-green, almost turquoise color, on the bottom half and white on the top. The VW logo was painted in that same mint green and the wheels had white rims.
The Bus looked absolutely immaculate. I have never seen a VW Bus in as perfect condition as this one in all the times I have spotted other VW Busses at the beach. If it had been restored, the owner had done a fantastic job with it. If it hasn't been restored, the owner did an equally fantastic job preserving such a classic.
The windows were all open to let in the beautiful sea breeze and as I was walking around in admiration, I noticed that there was a little hula girl on the dashboard. What a perfect accessory for a beach bus such as this?
Beach Bug
The VW Beetle, or "Bug," that was parked next to the Bus was painted in the same mint green color and was in equally pristine condition as the Bus.
This Bug was a convertible and had the top completely down, giving me a nice view of the perfect white leather seats and polished wood steering wheel.
Another beauty of a classic car that I'm sure makes heads turn as it cruises down Pacific Coast Highway.
Surf Bug
The third Volkswagen in this group was a black Bug with white-rimmed wheels, again, in perfect condition. I thought it was particularly amusing that it had a license plate that said "SURFBUG" which is very fitting given that this Bug did indeed have a surfboard on top of it.
The surfboard on top was a wooden one, which I thought was very neat and kept the whole vibe of the car like stepping back in time.
This Bug was not a convertible, but like the bus, had all the windows open to let in that fresh ocean air. I was able to get a glimpse of its interior, also in perfect condition, although I did not see a hula girl on the dashboard in either of the Bugs.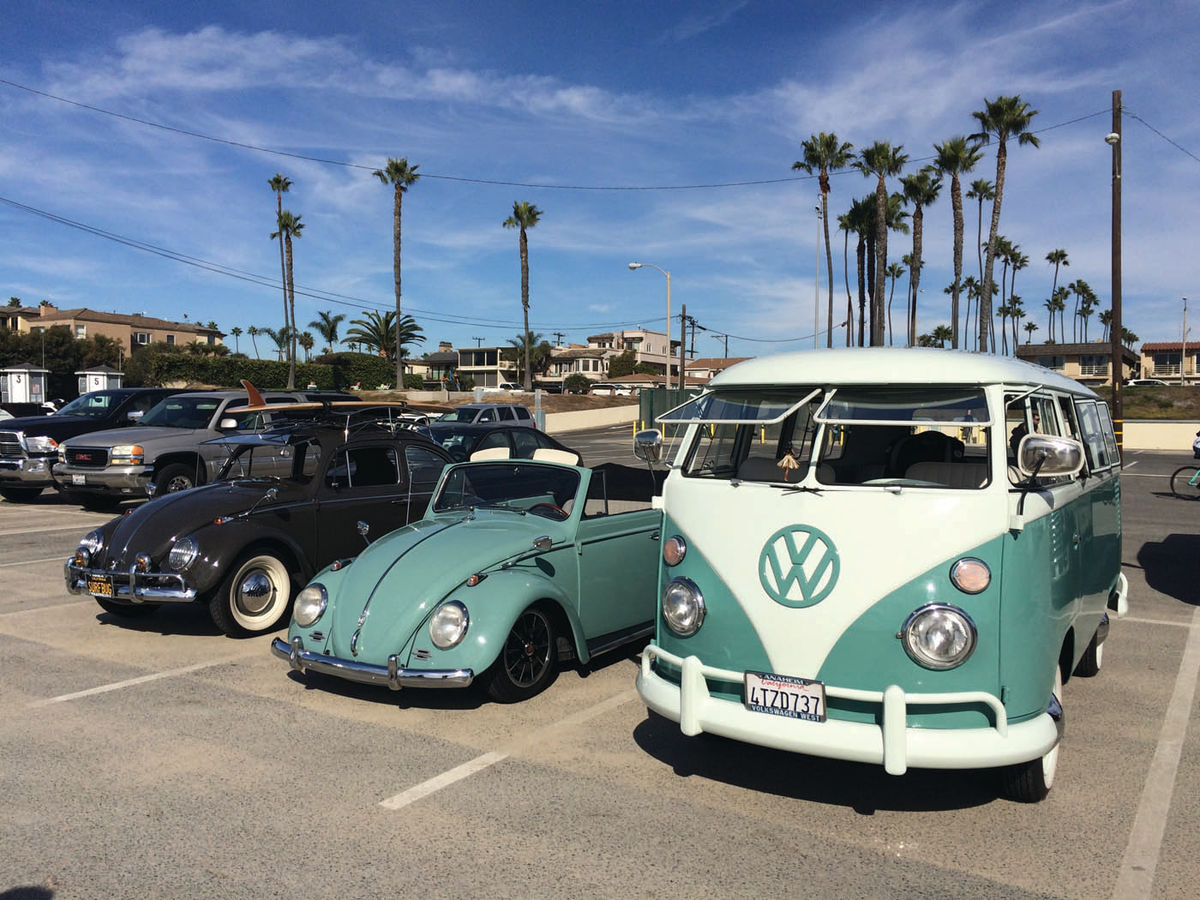 A Little VW History
Bugs and VW busses have always grabbed my attention and so I did some research on the origins of these iconic classic cars:
The VW bus went into production 68 years ago in March of 1950. It was introduced as a microbus and went on to become a favorite in our hippie and surfer culture and is now an American icon.
The Beetle, or "Bug," was known as Volkswagen Type 1 and the Bus was Type 2, making it only the second vehicle offered by Volkswagen.
The VW Bus was reported to be the original idea of Ben Pon, a businessman who imported VW Bugs into the Netherlands. Ben Pon sketched his concept for this microbus and engineers at Volkswagen developed his idea into the VW Bus that we know and love today.
In the 1950s when Volkswagen cars came to the United States, however, people were a little hesitant to buy these German vehicles, since the company was associated with Adolph Hitler.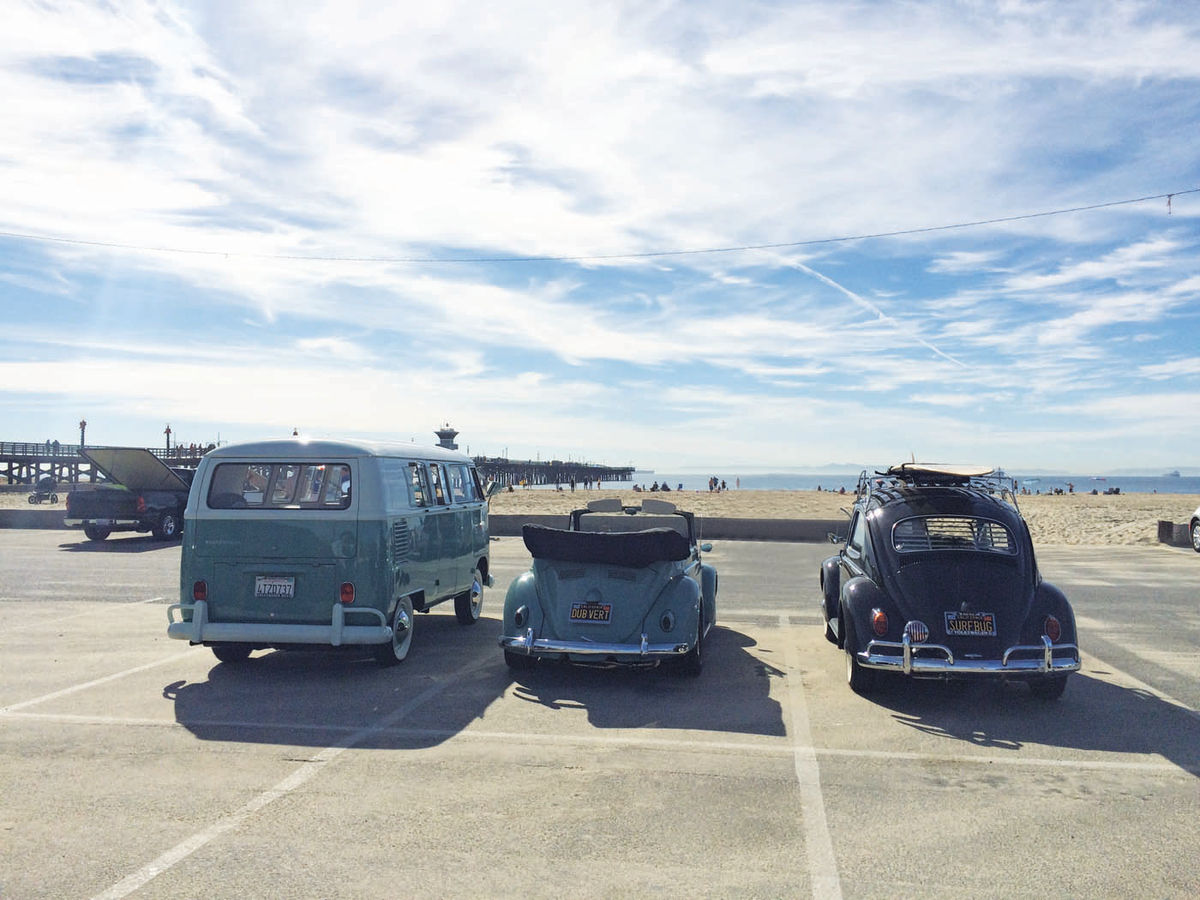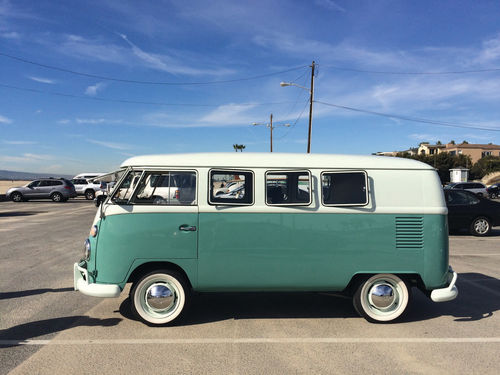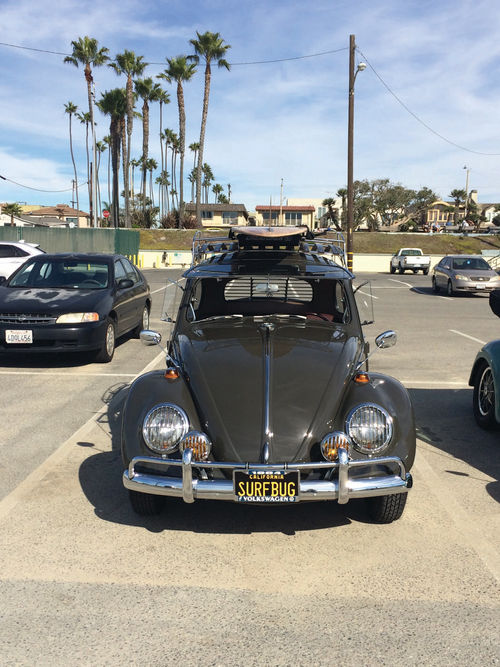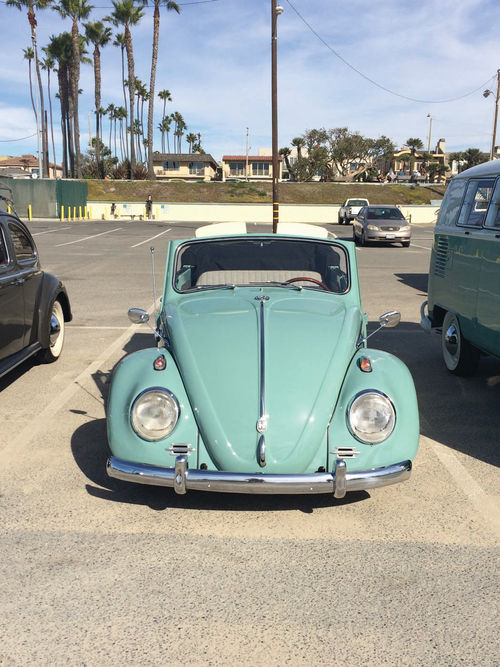 Hitler wanted to build new roads and make affordable cars "for the people" so he met with Ferdinand Porsche, who designed the Volkswagen for mass production. (The full-scale production of these cars didn't begin until after WWII.)
Despite this original association, though, Volkswagen Beetles became the top-selling auto import in the United States and even passed Ford's Model T in total sales!
Nowadays they are, in my opinion, one of the most recognizable cars on the road; I have never seen another vehicle that even comes close to resembling a Bug (or a VW Bus).
Three's Company
I am almost certain that the owners of these three Volkswagens know each other and parked their amazing trio of vehicles all in a row.
I thought it was great that they parked them all facing out to sea, making them look like they were watching the waves roll in. I didn't get a chance to meet the owners, as I'm sure they were out in the surf trying to catch as many waves as possible before they headed back to their classic cars.
Calling all VW Fans
Are you also a fan of Volkswagen Beetle Bugs and Busses, or perhaps even own one? I am also interested in the process that would go into restoring one of these iconic vehicles, especially the Bus as they are no longer produced by Volkswagen.
We would love to see your Volkswagen findings – whether they're yours or ones you've spotted and hear any tips you might have for restoring one!
Resources:
"VW bus, icon of counterculture movement, goes into production" by author History.com Staff published in 2009. Publisher A+E Networks.
URL: http://www.history.com/this-dayin-history/vw-bus-icon-of-counterculturemovement-goes-into-production