Feature Restoration 1951 Crosley Super Wagon
Crosley's Were Decades Ahead of Today's Really Small Cars. Be Warned, However, They Can Be Habit-Forming.
It'S HARD TO imagine that a 148-inch car with 26.5 horsepower and an unsynchronized three-speed would generate passion in its owners, but there's more to the story than just the 1951 Crosley Super featured here.
Ironically, Pete Radford and Paula Haines weren't even looking for that one. It began about four years ago when they were returning from Pennsylvania to their home in Toms River, New Jersey, and spotted a sign promoting a local car show. It proved an excellent example of the cliché about "that fateful day."
"There was a gentleman there with two of the Crosley sports cars," Radford recalled. "We talked for quite a while before he let it slip that he was the president of The Crosley Automobile Club. We chatted for a while longer, he took our e-mail addresses and he gave us some older copies of the quarterly magazine. On the way home, Paula said'e-mail him and tell him we'd like to have one,' assuming that it would take a long time.
"By the end of that week, he had emailed us and told us where (the feature car) was. It was a fellow that he knew. He knew the car and he knew the fellow out on Long Island who had it for sale."
"His words," Haines added, "were 'I've seen the car,I know it, go get it.'So we did."
"Between the time that we first saw the pictures and the time that she made the final decision to buy the car was probably two weeks," Radford said, "and I'll bet she spent probably 20 hours researching them."
He might well be underestimating, as Haines explained that she dug deeply into everything that she could find on the cars and on Powel Crosley himself. It's a subject that's broader than it might initially seem to be since Crosley was into far more than just small cars.
A Cincinnati native, Crosley's first attempt at manufacturing automobiles failed. The 1909 Marathon Six was to ride on a 114-inch wheelbase and was conceived as being affordable, but like the majority of cars in its day, it never got off the ground. Crosley then had the misfortune to believe in the cycle car movement and in 1913 launched the DeCross to compete in that small car segment of the automotive market. Like the Marathon Six, the DeCross was built in Cincinnati and, like the other cycle cars, it quickly faded to invisibility as the craze for the little vehicles evaporated.
Found Success In Other Areas
Crosley had better luck with an auto parts company that he bought after the DeCross' failure and in 1920, he began experimenting with radios. In doing so, he created the Crosley Radio Corporation, something which would succeed well enough to make his name quite literally a household word and in the process would become the anchor for his industrial and commercial empire. In addition to the radio enterprise, his business ventures included the Cincinnati Reds and radio station WLW in Cincinnati, but what's less widely remembered is his involvement with the Voice of America.
His Crosley Broadcasting Corporation built the VOA's international shortwave radio transmitter facilities under a 1942 government contract and it began operations two years later with what would become (in radio and political circles, anyway) the classic promise that "we will speak to you about America and the war. The news may be good or it may be bad, but we will tell you the truth."
The VOA today provides about 1500 hours of programming per week and reaches about 125 million around the world, but no longer broadcasts from the site near Cincinnati.
If Crosley's role in the establishment of the Voice of America is mostly overlooked today, that's at least somewhat offset by the memory of a household appliance, the Shelvador. The idea behind it—a refrigerator with shelves in its door—seems so obvious in 2010 that imagining any other design is difficult, but the Shelvador and Crosley radios remain important in the business sense. Powel Crosley eventually sold the broadcasting and appliance businesses to Avco, and the Crosley name remained in use into 1956. It was valuable enough, however, that two later companies— Crosley Radio and Crosley Corporation— were established to take advantage of its recognition. Both are in operation today.
A Target for Praise…and Barbs
No one, of course, has decided to revive the Crosley name for a modern car, as Powel Crosley's achievements in the automotive world don't match his accomplishments in other fields. But that's not a polite way of saying that he was a failure when it came to the vehicles carrying his name.
In 1952, for example, one automotive writer observed that with the end of World War II, "$1000 car claims and stock promotions swept the country. We had Bobbi Kars, Kellers, Playboys, the Davis and even Henry Kaiser got into the act. Powel Crosley is the only one who delivered the mail."
Fairly or unfairly, the crop of proposed new cars in the postwar years brought allegations of frauds and scams against some of the promoters while others faced bankruptcy proceedings or watched as sheriffs sold off their assets to pay outstanding bills, but neither Powel Crosley nor his company went through any of that. Crosley might not have made the postwar automotive market his own, but his attempt was apparently an entirely honest one.
Still, while the automotive writer noted above commended Powel Crosley for keeping his promise, the writer also took some shots at the Crosley line overall by referring to it as "the famous Cincinnati motorized roller skate" and calling every Crosley but the Super Sport "fairly uninteresting transportation."
Their Pre-War Experience Helped
Crosley's ability to "deliver the mail" included a critical advantage besides his business experience, since unlike the other makes mentioned above, the postwar Crosley arrived with a track record.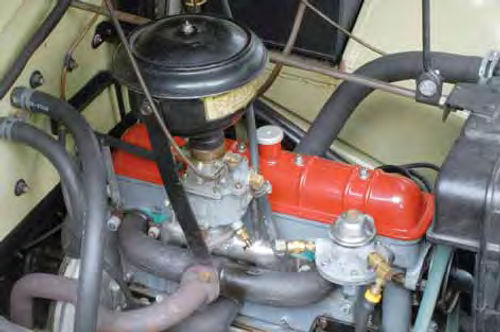 Launched in 1939, the original looked nothing like the feature car or even its own contemporaries. Its 80-inch wheelbase unfortunately emphasized its genuinely odd styling; a combination of low fenders and a high pointed hood, two grilles low on the fenders, no center grille and a pair of headlights high on the hood sides ensured that—for better or worse— a Crosley's front view was impossible to misidentify. By comparison, everything from the cowl back was fairly conventional if one didn't consider the size.
The first Crosley was cute as a convertible and charming as the station wagon and commercial models that followed, but there were problems.
An unjointed driveshaft caused cracks in the early cars' bell housings and although a 12-horsepower Waukesha air cooled two-cylinder flathead in a half-ton car was a recipe for excellent economy, the Crosley used an unsynchronized three-speed, mechanical brakes and what can only be described as "basic" creature comforts. Granted that in 1939, most drivers were comfortable with or at least tolerant of mechanical brakes and most could handle a crashbox transmission, those features were in a car that few really wanted. Then as now, tiny cars had their loyal fans, but not in great numbers; all of the variations on the first-generation Crosley added up to less than 6000 sales—sources don't agree or are incomplete—before World War II put an end to production.
It wasn't much, but it was enough to give Crosley a leg up on any would-be competitors when production resumed after the war and while the sellers' market didn't require it, 1946 brought a fresh look to the line.
The new cars had no visual connection to their ancestors as they replaced the separate-fenders pre-war theme with slab sides, a fairly flat and almost full-width hood, integrated headlights and a slightly larger—but still two-piece—grille.
The biggest change, though, was the engine—the Waukesha was gone and in its place was a four of Crosley's own design. The Cobra engine was a wartime creation that produced 26.5 horsepower from its 44 cubic inches and bordered on the exotic with its overhead-cam configuration and brazed-sheet-metal construction.
But despite its interesting twists and convenient acronym—Co(pper)Bra(zed) —it quickly developed major problems with electrolysis and became a nightmare. To Crosley's credit, it responded with the CIBA engine whose name reminded everyone that it used a Cast Iron Block Assembly. The details were identical to the Cobra's, and CIBAs became available as retrofits for cars with the earlier engine.
Sales Climbed…for a While
Crosley's 1946 sales reached 5000 units and then topped 19,000 for 1947 and 29,000 for 1948, but the car's affordability and operational economy were unable to sustain that popularity and the numbers fell from there. The 1949 model year brought a staggering fall to less than 7500 sales—almost certainly in large part because of new postwar designs from other manufacturers—followed by 6800 in 1950 and 6600 in 1951. The final Crosley was built in 1952 and by the time production ceased, 2075 cars had been sold. Neither the addition of the commercial models, the two-seat Hot Shot and Super Sport nor the utilitarian FarmO-Road had been enough, although the Farm-O-Road went on to another life as the Crofton Bug.
1951 Crosley Super
GENERAL
Front-engine, rear-drive,station wagon
ENGINE
Type Overhead Cam inline four-cylinder
Displacement 44cu. in.
Borexstroke 2.5 in.x2.25 in.
Compression Ratio (:1) 8
Carburetor Single-barrel
Power 26.5hp@5500rpm
DRIVETRAIN
Transmission Three-speed manual, unsynchronized
Finaldriveration(:1) 5.17
SUSPENSION & BRAKES
Front Solid Axle, leaf springs
Rear Solid Axle, leaf springs
Brakes(f/r) Drum/drum hydraulic
MEASUREMENTS
Wheelbase 80 in.
Length 148.25 in.
Height 57 in.
Width 50 in.
Weight 1450 lb.
Tire Size 4.50x12 in.
Fuel Capacity 6.5gal.
Fuel Consumption 35-50mpg
Turning Radius 15 feet
The drop between 1948 and 1949 must have been particularly frustrating for the company as 1949 saw a restyling that modernized the body with a new front end.The downward-sloping fenders were straightened and the hood was flattened, while a full-width grille and headlights at the fenders' outer edges actually made the car seem wider. It was the last significant change to the Crosley's appearance and for those needing further convincing it was accompanied by the adoption of hydraulic brakes.
From Mechanicals to Discs
"You have to be a little bit careful with the brakes," Radford said. "The '40s cars had six-inch mechanical brakes. In '49, they went to four-wheel disc brakes and when they had problems with those, they went to nine-inch drums on these cars. It's way more brake than this car needs and even though they're not power, you don't need a lot of pedal pressure to slow down quickly."
The steering is similarly light, he said, making the feature car easy to drive for anyone who understands double-clutching, but that raises some questions about it. First, since it cost $1077 new, it was less than half the price of a contemporary Chevy wagon and just over half the price of a Ford or Plymouth, so from the monetary point of view, it bordered on being an expendable car to be used up or to be abandoned in the face of a major repair. As a 17,000- mile original, it wasn't driven much and its survival is slightly surprising, to put it mildly.
Its current owners know few details beyond what the seller told them.
"That was that he had gotten it from a fellow in upstate New York," Radford said, "who had had it in his garage for 15 or 20 years. Then Jack had had it for 10 or 11 years."
Everything that the car needed was minor, ranging from cleaning to renewing some wiring and replacing badly dry-rotted tires.
It ran well, Radford said, but that created its own problem.
"Driving it so much," he said, "we burned a valve, so we had this motor built and used the (original) as a spare. We had the valves redone with hardened valve seats because of the unleaded fuel. It's ready to go into that or another Crosley."
A Car That Calls for Some Adjustments
Even with its new engine, the Crosley hasn't been on any long trips, but it's been driven enough for Radford and Haines to know that traveling among modern vehicles can be unnerving because of the size difference and the need to understand the car.
"The biggest thing is the shifting,"Radford explained, "and you've got to think ahead. Are you hitting a hill?You get a little extra speed up. Are you going to try to pass somebody? If you want to try to pass somebody, you've got to think ahead a little bit. It is a small car and there's a bunch of large cars around you."
And with its looks and its size, it doesn't go unnoticed, a factor that owners or would-be owners need to take into consideration.
"Usually if you stop for a five-minute cup of coffee," Radford said, "it takes you about an hour. Most people want to know what it is, want to look inside, want to look under the hood."
"Some of them," Haines added, "will say 'oh, my neighbor had one. I remember when I was growing up, my neighbor had one' or 'my father had one' and we've met people who've had them."
"Most of the people we meet who know it's a Crosley are older folks whose parents had one or there was one around when they were kids," Radford said. "You don't really see many young people who know what they are. The tuner crowd definitely does not know, but in the last year or two, I've met four or five younger people—I'm going to say 'under 30'—who said 'I Really want one.' They're tired of the look-alike tuner cars."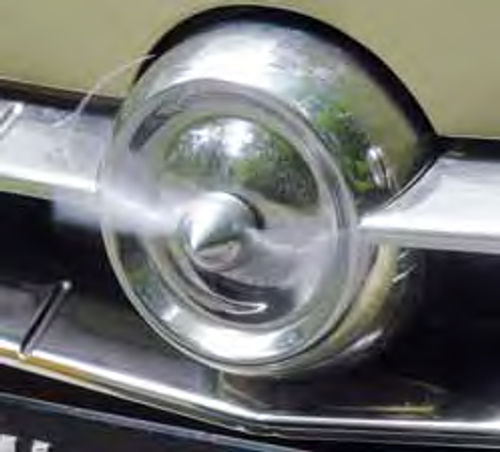 And if they really want one, will they be able to find it?
Haines believes they will. Club members sell Crosleys for reasons from changes in personal circumstances to thinning out collections, she said, adding that the feature car became available because the owner had found another Crosley and wanted to buy it. Since he had a wagon similar to this one, he chose to sell, and that's not a rarity.
"There's a fellow on the message board right now," Radford said, "who has a '48 wagon for sale because he just bought a '51 wagon. Supposedly, it's a good, running, together daily driver."
"We know a guy who's got one that has a little bit of body damage on the one side," Haines added, "but it starts and runs beautifully."
"It's a '49," said Radford, "a late '49 because it has drum brakes rather than the discs. I was over to his house and he fired it right up. It's got a light hit behind the door and it needs restoration, but it's a good solid car. He's asking, I think, $2500 for it, so it's not an unreasonable price."
Choosing the Correct Crosley
Both pointed to the Crosley club, eBay and other Internet sites for leads on Crosleys for sale, but there's still the matter of determining whether a given car is the right car.
"See if everything is there," Radford advised. "A Crosley didn't come with a factory radio; it had a block-off plate. The radio was a Motorola, dealer-installed, and if the block-off plate is missing, that's an indication that it did have a radio, which is neither here nor there, but the block-off plates are relatively hard to find.
"Make sure the rest of the hardware looks good. Feel the bottom edges of the doors. There shouldn't be any rust holes in the bottom edges of the doors because they drained very well.
"Look at the motor. The tin (Cobra) motors had their problems with movement with heat and especially with the antifreeze. There are very few good tin motors out there. If it has a cast iron motor and it's a '47 or '48, it's already been changed."
On the bodies, Radford said that the common problem is rusted floor pans, particularly in the front, but repair panels can take care of that. It's about the same with battery boxes, which are often rusted badly.
"Those replacement parts are available," Radford said. "Just about everything is available other than a fender or a door or a quarter, but if you join the national club and you get on the message board, everybody's got at least one car in the backyard for parts."
Specialists handle everything from carburetor-rebuilds to engine-overhauls and the day-to-day replacement parts such as brakes and ignition components are generally out there.
"The distributor cap is the same as the one on an early Willys four-cylinder," Radford said. "Points are available, no problem. The rotor is specific to five or six different vehicles even though there's only a three- or four-year span to each one. Spark plugs, walk into your local lawn mower shop because that's what they are… There are reproduction wiring harnesses available for all of these cars except the pre-wars."
Haines said that Hotshots and Super Sports are the most highly sought Crosleys and Radford agreed, but added that station wagons are the most common, followed by sedans, and that the later cars in general are the best bets.
"The most desirable Crosley's are 1949 and newer," he explained, "because you're into hydraulic brakes, you're into nine-inch drums, you're into the cast iron motors, you're into the 6.5-inch clutch rather than the six-inch clutch.
"And to be honest with you, the late 1951s and the 1952s are the best cars that Crosley built. He had perfected all of it."
"All of the bugs," Haines agreed, "were worked out by then."
Glass provides a good illustration, as Radford said that the 1950 models went to roll-up windows, but the weight of the glass was too much for the regulators. Crosley eliminated that problem by adding a fixed vent window so that the weight on the regulator would be reduced.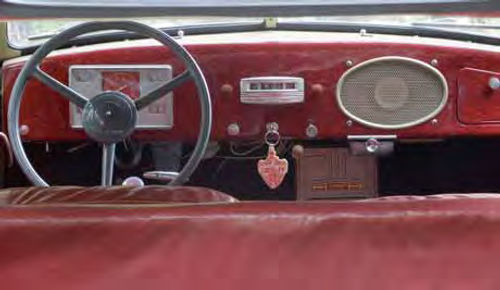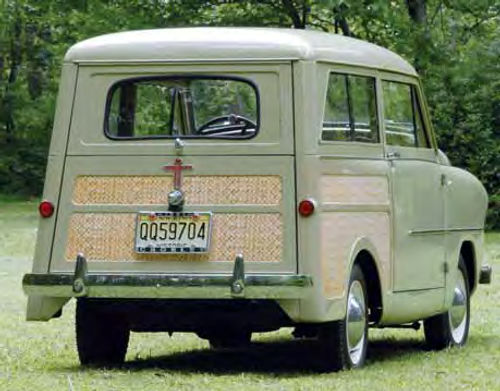 Are You a Potential Crosley Owner?
All things considered, restoring a Crosley probably isn't much different than restoring most other cars, but there is the size factor.
"I think (Crosley fans) recognize the fact that it takes a certain mentality to want a small car," Haines observed. "It's not for everybody."
It's an important caution because no one needs to be stuck with the wrong car, but fortunately, Haines described a simple—if not completely foolproof— test to determine whether a Crosley is the right car.
"If you're looking at a Crosley and you like it," she said, "you're probably a Crosley man."
"You'll know for sure," Radford said, "after you buy your first one."
Haines said others are likely to follow and if that seems like a reach, consider that the feature car was their first and it now shares garage space with about 10 others.
"Once I got one," she admitted, "I knew it would not be enough."
The article by young gun Renata Carmen was inspiring. We know several young women around here who are learning to repair and build cars. The Japanese car scene is fine for folks who don't have a lot of money and, as Renata said, is apart from the "ricers" (we call them "tuners" here). Renata and her ride would be a happy addition to any car show or cruise night in our world.
Pat Desrosiers Denver, Colorado
I just read and enjoyed the July article by and about Renata Carmen. She sounds like she knows what she wants to do and has learned how to do it, and do it right. Kudos to her and I wish there were more like her. (Maybe there are and I just don't know about them.)
Besides being a "gearhead," she has a good handle on the English language and expresses herself very well. She has set her goals high and no doubt will achieve them.
Hot August Nights takes place in Reno, Nevada, every year and that's near where we live. Maybe Renata will go to that event and see a few million dollars' worth of what she wants to do with her life. Good luck,Renata.
Tom Nolte Cromberg,California
Just wanted to drop you a line and say "thanks" for your great publication. I've only been a subscriber since April and really enjoy getting it every month. For example, I was particularly drawn to the Gearheads Under 30 article by Renata Carmen. I couldn't believe it…beauty, brains and an attitude much like mine. I see from the article that she has an interest in the old AMX as do I, (having owned a Javelin many years ago). Currently I'm in to the older BMWs—I can't afford the newer ones.
John L. Neal Mansfield, Pennsylvania
For more on the Gearheads Under 30 program, see the ad below.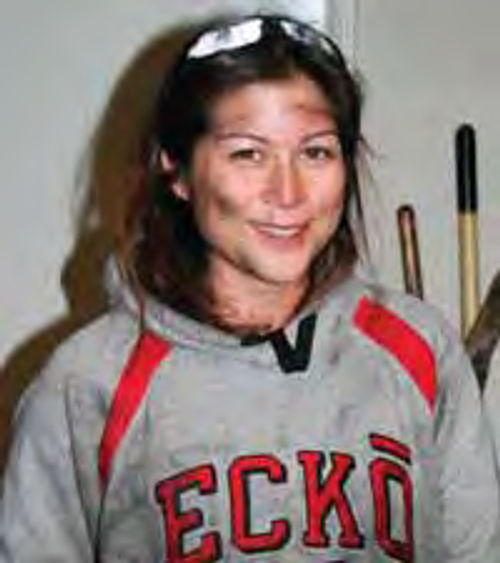 That Ammeter Has Failed
Richard (Mechanic on Duty writer Richard Prince) was right in that it is probably a failed ammeter. (In the June issue, a reader said he saw only slight movements on his ammeter needle.) In 1965, Mustangs used an inductionstyle ammeter with no connections only an induction loop that picks up current flow from the main power lead. In 1966 to 1973, they used a shunt-style meter which brought current through the ammeter which failed early in their service life. Like Richard said, the thing to do would be to convert it to a voltmeter. That way you could maintain the original appearance but still have an indication of what the charging system is doing. I've been a mechanic (since, let's just say, Kennedy was in office) and I learn something new (here) every month. Keep up the good work.
Jim Browne Via e-mail