Feature Restoration 1970 Ford Torino GT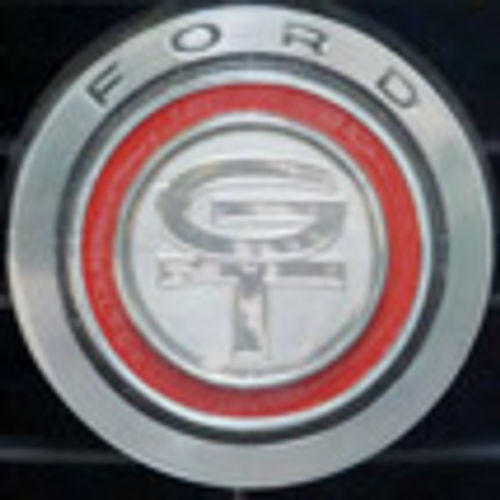 He May Have Briefly Encountered This Ford When It Was New. Now, 40 Years Later, It's In His Garage.
THE ODDS ARE good that Paul Donatello saw the featured Ford Torino GT when it was waiting to be sold in 1970, but regardless of whether that really happened, 37 years went by before he bought it.
"When I was a kid," he recalled, "I don't remember seeing them much, although when I was looking for my first car, I had gone down to Glenwood Ford and that's where this car came from. When the guy handed me the report (on the Torino), the car was purchased at Glenwood Ford, two blocks from where I lived as a kid. Twice a week, at least, I was in there grabbing literature."
The literature that he grabbed at the Taylor, Pennsylvania, dealership almost certainly included material covering Torinos, since a kid in 1970 probably didn't have a lot of interest in LTDs, Mavericks or Econolines. And with cars like the Torino available, why should he?
From Crestline…To Fairlane… To Torino
Ford's mid-size line went back almost as far as its compacts and the fact that at times the intermediate segment included names that had earlier been on full-size or compact Fords makes talking about them a little complicated.
The 1955 model year, for example, was an important one at Ford thanks to a fresh body as competition for the 1955 Chevy's fresh body and the arrival of the Thunderbird, Ford's two-seater answer to the Corvette.
Easily unnoticed among that was the abandonment of the "Crestline" name and the adoption of "Fairlane" in its place. It went on that way until 1959, when the Galaxie took over the highest slot in Ford's lineup and banished the Fairlane to a very slightly lower second place. Bigger changes were in store, however, as 1960 placed the Fairlane at the entry-level position among Ford's full-size cars and two years later, the name was spun off and given to a series of intermediates.
The new intermediate line followed by two years Ford's phenomenally successful compact Falcon. The size difference between the two wasn't that much—just six more inches of wheelbase for the Fairlane and 16.5 inches overall—but it was enough to fill whatever gap Ford perceived in its catalog. The difference in engines was another matter, as the Falcon in 1962 offered a choice between just 144- and 170-cubic inch sixes. That was fine for an unassuming economy car, but the Fairlane was a little more than that and, therefore, was available with a 221-cubic-inch V-8. Its 145 horsepower probably didn't set anyone's hair on fire, but that was just the beginning. Ford's 260 followed before the model year was out and the 289 arrived during the 1963 run to give the Fairlane 271 horsepower in its highest tune.
For those who had somehow missed that, Ford followed in 1964 with the limited-production Thunderbolt, a purpose-built drag-racing Fairlane with a lightweight body and a 427 rated at 425 horsepower. Like the rest of the Fairlanes in 1964, it wore updated sheet metal— the tiny fins were gone and a fake scoop was placed ahead of each rear wheel— but 1965 brought a new angular look and if the Mustang frequently gets the glory in conversations about Ford's performance cars of the time, it's because the Fairlane is often overlooked, and not undeserving of more credit.
The Fairlane's new 1966 body brought stacked headlights and a fastback roofline, although not a complete fastback as on a Charger or Marlin. For some, of course, it might've been too much and Ford took care of them by offering two- and-four-door sedans and four-door station wagons, but there remained those who just wanted to go fast and Ford took care of them, too. It did so with the GT, a package which added a 335-horsepower 390 to the top Fairlane 500/XL model. With an automatic, it became the GTA and a car that Ford advertised as "a very hot dish," but the few Fairlanes built with 427s that year were in all probability considerably hotter, given that they were rated at up to 425 horsepower.
At the other extreme was the purely practical 200 six with its 120 horsepower, because, after all, while muscle cars created the talk and undoubtedly spurred sales, family cars and those providing something less than outrageous performance were still the big market that neither Ford nor any other manufacturer could ignore.
That line of thinking produced some excellent compromises in the form of cars that looked good, were trimmed nicely and were easily fast enough to meet real-world demands. When Ford gave the Fairlane a new body for 1968, it took that thinking a step further by calling the upscale version a Torino.
The new Fairlane looked nothing like the car it replaced; dual headlights were again horizontally positioned, the taillight cove mirrored the full-width grille and the sides were less sharp. A full length fastback was now part of the line and while it could be ordered as anything from a basic Fairlane with a 200 six to a Torino GT with a 428, the Torino with a 302 met several significant requirements for plenty of drivers in that it looked about the same as a Torino with the biggest possible engine, but returned far better gas mileage and exacted no insurance penalty as a high-performance car. (For more on collecting intermediates and "senior compacts," see page 30.)
The "Luxury/Mover" From Ford
The Fairlane was given another new body for 1970 and while the fastback's overall shape hadn't changed, nearly every edge was more sharply defined.
As before, bumpers matched the sheet metal's contours, but now met in a point at each fender. At rear, the taillight cove had grown smaller and on the Torino provided what Ford called "hidden tail lamps." Unless optioned out with "dazzling side stripes and Magnum 500 wheels," the Torino was actually somewhat restrained in appearance, which didn't stop Motor Trend from naming it Car of the Year or Ford from bragging about the honor.
Its advertising spoke of "the Luxury/Mover for 1970" and despite the odd phrasing it makes the point since the Torino offered "your choice of six great V-8s, from a lively 302 all the way up to the powerful 429 Cobra Jet Ram-Air V-8"and "more luxury if you want, with high-back vinyl bucket seats, blazer stripe upholstery, power steering and air conditioning."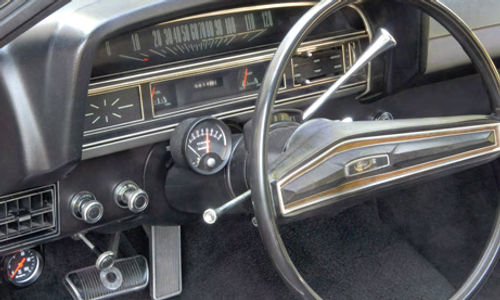 He Passed On Another Torino
That ad hype wasn't enough to convince Donatello when he was buying his first car. It was in 1977, he said, and he was still in high school when he looked at a 1970 Torino.
The car was a Brougham rather than a fastback, he recalled, was mustard yellow with a black vinyl top and was priced at about $1500.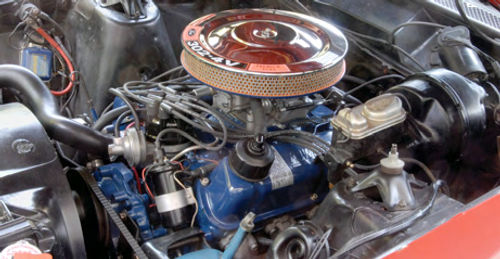 "It was a nice car," he said, "but it was a Torino and I wanted something like a Road Runner or a Chevelle or a Mustang. I looked at the car and I said 'that'd look good with a set of mags on it' and my father said 'well, think about it tonight.' We went home and opened the newspaper and there was an ad for a '70 Mach 1 Mustang for $500. I called the kid on the phone and he said 'that was my college car. I just graduated from college and now I'm trying to sell it.' I said 'we'll be right up.' I bought the car and when we went to pick it up, he said 'you wouldn't believe the number of phone calls I got on this car after you bought it.'"
Yet Another Torino Slipped Past Him
The $1500 Torino was forgotten and years later, after the Mustang eventually had gone away, a reminder appeared in the form of a bedraggled 1970 Torino parked along a road not far from Donatello's home. A brief glimpse of the car while driving past was enough to get him to turn around.
"Out of the corner of my eye," he recalled, "on a used car lot Isaw this yellow thing. I thought'that looks like a nice car' and I went there and it was totally gone. The quarter panels were bad, it had four flat tires, it was terrible, but I said 'wow, look at that.'I tried contacting the guy, figuring that maybe I could get it for $200. The place was abandoned and there were stacks of phone books outside. The phone number was disconnected, so we never talked. Now the car's gone. I don't know where it went, but it's gone."
1970 Ford Torino GT
GENERAL
Front-engine, rear-drive, fastback coupe
ENGINE
Type Overhead-valve V-8
Displacement 302cu.in.
Bore x stroke 4.0in.x3.0in.
Compression ratio (:1) 9.5
Carburetor Two-barrel
Power 220 hp@4400rpm
Torque 295 lb.-ft. @2400 rpm
DRIVETRAIN
Transmission Three-speed automatic
Final drive ratio (:1) 2.79
SUSPENSION & BRAKES
Front Independent, coil springs
Rear Solid axle, leaf springs
Brakes (f/r) Disc/drum
STEERING
Recirculating Ball
MEASUREMENTS
Wheelbase 117in.
Length 206.2 in.
Height 53.1 in.
Width 76.4 in.
Weight 3211 lb.
Tire Size E70 x14in.
The VIN on that Torino revealed it to have a 351 Windsor and a close look showed a 1970s-style psychedelic zodiac sticker on the dash.
But despite its unfortunate condition, that Torino truly caught his interest and he began looking for one like it.
The Third Time's a Charm
A Web search in 2007 eventually turned up the feature car, which was then for sale less than three hours away in New Jersey, but initially it was at a price that seemed too high. Donatello watched the ad, though, and when it reached what he thought was the right number, he went to look at it and found a39,000-mile original whose first owner had lived in Dickson City, about 10 miles away from Glenwood Ford and his own home in Taylor.
"During the course of his life," Donatello explained, "he moved to New Jersey, and the car went with him."

When the original owner moved again, this time to a nursing home, he sold the Torino to a neighbor and Donatello bought the car from him.
The second owner probably had it for about a year, Donatello said, when he decided that what he really wanted was an Oldsmobile 4-4-2. Before That happened, though, he'd begun accumulating Torino parts such as new wheels and hubcaps.
More important than the collection of extra parts, however, was the vehicle's condition and some evidence the mileage was correct:the car was virtually rust-free and its undercoating was intact while an oil change sticker dated 1985 recorded 36,000 miles. The only significant work done on the engine had been a water pump replacement and Donatello said that it ran, but not well. He didn't buy the Torino on the spot, deciding instead to talk it over with his wife, Nancy, and promising the seller that he'd call.
Third Party Intervention
"The next thing I know," Donatello said, "the guy calls me on the phone and says 'congratulations. You bought a car.' I said 'what do you mean?' He said 'oh, your wife called me. She said "OK,"' so I bought it and brought it home and it took me three years to finish it."
The seller had renewed the ignition system, but the 302's hesitation pointed to carburetor problems and Donatello eliminated them by switching to a four-barrel. He also replaced the radiator and some gaskets, gave the car new brakes and gas shocks and improved the suspension.
"I put a 1.25-inch sway bar on the front end," he said. "When you'd go over a set of train tracks, the whole car would shake, but now it's just smooth. And I beefed up the leaf springs because they were kind of sagging. It rides really nice now, a solid ride."
Swapping the original 14-inch bias ply tires for 15-inch radials also helped the ride, but since the car came with a set of steel wheels and bottle-top hubcaps, Donatello chose to use them instead of the Cragar SS wheels that were mounted on it when he bought it.
If the weak suspension—and the original carb—created a somewhat misleading impression of the car, the appearance didn't do much to cancel that, as Donatello said that the paint looked terrible.
"Spot-paints all over the place," he said, "but there was no rust and it needed minimal bodywork. A couple of little dents. It was a very solid car and that was the reason I decided to get it.
"Somebody had bumped the front end and there was a crease where the fender extension meets the fender. That was about it. There was one baseball-size patch in the lower passenger-side quarter panel and that was the only filler in the car. The quarter panels were in really good shape."
The interior was in good shape, too, enough so that every piece down to the carpeting and the dash pad is original. The only wear is on the driver's seat, Donatello said, although some of the painted trim needed to be touched up, but the news wasn't quite as good when it came to the exterior.
"I buffed out the bumpers the best I could," he said. "They're all original, they were never re-chromed.
"The grille on the '70 Torino is notorious for cracking. The top of it is just pot metal; if you bump it or somebody sits on it, it just goes. That was cracked and broken in a few places, but I fixed it and it was repainted when the car was painted. It came out nice."
The car was complete when he bought it, but some lenses and trim pieces had to be replaced while others were set aside even though they were in good condition.
"It came with the full-body trim," Donatello said, "and I hated that, right down the middle, the rubber bumper. That had to go. And there was a stainless steel trim along the rocker panel and after I took it off, I decided that I didn't want to put it back on."
The sport mirrors were also a change from the original, as was the hood's blackout paint that might or might not be right for the car.
"That wasn't original," Donatello said, "but I had to have that. It's the original layout. I have conflicting reports on whether you could've ordered a GT with the blackout on the hood."
Spots to Check for Rust
The paintwork was done over a six month period ending in April 2009, which might seem a long time for a car whose body was in good condition, but he explained that the shop's contract to paint industrial equipment had delayed the Torino's completion.
In fact, Donatello's Statement That" the quarter panels were in really good shape" is telling; these Torinos rust badly and the quarters are among the prime candidates for serious damage.
Poor quarter panels would be easily detected with even a quick look, as would another area about as likely to rust, the lower heels on the fenders, but most potential problems call for a more thorough inspection. Among them, Donatello said, are the cowl, the floor and the torque boxes. Some body panels are Torino-specific, but others will interchange with those from a Fairlane, a Falcon or even a Ranchero.
"But everything is out there," Donatello said. "If you want quarter panels, you're going to pay for them. You can get fenders, you can get gauge clusters, you can go on eBay."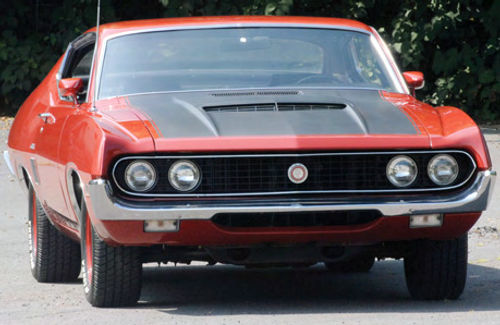 You can also be confused; he gave the example of handles that look right, but are slightly different because they fitsome Ford other than a Torino. The solution is simple for an experienced hobbyist, although a beginning restorer might not realize that part numbers are available and can answer most such questions.
It Was Worth Waiting For
Almost certainly, there are those who wonder about devoting the effort to a Torino GT rather than a Torino Cobra, but the GT's 302 provides acceptable economy and is adequately fast. Donatello also knows that his car will spin the tires, but that's not a big part of its appeal to him.
"I think it's beautiful," he said. "I just like the body lines. I fell in love with that bodystyle on the '70 and '71 Torino. There are so many different versions of it out there, different motors, different combinations of everything, and I just love the car."
And since his wife effectively pushed him over the line when it came to buying the car, it's not a shock to learn that she agrees.
"She loves it," he said. "She's more proud of the car than I am."
If there's a lesson to be learned from Donatello's experience with the Torino, it could be that second chances sometimes happen, even if they take almost four decades.
"September of 1969 was when they sold it down at Glenwood Ford," he observed. "I might've walked by it on the way to school."