He'd Wanted a Car Like This for Two Decades. Now That He Has It, Was It Worth the Wait?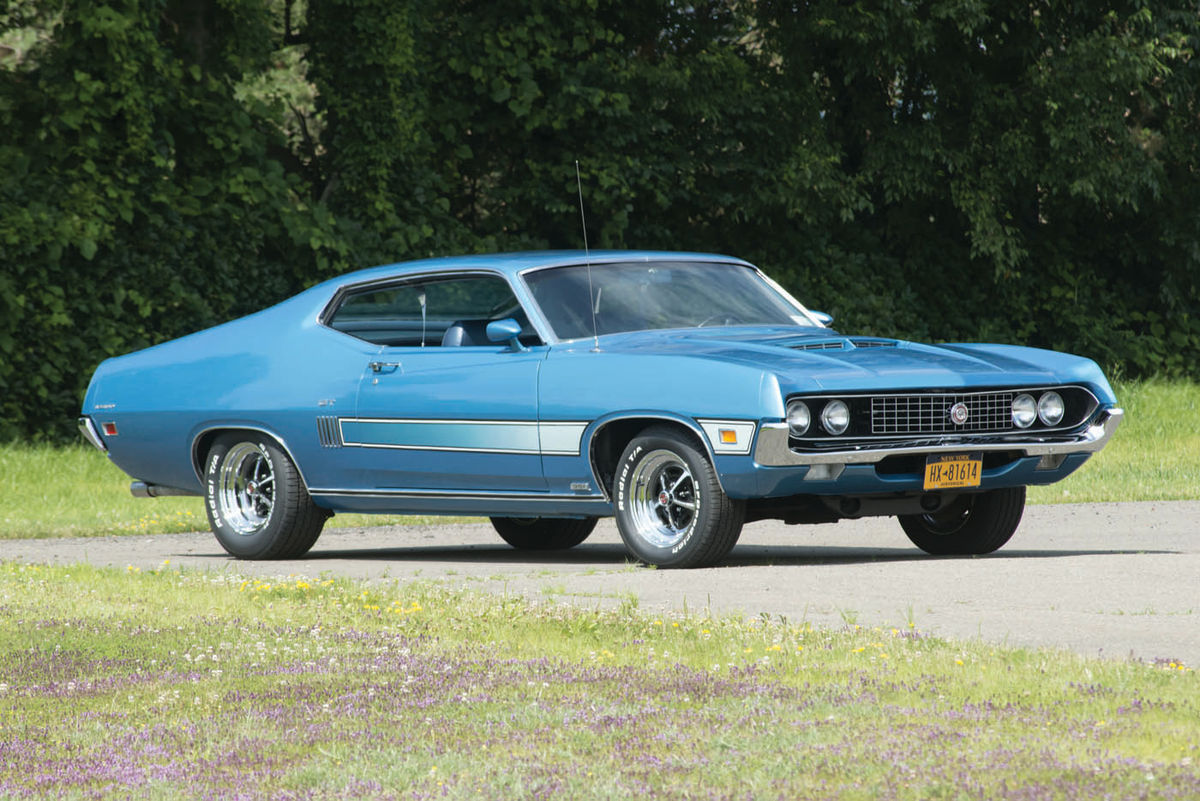 Finding the car that's been a longtime dream can be a good thing that becomes a bad thing or it can just be a great thing from the start.
"I'd been wanting a 1970 or '71 Torino for years," said Mike Hood, whose 1970 GT is featured here. "My first car was a 1969 Torino. I had it when I was 16 years old; I bought it myself. My wife and I dated in that. I loved the Torino, but I liked the next year's style.
"I wanted one for something like 20 years. I got to the point where my kids got out of college and I could afford it. I was looking for one and I spotted this one."
It Started With Small Cars
A Torino, like nearly any of its competitors, was a good choice for a restoration just as it was for a teenager who'd bought one years earlier as a used car for transportation.
Ford introduced the Torino in 1968, but its roots go back to the early 1960s, when the Big Three had begun facing off against foreign compacts that by then were making inroads significant enough to cause concern in Detroit.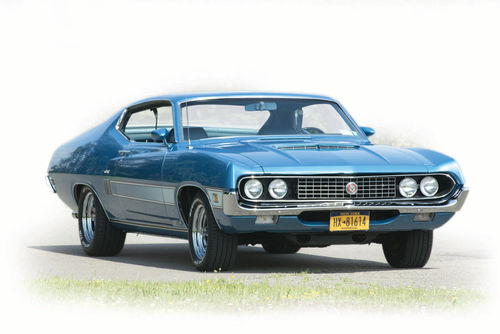 Fortunately for the Big Three, planning had been underway for some time and by 1960 their first entries were ready. Chevrolet launched the Corvair with its air-cooled six at rear, but Chrysler and Ford stuck to the everyday with their Valiant and Falcon, respectively. Both relied on watercooled sixes up front to drive the rear wheels and were truly unexciting to anyone whose interests extended beyond economy and small size, but those two qualities were cherished by a large segment of the market and the Valiant and Falcon succeeded.
The Falcon, in fact, succeeded to an astonishing degree, selling 430,000 examples in its first model year and that doesn't include 116,000 copies of its near-twin from Mercury, the Comet.
American drivers were finally ready to buy compacts and if they were ready to buy compacts, maybe there were others who were ready to buy cars that were slightly larger.
Next Came the Intermediates
Not everyone wanted to give up big cars completely and with that thought in mind, the intermediate was born. Ford got the jump on the others by introducing its intermediate Fairlane and corresponding Mercury Meteor as 1962 models. The Fairlane's 115.5- inch wheelbase topped the Falcon's 109.5 inches but came in below the full-size Galaxie's 119 inches. What was now Plymouth's Valiant measured 106.5 inches while the full-size Fury rode a 116-inch wheelbase. The Chevy II that was gradually edging out the 108-inch Corvair used a 110-inch wheelbase and all other Chevrolets were built on a 119-inch wheelbase.
Others would follow, but the key is that the Fairlane (with the Meteor) was the first intermediate from the Big Three.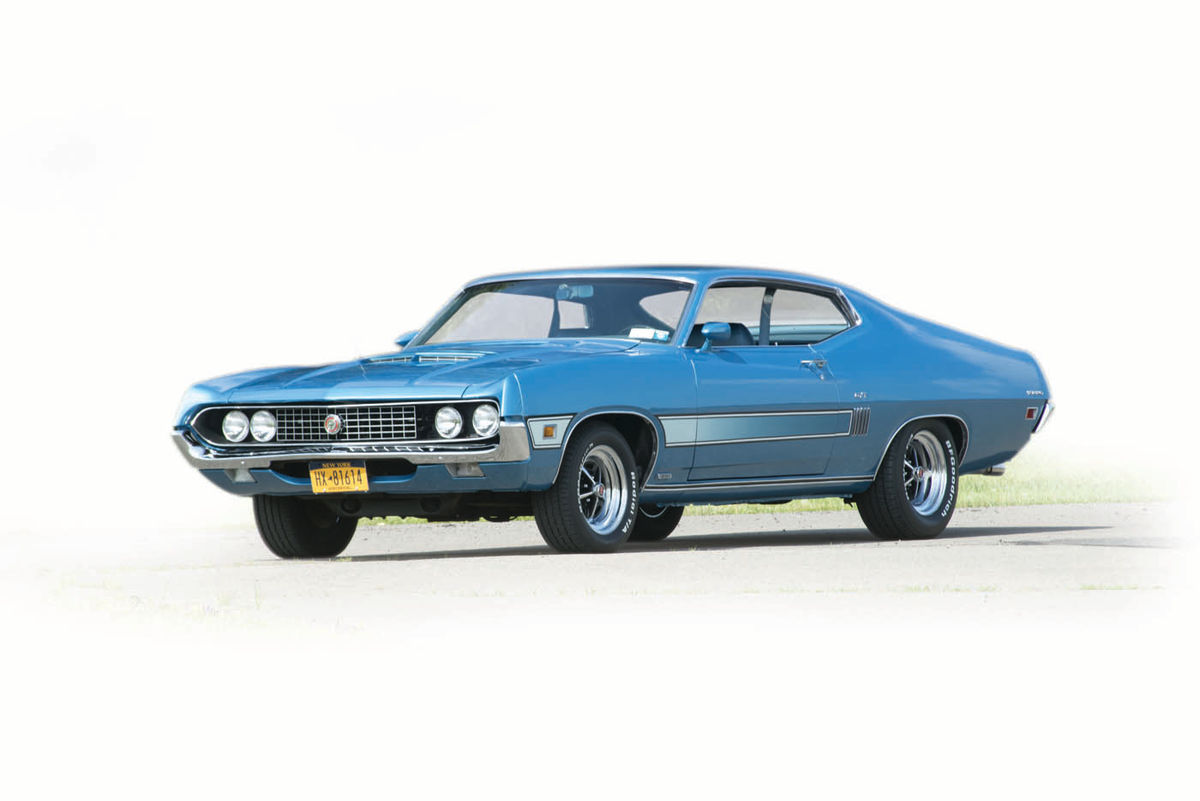 Then Some Muscle Arrived
At a quick glance, a casual observer might have mistaken the Fairlane for a full-size 1961 Ford and there was nothing wrong with that. The '61 had been an attractive car and still looked good alongside the restyled 1962. Better yet, it meant the new Fairlane bore a family resemblance to the large Galaxie. It continued that relationship after it was updated for 1964, when it lost its small fins even as it retained the signature large round taillights and a distinctly Ford grille.
The Fairlane, though, went off slightly on its own in 1965 when everything below the greenhouse was restyled. The look became boxy at the same time as the full-size Fords were losing their roundness and even the taillights were now rectangles just as the most of the larger models were giving up their round units, but at the front, the Fairlane continued its side-by-side paired headlights while the big Fords went to stacked duals.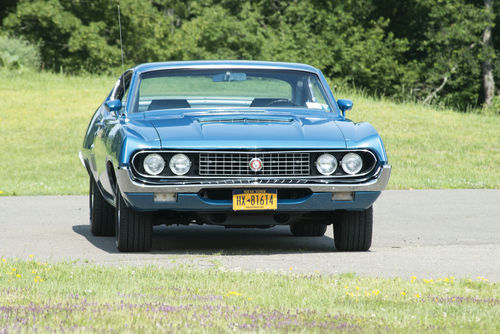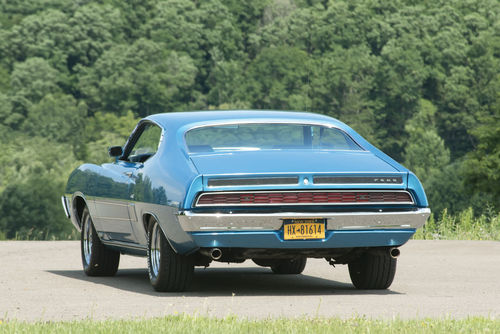 The Fairlane swung back toward the family in 1966 with vertically paired headlights on a new design that eliminated the last traces of the rounded look…but there was more.
The age of the muscle car was coming to life and the Fairlane added a GT package to its top 500XL hardtop and convertible. A 1966 ad listed a variety of appearance and performance features for the GT/A with its automatic, covering everything from the 335-horsepower 390 with its highlift cam, "bigger carburetor" and stiffer suspension to its chrome dress-up items under the hood, medallions and racing stripes.
Styling changes for 1967 were minor, but a study of the options list revealed that the GT could now be ordered with a 427. A GT/A ad even carried a smallprint disclaimer stating that the 427 was "not intended for highway or general passenger car use."
Ford gave the Fairlane a completely new body for 1968 and for good measure added a new trim level at the top, the Torino. The headlights returned to horizontal pairs and particularly in the fastback body the look was longer and lower even though the overall length was up by just four inches. But the best news of all was that the 427 and later a 428 were available. Still, the 390 was probably a smarter choice for the real world and it returned in 1969, as did the 428 Cobra Jet.
An Italian Dream From Dearborn, Michigan
The Torino again wore a new look for 1970 and in an ad for the GT, Ford called it "a beautiful blend of glamour and go" and boasted "no wonder Motor Trend named Torino 'Car of the Year.'"
The ad suggested that the fastback SportsRoof "could be an Italian coachbuilder's dream" and detailed features such as "hidden tail lamps, deep carpeting and special wheel trim" in addition to optional "hidden headlamps, dazzling side stripes and chrome-plated Magnum 500 wheels." Those were good reasons to consider a Torino, but Ford got to the heart of the matter by explaining that "Torino GT's performance (with the optional 351 4V) impressed Motor Trend's panel of experts as much as its luxury and looks."
Buying the Car Took Some Effort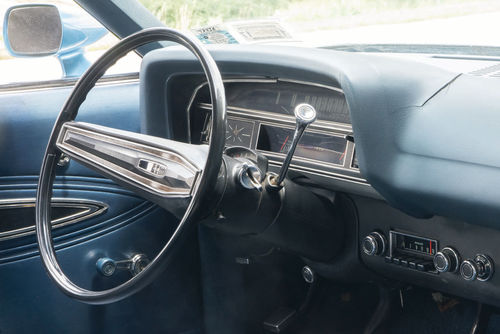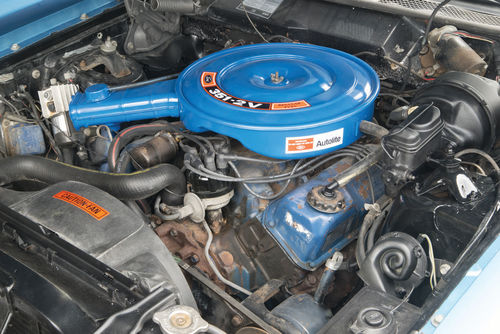 Regardless of whether Ford was right about the 1970 Torino as a coachbuilder's dream, it was the car that Hood wanted and he'd been keeping an eye open in case one became available.
"I happened to be coming back from a conference in Albany with a friend of mine," Hood recalled, "and we pulled off an exit. There was this little dealership, an out-of-business dealership, near Cobleskill, New York, and I spotted it.
"It was just kind of back down in there and I pulled over. I got a number, I think off the window of the business. I called and I talked to the son of the owner. He said 'it was my grandmother's car. It's been in the family and I don't think my dad'll part with it.'"
He wouldn't, but Hood didn't forget about the car and called again a year or two later. The owner was reluctant, he said, and had turned down other offers, but eventually agreed to sell the Torino.
Hood took it for a test drive and was astonished to find that the accessories worked, although seeds did fly out of the heater. While the car hadn't been registered since 1985, Hood said that as a mechanic, the seller had cared for it and occasionally driven it.
"He maintained it," Hood said. "I'm not sure if for him it was one of those things where he had it in the back of his mind that he was going to restore it, but he had other projects, other cars. He had an old Galaxie, an old International Scout and some other nice old pieces, but he seemed to be into motorcycles."
The Importance of a Second Opinion
Knowing that the Torino had been treated at least moderately well wasn't quite enough for Hood and so a trusted friend, Larry Carasea of LJC Jr. Auto Body in Vestal, New York, went to Cobleskill with him to check out the car carefully.
"The problem," Hood explained, "is that when you want something badly, it looks great. I wanted to be reasonable about it. I didn't want to pay a lot for it, but I wanted to pay in a way that I knew I was doing it (right) and I knew what I had to put into it to make it where I wanted it to be."
Carasea approved and in October of 2016, Hood owned it. He had enough confidence in the Torino to drive it the 50 miles to his home in Sidney, New York. Fortunately, his confidence was well placed.
"I made it home with no trouble," he said, "and I was getting a little worried because we started to get some rain and I hadn't checked the windshield wipers. But they did work.
"The first place we stopped was a local gas station. I wanted to put some ethanol-free gas in it and they had that."
The Torino's 351 showed some hesitation on the trip and that confirmed the priorities that Hood had already established.
"I have another friend who owns a garage," he said. "He's a mechanic and the first thing I did when I got it here was go through it mechanically. We changed every fluid, serviced the transmission, serviced everything because I didn't know how long it had been sitting. I wanted to make sure that mechanically it was good. We've changed the fuel filter three times now.
"I was being safe. I went through it all…belts, hoses; all the stuff that might leave me on the side of the road. I'm confident that the guy probably kept up the oil because it looked good, but for my own peace of mind, I wanted to go through it. It's 47, 48 years old, so I wanted to make sure it had fresh fluids in it and serviced the rear end. We went through it and did the brakes."
Switching to Bodywork
No less importantly, having the Torino on a lift to work on it also provided the opportunity for a careful inspection. Hood said that they'd checked it as well as they could by crawling underneath it in Cobleskill, but that couldn't compare with seeing it on a lift. And while it's a truism in the hobby that a vehicle will look far worse once the restoration begins, most rules have exceptions and the Torino proved to be one of them.
"It had that original old thick undercoating on it," Hood recalled, "and it was so solid. It was just amazing how solid the car was, but the car had spent the majority of its life in Florida and out of the salt. And it hadn't been a regular driver since the lady who'd owned it passed."
The car's appearance was deceiving, thanks to old repair work, surface rust and just plain dirt, but he said there were few holes and just one significant dent where some object had fallen onto the roof. Carasea handled the bodywork and paint while Hood and another friend dealt with one of the restoration's more frustrating phases, reworking the hidden headlights.
"I had taken auto body in school, two years of it, and it's been awhile since then," Hood said, "so it took a little longer than we'd anticipated. It was a good experience and my friend had a lot of the tools and helped me out with a lot of his knowledge. We stripped them down completely, buffed out the stainless steel headlight trim and refurbished everything. The other thing on that car is that they did the vacuum chroming over the top of the plastic on those headlight covers, on the honeycombs that go over the plastic. That's what they did and it was lifting. So we had to strip that all off and then we found a paint so that we could paint it and simulate the trim. It came out beautifully."
He's not sure how they'll hold up and allowed that he might even have to replace the covers. He's already looked at replacements, but said that while they appeared to be well made, they were several times as heavy as the originals and he doubts the vacuum system would be up to the task. As it stands now, the system has a leak that he still hasn't found and the covers will lift not long after the engine stops.
Trouble With Trim
The interior, which could have been almost as aggravating as the headlight covers, is original and if not pristine, it's presentable.
"When you lift the seat up," Hood explained, "there's a little tiny hole that's developed in the corner underneath the seat. You can't see it (with the seat back in place), and then there's the dash. You can send those dashes out to get redone. I'm still researching that. I've read horror stories that people have posted about sending their dashes…
"There's one (crack) in the middle. The sun obviously caused that crack and there's one down near the instrument panel, a little crack in it. The dash is pulled back a little bit because it's missing a screw, so I haven't touched it because I don't know what I'm going to do with it yet. I know I'm going to drive it. I'm going to drive it for a year and I'm going to enjoy it and then I'll decide what I want to do with it, but I want to get it fixed."
Just as the interior is worn from age, exposure to the sun and temperature extremes, so were most of the door seals. Hood said that he'd been prepared to replace all of them, but some were in such good condition that there was no need to do so. And like the interior, the exterior moldings and trim were mostly there, although a small section near the headlights was missing and proved difficult to find, all of which explains his observation on replacing and upgrading trim.
"Very hard," he said, "and very expensive. I have the original trim, but it's pretty pitted, pretty aged. I was going to do it through a plater, but they're very expensive and they're backed up months. I'm thinking 'well, I can ride around with this all summer with no trim or my son and I can drive three and a half hours to the Ford Nationals in Carlisle and we can walk six hours,' which I did. And I found it down there. It was pretty expensive. I found all the trim and that was a whole other adventure."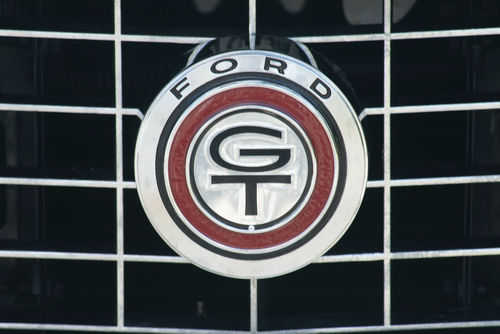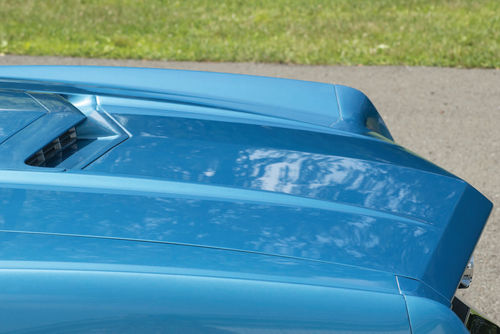 Every restorer has a tale of woe about parts and Hood's involves side trim. He'd found a vendor with the pieces he needed for both sides of the car, bought them and later realized that the two were for the same side. They appear almost identical, he said, and he'd wanted to believe that had simply been a mistake, but the vendor told him all he could do was sell him the correct piece in better condition at a higher price. He paid the extra amount and was shipped a third piece for the same side, although it really was in excellent condition. He's been trying to straighten it out, but knows what he'll do with whatever is left over.
"They'll be going on eBay," he said. "Somebody'll need them. That's what I'll do. But it's a learning experience."
It's Done Its Duty
A missing piece of trim or one that's less than perfect won't stop a restoration's progress, but what could impact it would be rust. Torinos like the feature car aren't known for disastrous corrosion problems, although they're not immune and damage often shows up in locations typical of cars of its time. Rocker panels, quarter panels, door bottoms, and fender heels and tops are the most likely and the most easily detected, but edges of the hood and trunk, the sheet metal around the windshield and backlight, floors and inner fenders are also potential headaches. Mechanically, the Torino is rugged and better still, everyday parts and even the less-frequently needed components are for the most part readily available.
Hood was lucky that he didn't need to worry about any of that. In fact, he had the Torino on the road as soon as he bought it and was able to drive it until winter arrived.
"I kind of fiddled with things in the garage and it went in for the paint and bodywork in April," he said, "and it took about five or six weeks. The middle of May, I got it on the road."
That tells just about the entire story on the car's condition when he bought it.
"It was such a solid car," Hood recalled. "Even Larry said 'this is going to be a pleasure to work on.'"
It became a pleasure to drive, too, as he found while taking it home from the restoration shop. A Jeep driver at a traffic signal told him that it was "freakin' awesome," but the true high point was when he realized that the Torino had indeed met the expectations generated over the years of wanting to own one.
"I don't even know if it's about 'the best car in the world,'" Hood observed. "It's just that it connects you back to your youth. I think when you hit your 50s, and I'm 50 years old now, that's stronger than a lot of things. It's certainly not the best-performing car and it's not the best-handling car. It's not going to take a corner the way a sports car would, but for me, I get in that car, it's got a lot of power, it sounds good, it looks good, it's got great eye-appeal, I like the lines. I think part of it is that there's not a lot of them around…
"Go to a show and you see dozens of Mustangs, you see a dozen Chevelles and I love those cars, too. They're great cars, but the Torino has a connection for me. My wife and I have memories because we dated in a Torino."
The question that matters most, of course, is whether he'd buy it again.
Without a doubt," Hood said. "That car, that particular car, if I knew what I know now, yeah, I'd definitely do it over."