I'm Restoring an Oakland and an Oakland Dealership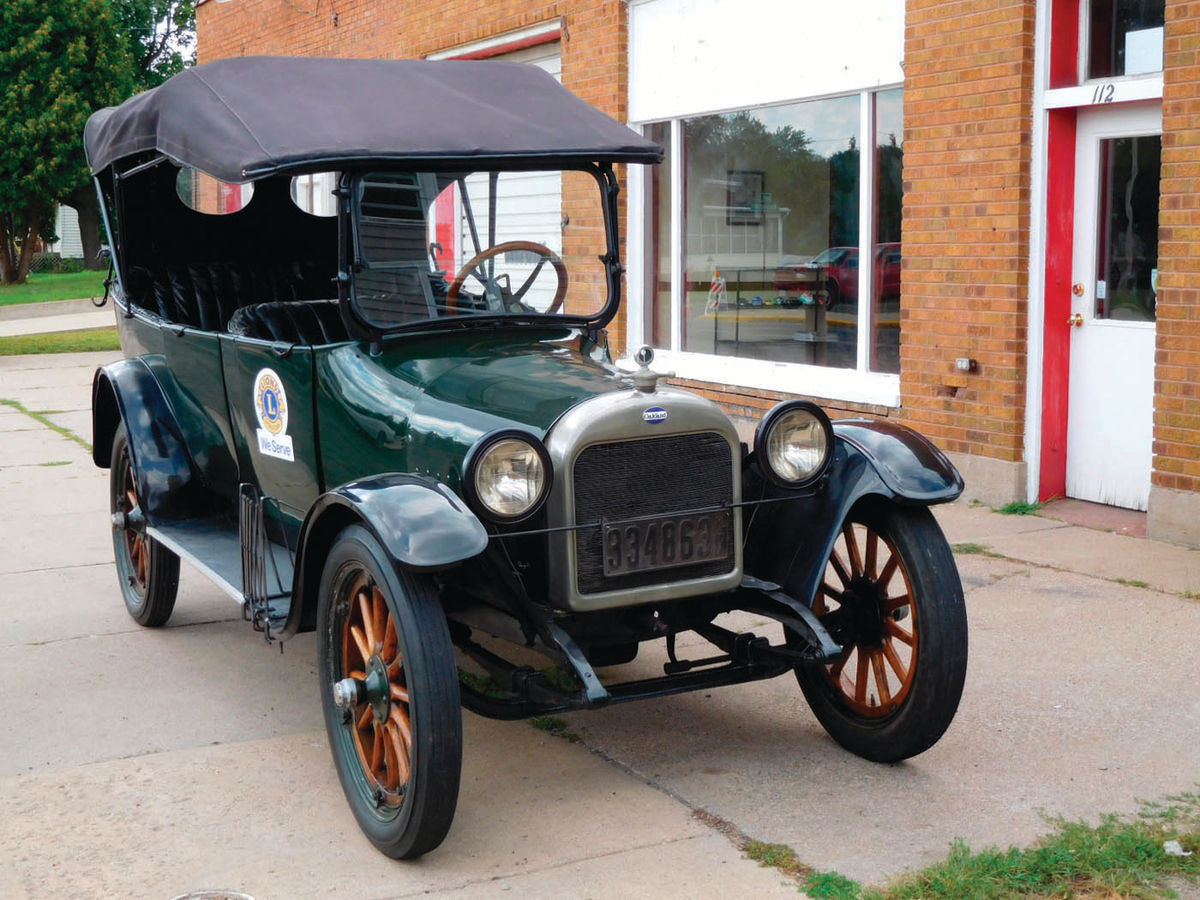 While He's Busy Prepping His Century-Old Car for a Lengthy Tour, He's Also Working On a Century-Old Dealership Building.
It has been almost two years since I purchased Hansen's, a circa-1909 brick building in Waupaca, Wisconsin.
But before we get into the story of the building and its impact on my participation in the collector car hobby, a little background is in order.
I have been a Pontiac collector since 1972—the same year The Pontiac Oakland Club International (www.poci.org) was formed.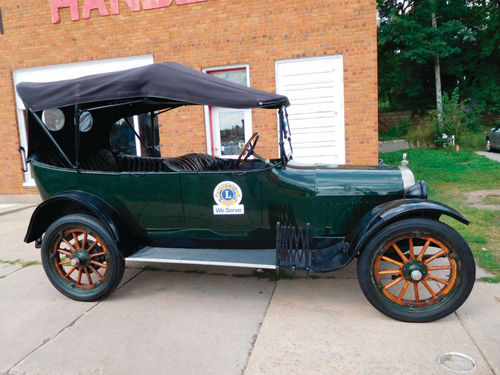 The Oakland Motor Car Co. was an early automaker that grew out of the Pontiac Buggy Co. Edward Murphy's Oakland Motor Car Co. sold its first car in 1908. Murphy died and his company became part of General Motors in 1909.
In 1926, Oakland brought out the Pontiac as a smaller, lighter, less expensive "companion car." By 1931, Pontiacs were outselling Oaklands 5-to1 and the Oakland name was dropped.
The name Oakland came from the name of the Michigan county where the cars were built. The city of Pontiac is in Oakland County. Both the city and the car are named for American Indian Chief Pontiac.
The Building Had Something Extra
As a Pontiac collector, I had always wanted an Oakland in my fleet of vintage vehicles. So you can imagine my added interest when, after I bought the Hansen building, I found out it had links to Oakland.
For years, Hansen's had been operated as a car sales and repair business and, strangely enough, two pairs of Hansen brothers ran automotive businesses there.
Kerm Hansen and Ev Hansen owned and operated the business for many years. Bob and Fred Hansen, who are not related to Kerm and Ev, were the subsequent owners. At first they sold used cars and repaired cars as well, but they later focused only on repairs. They are car collectors, too.
Bob Hansen invited me to a 4th if July ice cream social at his home in 2015 and came to work for me that year. He told me that he and Fred had put the building up for sale. When I purchased it, I learned that the old building dated back to at least 1909 and that it had been leased, in 1917, to a man for the purpose of selling Oldsmobile and Oakland automobiles. I also learned that the building was called a Yellowstone Garage and that the name had something to do with it being a stopping point for motor tourists traveling the Yellowstone Trail back in the day.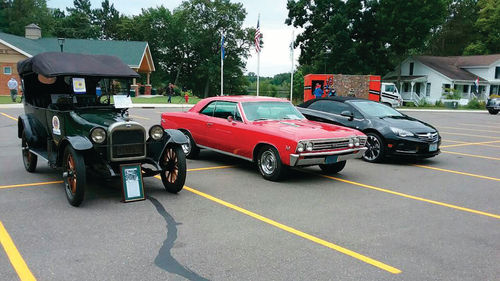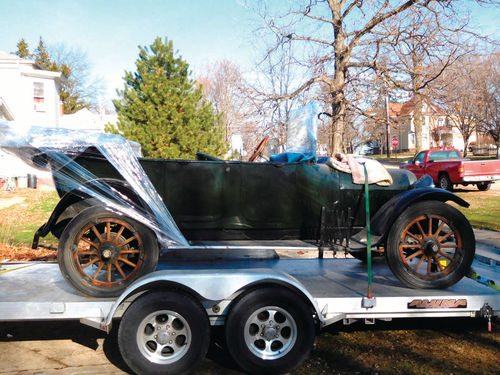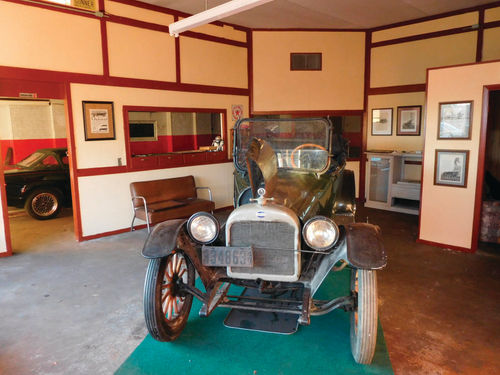 Now it's time for more background: The Yellowstone Trail was the first transcontinental highway through the upper tier of states, having been established in 1912. It ran from Massachusetts through Yellowstone National Park in Wyoming to Seattle. There are a number of attractions along the way in Wisconsin, where a 409-mile section of the Trail runs from Kenosha to Hudson.
Time for Some Research
It was only after I purchased the building that I started researching the history of the automotive businesses that had operated in Waupaca. J.J. Johnson and Mike Kirk and other members of the Waupaca Historical Society were very helpful in locating newspaper clippings about my building and others in the area.
However, other than knowing that a man leased the building in 1917 with the intent of selling Oldsmobiles and Oaklands, I came up with very little information on the Oakland connection. Hoping to find out more about that link, I got in touch with curatorTim Dye at The PontiacOakland Automobile Museum (www.pontiacoaklandmuseum.org) in Pontiac, Illinois.
I was hoping that Tim had a list of Oakland dealers who were in operation in 1917 or 1918. He had no such information, but he did tell me an interesting fact…he said the Yellowstone Trail had been blazed by a 1913 Oakland. Dye also put me onto the fascinating little book "We Blazed The Trail: Motoring to Yellowstone in Mike Dowling's Oakland" by Dorothy Dowling Prichard.
Learning that an Oakland had been one of the first two cars to travel the trail was spooky. It was as if some force had led me to purchase the old Oakland dealership.
What happened next fit right into the feeling that forces were working behind the scenes to fit some pieces of this puzzle together.
Finding an Oakland
In early November of 2015, my son and I went to the SEMA (Specialty Equipment Market Association) Show in Las Vegas. We decided to make it more of an adventure by driving and, while we were on the way home, I told my son Jesse to check his smart phone to see if there were any Oaklands for sale. I had spent most of my money to buy the Hansen building, but I still had a little left. I figured that any Oakland for sale in my price range would have to be a project car needing lots of costly restoration.
The first day Jesse tried to find a car we came across a man named Wayne Koefel from Pennsylvania who restores only Oakland automobiles. Wayne had a few cars he was trying to sell for people, but they were all out of my price range. He said that most Oaklands were not tremendously valuable, but that people thought they were since there weren't many of them around.
The next day Jesse found an Oakland touring car on Craigslist in the Moline, Illinois, area. The asking price was in the neighborhood I could afford and the car was close enough to take a look at it. It also was a 1917 model, which meant that it dated from the same year my building became an Oakland agency.
I was going to a car show in Chicago anyway and when it ended, I rode farther west to check out the Oakland. It was better than expected and I was able to negotiate the price down a little bit. I bought the car and picked it up with a trailer a few weeks later
Even the ride home seemed to be blessed with a combination of memorable experiences and good luck. I had purchased a cheap electric winch to pull the car onto the trailer and it worked. (But I think if the car had weighed another pound or two, I would have been out of luck.)
By the time we hit Madison, Wisconsin, it was cold and frosty and we decided to stop at a hotel for the night. The old car was all wrapped up on the trailer. As we walked into the hotel, a young boy with his grandmother looked at my white beard and the old green car on the trailer and said, "Grandma, is that Santa Claus and his sleigh?"
The next morning the dusting of snow was gone. We checked the load to make sure the tow straps were tight and the open-bodied car was wrapped up well so nothing flew off of it. While checking the load, I laid my soft travel bag on the tongue of the trailer. My Nikon camera and iPad were inside. After making sure everything was secure, we took off.
About two hours north we passed a used car lot with an old Nova for sale. I wanted to take a photo of it and told my son to grab the camera out of my bag in the car. He said, "Dad, there's no bag in the car!" We both looked around and saw the bag still sitting on the trailer's tongue!
A Charitable Use for the Oakland
When we got to Waupaca, we had surprisingly little difficulty pushing the car off the trailer and rolling it into the old showroom in our Yellowstone Garage. At first we did not do a lot of work on the car other than put a battery in it and try to start it. The engine was free and did crank, but the car was not getting fuel. We had the old Stewart-Warner vacuum tank restored by Myer's Early Dodge Parts (www.myersearlydodge.com) in Ottawa Lake, Michigan. This tank does the same job as a fuel pump on more modern cars. There are only a few places in the country that restore vacuum tanks, so it had to be sent out to one of the specialists.
One reason we wanted to get the car going has to do with a plan to celebrate the Oakland's 100th birthday this year. My friend Dave Sarna, a former automotive technology instructor at Fox Valley Technical College (www.fvtc.org), likes to do challenging things with old cars. He has taken a Model T Ford on the Great Race with a team of young enthusiasts and in 2012 he drove a Pontiac Trans Am at 192 mph at the Bonneville Salt Flats with a team composed of FVTC students and older hot rodders. Sarna also owns a Camaro drag car.
Since the Oakland was reaching its century mark, Sarna had a brainstorm. "I belong to Lions International and they also are turning 100 this year," he said. "Why don't we tie the two anniversaries together and use the car to raise money for a Lions Club charity?" Sarna wanted to drive the car on the 409-mile Wisconsin section of The Yellowstone Trail and take pledges of money for each mile traveled. Monies raised would be donated to a Lions Camp in Rosholt, Wisconsin, for children with visual, hearing or mild cognitive disabilities and children with diabetes (www.wisconsinlionscamp.com).
Time to Get the Car In Running Condition
We both liked the concept and Sarna sold the idea to his Lions Club chapter in Manawa, Wisconsin. The club agreed to put up $500 to get things started. Getting the so-far-nonrunning car ready for this adventure would be up to Dave and me. Initially, I considered taking the car to a shop, but I realized that too much expense might be involved. That's when Tim Buttles entered the picture.
Buttles is a man who builds cars and airplanes as a hobby. He often builds a car and sells it to finance his next project but he rarely works on other peoples' cars. However, one day he stopped at Hansen's to look the Oakland over and he liked it. "Why don't you work on it for me?" I asked and he agreed.
A Slow Start With the Repairs
The car is a 1917 Model 34 or "Sensible Six" Touring and we'll go touring in it after a few repairs. It has an overhead valve six with exposed valves (no valve cover) and long pushrods going up the outside of the block. It has a small water pump that can leak into the oil pan. These cars are impressive-looking, but they had some inherent weaknesses, especially in the valve train, water pump and rear axle departments.
We put the car back on the trailer and towed it to Tim Buttles' home and hobby garage. Within a day, Tim had determined that the valves were hung up. After closer examination, he discovered that the rocker shafts rotated in metal "saddles" that were bolted to the cylinder head. One of the saddles was cracked and this caused the valves to hang up. Tim removed the cracked saddle.
A phone call to Wayne Koefel confirmed our suspicions that 1917 Oakland valve train saddles aren't readily available. We were told that they can be repaired and we found the perfect shop to do the job. On the suggestion of another hobbyist, we called Joe Thorn at Metal Crafters in Stevens Point, Wisconsin, (www.metalcraftersinc.org) which turned out to be a 17-person machine shopthat, among other things, specializes in Model A and Model T Ford repairs, as well as Ford A and T engine rebuilding and re-babbiting.
Thorn not only felt he could repair the cracked saddle—he drove over 45 miles to come see the car and talk about old cars for about two hours.
He took the cracked part back to his shop, had it brazed and line bored and did the work for $123. Two weeks later, Tim Buttles had the valve train back together and got the car running. But he had also picked up several other projects and had no more time to work on the Oakland. "It runs, but it sounds like it knocks," he warned.
Now We're Making Some Progress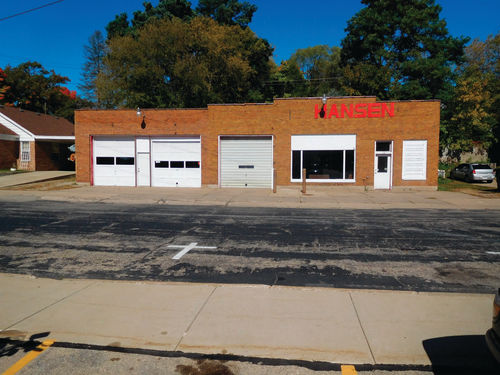 By this time Dave Sarna had returned from a summer church mission in Ireland. He was anxious to roll up his sleeves and get the Oakland done. The knock in the engine was troublesome, but Dave listened with his mechanic's ear and didn't think it was a rod knock. He checked the valve opening sequence and came up with the idea that the spark plugs were not connected in the correct firing order. Another call to Wayne Koefel got us the firing order and the knock was soon gone.
Dave hopped in and took the car on its first ride around town.
The test drive revealed a leaky carburetor and leaky water pump. In addition, the transmission wasn't shifting into third. Tightening up screws and bolts on the carburetor helped to make the gas leak manageable. After another call to Wayne Koefel, Sarna was able to get the car to go into third gear with a little tinkering. The water pump was removed and taken to Metal Crafters for a redo.
Sarna then put the car on a lift and started a process of checking all the mechanicals and making as many cosmetic improvements as could be done in a limited amount of time. These included washing and polishing the car and fabric top, touching up flaws in the paint (with a brush) and replacing a broken lower windshield glass panel. Bob Hansen—who is often called Rembrandt—took care of additional detailing along with buffing the aluminum radiator shell.
Working With the Car and the Building
As I write this, we are still waiting for the water pump rebuild to be finished. There also are some rivets in the rear axle that are loose and need to be welded. Joe Thorn of Metal Crafters has a mobile welding service and they will weld the axle rivets when they deliver the water pump.
Meanwhile, we have slowly started redecorating the showroom at Hansen's. The entire room had previously been painted light green. To keep costs as low as possible, we painted brick sections of the wall brick red and then used off-white paint to highlight the mortar. The rest of the room is a tan color with dark brown framing. Old Oakland ads from 1912-1931 were purchased on eBay and they are being mounted in frames from a Goodwill store. It's all a budget-conscious operation, but it sure is fun.
Soon it will be time to take our Yellowstone Trail tour in our 100-year-old Oakland and in an upcoming issue we'll report on how things went for us.