If You're In the Market for a "New" Packard…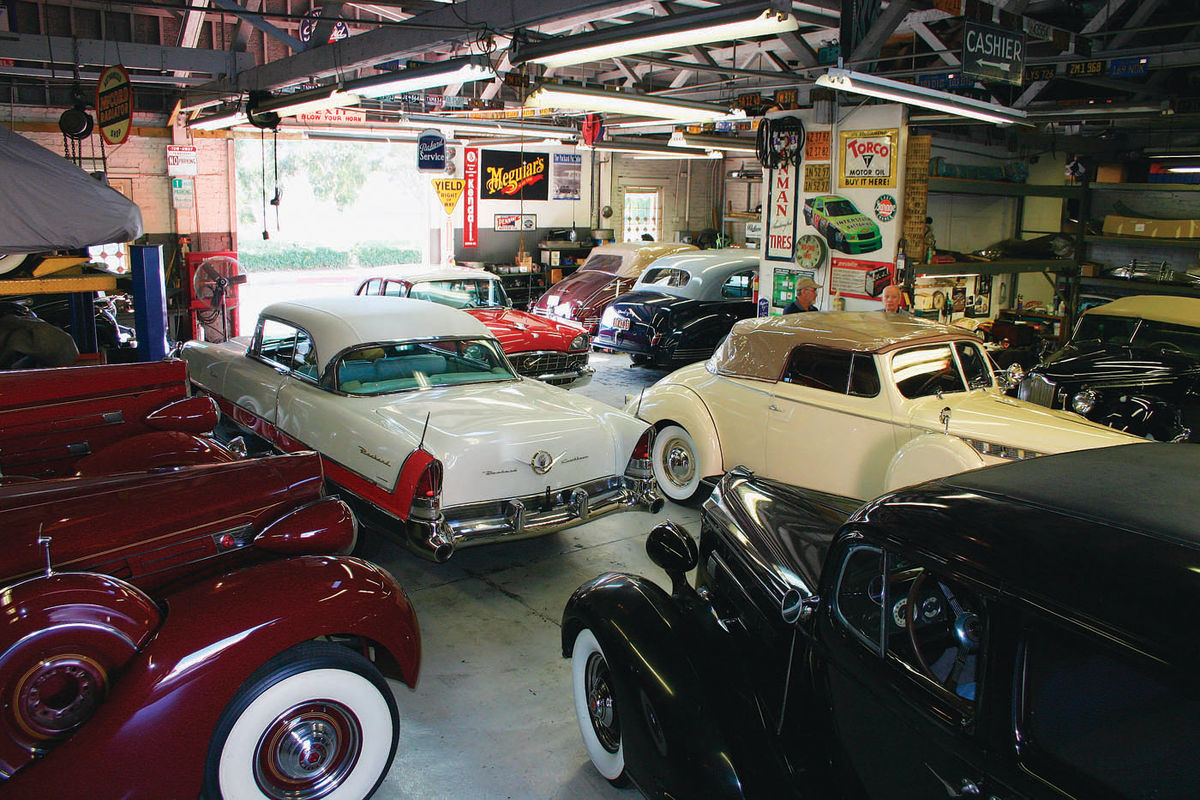 Custom Auto Service Is Observing Its 50th Anniversary as a Packard Restoration Shop. A Visit There Is Like a Step Back In Time.
Editor's note: AR's Mechanic on Duty writer Jim Richardson has been a Packard Enthusiast, restorer and owner for decades and so he naturally gravitated to this Southern California shop that specializes in one of his favorite marques. Let's go with him as he visits the shop that's been in business for half a century.
My Saturday morning hangout is Custom Auto Service in Santa Ana, California. Custom Auto Service is possibly the oldest continuously operated auto restoration shop in California, and Saturday mornings are reserved for customers and Packards International club members to pop by, see the progress on their cars and ogle the automotive masterpieces in the showroom and garage. The coffee is hot and the conversation is lively.
Custom Auto specializes in Packards of all eras, though they work on other classics as well on occasion. Because Packard is such a revered marque, and due to the fact that they haven't made Packards since 1958, Robert Escalante who owns and manages the operation says: "There are cars here that were done by others many years ago that we are currently re-restoring because their owners want them in show condition."
A Packard Shop for Half a Century
For their 50th anniversary, Escalante has re-restored Custom Auto Service itself. A collector named Bill Lauer started the facility along with mechanic Cal Soest in 1966. And as the business prospered, other restorers worked and learned here, as did Robert Escalante himself who at the time was attending a local junior college with the goal of becoming an attorney. He needed a part-time job, so owner Bill Lauer put him to work.
"At first, I did all the jobs nobody else wanted," Escalante said. However, Robert's father Al was a master panel beater with many years' experience, and his brothers worked at a Jaguar dealership doing mechanical and bodywork, so Robert was not a neophyte. He rapidly picked up skills, but what really interested him most was the business/people side of things.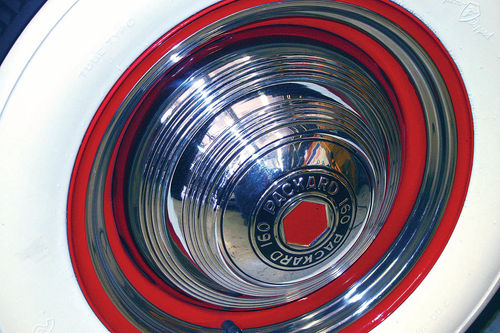 He eventually went to work fulltime in the shop and saved his money. Also, to make extra cash, he, his dad, and his brothers worked on their own customers' cars in evenings when the shop was closed. Then in 1983 when Bill Lauer decided to sell out and retire, Robert was in a position to buy the operation.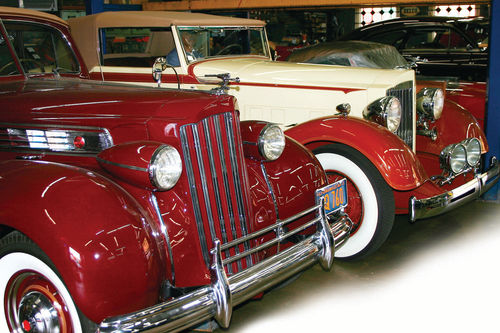 Personal Experience With the Shop
I remember that time well because I was one of his first customers after the takeover. I had mechanically restored a 1940 Packard coupe and wanted a show-quality paint job, so I took it to the guys and they stripped it to bare metal, fixed 45 years of dents and dings, and gave it a hand-rubbed lacquer paint job that still looks stunning today.
The business is a family operation, but master mechanic Cal Soest, who is not related, is now regarded as part of the family. Soest, who you'll recall was there when the shop opened in '66, is a walking encyclopedia of all things Packard. He's also one of the few mechanics today that can tear down and rebuild a classic Packard V12 and make it better than new. And that is saying something because these are unique and complex engines. The lifter valley between the heads is very narrow, and the heads are not perpendicular to the cylinder block. Also, the valve train is quite complex. It's not an engine that you can take to just any local garage.
A Time When It Almost Closed Down
Despite the shop's high levels of knowledge and ability, however, there was a time when it looked like Custom Auto would be going out of business. Soon after Escalante bought the shop, the city of Santa Ana began considering the use of eminent domain to acquire and tear down his building as part of a neighborhood renewal project. But then Robert revitalized and restored his facility and worked with the city to help redevelop the area into the shopping and urban residential district it is today. As a result, unlike many auto repair and repaint facilities, he is not under threat of closure due to environmental issues, and the shop is actually a picturesque aspect of the downtown community.
The building was an electric automobile dealership 100 years ago, and later became a GMC truck sales and repair agency in the 1940s. But it has now been restored inside and out as a Packard garage, and is a showplace for the town which has recognized his efforts with a special citation and plaque. The showroom is as much as anything a museum of 20th century automotive history, and also houses the headquarters of the Packards International Car Club.
Making Them New Again…
Today, thanks to Custom Auto, if you want a brand-new 1936 Packard Super Eight convertible sedan, you can have one, even though they stopped making them 80 years ago. They can provide one already restored or can take your worn-out original and make it new again. Such endeavors aren't cheap, but when have classic cars ever been cheap? They can also do all of the routine maintenance an old Packard requires, and fix anything on it that needs repair.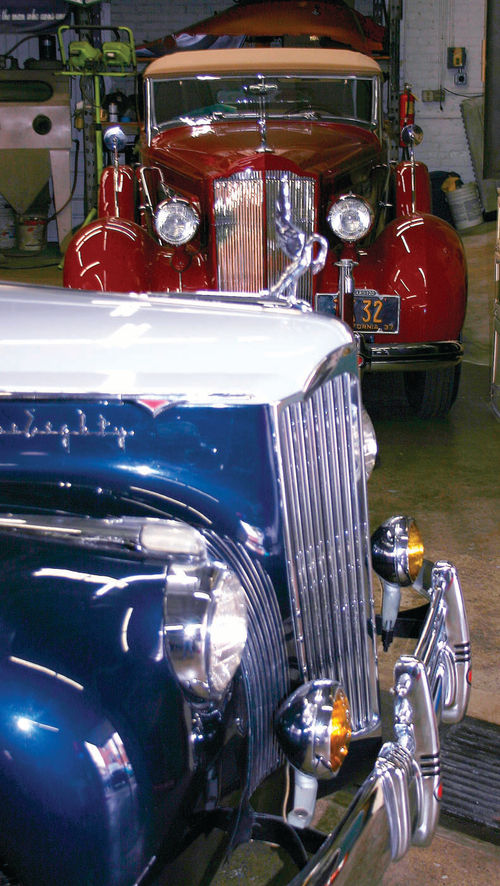 Celebrity Packard owners such as Jay Leno, Johnny Depp and prolific science fiction writer Harlan Ellison are customers. The last time I was at Custom Auto there was even a 1938 Packard twelve formal sedan with LeBaron custom coachwork being serviced. It had been meticulously restored by Formula I champion and restorer Phil Hill for his daughter's wedding many years ago. Custom Auto was making it like new again.
As a long-time Packard owner and buff, I must say it is a comfort to know that if there is anything on my cars that I can't handle, Custom Auto can, and if I want to know anything about a prospective purchase, I can always go down to the shop on Saturday, hang out with the guys, ask questions, and wallow in automotive magnificence to my heart's content.