How -to Having Fun On a Vintage Budget
Readers Responded to Our Recent Story On Budget Vehicles. Here's a Look at Some of Their Cars & Trucks.
EDITOR'S NOTE: IN January we ran an article called "Low Budget Vintage Vehicles" that concentrated on the advantages of obtaining a car or truck "that can be bought, maintained and driven at affordable prices, even in today's economy." Since then, we've heard from several readers who are following that philosophy and we thought we'd share their stories with you.
A 1939 Ford Pickup Daily Driver
I would like to emphasize a point that was made in the article about everyday transportation use of your old car to help defray some of the costs of ownership. I drive a stock '39 Ford pickup as a daily driver. It cost around $20K to get it drivable, but it is one of only two cars we own. I drive it to work every day, tour with it, etc., putting more than 5000 miles a year on it. I could have bought a new Ford Ranger for about the same amount of money. But the '39 is a lot more fun, and it is still worth roughly what I have put into it while a Ranger would have depreciated significantly!
By using my pickup every day I have been able to afford and enjoy an old car at a much younger age than if it were just a toy.
Of course, you have to keep in mind that in the end, it is still a "used car," so depending upon it as transportation has all of the same pitfalls!
For example, early in January the main drive gear in my transmission lost two teeth. My pickup was down for four weeks before I was able to find the time to get it back together. The gear that broke was a good (so I thought) used Ford gear. It was chosen both for its cost, and my lack of trust in new gears.
As it turned out, there was a crack at the base of one tooth that had been there for a long time, and had likely been growing with each turn of the gear. From there, it was simple brittle fracture of that tooth, and the one next to it.
I was pulling a hill by my house in second gear before I got up to speed. I was doing nothing at all out of the ordinary when it happened.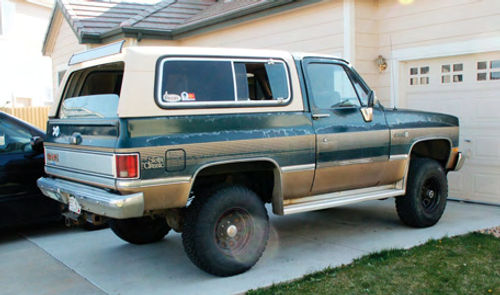 As far as the replacement goes, new gears are readily available, but I was not able to find out the source of the new gears. So, I once again went with a good (I hope) used gear. I really should have Magnafluxed the replacement gear along with the rest to make sure that there was no latent or collateral damage. But, I must admit that I was in too much of a hurry to get back on the road…
Scott Doudrick Altadena, California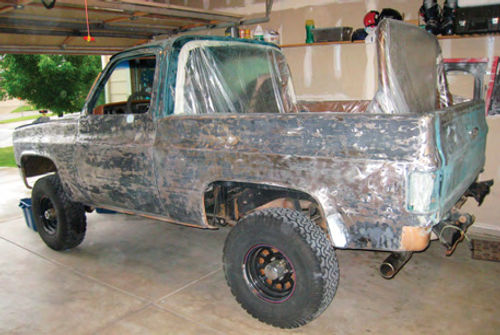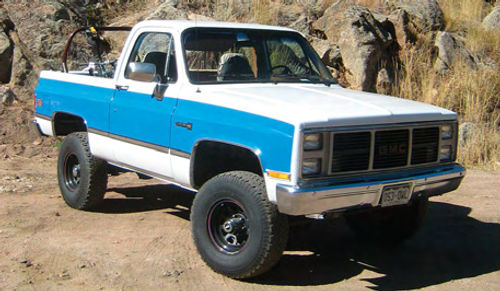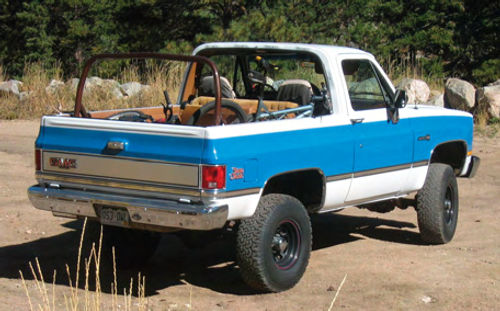 Enjoying a Modified '88 GMC Jimmy
I really enjoyed John Ball's article on low-budget vintage vehicles as I recently completed a 1988 GMC K5 Jimmy project. The $2500 purchase was every restorer's dream, with good chrome, a solid drivetrain, and nearly insignificant rust. But it sure was ugly, with the factory clear coat peeling off in sheets.
I spent about $900 on new brakes, preventative replacement of the oil pump and timing chain, a used factory roll bar, and a full repaint based on a 1984 Chevrolet two-tone color scheme.
I'm no professional, but I did all of the mechanical, paint and body work in my home garage using techniques featured in AR. The end result is a sort-of-convertible that is tons of fun in the sunny Colorado summer and equally useful in the snowy winter, and it has enough utility to haul drywall or a trailer.
While some might not consider such a "late model" vehicle for a vintage project, these trucks had a very long (18- year) production run. If you can find one that hasn't been run into the ground, hard parts can still be found in most salvage yards and the later fuel-injected models are reasonably economical to run and very durable. Mine has almost 200,000 miles on the original 350 engine.
I get more enjoyment out of thistruck than my vintage muscle car.
Keep up the great work on the magazine!
Jim Brzosotowicz Superior, Colorado
I Like to Participate
Like John Ball Said in your recent article on Low-Budget Vintage Vehicles, I also had to adapt to a low-cost hobby car to enjoy going to local car shows as a participant.
My low-cost vehicle is a 1984 Cadillac Eldorado that only required some minor mechanical repairs, some paint touch-up and polish, and engine detailing to bring it up to almost excellent condition.
However, I don't plan on winning any trophies as the shows I attend list all original cars of the same year together and judges walk right by the Buicks and Cadillacs to get to the Camaros, Mustangs and Corvettes.
But my car is still a lot of fun to work on and show.
Darwin Lamb Wisconsin Rapids, Wisconsin
Taking a Minimum Wage Approach
When I decided it was time to get a project car, one of the parameters was to do it on a budget that was similar to what I had available when I was in high school and had a minimum wage, part-time job.
After searching the typical local sources for a few months (ads and anything interesting I happened to see with a "for sale" sign), I decided to buy a 1959 Nomad. The car was just a step or two from the junkyard. It had been placed on a 4 x 4 Suburban frame to make a monster truck, was two feet off the ground and had a floor that was all chopped up to fit on the 4 x 4 frame. As the story goes, the work was performed by a similarly thrifty man who passed away. His widow sold it to a guy in his 20s who drove it for three months until the engine locked up at 70 MPH due to no oil.
After seeing it for sale for many months and watching the price slowly drop, I finally went to see it and decided to buy it for the asking price of $750.
I decided the off-road look was not for me and started trying to figure out if there were some newer models that would make good donors to bring it back to earth.After asking Auto Restorer, I got replies from some readers and did some more research on the Internet. This provided me the basics I needed to learn about the "X-Frames" used on that model through 1964 and I Started looking for one.
I found a 1961 Bel Air 4-door that was suffering from rust in too many places to interest most and it actually ran,sort of. I decided to buy it primarily for the frame and suspension, as they were fine and the rest of the parts would be a plus. It had some nice parts like the hood and bumpers.
Turns out it was a 117.5 CID (a 235 with three stuck valves from sitting eight to 10 years and bent push rods) and a unique flywheel-to-torque converter arrangement (two loose nuts flying around the housing and one bolt just sticking into the slot with no nut).
I stripped everything off of the '61 and kept the parts I thought I might need and would work on my '59. Then I started selling off what I didn't need from both cars on Craigslist and was able to get $170 more than the parts car cost me.
Some other ways I avoided spending a lot of money were: I used the floor out of the '61 to repair the '59. (Is it show quality? No. Is it functional and close to its original formation? Yes.) So, for the cost of the MIG wire and gas I have a floor. Someday I may spend the money on a re-pop floor, but for now this is very functional. I repaired the rusty areas on the frame with the same approach.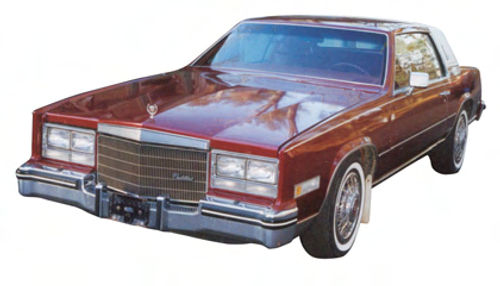 Needless to say, the "make it out of nothing approach" was taking a lot of time and it was starting to become obvious that the "good as new look" was not in the cards.
Since my goal was to be able to drive the '59 Nomad to "Back to the Fifties" in St. Paul in 2009 for its "50th anniversary," I needed to figure out a plan to get it there. I was thinking that back in the day, looks were not the end of all things.
I just wanted to drive the car and perhaps I needed to re-scope the initial project plan.
In November of 2008 I was in church and the phrase came to me "Perfection is not needed… just get back on the road." That was the push I needed to say, "who cares, it's my car and I can do what I want."
I repaired the 235, which, as it turned out, had been rebuilt at some point and has .040 over pistons.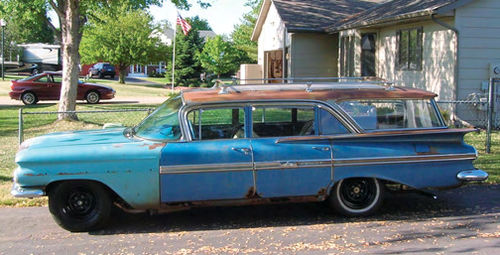 Once it was running on all six cylinders, I tested it out with an old outboard gas tank strapped to a piece of plywood to be sure it was worth putting the rest of the car back together. Last spring it was obvious I could not get to the body work and still have it ready to drive toBack to the Fifties so I made a "must have" and a "nice to have" project schedule. As it turned out, I had a fully functional car and was driving around town with 10 days to spare.
The 235 that now runs on all six cylinders is good to go and has all three bolts firmly attached to the Powerglide.
Yes, it takes time, but in Minnesota the winters are long and I really do not want to sit around just watching TV.
I had planned on reworking the brakes and suspension this past winter but as it turned out, the suspension was not as much of a deal as I thought.
It was the old tires causing most of the issues. It got a new set all around and it drives great. I also did add new shocks front and rear.
I plan to keep it drivable for the summer months and after that it is on to the body work.
Bruce Lyke Lakeville, Minnesota
Editor's note, continued: If you're working on or driving and enjoying a low-budget vintage vehicle yourself,let us know about it. Send us some images (prints or high-resolution digital) and tell us about your car or truck and why you picked it, and we'll share your ride with fellow readers in the coming months.