It's a True Pioneer In the Field of FourWheel Drive…and Its Army Jeep Heritage Is Instantly Recognized.
In a time when four-wheeldrive is commonplace on everything from a Cadillac CT6 to a Ford Fusion, it's not easy to imagine just how radical that feature was in the middle of the twentieth century. There are, however, those who've considered it.
"If I were around in 1948 and I needed a pickup," said Jared Cohen, whose 1948 Willys Jeep one-ton is featured here, "I would absolutely buy one of these. The only other four-wheeldrive was the Power Wagon and the Power Wagon was three times as big as this."
Chevrolet and GMC offered four-wheel-drive light-duty trucks beginning in 1950, but did so with a conversion package developed by NAPCO International. Thirteen years earlier, Marmon-Herrington had begun converting Ford light trucks as well as passenger cars to four-wheel-drive. Neither, of course, was designed from the ground up as a factory-built fourwheel-drive, meaning only Dodge's Power Wagon could share that claim with Willys. The Power Wagon wasn't really three times as big as the Willys— although many who've driven one would agree that it sometimes felt pretty much that way.
But besides the similarity of their general design, the Dodge and the Jeep had something else in common in that both were direct results of World War II. Dodge had begun building four-wheel-drive trucks for the military in about 1934 and in 1946 it used its wartime experience to create the slightly civilianized Power Wagon…but Willys' path in the prewar years was a very different one.
Filling a Military Need
The Jeep in any form can trace itself back not to a particular Willys, but to the BRC prototype that rolled out the door of American Bantam's plant in Butler, Pennsylvania, in 1940. After an unsuccessful run at trying to sell small cars in the U.S. and even as it had to be sensing the end, Bantam responded when the Army sought bids for a small four-wheel-drive scout car. It was courageous, desperate or both, considering that it had a 49-day window in which to design, source, build and deliver a running prototype.
The Bantam Reconnaissance Car that it handed over to the Army on September 21, 1940—the 49th day—combined in-house pieces with components such as the Spicer transfer case and axles and the Continental flathead four. It was too heavy for the Army's specifications, but it did what it was supposed to do well enough that the Army ordered more examples for further testing.
Bantam had made its point and although no one knew it at the time, the 78.5-inch-wheelbase BRC's open body and folding windshield were design elements that would continue into the next century. The flat fenders used on the Army's order of 69 BRC-60s were a big step toward giving the trucks the look associated with Jeeps of today, but they weren't the final step.
Both Willys and Ford soon assumed major roles in the project, with Willys delivering its Quad prototype on November 13 and Ford delivering its Pygmy 10 days later. Since the Army had provided the basic specifications it wanted to see in a scout car and since Willys and Ford had seen some of Bantam's design work via the Army, the three prototypes were similar with their four-cylinder flatheads and three-speeds. Taken as a group they were an evolutionary step for both the manufacturers and the Army, which ordered 1500 of each with certain modifications. The Willys was to lose weight, for example, and the flat Ford hood was to be used by all three. Willys ended up delivering about 1550 examples of its MA, Bantam produced about 2600 BRC-40s and Ford about 4500 GPs.
The design was not yet standardized, however, and despite the required flat hood, each remained somewhat distinctive. Then the Army made its decision and the Willys design with a few changes became the MB and the standard. Ford would build almost exactly the same truck as its GPW, but made one change whose effect was for economy rather than performance as its stamped sheet metal grille replaced its own earlier fabricated grilles as well as those used by Willys. The vehicle now had the look shared by the Wranglers in Jeep showrooms today.
Bantam built the last of its run in late 1941, at about the same time that Ford finished its GP production and several months after Willys' final MA. In fact, it was Bantam's final motor vehicle as all of the contracts for the standardized version went to Willys and Ford. The explanation was that Bantam was too small to produce the required volume.
In any case, Bantam built trailers during the war and produced civilian models into the 1950s before disappearing. Ford chose to do nothing with the GPW after the war, but Willys had a peacetime plan.
From the Military to Civilian Life
The MB was transformed into the CJ-2A, something for which Willys had been carefully preparing even before the war ended. Advertising sought to tie the MB's "jeep" nickname to Willys with the slogans that "in every country in the world…to millions of people…'Jeep' means 'Willys.'" The plan ultimately was successful and while Willys trademarked "Jeep," the need for promotion of the vehicle itself wasn't overlooked.
"'Jeeps' of war are still rolling off the production lines at Willys plants," an ad explained. "But the war's end comes nearer and nearer. We look forward to the postwar days when the priceless things we have learned from the Willys Scout Car, which the whole world calls the 'Jeep,' and the Willys Go-Devil 'Jeep' Engine, in 10 billion miles of war service can be built into exclusive Willys power units for work and transportation under postwar conditions."
That ad spoke of a Jeep that had been tested on a farm where it pulled a reaper, carried feed, hauled a manure spreader and herded cows. While some of the claims seemingly approached hyperbole—a Jeep pulling two heavily loaded trailers is one example—the basic point was accurate in that a Jeep actually could handle a surprising variety of tasks in agriculture, construction and business.
If that was true, why not broaden the range of Jeep vehicles?
Willys Expands Its Lineup
The Willys name still had value and the Jeep's popularity would reflect on any other products the company might add, but there was also the matter of timing. The immediate postwar period was seeing a tremendous demand for new cars and trucks to replace those that had been worn out on the home front during the fighting, so Willys jumped on the opportunity to expand.
The initial step was the two-door station wagon introduced in mid-1946, the first American all-steel production wagon and slightly odd in two ways. Besides being a two-wheel-drive vehicle wearing the "Jeep" name, its doors, sides and gates were stamped for rigidity but painted to make it resemble a woodie. A panel delivery—also limited to two-wheel-drive—followed in 1947, using the wagon's body with the rear side windows blanked and centeropening doors replacing the wagon's lift- and dropgates.
But that year also gave Willys the final piece of its postwar range, the Jeep Truck.
Supplying "Tractive" Truck Power
The Jeep Truck looked like the wagon from the B-pillar forward with its stamped door panels, simple flat fenders and almost-flat slotted grill, but that wasn't the only way in which it bore a family resemblance to the CJ-2A. The same brochure boasted that "in addition to standard two-wheel-drive models, Willys-Overland, the world's largest maker of all-wheel-drive vehicles, sets the pace with four-wheel-drive 'Jeep' Trucks that offer amazing grade-climbing ability and tractive power to go through mud, sand, snow and ice." The one-ton fourwheel-drive truck used a 60-horsepower flathead four and a three-speed manual transmission with a two-speed transfer case, a design new enough that explanations were deemed necessary. The brochure promised that it "meets every need of truck users who want the economy of two-wheel-drive on hard roads, plus selective four-wheeldrive for extra tractive power."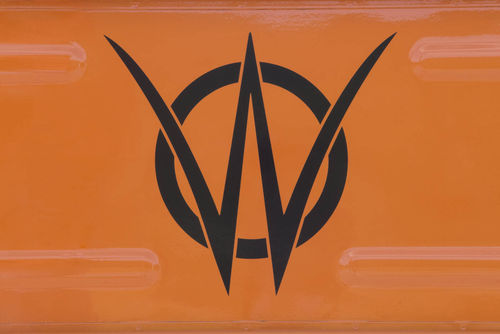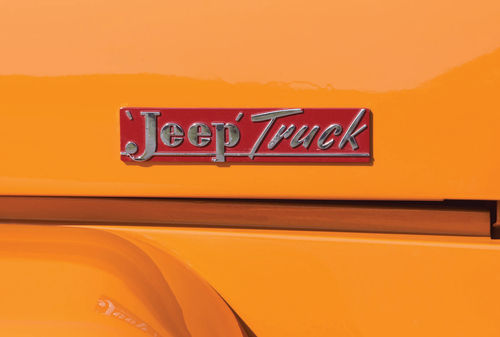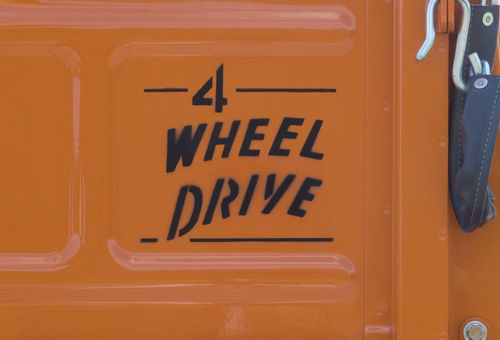 Those who knew the advantages of four-wheel-drive—or learned about them—understood its value and as Cohen said, he would have bought a four-wheel-drive Jeep Truck in 1948 if he'd been around then. He wasn't, and so in 2011, he did the next best thing.
Two Trucks Became One
"I was looking for a Willys Pickup," he explained. "It didn't make a difference what year it was, but I found one with the flat grille—that was '47 to '50—in Dalton and that was rough. And then I found a cab-and-chassis in Delaware that had started to be restored and that was also a flat grille, so I just kept on going with the flat grilles, but I knew I wanted a Willys Pickup. We've had a bunch of other Jeeps."
The truck in Dalton was just a few a miles from his Clark's Summit, Pennsylvania, home but he said that it showed the rust damage common to Jeeps of the time.
"Every one of these is rotted out somewhere," Cohen said. "…People used them, abused them. They rotted out."
Owners in many cases did what they had to do to keep using and abusing them for as long as possible and he said that crude repairs had made the Dalton truck effectively un-restorable. The Delaware truck wasn't hopeless, but it had its problems, as he said that it had been disassembled to begin its restoration some 20 years earlier. Parts had been painted and were waiting to go back on it, he explained, while the drivetrain components had also been taken apart and only partly reassembled.
"The crank was cut with standard rod bearings," Cohen recalled, "wrong size rings on standard pistons, the engine was bored and it was sleeved, stuff like that. It followed suit in the transmission, transfer case, everything was a mess.
"Everything was put together wrong. We would've rebuilt everything anyway, but a perfect example is this (Timken) rear axle. You look at that and none of the books cover it because only the early pickups used (Timkens), so nothing in any of the books we had had it. We were trying to put together a rear that we didn't take apart and it was 'well, this might go here and that probably can go there, too.' The first trip down the road in this was definitely an interesting one because we were thinking 'we know how to put the engine together because we've done that before and we know how to put the transmission and transfer case together because we've done those before, but the rears?' We were a little (nervous), but everything seems to be holding together."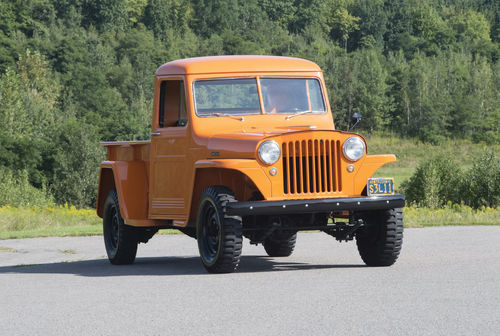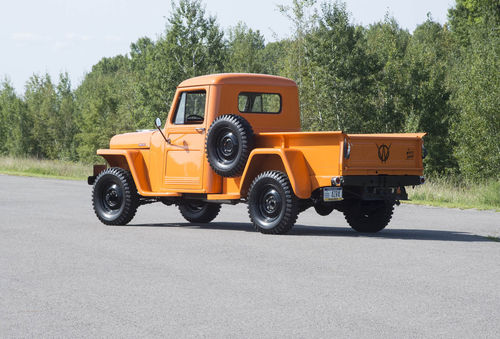 The combination of two trucks and parts from other projects meant that much of what was necessary for the restoration was at hand. Cohen said that the Delaware truck provided most of the sheet metal since it had been owned by a paving contractor and escaped rust by being used only in warm weather. Still, he said, the panels needed work.
"The bodywork had already been done on the truck and it was rough," he recalled. "It's easier to start out with the old sheet metal rather than what someone already did with bodywork. I would say I probably have a solid 50 hours with a palm sander on this cab. That was just to get back down to bare metal. Then you fill it and then you're sanding again.
"But the body was actually the nice part about that truck since everything else had been molested, for lack of a better term. The body was good, the hood was rough and it still kind of is. We have another hood that I think we're going to paint and put on because the hood was bent like a pretzel."
Hoods for the flat-grille models are tough to find and like the rest of the front sheet metal, they're not being reproduced so the extra hood he has is important. The grille itself was good, but he has a spare for that, too, because a vee design replaced the flat one in 1950. The stainless steel trim also came later, meaning that the feature truck has as its brightwork only badges, a hood ornament and the headlight and parking light doors. Cohen said a reproduction ornament replaced the pitted one on his truck and while neither a damaged ornament nor a missing one would've kept the Willys off the road, it was a different matter when it came to some of the body parts, as neither truck had its rear fenders or its box. Fortunately, he said, reproductions are available.
"The bed is new," he said. "The fenders are fiberglass repros which we spent probably a good week of bodywork on because they were rough stamps. The bed was a fantastic reproduction. We found a guy who'd found a new old stock bed for his pickup that he restored and you really can't tell the difference. It's a great reproduction box."
But not everything was that big or that easy.
"The temperature sending unit was one of the hardest pieces to find on this," Cohen said. "It's an electronic temperature sending unit which in 1948 is ridiculous because it doesn't really work anyway. It didn't really work and it still doesn't really work, it reads a lot hotter than it actually is."
Rebuilding the Engine…Again
The Willys was finished in the summer of 2015, although not quite in time to meet the deadline that he and his father, Mitch, had set for themselves. Their plan, he explained, had been to drive it roughly 100 miles to the Antique Truck Club of America national meet at Macungie, Pennsylvania, and as anyone who's restored anything can appreciate, they were still working on the truck the night before the show.
"It was about 12:30 in the morning so that would've been Saturday," Cohen said, "and we were trying to cram as much of the interior together as we could and it hadn't been driven. We'd run it once and we were thinking 'alright, let's hop in it and drive it down to Macungie.' Unfortunately, we couldn't get it done. We were holding each other's heads up. 'This is ridiculous.' So we backed out and opted for a couple of local shows first."
Disappointing, but probably a lucky break, given that a one-in-a-million problem showed up on an early ride. The initial drive in the completed truck—with its rebuilt engine—went well, but Cohen said that on its second trip, the idle in neutral would drop down as if a load were on the engine. The problem would then correct itself before reappearing and he said that cycle repeated itself on further test drives.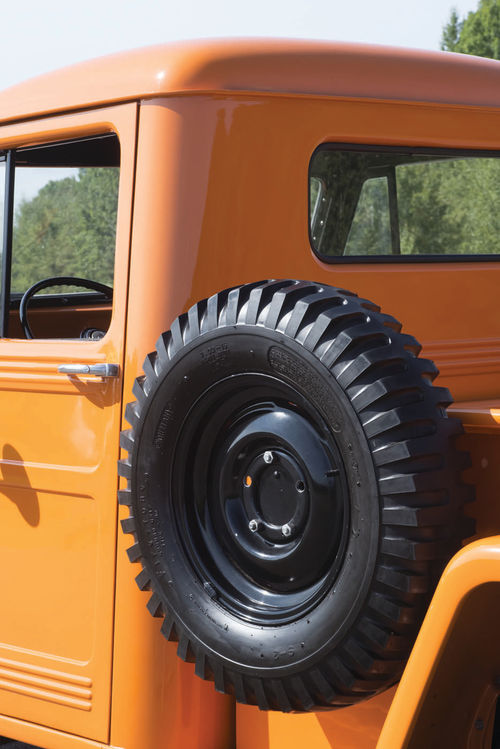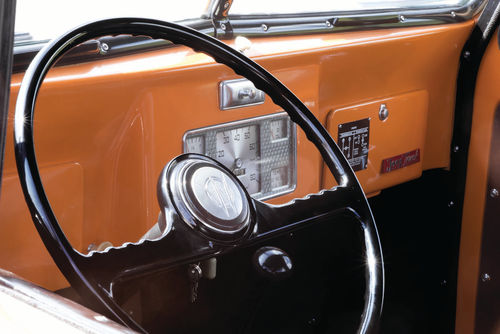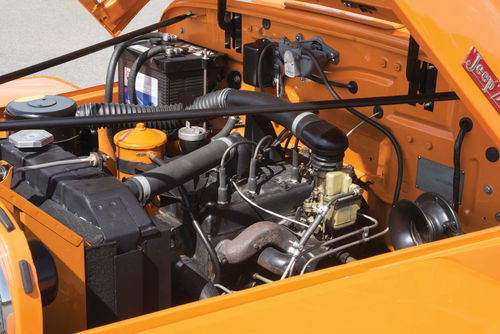 "Eventually," he continued, "we were 'well, we've got to take the engine apart again because this isn't right.' We pulled the pins, we looked at the rods, no rods were bent, the pistons were new, the rings were new, all the bearings were new. We pulled the cam and the cam looked fine, so basically, we had the engine apart except for the valves. We pulled the valves out, we were rolling the valves on the bench and no valves were bent. We were just kind of staring at each other and now we were three days into this engine and we couldn't figure it out. So the last thing we tried was rolling the tappets along the bench and one tappet was bent, so what was happening was that the tappet was rolling around and then it would be fine and then it would roll around to where it was bent and it would start to grab the valve guide."
Checking the tappets, he said, has since become a standard step on every engine he rebuilds. Similarly, a blown head gasket not long after the tappet problem's correction has shown the wisdom of carrying a replacement in the truck and everything he needs to install it.
The first real trip of more than a few miles was to the Northeastern Pennsylvania Region ATCA show in Harford, Pennsylvania. It was just under an hour, revealed no problems and showed that rebuilding the front end had been a smart move.
"It's very comfortable to drive on the highway," Cohen said. "If you're running along and it's flat, it'll go 55 to 60. When you pull a hill, you're dropping back into third-direct and it's 45 to 50. It wasn't made to go 55 or 60. That's not what it was made for, so it's definitely underpowered…
"It was about 6 o'clock in the morning as I was running down (Interstate) 81. We have other Jeeps and I really wasn't surprised at how it handled because the other Jeeps handle OK, too. This is the first one with an overdrive that I've driven and I was very impressed with that. Even for pulling hills, it's nice that you can split second. That gives you (a gear) in between second and third."
It's not especially surprising that the overdrive helps to get fuel economy only into the low teens—the Willys does, after all, have 5.38 gearing—but as he said, it keeps up with traffic at least on the level. A long trip, though, might be trying under some conditions.
Avoid the Middle Seat When Possible
"This was advertised as seating three," Cohen said. "Three very small people. It's not a foot-room problem. It's the three-across problem. That gets tight."
A comfortable seat somewhat offsets the hard ride, but for the unfortunate passenger sitting in the middle, footroom actually would be a problem considering that he'd need to contend with the shifters for the transmission and the transfer case. The latter might surprise owners of many modern vehicles whose shifting—if any—into four-wheel-drive is handled with a button, as Cohen knows there's one question he can count on hearing regularly.
"'Why are there so many sticks?'" he said. "All the time."
Trying to answer that doesn't always work well, as some understand and some don't.
"You can tell the difference," Cohen said, "by the blank look on people's faces or the not-blank look on people's faces," 'Well, there's a planetary gear on the transfer case' and usually, they'll just kind of go like when a dog doesn't know what you're saying to him."
While others snicker when he mentions the 63-horsepower four or instantly recognize it as some kind of Jeep because a relative or friend had one, he said only rarely does anyone comment on the rarity of a flat-grille model. The Chrysler Omaha Orange isn't anything like the paint that was available when the truck was new, but it makes the Willys a magnet for those with cameras and impossible for nearly anyone to overlook.
Still, there are those who would notice it and appreciate it even if it wore the most effective camouflage paint. They're the drivers of much more recent Jeeps who spot the feature truck on the road and acknowledge it with the Jeep Wave.
"Everyone with a Wrangler," Cohen said. "I get that all the time with this."