Feature Restoration 1945 Studebaker US6
Like Many Civilians, It Put On a Uniform and Went Off to War. But Even In a Coat of OD, You Can Still See Its Roots.
MILITARY VEHICLES RANGE from intimidating tanks to likeable jeeps, and while nearly all of them look the way they do because of the work for which they were designed, a few manage to stand out.
A Studebaker US6 is one that's unlikely to be mistaken for any other World War II American truck, despite its being almost identical in concept to the widely known GMC CCKW. That's due as much to its combination of styling features as to quirks of history. That inability to blend in was the big reason that Dave Firstman of Easton, Maryland, bought the 1945 US6 featured here.
"It's very different-lookingfromany of the other trucks used during World War II, very unique," he explained. "(With) the swept-back cab, the straight fenders—which are unusual, a lot of them used rolled and turned fenders—it's just the overall look of the truck."
It Started With a Wagon
The US6 was built from 1941 to 1945 by Studebaker, which by that time was almost ancient in comparison to other automakers supplying the military. As a business, Studebaker could trace itself back decades before the automobile's existence to 1852, when it began building wagons. It was not until an even half- century later that it started producing vehicles that didn't require horses.
Although Studebaker did not immediately abandon wagons, the 1902 line of electric trucks reached up to a four-ton model and with improvements and additions would remain in production through 1912.
The company took no chances, how- ever, and followed the electric's introduction almost immediately with the announcement of a gas-engined car based on the Garford. By 1908, the relationship with Garford was being phased out in favor of a marketing agreement for the E-M-F, a 30-horsepower four, in 1909, and for the 20-horsepower Flanders four in 1910. (For more on an E-M-F, see the January issue.)
The E-M-F and the Flanders soon became Studebaker automobiles, but things were also happening to a limited extent with gas-engined commercial vehicles in those years. Initially, it was simply a matter of building a light-duty truck on a passenger car platform. But in 1913, Studebaker offered a three-quarter-ton model that was designed to be a truck. The company was on its way to being a serious builder of commercial vehicles and by World War I sold one- ton trucks and buses. Professional car chasses followed in the 1920s and at the end of the decade, Studebaker was selling trucks rated at up to 31⁄2 tons.
Like the rest of the industry, Studebaker struggled through the Depression and the business challenges of that time. And given the number of truck-builders large and small then competing for market share, Studebaker knew that it needed to stand out from competitors of comparable quality.
Fortunately enough, the company had a nearly perfect resource from which to draw in the form of its passenger cars. Studebaker was already building some attractive trucks, but other manufacturers were doing the same and attractive or not, nearly all of them still looked like trucks. Looking to the passenger cars did- n't mean making cars into trucks, but it did mean picking up their styling—and at least some of their sheet metal—and then applying it to the commercial vehicles.
Studebaker's initial experiment pro- ducedavehiclewithalookthat'srarely criticized, the Coupe Express of 1937. The concept behind it was a simple one, in that a pickup box was placed behind a cab and nose that was the front half of a Dictator passenger car.
Unlike the much-later Ford Ranchero and Chevy El Camino, the Coupe Express' cab was separate from the box, which could be deleted if the customer needed to install some type of special body. The feature it did have in common with the Ranchero and El Camino, though, was appearance.
The Coupe Express was a noticeable package that was nicely trimmed, complete with a side mount spare, but the market was not as receptive as Studebaker hoped it would be and after re- stylings for 1938 and 1939, the car-based pickup didn't return for 1940.
The name did return for 1941, though, and since Studebaker had learned a valuable lesson, the 1941 Coupe Express was almost nothing like the 1939 model. Beyond the shared name, what was now a completely conventional pickup—also known as the M series—inherited one other feature from its ancestor in that its appearance was related to that of contemporary Studebaker passenger cars. The nose was pure truck, but the cab was heavily influenced by the Champion and even shared some of its components. The steeply angled windshield gave the truck its Studebaker identity and when combined with the pointed grille and hood, the result was a pickup that was obviously a truck and yet obviously more than a mere utility vehicle.
The Coupe Express returned for 1942 and then, with the rest of the industry, Studebaker cut short its production of civilian vehicles when the United States entered World War II.
Studebaker was among those already in military production when the war began, as it had been building the US6 since June of 1941 and since the M series had been handy, its cab found its way onto that truck, too. There are differences—the military version has top mounted wipers, for one—but a closed cab US6 gets much of its distinctive profile from what was a similarly distinctive civilian truck.
Most Didn't Come Back
"It just has a unique look," Firstman said, "and it's got a cool history, because most of the trucks, of course, were Lend- Lease trucks."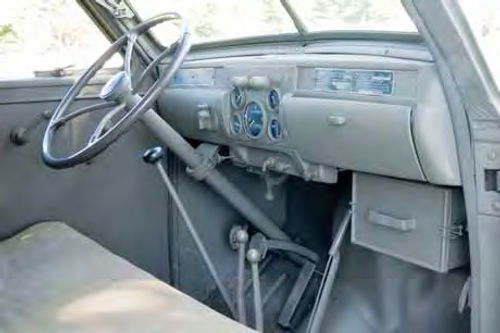 Studebaker built just under 200,000 US6s—Reo produced another 22,000 that were identical—and the majority went to the Soviet Union and other countries. That explains one of the slightly contradictory oddities of the US6: It's a truck that's widely known and well-regarded far beyond military-vehicle circles, but it's seldom seen in the United States because unlike other World War II vehicles, not many came home. There's an obvious message in that for the collector.
Firstman bought the feature truck from Kevin Kronlund of Army Cars USA in Spooner, Wisconsin, in 2005. It was the first that he looked at, although he'd been hunting for a US6.
"They're very hard to find," he said. "Most of the ones I was looking at online were overseas, either in Australia or in Europe." Even that statement requires some explanation, as "hard to find" might refer to examples in good condition or US6s in general.
"A little bit of both," Firstman said. "You've got parts trucks that you can buy and you could start that way. You could buy two or three parts trucks and build up to try to make one, a very expensive way to do it."
This One Didn't Have to Serve
It's hard to decide whether Firstman or his Studebaker was the luckier of the two. US6 production ended in August 1945 and the feature truck was built in July and given its USA registration number, the one it wears today.
"According to the story," Firstman explained, "the truck was given to the military, the U.S. Army. It was made for the U.S. Army, delivered without a cargo body as some of them were. It wound up being sold as surplus immediately after the war, so the truck never saw action.
"A farmer bought it; it went out to the Midwest. According to a story handed down from an owner who'd had the truck, I think she might've passed through three or four hands. The farmer had stated that the truck was actually still in its packing crate when he bought it, that he actually had to assemble the truck. That's how new the truck was."
Over more than half a century, of course, it didn't stay that new, but it remained new enough that Firstman described it as a time capsule.
"Nothing under the hood was changed other than some ignition wires and a coil," he said. "All the data plates are original, the gauges are original. I had to put a new core in the temperature gauge. The switches, everything is original in amazingly good condition. I had to replace the headliner because some mice and a squirrel got in there and ate it up. But it had very little rust."
Still, as with most restorations, what the truck needed was slightly more involved and there was the matter of time.
"I started taking her down late summer (of 2005) and into the fall,sandblasting, soda blasting, the engine takedown," Firstman recalled, "and I had her all back together and running, I believe, after New Year's. I worked hard on it. I'd go three weeks working solid because work was slow and then I'd have to go back to work—I'm self-employed—but the total restoration on her took me about a year and-a-half.
"There was about an eight-month lag where I didn't do anything because I was showing it. It just needed fresh paint, a little of this, a little of that, and I waited until summer(2008)to finish that up. So, technically, it was about an eight-month restoration project."
1945 Studebaker US6
GENERAL
Six-wheel-drive military cargo truck
ENGINE
Type Six-cylinder inline flathead Hercules JXD, gasoline
Displacement 320cu.in.
Borexstroke 4in.x4.25in.
Compression ratio (:1) 5.82
Carburetor Single-barrel downdraft
Power 38.4 hpS.A.E
DRIVETRAIN
Transmission Five-speed manual
Transfer Case Two-speed
SUSPENSION & BRAKES
Front Leaf springs, Timken driven axle
Rear Leaf springs, Timken driven axles
Brakes(f/r) Drum/drum, vacuum-assisted
STEERING
Recirculating ball
MEASUREMENTS
Wheelbase 13ft.6in.
Length 20ft.10.6in.
Height(top of bows) 8ft.10in.
Width 7ft.4in.
Track(f/r) 62.25/67.75 in.
Weight 9875 lb.
Tire Size 7.50x20 eight-ply
The Studebaker had carburetor problems when he bought it, but it ran well enough that he was able to drive it off of the trailer on which it had been delivered. The fix turned out to be little more than cleaning the carb.
"Kevin put a new clutch in it,"Firstman said. "He put new brakes and brake lines in it; a lot of the mechanical was already done. The engine needed no work at all. The compression's good, it's not burning a whole lot of oil, so I didn't even bother pulling the head off. Why fix it if it's not broken? And who knows what kind of can of worms you're going to get into if you start pulling the engine down? We pulled the engine down enough to do the engine restoration—the repainting—so it was completely stripped down to the engine block itself. Vintage Wiring of Maine, Joe Hall, made all-new wiring for it using the original style braided-cloth wire."
But what if the truck's mechanical needs had gone beyond cleaning the carb, painting the engine and replacing the wiring? One consideration is that the six-cylinder engine isn't a Studebaker, but a Hercules JXD that was used in other trucks of the era and in several military vehicles during World War II. Some driveline components are the same as those of some GMC CCK Ws; the Studebakers Timken axles,for example, are identical to those used on some— but not all—of the GMCs, which also used its own axles and they don't interchange with the Timkens.
There's something else that the US6 has in common with the CCKW, the International M5-H6 and a host of other military trucks of the period and it creates one of those quirks of history mentioned above.
"Studebaker designed the open-cab for all these military vehicles—the GMC, the Chevy, the Diamond T, Reo—all these trucks that have open cabs," Firstman explained. That was a Studebaker design. They're identical. They're all the same mil spec; they might be a little wider for the larger five-ton-and-up trucks, but they're all the same configuration."
The closed-cab version with the styling that Firstman finds so appealing is by far the US6 built in the greatest numbers, which might seem odd since Studebaker designed the open cab, but it all goes back to the Lend-Lease arrangement that sent so many of the trucks to the Soviet Union. The Studebakers were cherished by the Soviet military and served long after the war's end, but while an open cab would have made no difference as far as the trucks' operational capabilities were concerned, it would have been extremely ill-suited to protecting its driver and passengers from the bitterly cold winters there.
Open-cab trucks weren't the only US6s to be different, as a 6x4 version was also built. The main distinction is that its front axle is unpowered, but other than that exception, it looks just like a 6x6. The four-wheel drivetrain makes it a better truck over the road, since that was its purpose, and although the front axle on Firstman's US6 can be disengaged, he doesn't drive it often.
"I trailer it wherever I have to go," he explained. "We have local car shows in Easton.Ilive about six miles away and I'll drive it to that event because I can backroad it right into town, but for the long distance events, I trailer it. I just don't want to put the wear and tear on the drivetrain and the engine.
"It's conservation.I'm not going to go in the woods and pull logs with it and I'm not going to go running it down the highway at 35 or 40 miles an hour. It's just too hard on the front end. It's just too hard on everything.
"I'm out more to preserve it and show it than to be functional"
Setting aside the idea of absolutely minimizing wear and tear on the Studebaker and accepting that it's going to be happiest at about 30 miles per hour, Firstman said he's certain that the truck is ready to cover 500 miles or more. Anything that might go wrong, he said, would be the kind of minor problem that owners of old vehicles deal with as an annoyance.
"It's six miles per gallon, I believe, that truck gets on a 30-gallon tank," he added. "It would make it, yes."
Better Be In Good Shape to Drive
Firstman said that although he hasn't driven it over any long distances, the "minimal amount of cushioning" would prove to be fatiguing. The steering, too, would tire the driver if the trip required frequent maneuvering.
"I can't imagine the guys that were running these trucks full-time," he said. "We're talking unimproved, bombed-out roads, fording rivers. You've got to be young and strong to withstand that."
The slow speeds at which those trucks likely traveled would've eased the trip somewhat, but in today's world, a leisurely pace is often impossible or at least unrealistic. And whether anyone else likes it, the Studebaker won't go any faster and thus, other drivers will notice it.
"Yeah," Firstman said, "because we're going to hold up traffic. It'll only do 35, so we're probably going to upset them, but sometimes, you get a thumbs-up."
Even when being trailered, he added, it draws attention, and a stop at a convenience store or gas station typically attracts a small crowd. Firstman said it's rare that anyone can identify it or narrow it down to much more than its being "an army truck" unless they read the VIN plate. The common questions are the ones that would be expected—the make and year—but,surprisingly, he said that the Studebaker name is not completely unrecognized. It's better, though, at a truck stop.
"When you mention 'Studebaker,'" Firstman said, "most of those truck drivers know what that is. They ask the more-technical questions about the trucks, so you can sit and talk a little more to a trucker about it just because that's their life."
Taking a Turn Behind the Wheel
But if you're sitting and talking about the Studebaker, you're not driving it.
The Studebaker Isn't a huge truck, but while sitting and talking, it looks big and has an appearance that makes it seem like it should be hard to drive. It isn't, as I found out after Firstman offered me my chance at the Red Ball military vehicle rally. Switching on the ignition and stepping down hard on the clutch pedal brought it to life, but since it was cold after sitting for several hours (and since I'd never driven it before), I took Firstman's advice and started in first gear
That bettered my chances of not stalling it and enabled me to ease it gracefully through a tight space and then through a more-than-90-degree turn. Once on the straight stretch that followed, I shifted up to second and almost immediately had to step on the brake when a pedestrian chose to challenge us for the right of way. That brought the truck down to a very slow walking speed (the pedestrian apparently reassessed the odds and backed away), but the Hercules and the gears produced enough torque that I was able to gently give it gas and get moving again.
By then, it was time for a 2-3 shift and while I'll Readily admit that I believe truck shifters are simply right, the Studebaker's was even better than most. Its shifting was so right that less than a half-mile— and less than a half-dozen gearchanges—into the ride, I needed to make a 3-2 downshift for another extremely sharp curve.
Every driver likes to think he can shift an unsynchronized transmission up or down without a grind, but most will admit that it doesn't always work that way. So when I dropped down one gear with no noise and no jump, Firstman and I looked at each other and it's hard to say who was more surprised. Part of it was luck, of course, and part of it was me, but the Studebaker's Shifter operates so smoothly and so precisely that the truck deserves at least an even third of the credit.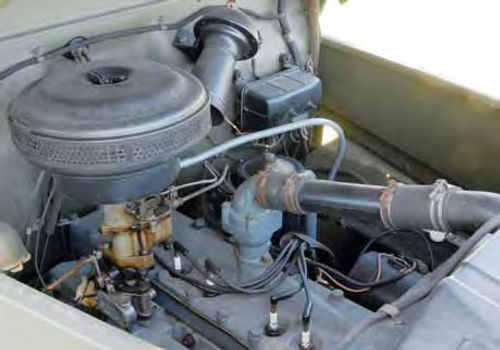 Besides the shifting, our short trip showed that the US6 cab actually has adequate room for a tall driver,so it must have seemed cavernous to the average World War II soldier. But even with its good seating position and easy shifting, it's still a truck. A long ride on a suitable road, though, would be fun and whether it would be difficult really isn't the point.
Firstman agreed, recalling his inaugural drive in the US6.
"Awesome," he said, "incredible. It was actually my first two-and-a-half-ton truck that I ever restored, so I'd never driven one of these before, I'd never restored one.
"It had a totally different feel than the three-quarter-ton weapons carriers that I'd restored in the past. I'd restored two of them, so it was a thrill just to be able to drive a deuce-and-a-half.
"But with the Studebaker, it was more the look than the feel.
"It's such a cool-looking truck."