Would You Believe This Truck Was Worked Hard & Even Abused? Obviously, a Lot Went Into This Restoration Project.
KNOWING HOW HARD his 1957 GMC pickup had worked for its first owner didn't stop Pete Yanoshik from buying it…nor did the fact that he'd started out that day looking for a Ford Courier that had been described as a potential restoration project.
"I drove out there and found the Courier sitting in the field," Yanoshik recalled. "It was there a long time—so I looked at it and it was restorable. I knocked on the door of the nearby house and no one answered. I went back again; no one was around."
On the way back to his Lofty, Pennsylvania, home, he stopped to visit an old friend who'd once owned an American Motors dealership. The GMC was there and since it had been a fixture around the dealership, Yanoshik recognized it at once.
"We did business together for many, many years," he said, "but when he retired and sold the garage, we just kind of lost contact. I thought 'I'm just going to stop and chat with him a little bit.'
"We started talking and I said 'what are you going to do with your old shop truck, John?' 'I'd like to get it running again,' he said. 'I have some things I want to haul and I could use it again.' I said 'you wouldn't be interested in selling it, would you?' He replied 'I don't think so.'"
The owner's wife, though, suggested that selling it would be the practical move since he was unlikely to use it again. That brought the concession that he'd think about it and Yanoshik should therefore return in a couple of weeks. He did so and Yanoshik had histruck.
Rapid + Reliance = GMC
That was in 2001, when GMC could trace itself back almost a century to the 1904 establishment of Rapid Motor Vehicle. The earliest Rapid was a basic two-cylinder truck riding an 80-inch wheelbase, but the catalog broadened quickly and by 1909, Rapid was even producing buses. Its success attracted the attention of William C. Durant, who bought Rapid as one of the building blocks of General Motors.
Durant apparently reasoned that if a single truck line was good, a pair of truck lines was better, and he bought Reliance Motor Car as well. Founded in 1904 as a builder of passenger cars, it went to trucks in 1906 and was a firm believer in two-stroke engines.LikeRapid, it offered a range of trucks and buses even before coming under Durant's control. GM then took the logical steps of combining the two truck lines and phasing in a new name for the vehicles, GMC.
Four-cylinder Continentals soon replaced the earlier engines and World War I Saw thousands of GMCs provided to the military. It was a performance that would be repeated during World War II in far greater numbers and remembered far more clearly, thanks primarily to the CCKW. GMC built roughly 570,000 examples of the CCKW—the flat-fendered six-wheel-drive that's the essence of "army truck"—in addition to the other vehicles it produced for the war effort.
Furthermore, unlike passenger cars, light trucks were not completely out of production during the conflict as a relative few were built late in the war; the reasoning being that businesses needed them to replace the trucks that had been worked far beyond anything that had been envisioned for them.
Putting More "Car" Into the Truck
By World War II passenger cars and light trucks had long since parted ways and while they continued to share components such as engines and transmissions, the era in which they differed mainly in their body configurations was mostly forgotten.
But the line separating cars from trucks began to blur again in the late 1940s as manufacturers started to recognize that trucks could be a little more civilized without giving up any of their capacity for work. Dodge,for example, in 1948 introduced its Pilot-House trucks while Ford's entry that year was the Bonus Built line. With their smoothly modern styling, better seating, improved visibility andmore room, both were miles from the trucks they replaced. The same was true when it came to the trucks from General Motors.
The 1948 GMC, for example, was touted in advertising as "Better looking! Better riding! Better built!"
"GMC's new cabs circulate fresh air by a revolutionary ventilating system," one ad explained. "And you can have forced air heating and defrosting, too, if desired…Rear window vision increased 60 percent…door openings four inches wider…three-point cab mounting and rubber stabilizers…seating width increased eight inches…windshield vision increased 20 percent…"
There was more, but that was enough to show that GMCs were heading in a new direction when it came to accommodating those who used their trucks, and such fresh thinking naturally extended to styling.
The 1948 model moved the headlights from their prewar location atop the fenders to almost complete integration just slightly higher than the uppermost bar of the grille. The hood was much more rounded, as were the body sides, but if the revolution was underway, it hadn't yet reached into the engine bay.
GMC had long been faithful to sixes in its light-duty trucks and by World War II it had settled on overhead-valve engines. So for 1948, the 93-horsepower 228 was simply carried over. The six would become a 125-horsepower 248 by 1954, the year that styling would be fine-tuned with a one-piece windshield and a wider grille extending out under the headlights to provide a hint of the coming transition to the totally redesigned 1955 line.
In fact, the 1954 and 1955 GMCs were from different worlds and GM wasn't shy about promoting the new GMC and its Chevy twin.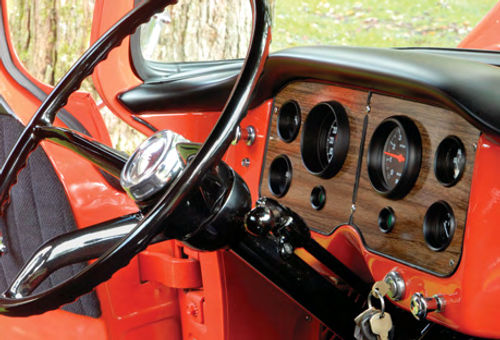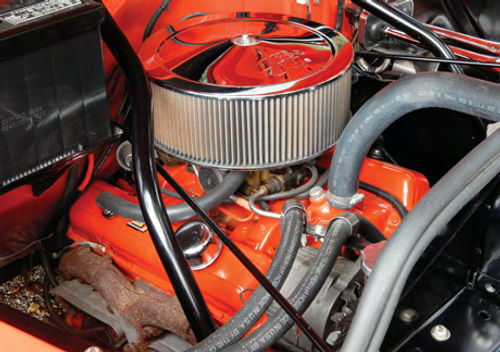 "Chalk up another win for our General Motors designers and engineers," it advertised. "Just as they have set new standards in the family car field—so they've reinvented the industry's concept of how a truck ought to look, ride and work. Find new features like panoramic windshields, new comforts to lighten driver fatigue." It was the same kind of talk that promoted "the family car" and why not? The trucks still seemed tall and their hoods still rose above the fenders, but their overall curviness was giving way to a trendy modern angularity. It hadn't yet occurred to GM's advertising agency that someone might want a truck for a personal vehicle—a market years in the future—but car-like features were at the fore. That focus, though, didn't come at the expense of practicality or the capacity to work, as the same ad stated that "as for power—General Motors Trucks offer you the ultimate for your particular needs—whether high compression six or V-8 engines or GM pioneered Diesels." Both truck divisions had introduced their modern V-8s that year, Chevrolet's a 126-horsepower 265 and GMC's a 155-horsepower 287 courtesy of Pontiac.
A Major Rebuild for a Former Work Truck
By the time Yanoshik's '57 truck was built, the GMC V-8 was up to 347 cubic inches and 206 horsepower. The big visual difference from 1955-56 trucks was the grille, which was simplified with less massive horizontal bars. A"V-8"emblem high on each fender drew attention to vehicles equipped with the Pontiac engine, but that badge didn't apply to the feature truck.
1957 GMC Pickup
GENERAL
Front-engine, rear-drive, half-ton pickup
ENGINE
Type Overhead valve, inline six
Displacement 270 cu.in.
Bore x stroke 3.78in.x4.00in.
Compression ratio (:1) 7.5
Carburetor Single-barrel downdraft
Power 130 hp@3600rpm
Torque 238 lb.-ft.@1400rpm
DRIVETRAIN
Transmission Three-speed manual
SUSPENSION & BRAKES
Front Solid axle, leaf springs
Rear Live axle, leaf springs
Brakes (f/r) Drum/drum
MEASUREMENTS
Wheelbase 114in.
Length 185.6 in.
Weight 3390 lb.
Track (f/r) 60.5/61 in.
Tire Size 6.70x15
"It was a 270-cubic-inch six," Yanoshik said. "It ran well. The truck only had 32,000 miles on it."
At 130 horsepower, the 270 was no match for the 347, but he wasn't thinking about that when he swapped it out for the Chevy 350 that's in the truck today. His reason might be surprising, but there's nothing at all wrong with it.
"I wanted a V-8 in it for the sound," he said, "and several people told me 'don't take that engine out. Get headers. Put headers on and you'll get a really nice sound.'"
Nevertheless, the engine did come out and a Chevy cube-van owned by a relative donated its rebuilt 350. The GMC's restoration was already underway by then and the project was a big one; Yanoshik agreed that the truck's condition was so poor that even most body men would not have wanted it.
"Maybe one out of 10 would have," he said. "The bottoms of the doors were rotted out; the running boards were rotted away as were the bottoms of the fenders. The box had 1000 dents in it because it was in general use (hauling) rocks, coal and 55-gallon drums of oil."
The fact that it was a work truck explains the damage to the box despite the low mileage, but the rust is another matter. Chevy and GMC trucks like Yanoshik's were extremely likely to develop rust problems unless they were given the best of care or driven in near desert conditions, but this one suffered from more than just occupational hazards. It was, Yanoshik guessed, lent out on more than one occasion.
"Anyone who owned a pickup back then," he explained, "(knew) it was always up for grabs. 'Hey, I'm moving. Can I borrow your truck?' So that was the story on that."
Such loans don't add up to an automatic death sentence for the truck, but they do increase the odds that it was abused. Whether that happened is purely a guess, but Yanoshik does have a few facts on what his GMC went through outside of the dealership. He learned some details of its off-road adventures from the previous owner's son.
"They used to take it up the mountain and beat the daylights out of it," Yanoshik said. "The first time he saw it after I redid it, he just shook his head. 'I cannot believe it. I'm lost for words.I Remember how we used to beat the heck out of it.'"
That points to a possibility to be considered seriously on any pickup that's hoping for a restoration. No matter what make it is, there's at least a chance that it was driven into the ground and used up before it was parked. If there's even a suggestion of that kind of lingering death—multiple scrapes on the frame would be one red flag, as would numerous dents distributed throughout the body—careful inspection becomes far more important. A bent frame is probably the worst problem to find, but a badly abused truck is sure to have plenty of others and the wise choice might well be to move on.
Despite what it had been through, though, the feature truck never got that bad. Finally, the day came when it literally was put out to pasture.
"It was sitting along his hedgerow," Yanoshik recalled. "He had a little farm down there. It was amazing, it was sitting on kind of an angle and the box was half-full of water. It really surprised me that the wood held the water. It swelled up and there was a lot of stuff in there."
Holding water isn't the same as being nice enough to leave un-restored, so he bought a kit to replace the rotted wood and rusted strips on the bed. The box with its 1000 dents was next and it proved to be the most time-consuming phase of the restoration.
"It was in pretty rough shape," Yanoshik said. "I spent hours and hours and hours. I didn't need to be concerned only with the outside, but even more so with the inside. You've got double trouble. Anyone could put cab corners on or a door bottom, but this was something where you had to do both sides. You wanted both sides to look good.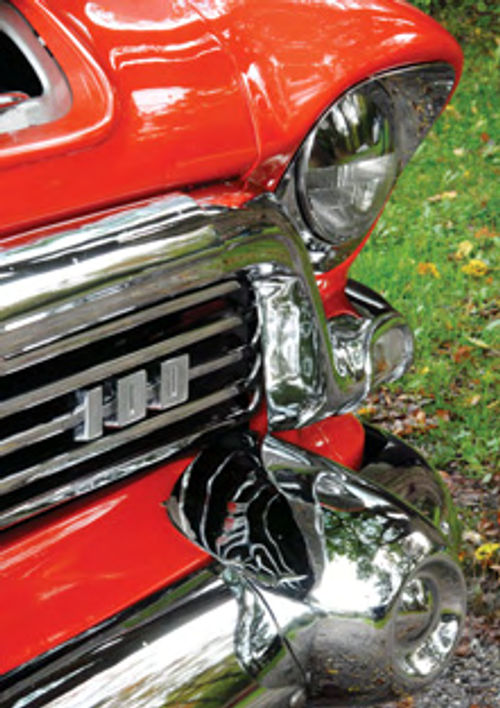 "I had to straighten (the box). The tail-gate would latch on one side, but not on the other. They probably had something in there that rolled into the side."
Beyond the box, the truck overall had more rust problems than just those mentioned above and much of the damage was about what would be expected on a 1955-59 GMC or Chevy. The driver's side was worse—the passenger side might have been partly sheltered for a time by a building—with rust on the cowl, the cab corner and the leading edge of the rear fender. The passengers ide's cab corner and fender were also rusted, but less severely, and both front fenders needed new metal in the headlight hoods and the heels.
Yanoshik said he was able to remove the minor rust in the seams between panels on the cab; left unchecked, that would have been almost guaranteed to turn into a disaster. The truck showed large areas of surface rust from its 18 years outside and that was addressed with careful sandblasting. There were, however, some positive discoveries along the way.
"The floor wasn't bad," Yanoshik said. "It just had a couple of small holes in it and I was able to patch them. That was surprising. Probably the reason that it didn't rot was that it really wasn't used that much and there wasn't much snow carried in on shoes. The running boards were shot, but there were only a couple of little holes (in the floor) right near where the cab mounts bolt. It was a little weak around there.
"(The cab mounts) were good, but back in those days, they used a really good quality of steel, not like today. I've fixed '80s and '90s pickups and the cab mounts were already shot. Finally, it gets to the point if it's a stick that you can't even shift. I've seen that."
With the exceptions of the running boards and the cab corners, Yanoshik fabricated all of the repair pieces.
"I redid the fenders and the running boards and the doors," he said, "and fit everything back together in primer.
"Then I took the cab off the frame. I took it right down to the frame and blasted it. There was a lot of surface rust and it was pitted, but there were no holes from rust in the frame."
That was a nice break and ofthe several that came his way, one dates back to the day his truck rolled out the factory door.
"It was just the cheap one," Yanoshik said. "It didn't have any chrome on it; there was only one sun visor in it, one mirror on the driver's side."
Maybe that doesn't sound important, but unlike the trim for contemporary Chevrolets, pieces for GMCs can require hunting. And patience.
"The chrome around the windshield?" Yanoshik asked. "I just put that on it this past winter. A friend of mine located it on the Internet. A yard out in Kansas had it. I looked and I asked hundreds of people about that chrome. They do make it aftermarket, but the quality of the chrome isn't good. It's like aluminum. It doesn't shine. I wanted the original and luckily, I found it."
He's right that it was lucky to find the trim, but that doesn't compare to what happened when he had the grille plated. The arrangement was made to drop off the pieces with a plater at Carlisle and pick them up at a later show. Yanoshik did just that, but since he wasn't ready for them when they were completed, he set them aside.
"A year later," he recalled, "I went to put them on and they didn't fit. They were similar. There's a cutout on the '57 for the grille to fit in, where the '55 more or less has just a bar in it. That was the difference. And I would've never known, but I just happened to be at Hershey and I looked at a truck and I noticed on that how the grille fit behind the bars."
The plater, he said, was suspicious, believing that the work had deteriorated in storage and Yanoshik was trying to have the pieces replaced. He tried to explain that there was nothing wrong with them, but they were not the ones for his truck. Eventually, he convinced the owner of the company to look at the grille pieces at Carlisle and to have the correct set for a 1957 there.
"I went to Carlisle and showed them the parts," Yanoshik said. "They finally accepted it, but guess what. They couldn't find the '57 set.They'd misplaced the parts in a trailer. So they took my parts; I had no grille parts and I thought 'oh, boy, how am I ever going to get them?' Thank God, they did come across them."
GMC Parts Can Be Tougher to Locate
The lesson is simply that an unrestored pickup like the feature truck should be as complete as possible when it comes to GMC-specific parts, as a grille for a 1957 Chevy pickup would almost certainly be easier to find while locating the GMC grille might take some effort. Fortunately, some Chevrolet parts are identical; most of the sheet metal is freely interchangeable, as are the windows, which were not tinted when the truck was delivered.
"The glass was getting foggy," Yanoshik explained. "It wasn't broken, but it was getting foggy."
The brakes on this particular GMC also benefited from the Chevy connection since the front discs are a conversion using Blazer components. Yanoshik renewed the entire system and added the discs for the obvious reason.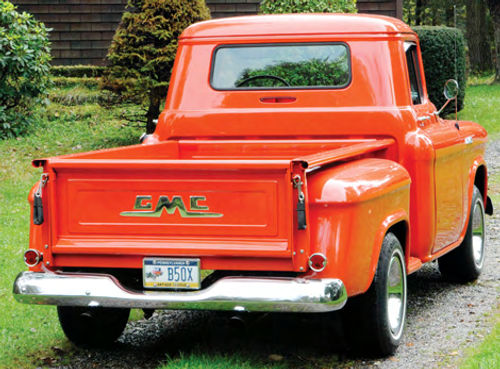 "I tried to make it as safe as I could," he said. "Years ago, when this was all we knew, the drums were OK. But when you drive today's vehicle, you put the brake on and you still go nice and straight,so you kind of get spoiled. That's why I put them on there. I drove it for a year or so with the drum brakes. I had the drums machined, all new lines, new cylinders, everything, and the brakes worked fine, but if you really got on them, the truck could pull either way."
The idea of better brakes was a good one as Yanoshik uses the truck. The trips might not be long ones—50 to 75 miles—but they're long enough to prove that it drives well.
"The only time that it's hard to drive," he said, "is when you want to park it in a tight spot without the power steering. That's why the steering wheel's so big, for the leverage. But on the road, it handles really nicely. No problem at all to steer it when you're doing 45 or 50."
I Had a Chevy Like Yours
The pickup draws attention, he said, and many of those who see it can guess that it's from the 1950s, but they're frequently surprised that it's not a Chevy.
"Really," he observed, "you don't see many GMCs around. Even in the magazines, you don't see them often."
So maybe some who look at the truck and ask about it just assume that it's a Chevrolet. That could explain how nearly everybody's father had one like it.
"Oh, yeah," Yanoshik said. "I get a lot of those stories."