Oregon's "World of Speed" Is Up and Running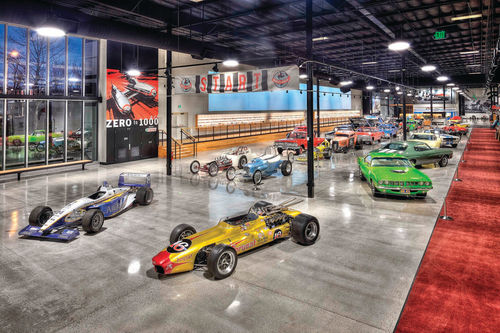 AT THE BEGINNING of the year we told you about an automotive museum, the World of Speed, that was scheduled to open in Wilsonville, Oregon, just south of Portland. It's been up and running for a few months now, so we figured it's time to take another look at the facility and what it has to offer.
This museum focuses on motorsports, so what you're mostly going to find are racing and other high-performance vehicles and speed memorabilia instead of the everyday vintage cars and trucks that inhabited our roadways in decades past.
For example, if you recall our January article, we talked about the life-size banked "Daytona Turn" that was under construction. It has been completed, and here's how it's now described by the museum:
"The original Daytona tri-oval course is 2.5 miles long with 31-degree banking in the turns and 18-degree banking at the start/finish line. The tri-oval shape was revolutionary when conceived in 1957 as it greatly improved sightlines for fans. The World of Speed Daytona display is a 15-foot-tall, 44-foot-wide exhibit with the exact inclines of the original speedway and features four vehicles from legendary NASCAR drivers including Dale Earnhardt Jr.'s 2000 Chevy Impala, Jim Vandiver's 1974 Dodge Charger, Terry Labonte's 1988 Chevy Monte Carlo and Cale Yarborough's 1979 Oldsmobile 442. This exhibit also includes race suits and other memorabilia from more than two dozen NASCAR drivers including Richard Petty, Tiny Lund, Tim Richmond and Jeff Gordon, amongst others."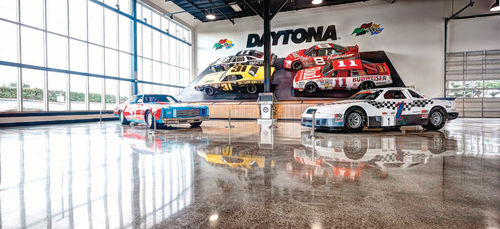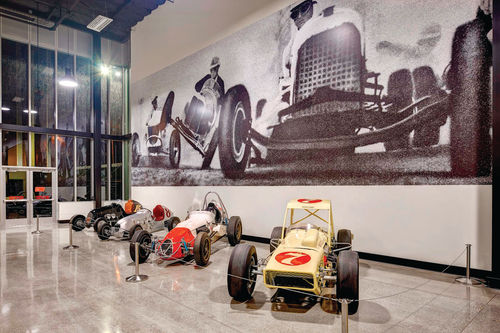 Another exhibit, called "Zero to 1000 mph" looks at the history of the land speed record. Alongside it are cars from Mickey Thompson's fleet including his original Assault 1, built on a 104-inch Dragmaster chassis and fitted with a '57 Pontiac 303 cid engine that carried a Hilborn-injected, chain-driven, 6-71 GMC blower pumping a mixture of methanol and nitro for an output of 690 horsepower at 7200 rpm.
In addition, World of Speed has three race car simulators, a 1962 Lotus Formula Racing Simulator, Adrian Fernandez's 1995 Lola Indy Car and Johnny Benson's 1998 NASCAR Ford Taurus. "The simulators will be used for entertainment, educational and fundraising purposes," the museum said.
But while the emphasis is on racing and land speed records, the museum also is involved in cultural aspects of the automobile with exhibits such as its "Wall of Sound" which "explores the fascination we have for both cars and music," from Jackie Brenston and Ike Turner's 'Rocket 88' of 1951, through ZZ Top's 1980s hits. "Auto-related record albums and guitars are featured, as well as a display of contemporary radios, in-car record players, tape decks and CD players—most of which work and are interactive."
And for additional car-culture experiences, the museum also presents automotive-related movies such as "Bullitt," "Cars," "American Graffiti," and "Christine," "on the big screen."
There's also a Start Line Club "kid's space" complete with automotive toys and youth-oriented displays to catch the attention of the younger set and fuel their involvement in the worlds of motorsports and automobiles.
For more on the World of Speed, visit worldofspeed.org. —Ted Kade