Restoring a 1940 Packard One Twenty Sedan, Pt. 2
Finding Trim and Accessories Often Can Be a Major Challenge In a Restoration Project. It's Even Tougher Than That With Some Packard Parts.
THERE IS MUCH more to a finely restored car than good looking paint and chrome. The details matter — especially on a Packard since there are so many. Small cosmetic details glare at you when they're ignored during a project just as the small parts will stand out when they are properly restored.
How well a car functions — even the seemingly mundane hardware — can make the difference between a vehicle which can be enjoyed and one that is a constant headache. Then, of course, there can be the judging at car shows to consider as well.
With that in mind, let's take a look at some of the details on this project car and how they were handled.
Wheels and Hub Caps
Packard Motor Co. made life more complicated for restorers than seems necessary. Wheels and hub caps for the 1940 Packards vary significantly. Instead of having tooling to produce one type of wheel meeting the most demanding requirements, Packard tailored their wheels to each car, thus different wheels were made for each of the models. The reason for this was concern over weight. Even then, manufacturers kept weight down as much as they could as a means of maximizing fuel mileage. Although fuel was plentiful, service stations could be far apart between towns thus increasing the significance of mpg decades ago.
Fortunately, Packard's 16-inch rims are interchangeable for the 1938-40 One-Twenty, but those for the One-Ten are year AND model specific though they will bolt to a '41 which had a five-inch bolt pattern but a 15-inch wheel. This is significant because Nelson believes the change from 16- to 15-inch wheels was a result of the coming war. By 1941, those in the White House expected the United States would ultimately enter World War II and rubber would be in great demand (as would other materials). Fifteen-inch wheels meant a smaller tire than those of a 16-inch type, thus calling for less rubber content.
Rubber indeed was in short supply during the war years and people could not find new 16-inch tires. This led to many people pulling off their 16-inch wheels, sending them in for scrap to be used for the war effort, and substituting Packard's smaller 15-inch wheel for which tires could be more readily obtained.
Rims are often not in good condition on project or parts cars. The hub and rim were riveted together and over time the rivets could have become badly rusted. This will allow air to escape if tubeless tires are mounted and having rusted rivets could be a safety issue, too. Luckily, the wheels on Nelson's One-Twenty were in excellent condition and simply had to be thoroughly cleaned and powder coated to renew them.
Hub caps were held in place with clips — yet another item which will need attention. Clips for the 1938 Standard Eight, 1939 One-Twenty, 1940 One-Twenty, and the 1940 Super Eight are interchangeable.
Six-cylinder Packards from 1940 had hub cap clips which differed from the rest. (Those for the '41 six-cylinder model were the same as those of the '40 One-Ten, incidentally.) Hub caps, as one will probably guess, were unique for the '40 One-Ten, hence the differing retaining clips.
Three different types were used on the One-Twenty — one with "Packard" script, another with "Packard One-Twenty" embossed around the center of the cap, and the other with "PACKARD" embossed in all capital letters around the center 180 degrees apart.
A couple of lucky breaks for the restorer is that hub caps for the One-Twenty (as well as the senior models) are reproduced as are the hub cap clips and are sold by Kanter Auto Products in Boonton, New Jersey (kanter.com).
Emblem Variety
Louvre (Packard's spelling) emblems varied about as much as the wheels and hub caps. Some cars had a green background while others had a red one. Even amber and blue were used. Furthermore, some simply said "Packard" while others had the model designation such as "120," and still others combined the Packard script with the model designation.
An explanation for one of the changes can be found in a manufacturer's letter written by the company's general service manager, J.F. Page, dated September 1, 1939 which said: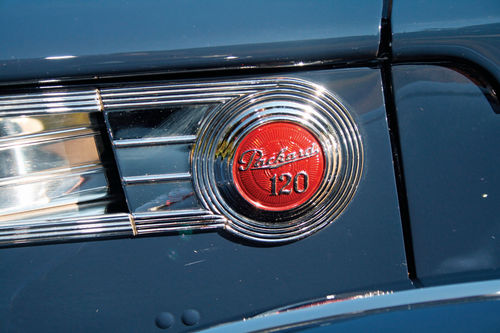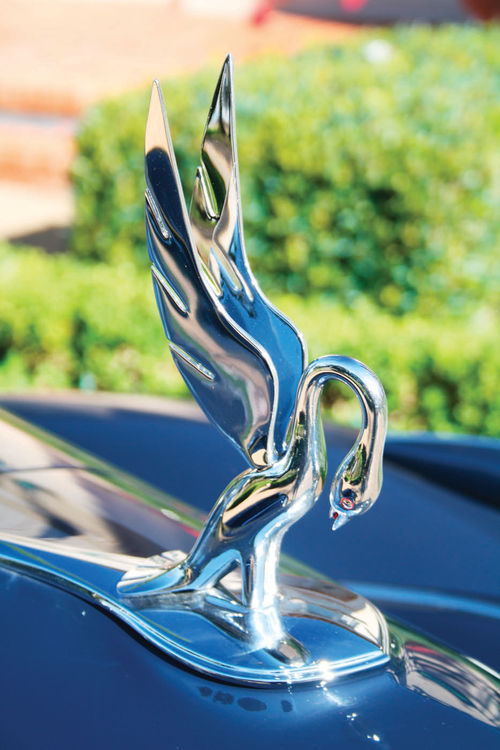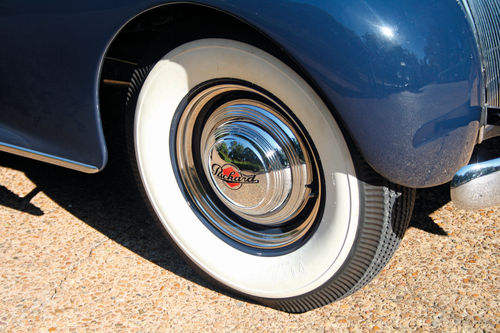 "At the start of production the color of the bonnet louvre nosepiece medallion was not up to specifications. There was a tendency for the red to rub off.
"We now have available the correct color and material. The complete medallion and metal piece, which forms the forward section of the louvre, will be furnished at no charge to replace any of those which have rubbed through.
"Starting immediately the One-Twenty louvre medallion will carry the numerals '120' under the script 'Packard.' The Six medallion will have the Packard name alone as at present."
Nelson found that a local hobby shop was a source for the red paint he needed to refresh the red background of the emblems on his car. Testors brand hobby enamel provided an excellent match to the original color used by Packard Motor Co.
The deck lid emblem on early cars was a fleur-de-lis. This was soon replaced with an emblem with a radiator & crest motif. Packards with the fleur-de-lis emblem are uncommon today. In fact, many were replaced by the dealer. According to the book "Packard 1940: A Pivotal Year" by James Hollingsworth, dealers were provided with the replacement emblem free of charge, but had to bear the actual cost of replacement. Unfortunately, the pin spacing was not the same…so the original holes made to accept the fleur-de-lis emblem had to be filled, new holes drilled, and the repaired area spot painted or the entire deck lid had to be repainted.
Another Packard insignia used was a red hex. The hex bolts for the bumpers as well as hex center of the hub cap were painted red. Nelson found that Ford's 1960s Candy Apple Red (paint code T) was a very close match to the original color used. In the case of the bumper bolts, they were powder coated, not painted.
Hinges, Handles, Locks and Latches
The lower hinge of the front doors is usually badly rusted and seized because it was exposed. (Upper hinges were concealed within the door jamb making them less vulnerable to corrosion.) The hinges were made of high carbon steel making them susceptible to corrosion though they did offer a good bearing surface. Some were made with a lubrication hole, but most of the time this feature was not used. Most likely, NOS examples do not exist and as a result the restorer will need to have new lower hinges made. Nelson had a 3D CAD drawing created and a local machine shop, Wright Machine, was hired to make these hinges
As for the other door hinges, they often can be salvaged.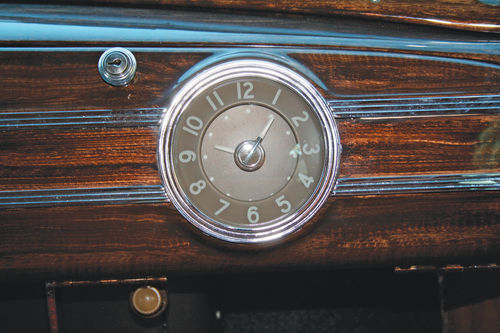 Inner and outer door handles have their own peculiarities. The inner ones had a tendency to break after being repeatedly used over the years to pull the doors closed and good ones are not plentiful. To prevent breakage of the inside door handles, Nelson acquired door pulls of the type originally installed on much earlier Packards. The ring-shaped pulls offer a much better alternative for closing the doors and they look as though they should have been there all along.
Outer door handles on cars of this era drooped after a while and Packards are no exception in this regard. Solving this matter is relatively simple. Weak springs in the door handles are at fault and can be replaced. New ones can be purchased from Max Merritt Auto in Franklin, Indiana (maxmerrittauto.com). Incidentally, two types of outer door handles were installed on the 1940 Packards — usually the One-Ten and the One-Twenty had one type and the One-Sixty and One Eighty had the other. However, Packard did not always follow this scheme.
Door locks present an interesting issue. Strange by today's standards was the fact that an inner door lock was only provided for the driver's side. The passenger door had to be locked from outside with a key. This characteristic was a result of parallel parking…the driver would slide across the passenger side to exit and then lock the door. Packard did offer a driver's side outer key lock in the American market probably because they had to do so for the right-hand drive cars of foreign markets. On four-door body styles, an inner push-button lock was used on the back doors.
The pair of springs in the door latch mechanism often requires replacement for safe function. These are available through Max Merritt as well as John Ulrich Packard Parts in El Sobrante, California, (julrichpackard.com).
Hood Ornaments and Trunk Racks
Three different styles of hood ornaments were offered for 1940 Packards. These were the Goddess of Speed, Cormorant and the Bale type. The Goddess of Speed incorporates the form of a winged female holding a wheel in her outstretched arms (sometimes referred to as "the donut pusher") while the Cormorant is a water bird that dives for its meals. Both are works of art and provided a d d i t i o n a l pizzazz to an already stylish automobile. The other type was much simpler with a flattened teardrop shape (similar to the respective bases of the other two ornaments) and used a bale as a simulated hold-down inspired by early-style radiator caps. It was probably standard issue for the One-Ten and One-Twenty models. Period factory photos, advertising and sales literature show both models with the Bale hood ornament. An ad for the Super Eight which appeared in the July 1940 issue of Fortune magazine shows the car with the Goddess of Speed. According to Packard's 1940 accessories catalog and their parts manual, hood ornaments were not listed as standard for or exclusive to any model in the Packard lineup.
Two trunk rack designs were available for these Packards — a standard rack and a large one. The 1940 model year was the final one in which Packard offered a trunk rack — an interesting point which will be explained shortly.
Nelson's efforts in restoring the trunk rack for his car showed there were many subtle differences between the two types of racks. For example, their respective hinges are different and this was one area which added to the complication of restoring the trunk rack Nelson obtained for his One-Twenty. Special bolts — 7 ⁄16 fine thread with an acorn head — had to be made as did 3 ⁄8 fine thread bolts with two shoulders for the pivots of the rack.
Nelson says if a restorer wants to add a trunk rack to their car a complete one is highly recommended. Missing parts will result in a major restoration effort just for the rack. He noted that even a complete rack will likely need replacement parts which will need to be made by a machinist.
As mentioned, the trunk rack was phased out at the end of the 1940 model year. This led to a bit of a problem for the original owner of the trunk rack on Nelson's car. It was actress Rita Hayworth, who owned a 1940 Packard One-Eighty with this very trunk rack. Hayworth had the rack removed from her One-Eighty so it could be installed on her new 1941 LeBaron sedan. But it didn't fit. The rack was then placed in the trunk and left there.
Ultimately, that car was sold with the rack still in the trunk, but a later owner removed the rack when he sold the car at auction. Friends of Nelson's brother, Warren, bought the trunk rack for their seven-passenger, 1940 Custom Super Eight (series 1808), but discovered it wouldn't fit that car either. Nelson then purchased it for his One-Twenty.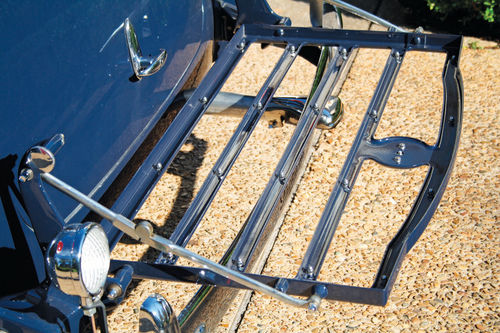 The Interior
Original fabric upholstery for the 1940 Packards is not available. However, upholstery which very closely matches the original is offered. In the case of the featured One-Twenty, upholstery was sourced from SMS Auto Fabrics in Canby, Oregon (smsautofabrics.com.)
Packard offered two standard choices each for the One-Ten and One-Twenty. The One-Ten used broadcloth in a neutral tan or blue/gray. A patterned material was applied to the seat cushions with a plain fabric covering the side walls, ceiling and back of the front seat resulting in a two-tone effect. Similar broadcloth was also standard for the One-Twenty with a neutral tan and blue/gray but in pinstripe patterns.
A so-called Riviera option also made use of broadcloth in four different schemes. Leather was another extra-cost option (though standard in convertible models).
Seat springs and padding differed from model to model. And, as one would expect, the higher the series, the better the car's seats.
When choosing an upholstery pattern during a restoration project, the restorer should gather as many references as possible to obtain the most accurate result.
Part three, the final portion of our story, will detail the car's mechanical restoration.