1954 Jaguar XK120 SE by Pininfarina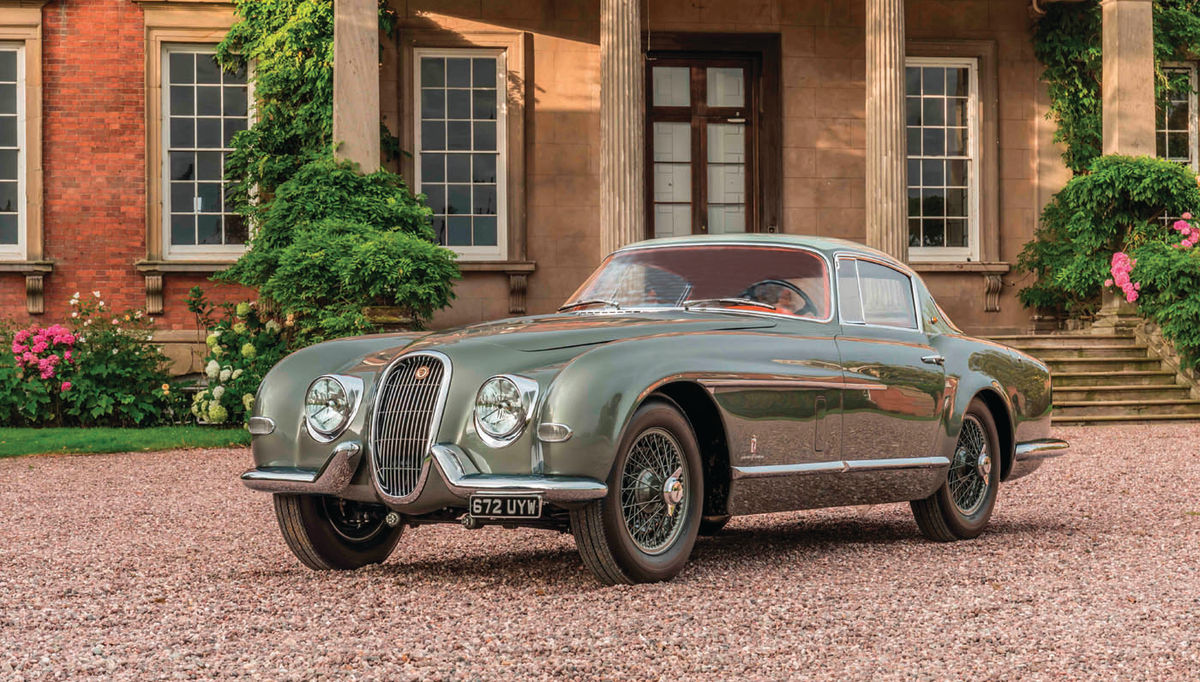 It's a Unique Car That Was Mistreated and Ignored for Years. So Let's See What Can Be Done When a Restoration Project Has No Limits.
Let's indulge in a bit of automotive fantasy for a few moments. Start by imagining that you just came across a fabulous car, something rare and exciting that intrigued you from the moment you spotted it. This is it, you know immediately, this is the "special" vehicle that will have a space in your garage for as long as you are able to slide behind the steering wheel and turn the ignition key.
There's one problem in this fantasy, however, and it's a major one. The car, you see, is in very rough condition. It needs a lot of work, both inside and out. Not only that, you can tell that the paint and upholstery are not original and you're not quite sure how they looked when the car was first built. After all, as we said above, this is a very rare vehicle.
Furthermore, the car has been neglected and parts are missing. Again, this is an uncommon car so you can't just visit your local auto parts store or go online to find the components you need.
But none of this is of any real concern to you. After all, this is a fantasy so you have the ready cash to deal with all of these obstacles. In addition, you have a team of highlyexperienced restoration experts to step in and make certain that in the end, every aspect of this project will be completed to perfection.
So when you and your restoration team finally step back and admire your work, your dream car is a reality, just waiting for you to get in and go for a drive.
A Solid Fantasy on Four Wheels
Well, something very similar to our automotive daydream actually took place over the past two years at Classic Motor Cars Ltd. (CMC) of Bridgnorth, a town in central England.
In 2015 CMC purchased the car seen on these pages…a one-off 1954 Jaguar XK120 SE with bodywork by the Italian design house Pininfarina.
While the car's history is far from complete, it is known that it was first delivered to Max Hoffman in 1954. Hoffman was an Austrian-born, New York-based importer of luxury European automobiles into the U.S. during the 1950s.
CMC described Hoffman as a "petrol-head" with enough influence in the industry to "inspire the production and refinement of several vehicles from the main manufacturers." This involvement helped to get him into the Automotive Hall of Fame in Dearborn, Michigan, in 2003.
Commenting on the unique vehicle, David Barzilay, Chairman of CMC's operating board, said: "Perhaps Hoffman inspired Pininfarina to style and produce such a rare XK? We just don't know, but he was the supplying dealer and then first owner of the car. There is little trace of the car's history, but we are certain that there was only one XK120 by Pininfarina produced, which makes this one of the rarest Jaguars in existence."
This Jag was first unveiled at the 1955 Geneva Motor Show and was expected at the Turin Motor Show the following year but Hoffman decided to take delivery of the car in New York instead.
From there little is known of the car until 1978 when a German fellow bought the car in the U.S. and shipped it to Europe intending to restore the special Jag. But he never quite got around to the momentous task and finally decided to sell. That's when CMC decided to "take on the challenge" of making the rare Jag like new again.
A Challenge, Indeed
Founded in 1993, CMC has a workforce of 60-plus technicians, engineers and apprentices and a 60,000 sq.-ft. shop. The company offers everything from "a full nut and bolt restoration" to servicing, storage, car and parts sales, and even car design.
Some 50 to 60 cars can be found in the workshops at any time, generally including vehicles such as Jaguars, Aston Martins, Bentleys, Bugattis and Lancias, among others.
Thirteen members of the CMC staff were chosen for this project and despite their experience and modern facilities, the restoration was far from an easy undertaking.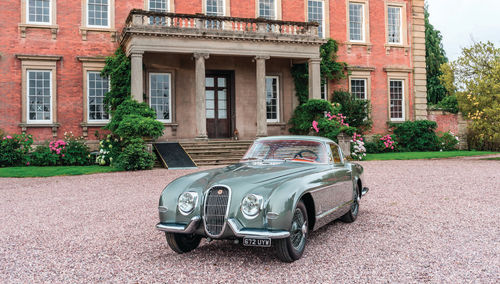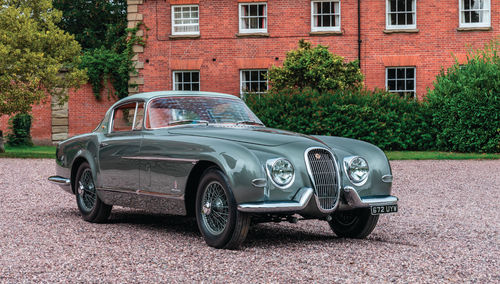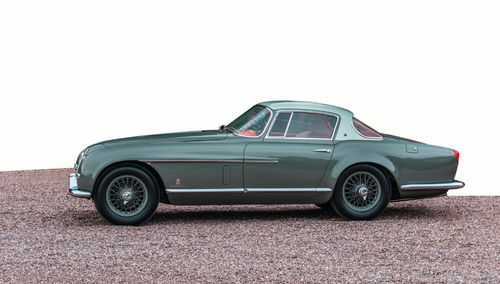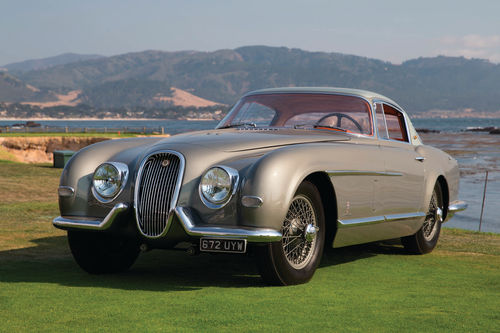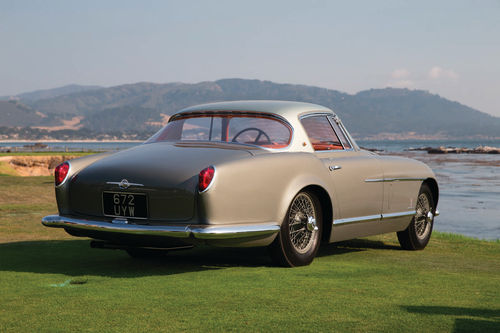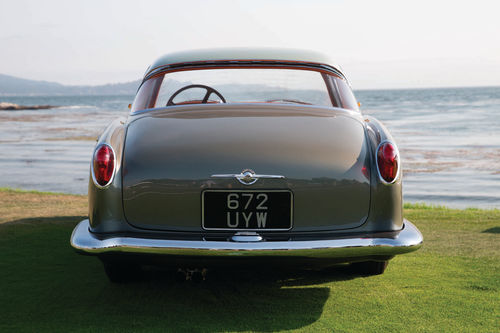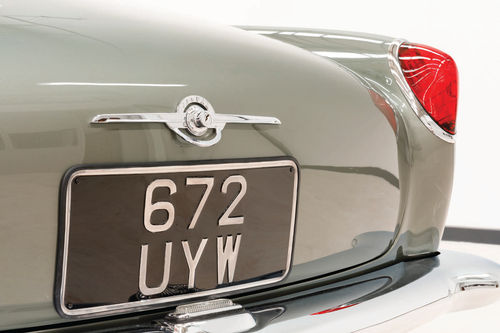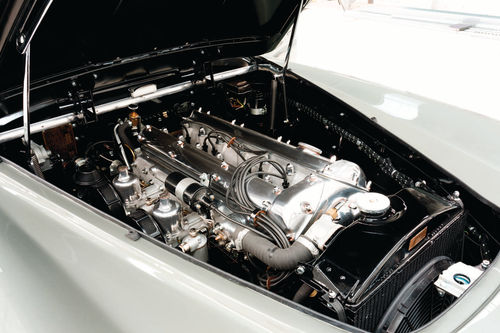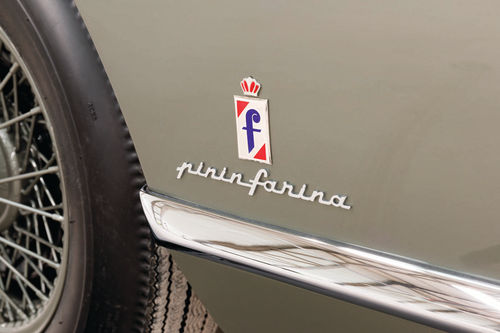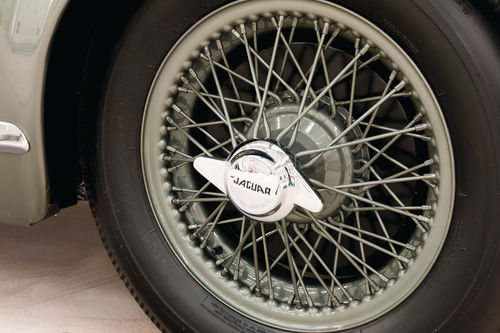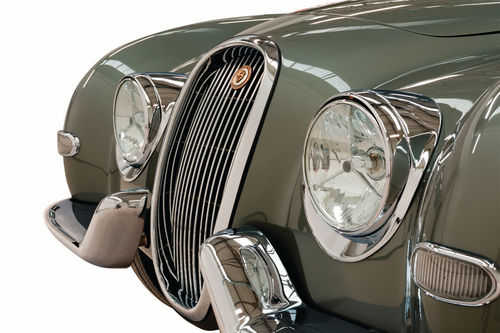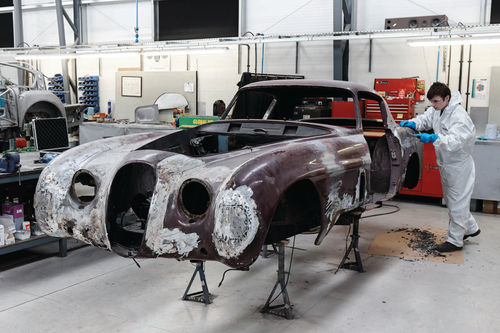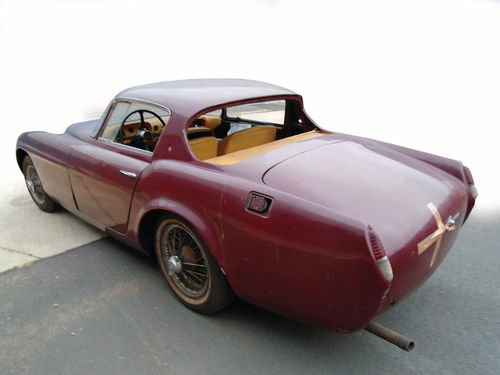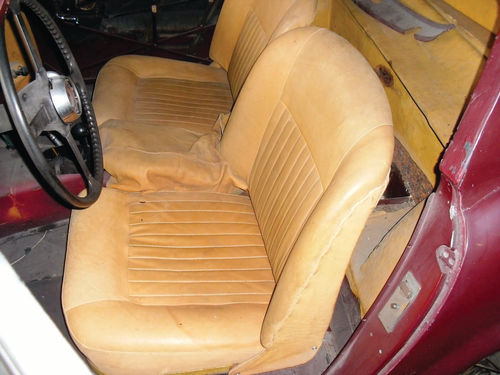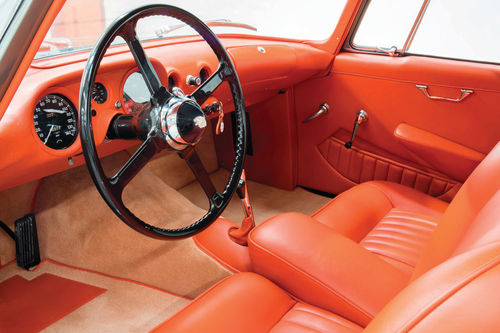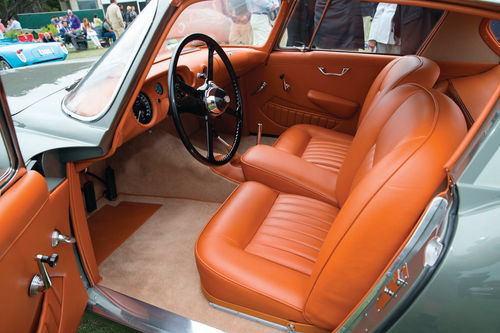 As CMC's Barzilay explained: "Some of the original parts were impossible to find so we had to remake items such as the bumpers and chrome work by hand from photographs. We had to scan the front and rear end of the car and make mockups of the lights, which were then scanned and 3D printed. Smaller missing parts were also 3D printed in-house.
"The rear window was missing so we also had to scan the window aperture and have a new rear screen (window) made from the scan data."
During the pre-restoration inspection it was found that Pininfarina had used the original XK body as a basis and that, at some point in its life, the car was painted burgundy and the seats were covered with tan leather.
"There were no signs of the original paint color and it all came down to the last nut and bolt of the project," Barzilay said. "When the front screen (windshield) was removed, we discovered a small section of original paint and used it as a color match.
"The interior trim door cards (panels) were missing," he added, "along with the carpets and the original color of the trim, but we discovered a small sample of original ochre tan leather when we stripped the car down. This was color matched and the original type and color leather was used to recreate the interior. The shape and pattern of the door cards (panels) was created by looking at similar Pininfarina-designed cars from the period."
In the end, the project took some 6725 hours of work and the task list included:
• Full body restoration including complete new front end, new rear quarter panels, inner arch panels, trunk floor, sills and door skins
• Full chassis repair and repaint
• Front and rear bumpers remade
• 80% of the original chrome work remade
• Rear window and surround remade
• Full interior re-trim
• Full engine and gearbox rebuild (Engine spec: XK 120 3.4 SE (C-Type Head) straight-6, Double SU H6 carburetor, power rated at 180 bhp @ 5300 rpm)
• Suspension components refurbished • Completed to original Jaguar equipment specification
About the Car Itself
The Jaguar XK120 was manufactured between 1948 and 1954. It was Jaguar's first sports car since the SS 100 which ceased production in 1940 following the outbreak of WWII in Europe.
The first cars in the XK120 line were hand-built roadsters with aluminum bodies on ash frames. They were constructed between late 1948 and early 1950.
As demand for the car rose, beginning with the 1950 model year XK120s were mass-produced with pressed-steel bodies. However, they retained their aluminum doors, hood and trunk lid.
The XK120 had an independent torsion bar front suspension, semielliptic leaf springs at the rear, recirculating ball steering and 12-inch drum brakes. Some cars were fitted with finned aluminum brake drums to help reduce fade.
The Motor magazine road-tested a pre-production XK120 roadster in November 1949. It reported a top speed of 124.6 mph and a 0-60 mph acceleration time of 10 seconds.
The Second Unveiling
Just as the Pininfarina Jag was first shown 62 years ago in Geneva, CMC decided that the restored car also should be unveiled with a flourish at a major international automotive event.
They decided that a suitable venue would be the annual Pebble Beach Concours d'Elegance on California's Monterey Peninsula. In anticipation of the concours, the company kept its unique project car literally under wraps so it wouldn't be seen by the public prior to the Pebble event. In fact, harking back to the days when the first deliveries of the model year arrived at dealerships under tarps, CMC circulated a photo of its restoration team gathered around the completed but tarp-covered Jag.
So how did things go when, as CMC put it, "the wraps came off" the Pininfarina-bodied Jag at the Pebble Beach concours?
CMC says "the car was wellreceived by the crowd of collectors and aficionados gathered at the event" and it finished second in its Postwar Closed class after a 1955 Alfa Romeo 1900 CSS Boano Coupé Speciale from Long Beach, California. "A great result!" said Peter Neumark, Chairman of the Employee Ownership Trust that runs CMC. "It was a privilege to take the cover off this long-lost Jaguar at one of the most important concours in the world."
Time for a Reality Check The chances are pretty good that none of us will be able to finance a blankcheck style restoration and we'll never unveil our latest project car before a crowd of collectors and aficionados at a world-class concours and then go home with a major award.
But then that's why daydreams were invented, and when we finish enjoying our latest daydream and find our feet solidly back on the ground, we can go out to the garage where our favorite ride will always be unique and a prize-winner in our own personal concours.