Want to Drive a Shelby Mustang? Then Rent One...
A half-century ago, the Ford Motor Co., performance-car builder Carroll Shelby and Hertz, the rental car people, came up a novel publicity program based on Ford's incredibly successful new car, the Mustang. Ford supplied new Mustangs to Shelby American, Inc. which added performance and handling upgrades based on the 1966 Shelby GT350. Equipment included a Cobra High Performance V-8 rated at 306 horsepower and 329 lb.-ft. of torque, functional fiberglass scoops to cool the rear brakes, a tachometer mounted on the dash, Plexiglas rear quarter windows and Goodyear Blue Streak tires. Most of the cars were outfitted with what became known as "Hertz livery," consisting of Raven Black paint with gold (Bronze Powder) side and Le Mans racing stripes. A small number were painted Candy Apple Red, Wimbledon White or Sapphire Blue. The special cars were all outfitted at Shelby's facility at the Los Angeles airport and, since they were headed for Hertz, they were named the GT350-H Mustang.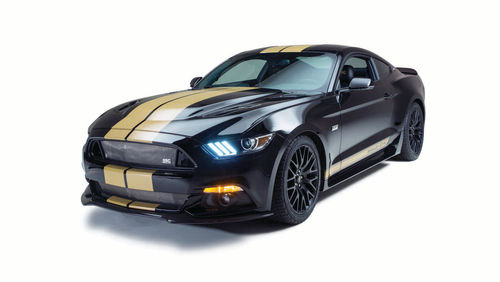 Track Time
In all, about 1000 GT350-H Mustangs were built to be rented out under the Hertz "Rent-A-Racer" program and the vehicles proved to be popular with the public, boosting the corporate profiles of all involved. After all, these were not just cars with a special paint and stripe package; they were true high-performance vehicles that could be very impressive on the street and at the track. An enthusiast magazine of the day tested a GT350-H and said the car turned 0-60 in 6.6 seconds, ran a standing quarter mile in 15.2 seconds at 93 mph and had a top speed of 117.
"The 1966 Ford Shelby GT350-H became a legend from the moment it was introduced," said Joe Conway, Co-CEO of Carroll Shelby International and CEO of Shelby American.
But as you might expect, some of that "legendary" status came from people who took the program's "Rent-A-Racer" title quite literally and went straight from the Hertz office to the drag strip or track where they spent weekends putting Ford's and Shelby's talents to the test for a rental fee of $17 a day and 17 cents a mile.
Given their track and strip activities, cars started to come back to the Hertz offices in abused conditions. Dealers immediately complained of burned-out clutches, for example, to the point where only the first 85 GT350-H cars were built with 4-speed manual transmissions. After that, they were equipped with automatics.
Furthermore, GT350-H renters wound up paying more than the $17 a day plus mileage charge if the car had been damaged in use.
"We were very careful with a very detailed check sheet when the car was rented and returned," a Hertz executive was later quoted as saying. "There were some people who thought they were getting away with a lot of things, but they ended up reimbursing us for damage."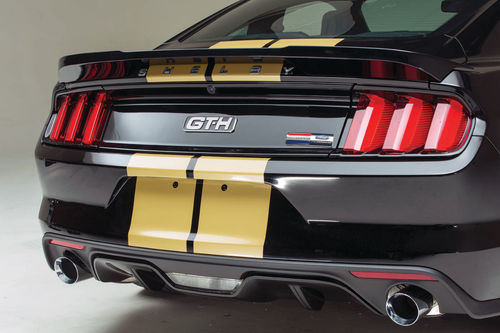 The Second Time Around
Despite its drawbacks, the program definitely drew attention to the Shelby Mustangs and Hertz, so 40 years later the three participants banded together again to produce the 2006 GT-H which featured the now-famous black-and-gold paint scheme. The car also had a special hood with hood pins and an aluminum grille as well. Under that special hood and behind that grille was a 4.6-liter V-8 equipped with a Ford Racing FR1 Power Pack that included a cold air intake and less- restrictive mufflers. Shelby also swapped out the 3.31 rear end for a 3.55 unit.
The Power Pack reportedly added 25 horsepower for a total of 325 at 5750 rpm and 320 ft.-lbs. of torque 4500 rpm. The car also was equipped with Ford Racing's FR3 Handling Pack with specially tuned dampers and springs along with thicker sway bars.
This time, only 500 of the special cars were built and were rented as part of a "Fun Collection."
Another enthusiast magazine tested this version and reported 0-60 acceleration of 5 seconds and a quarter-mile time of 13.6 seconds with an end speed of 102 mph.
But while the GT-H was track-ready, this time Hertz took extra steps to keep their valuable property off of the racing venues. Prospective renters had to have three forms of identification along with an airline ticket or travel itinerary to show that they were out-of-town vacationers or business travelers in search of fun transportation and not local racers wanting to burn the tires off of someone else's hot car. Renters also had to sign what was described as "a lengthy and very limiting agreement," and participate in "a tedious checklist session" when picking up and dropping off the car.
Even with these limitations, however, plenty of folks were happy to spend their vacation or business trips cruising in the specialty Mustangs.
Time for Round Three
With two successful ventures under their corporate belts, the participants have decided to observe the 50th anniversary of the original 1966 GT350-H by introducing the 2016 Ford Shelby GT-H.
As you can see by the photos on these pages, the current version of the Shelby Mustang rental car sports an instantly recognizable black-and-gold paint scheme. It also has a polycarbonate raised hood with heat extractors, rocker panels with carbon fiber accent plates, a Shelby GT-H rear spoiler and "exclusive upper and lower grilles."
Behind that "exclusive" grille is a 5-liter V-8 with a Ford Performance cat-back exhaust (placed past the catalytic converter for less restriction) which a corporate statement said will give the vehicle "that throaty sound that will make this car unmistakably a Shelby Mustang GT-H." (Beyond the "throaty sound," however, it's not clear what, if anything, else is being done to boost the car's drivetrain. A message sent to a corporate spokesman for further information was not answered. Still, even the standard Mustang 5-liter V-8 is rated at 435 horsepower at 6500 rpm and 400 ft.-lbs. of torque at 4750 rpm. So no matter what, the car won't have any trouble keeping up with freeway traffic.)
In addition, the GT-H will be equipped with the Ford Racing Handling Pack that includes specially tuned dampers and thicker sway bars. The car rides on 19- inch aluminum wheels with Michelin tires.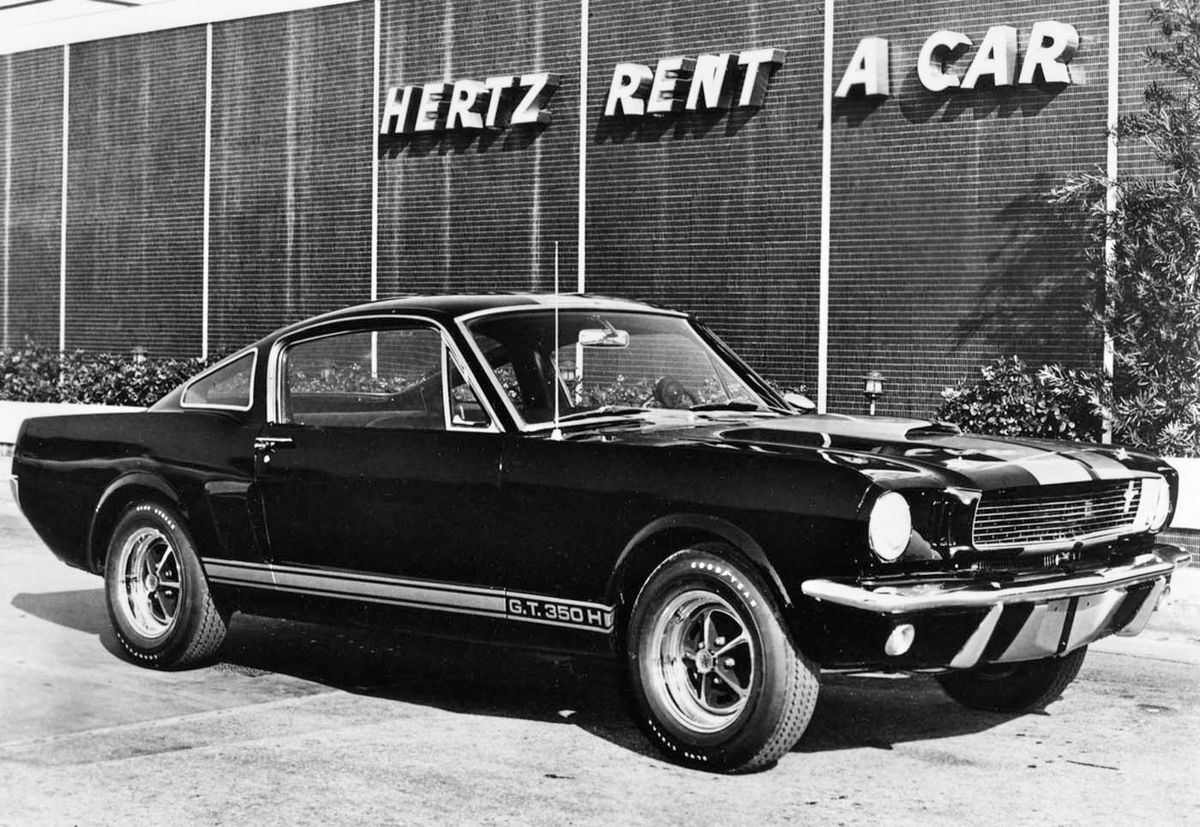 A Dwindling Herd
While 1000 Shelby Mustangs were supplied to Hertz in the original program 50 years ago and some 500 were built for 2006, this time the number will be limited to 140 cars. These also are aimed at travelers, as
the GT-H will be available only at 17 airport locations including Atlanta, Detroit, Los Angeles, San Francisco, San Diego, Las Vegas and Phoenix.
"Our goal was to give everyone a chance to add some fun to their travel with a distinctive American pony car," said Doug White, Ford Performance Parts manager. "So Ford Performance and Shelby American sharpened the handling, improved the performance, sweetened the exhaust note and added distinctive Hertz styling to the Mustang. Anyone who rents a limited edition Ford Shelby GT-H will enjoy a very special driving experience."
Get Your Adrenalin Pumping
As noted above, the 1966 program was called "Rent-A-Racer," which morphed into the "Fun Collection" for the 2006 version. This time, the GT-H will be part of the Hertz "Adrenaline" collection which includes the Corvette Stingray, Chevy Camaro and Dodge Challenger R/T.
To see what the GT-H might do for your adrenaline, you can start by visiting www.hertz.com/ShelbyGTH.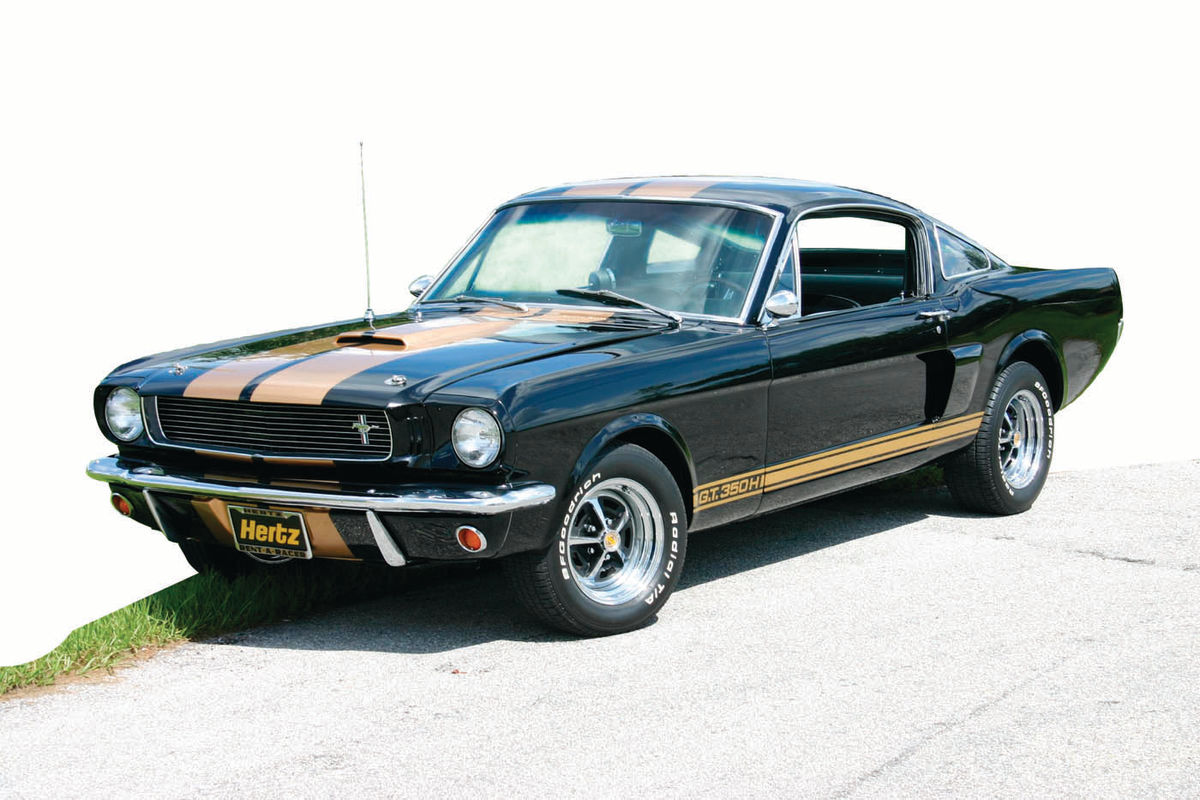 A Collector's Choice
Since the 1966 Hertz cars have a certain celebrity status in the automotive world, were limited to a small production run and a number were trashed over the years, the remaining ones are highly sought after by collectors. Not surprisingly, that makes them difficult to find and expensive to purchase. For example, Hagerty, the vintage vehicle insurance company, estimates that one in "fair" condition would go for about $110,000 while one in "concours" shape could sell for $209,000.
It makes you wonder if the current rental fleet of Hertz Shelby Mustangs will experience a similar increase in value over the coming decades. I have an idea... Let's all gather at this same spot 50 years from now for an update.