Going to Restoration U, Pt. 2
After a Day of Auto Restoration Classes, How Do Students Relax? They Stay In the Shop or Work on an Internship.
EDITOR'S NOTE: THE future of the restoration hobby depends on the continuing participation of younger generations, so we're always looking for and encouraging that involvement. Along those lines, our search for potential hobbyists and pros led us to two schools that teach automotive restoration. Last month we discussed the schools and some of their course offerings. This month we'll take a look at what it's like to live and study at "Restoration U."
Life on Campus
The Ohio Technical College training center covers an area of more than 800,000 square feet. Located in Cleveland, the school has been around for some 40 years and is home to multiple automotive and technical programs including a motorcycle program, an alternative fuel shop and a Powersport Institute, among others.
Though 890 students attend the school, only 33 students are currently enrolled in the auto restoration program, and they are broken up into two classes to keep the student-to-professor ratio low. On average the program limits class size to 16 to 20 students.
"We try to maintain a good balance," said Ron Davis, director of OTC's Classic Car Restoration program. "We don't want to herd cattle."
Student Justin Brown is appreciative of the small class sizes as it has enabled him to do the work individually instead of sharing tasks with multiple students.
"There are seven cars in the main shop, and they break up the class so it's not 17 kids on one car. Right now I'm working on one car with two other kids," Brown said. "You really get a chance to do all the work."
School runs from 7:30 a.m. to 1:45 p.m. Monday through Friday, which allows students to work part-time jobs in the afternoon and weekends or to spend extra time with the instructors in the shop. Davis said that plenty of students take advantage of this opportunity.
"A lot of students come in on Friday and stay after school hours," he said. "We give extra attention to those who need it."
The program moves along at a steady pace, so if a student is having trouble mastering a particular skill as quickly as his classmates, the extra time can prove to be a real necessity.
"The more interest you show in it, the more they'll help you out," Justin Brown said. "The way I see it, I have a shop available five days a week. Why wouldn't I want to go in?"
On the other hand, auto restoration students at McPherson College in McPherson, Kansas, have a bit more flexibility when it comes to the pace at which they move through the program.
"We're very open," said Daniel Hudachek, McPherson's director of Auto Restoration Technology. "Students set up their own schedules and go at their own pace."
Restoration students also have the opportunity to pick their own major at McPherson. While all students cover the basics of restoration, as upperclassmen they choose to focus on Historic Auto Technology, Auto Restoration Management, Auto Communications, Auto Restoration Design or Auto Restoration Technology. In the fall of 2010, the college plans to add Motorcycle Restoration to the list of possible majors.
Regardless of major, all McPherson restoration students spend a lot of their time in Templeton Hall, the 33,000- square-foot facility that houses the Automotive Restoration Technology Program. According to Hudachek, students spend about six hours in the lab for every hour of lecture time.
Not Exactly "Animal House"
But what about the really important part of any college experience, i.e. the social life? While McPherson, Kansas, ranks as the third best place to live in rural America, it might rank a little lower on a list of best college towns.
"Student life is less exciting than what the typical college experience is rumored to be," said McPherson student Adam Hammer. "The town and surrounding area has its dull moments. However, we've all come together in this location for a passion."
To keep the student body from going stir crazy, the college provides an array of on-campus events ranging from theatre to athletic events, and there are a number of different student-run clubs, including (surprise, surprise) a club dedicated to car lovers.
The C.A.R.S. (College Automotive Restoration Students) club has been around since the late '70s and is well-known on campus for its annual student-run car show that features cars ranging from pre WWI vehicles to modern supercars.
In the spring of 2007, some 35 members of the C.A.R.S. club along with three sponsors flew to Southern California where they saw about as many vintage vehicles as you can see on one trip. Students visited the Peterson and Nethercutt Museums in the L.A. area, and the collection at the Mercedes-Benz Classic Center in Irvine, California.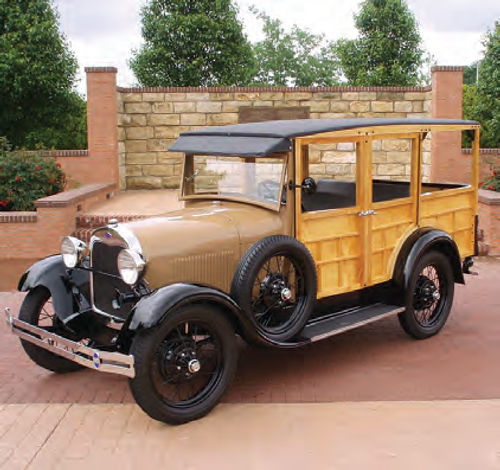 The club then moved on to some personal collections including that of entertainer Jay Leno, who is a vocal and financial supporter of the school. The talk show host provides financial assistance for two McPherson students each year through scholarships.
After seeing Leno's famous garage, students then watched him in action at a taping of "The Tonight Show" and went up on stage afterward for photos.
The Classic Car Restoration program at OTC also gives students a number of opportunities to see the hobby in action through "a series of field trips…to experience real world activities that evolve around the restoration field," director Ron Davis said.
These activities include a trip to the Auburn Cord Duesenberg Automobile Museum in Auburn, Indiana, The Canton Classic Car Museum in Canton, Ohio, and the Crawford Museum in Cleveland, among others.
The school also provides students with free or discounted passes to car shows, cruising events, races and any other automotive-related events in the area.
In terms of the social situation, let's just say that bringing a number of gearheads together has its benefits.
Justin Brown had no problem making friends. On the first weekend of classes, he and a group of his classmates went to a car event at the local track and immediately hit it off. "Our class basically hangs out all the time," Brown said. "We're 14 guys who all have the same interest.
"With a program that's so specialized like this, you know right off the bat that everybody's into classics."
Welcome to the Real World
Like Brown said, auto restoration is a very specialized field, and most students are focused on starting a career right out of the gates. Getting hands-on experience in the school's shop is great, but internships and part-time employment while still in school are equally important when it comes to landing a job.
McPherson College prides itself on providing a career oriented education. All of the students are encouraged to participate in the school's internship program, and they don't take this encouragement lightly. Last year 224 students or 52% of the student body were involved in an internship of some sort, and 87% of the graduating class of 2008 participated in at least one internship during their tenure.
For restoration students, the internships are plentiful, and interns take a lot more away from them than just learning how to get the boss his morning coffee.
In 2002, one particularly ambitious auto restoration student set his sites on working for the prestigious Mercedes Classic Center in Fellbach, Germany. With help from the school's career services department and a local Mercedes Benz Club, the student not only landed an internship, but established a long term relationship between the Classic Center and McPherson. Now, two McPherson students fill the role of intern at the Mercedes Classic Center every year.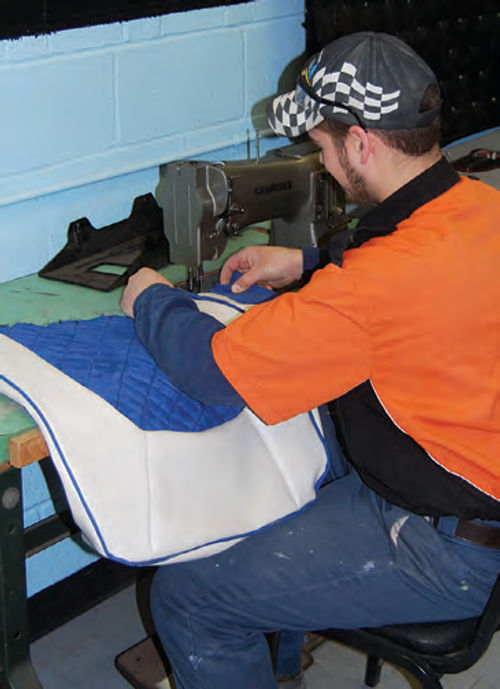 Aside from Mercedes, the Auburn Cord Duesenberg Museum, Hagerty Classic Insurance, The Peterson Automotive Museum and the Studebaker National Museum have all provided internships for McPherson's restoration students.
Adam Hammer has had several part time jobs as well as internship experiences during his tenure at McPherson.
"Each experience has had a significant impact on my training for the restoration industry," Hammer said. "The high points of my internship experiences were working for a shop in California and taking a Duesenberg Model J to the Pebble Beach Concours d'Elegance and judging at the Amelia Island Concours."
Aside from some great memories, this experience has helped significantly in Hammer's search for employment. After graduating this year, he plans to work for Vintage and Auto Rebuilds, a Chardon, Ohio, restoration shop that specializes in Rolls-Royce.
The fact that Joel Keefer was in his 50s was no hindrance when it came to finding a job after graduating from McPherson's auto restoration program. He jumped right into the business working for Ragtops and Roadsters, a British car restoration shop in Pennsylvania, where he worked for five years before leaving in 2007 to devote time to completing the restoration of a friend's '68 Corvette.
These success stories aren't unique either. According to Dan Hudachek, 76% of McPherson graduates are working in the restoration field in some capacity, while at OTC, the Career Services Department reports a job placement record between 76% and 84%.
What the Future Holds…
As restoration students like Justin Brown, Adam Hammer and Joel Keefer move out of the classroom and into professional shops around the country, both McPherson's Dan Hudachek and OTC's Ron Davis are confident that their programs will continue to draw in new students to fill the graduates' shoes.
"For many years, people didn't know about the classic car industry. It was very mom and pop," said Davis. "Because of televised auction events there's been a significant increase in interest."
Dan Hudachek at McPherson College has seen first-hand what televised exposure can do for raising awareness.
"Over the years, demand has increased both in terms of incoming students and for people looking to hire our students," Hudachek said. "In the late '90s we had 10 to 20 students enrolled in the program. Now, this will be the sixth year in a row we've had 100-plus students."
As the vintage car hobby has grown over the years, so has the demand for talented restoration mechanics. Accordingly, Mercedes-Benz USA, Barrett-Jackson, Jay Leno and the Model T Ford Club, among others, have donated money for student scholarships at McPherson.
Even in a down economy, the hobby has not been hit as badly as some fields.
"Less people have been contacting us about job openings than typically do. But high-end restorers are not fazed by the economy," said Hudachek. "Big money is still big money."
All in all, the hobby and its educational backbone seem strong as they move ahead. But the question remains: What will the future of auto restoration look like?
Though providing students with a wide variety of vintage vehicles to work on is a staple of both the OTC and McPherson programs, will they teach restoration techniques on cars from the '80s and '90s when they become "vintage" vehicles?
Dan Hudachek, for one, doesn't think that plastic, cookie-cutter cars have a place in auto restoration programs, no matter how old they get.
"We're always wrestling with the age and type of cars that we include," he said. "Our advisory board is made up of collectors and restorers, and they watch where the industry's going and decide where we should go. For now, we're trying to stick with the classic niche. I don't plan to go much past the muscle car era."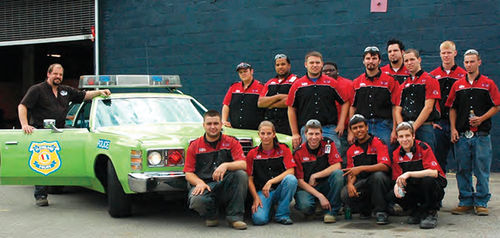 Even Justin Brown, a child of the '80s, isn't optimistic about restoring the cars from his childhood.
"(Restoration) is an art form. With new cars, there's not much to it. They're like computers on wheels," he said. "I couldn't see (the definition of classic cars) going anywhere past the '80s or mid-'90s."
On the other hand, Ron Davis thinks that sometime down the road, restoration programs like the one at OTC will welcome aging cars from the '80s, '90s and beyond into their shops.
"I can see us expanding our curriculum and allowing for the newer technology," he said. "Newer cars will become classics and we'll have to update, but the basics remain the same whether the car's built in 1956 or 2002."
Whether or not modern cars will ever see the floor of an auto restoration shop remains to be seen, but everyone we talked to agreed that today's classic automobiles will continue to be restored long down the road.
"The classic car era vehicles will always stay in existence," said Ron Davis. "Somebody is always going to want to have the classics restored."
And Justin Brown hopes that Davis is right. "If there are still classics out there, then that's what I want to do," he said. "That's my love. That's my passion."
Editor's Note: For more on our search for young restorers, see our Gearheads Under 30 (GU 30) notice on page 15.

Resources
McPherson College
1600 E. Euclid
McPherson, KS 67460
Ohio Technical College
1374 E. 51 St.
Cleveland, OH 44103