When Is a Hardtop Not Exactly a Hardtop? For a Clue, Check Out the Center "Window" On This Extremely Rare Car.
WHEN DICK LAYTON bought his first Frazer back around 1970, it was noteworthy less for what it was than for how he bought it and what it started.
"It was just a regular run-of-the-mill '48 Frazer and that was my first or second year in business," said Layton. "I didn't have any money, but I put this coffee machine in a car dealership up in Delhi, (New York). He was a Pontiac dealer and he had this '48 Frazer and two Darrins. One he was restoring and the other one he was just going to fix up and sell. I wanted that Darrin so bad."
The two-seat Kaiser Darrin was out of the question, he said, as in addition to having just started his vending machine company, he also had just gotten married. To Layton's good fortune, though, the Pontiac dealer's interest in cars went beyond pure business. With that in mind, Layton told him that he really couldn't manage the Darrin and asked about the Frazer instead.
"So he gave me a good price on it," Layton continued, "and I said 'well, I can't afford it but I'll tell you what I'll do. You keep that Frazer and I'll pay you and when I get you paid, I'll take the Frazer.' He said 'that's good enough.' Nobody else was interested in that old '48 Frazer."
He finally did pay for the '48 Frazer and gradually restored it. But 45 years ago he wasn't even thinking about the feature car, the 1951 Frazer Manhattan that he owns today. He had, however, at least a little experience with another Kaiser-Frazer product, the Henry J. As a car salesman in 1962, three were on the lot where he worked.
"We couldn't sell them for $50 apiece," he recalled, "and they were good, economical little cars. But (The Henry J) wasn't a collector car at the time."
A Brief Run for This Independent
Kaiser-Frazer was the last major American automaker to be formed from an almost blank sheet. We say "almost" because of the experienced business leaders involved in the company.
Henry J. Kaiser was best known for his production of World War II Liberty ships at the time that he established Kaiser-Frazer Corp. in 1945 with Joseph Frazer, who then owned Graham-Paige Motors. Graham-Paige had faded with its final 1941 models after several desperate efforts to remain in production simply didn't work, but Frazer knew the automotive business well. On paper, the two men complemented each other and their plan was that the Frazer would be the upscale line to the midrange Kaiser built on the same platform.
Both appeared as 1947 models and although conservative in their overall look, their clean, straight lines and slab sides helped them to stand out and the postwar sellers' market certainly didn't hurt their chances for success. Each of the next three years saw only minor styling updates and that was enough for a time, but the Big Three and the remaining old-line Independents understood that the demand created by the wartime lack of new cars would eventually be satisfied and competition would resume.
Kaiser-Frazer, unfortunately, didn't see that as clearly. While its facelifted models with their flathead sixes remained in production, the rest of the industry was introducing all-new designs. Besides the fresh styling, modern engines also began to appear, thus telling flatheads that their days were numbered. The latter was a double blow to Frazer as its $2395 starting price in 1949 placed it in Oldsmobile 88 territory, where Olds offered not just a V-8, but a completely new overhead-valve, oversquare V-8.
The Frazer line was not dealing well with the changes and its sales were falling off. A four-door convertible arrived in 1949 in its costlier Manhattan range, but it was hindered by an unusual design that left window frames in place when the top was lowered, and there was its $3295 price—a Cadillac convertible sold for $3487.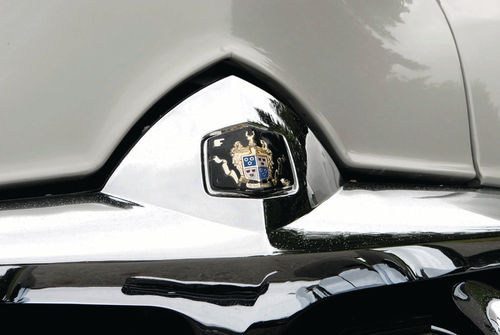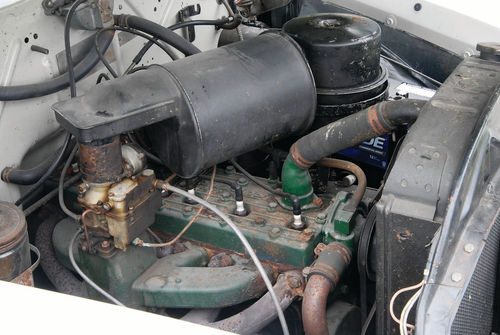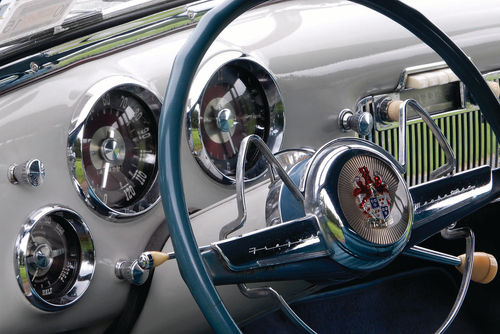 The 1950 Frazers were unchanged and while 1951 would bring the end, it was anything but low-key as fresh front and rear styling gave the car a surprisingly different look. The basic body shell was a carryover, but the boxiness was gone as the fenders leaned forward at front to bracket a fairly massive floating grille in place of the previous egg crate. Taillights were moved to the tops of the quarter panels where they served as small fins and the former slab sides were now broken by stamped horizontal lines on the fenders and quarters. Even the beltline was modified so that a slight upward kick began at the C-pillars and continued to the taillights.
Overall, the result was eye-catching, but there was more. The four-door Manhattan convertible, although a poor seller, was joined for 1951 by a four-door Manhattan hardtop using the same out-of-the-ordinary design. Like the convertible, though, it was not quite what it appeared to be as the B-pillar was still there and fixed in place even though it was made of glass and therefore not immediately obvious. Production of the two uncommon Frazers was low, almost to the point of being nonexistent. Sources vary slightly, putting the hardtop's numbers at about 150 and the convertible's at about 130. That year's conventional four-door sedan brought about 6900 sales.
With that, it was over for the company. Kaiser bought Willys-Overland in 1953, but the company soon refocused. Its Jeep vehicles continued and while both Kai ser and Willys passenger cars would roll off the assembly lines in Argentina, their North American production ended in 1955. No doubt, that was a big part of the reason that Layton was unable to sell those Henry Js in the 1960s and it helps to explain why, as he said, there was no interest in the Frazer he bought from the Pontiac dealer in 1970. But he didn't mind that it was an orphan and once he owned the car, its long-term impact proved to be among its best qualities.
"That was what got me interested in Kaiser-Frazer," he explained. "Then I got really into it and I wanted a '51 Frazer Manhattan."
The Need for That Frazer Grew
Wanting a Manhattan and finding one are two different things, so he sought assistance through the Kaiser-Frazer Owners Club.
"I couldn't wait to get these," Layton said, lifting one of several large stacks of club newsletters from a desk drawer, "just to see what was for sale. I got to looking at the catalogs and the literature I'd get from the Kaiser-Frazer Club and then I saw this 1951 hardtop and I just loved that car."
Sometimes the photograph turns out to be more appealing than the actual vehicle, but a Kaiser-Frazer meet in Utica, New York, told Layton that wasn't a concern here.
"A guy had a '51 Frazer, just a sedan," he recalled, "and that was so nice that it made my '48 look awful."
Seeing the later model in person convinced him that he really did want a Manhattan hardtop. Its rarity would make that a challenge and there also was the fact that Frazers are generally neither as common nor as widely known as their mostly similar-looking Kaiser siblings. Layton knows all about that, thanks to a friend who stopped by his shop in Walton, New York, with a tip.
"He said 'Dick, I've found a couple of Kaisers,'" Layton recalled. "'They're outside of Liberty and they're for sale.' He told me 'Kaisers.'"
It was a description that didn't inspire a sense of urgency because he wanted a Frazer rather than a Kaiser.
"The irony is that this same Frazer, my Frazer, was right down here within 40 miles from me," he said. "It was for sale in this garage at a salvage yard just outside of Livingston Manor, but he told me it was a Kaiser and so I put it off and didn't go down."
Hey, That's a Frazer…
What happened next— although far from quickly—is unlikely to come as a surprise.
"I'm in the club," Layton said, "and when you get your monthly, you go right to the 'cars for sale.' I did this regardless of whether I was going to buy one or not and there was this '51, and it was up in Auburn. It's not that far away, but come to find out that he'd bought that car down in Livingston Manor. He had a Darrin, a Willys and another Kaiser up there, so he just set this aside, whether he had intentions of restoring it or whatever. But it was a Frazer and it was rare."
Layton's 1948 was typically the only Frazer at car shows in his region, he said. A "barnful of old cars" he learned about a few years after buying his sedan included one Frazer.
He guessed that the seller from whom he bought the hardtop might have acquired it from the salvage yard to ensure that such an unusual car would be saved. He added that when he went to Auburn, New York, to see it, he knew he'd buy it. That was about 25 years ago and several years after he'd learned of the "Kaiser" in the salvage yard. He'd check out a similar report more quickly today, he stated.
The fact that he finally did get the Frazer he wanted isn't the only bright spot in the tale, especially since the car had been in a salvage yard in upstate New York where winters are difficult and road salt nearly always wins in the end.
"This car came from the south," Layton said. "I don't know why the yard's owner got hold of it. Who knows?"
What he does know is that the Frazer survived well in the yard and was in reasonably good condition when he saw it in Auburn.
"He took it to a mechanic up there and had it tuned," Layton said. "He had the carburetor re-done; he had it all done so that it would run. So when I went up there and bought it, we had to blow up two tires; I made sure the spare was blown up. I had a friend go up with me and I drove it down here. That's about two hours."
It's at least two hours and there are no easy roads between Auburn and Walton.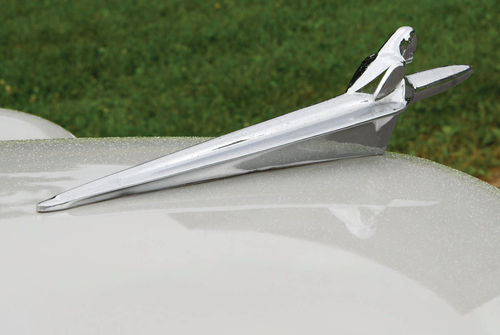 "No," Layton said, "you've got to go through the hills. But we had a ball bringing it down. That's a story in itself. It had the original wiring and, in fact, I had to stop once because the battery cable came loose."
The odometer showed about 60,000 miles and although the Frazer smoked, the loose cable was its only problem on the trip to his home and there were no hidden problems waiting to be discovered. It needed to be rewired, so Layton purchased a complete new harness and installed it by following the vendor's instructions and diagram.
"It made wiring that car easy," he explained. "He gave me the harness, all done, all numbered. You have the sheet and even a non-car guy can put it together."
The Continental six needed valves, rings and seals, but not much more.
"I took it to a machine shop that was highly recommended and they did a beautiful job," Layton said. "They reamed out the cylinders just a little. Just wear. Then I brought it back up here and put it together."
The Hydra-Matic transmission was also rebuilt, not because it was showing signs of problems, but because he wanted to take no chances.
"I didn't care," he said. "I did the engine and there was no way I was going to put that engine in there without it…I was just being safe. Going through all of that expense with the engine, I wasn't going to go 50 miles and have it break. If you're going to fix something, do it right. I got that from my grandfather."
Similarly, he did brake work on the Frazer and all of the other small-but-important projects that go with nearly any restoration. But its years in the south had kept the car virtually rust-free. It showed only some minor surface problems on panels where the paint had been heavily sun-damaged.
"I painted that car myself," Layton said, "(although) not this paintjob that's on it now. I used to work in a body shop when I was in high school. I did all of the bodywork and I painted it, but it just wasn't show material, so probably 12 or 13 years ago, I had a body man paint it and it's clear-coated."
Other Frazers might not have been as lucky as his. Rust would likely show up in the problem areas typical of postwar cars, such as the rocker panels, floors, lower quarters, door bottoms and fender heels, but another concern is that as orphan cars, many Frazers and Kaisers were badly abused or just abandoned because they had so little value as trade-ins and not much chance of being sold outright. Even a barn find might be literally worn out.
"Scarce" Is an Understatement
The biggest problem facing a restorer who wants a Manhattan hardtop is going to be finding one. Layton said he's heard estimates of 25 to 30 in existence, but he's never seen another example.
"I've heard a story of one being up in Massachusetts," he said, "but it's just a story. I don't know anything more, just people talking."
For as rare as it is, the hardtop has a plus for the restorer who actually does locate one in that a conventional fourdoor sedan can provide many parts, but there's a catch. It can't provide all of the necessary parts because it's a different car and Frazers as a group aren't common. That means completeness is an important consideration. The seller had told Layton that the Frazer was complete.
"I did kind of believe him," he said, "but I wanted to see it for myself. Then when I got up there, I saw that it was all there. I'm talking about the script that says 'Frazer' on the rear, stuff that you're not going to get, stuff that you can't find."
While Layton's car was missing nothing significant when he bought it, he's had problems. There was, for example, the radio.
"The buttons," he explained. "They just crack and deteriorate with age. This (material) doesn't take age well. I've had to replace all of those buttons and they look original, but they're just plastic."
He's been trying to find a better pair of taillight lenses, something that seems like it should be easier since they're identical on all 1951 Frazers, but he's had no luck yet. The rest of the interior has been less trying, although not cheap.
"The rear seat's still in it," Layton said. "The headliner's still in it. I've got to take the headliner out and get it re-sewn.
"But the front seat is where it was worn. You had to put a pad over it to sit in the car. That's how bad the leather was. But the front seat cost me $2600 to restore. That's leather, tucked and pleated, and I still haven't done the rear seat."
The power windows have given him no problems, but he worries about the windshield wipers and potential problems with the cable-drive system.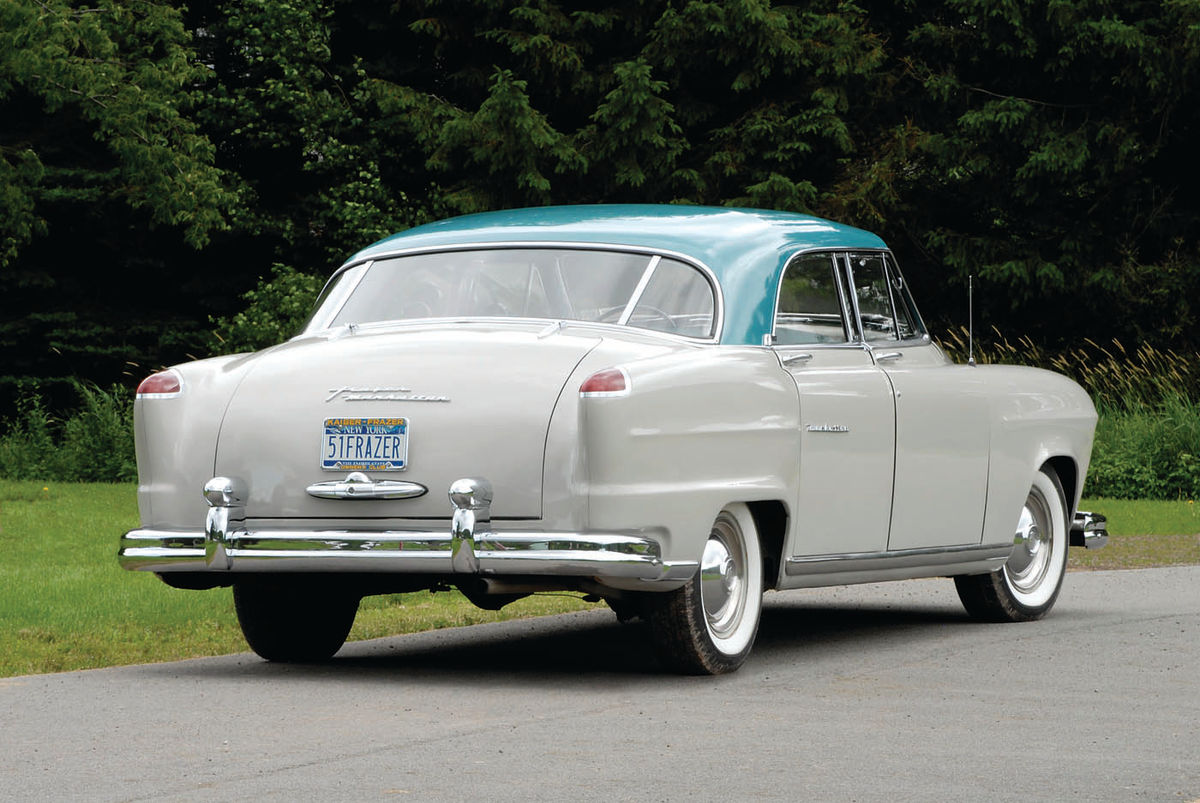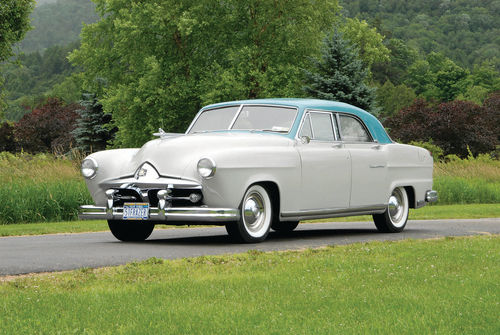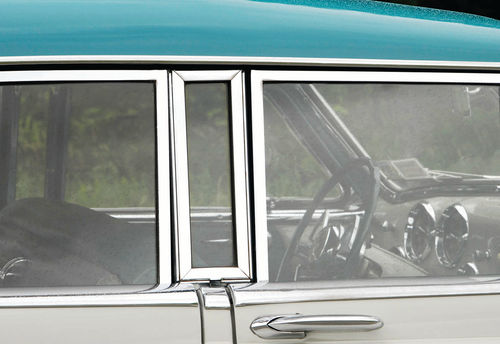 "If I had to replace one of those?" he asked. "The thing that scares me most is the darn wipers. The windows? You can get along. They're simple, electric-hydraulic and they work fine. There's not much to go wrong. That's something you can get fixed, but you've got to know somebody who knows what he's doing on those wipers."
Since they're working as they should right now, they're not even an annoyance to spoil a trip. Layton said that the Frazer's ready to go and its longest run to date has been to the Philadelphia area. Its lack of air conditioning and its leather seats made bumper-to-bumper traffic in 100-degree heat there unpleasant, he said, but the car's temperature remained about where it belonged and there were no fuel-related problems.
"With the nose on them," he said, "there's just not that much air going through. All of the Kaisers and Frazers had trouble with vapor-locking.
"One thing you could do is reroute the gas line. It's sitting right there and so all of that heat's going to be there. On my '48, I put in an electric fuel pump with a switch. It worked. Anytime it was starting to vapor lock, I'd just throw that switch."
Definitely Not a Street Racer
The electric fuel pump might not be a bad idea, given that the Frazer is comfortable enough (at other than extreme temperatures) to be driven and enjoyed. A tall driver, however, will need to make a single concession that's a result of the hardtop design and something that probably would surprise him.
"The only thing bad about that car is that it's a hardtop," Layton explained. "With those windows, it's not technically a hardtop —that center window is a roof brace. So that allows the seat to only go back so far. I'm six-foot and it's a little bit too tight for me, but it's not that bad. That's the only thing I'd say that might make your ride uncomfortable. In fact, if you were in the passenger seat, you'd be fine."
In addition, driving it does require an awareness that 115 horsepower and an automatic transmission in a 3800-pound car don't add up to high performance.
"You're not going to be passing anybody with that," Layton said. "But going up the hills? It'll drop down into low gear; it's a Hydra-Matic. You just watch the road. You pull over and let them go by."
As long as the hill isn't too steep, experience makes the difference.
"I can stay with traffic even on hills," Layton said. "When I'm going down a hill and I know I've got a grade to climb, I might go a little bit over the speed limit."
For 18- to 22-miles-per-gallon economy, that's a fair trade, but many of the Frazer's trips are close enough to home that fuel economy isn't a major concern. That translates, though, to the Frazer's being well-known in Walton.
"I couldn't get away with anything here," Layton said. "They'd know it was me."