Ray Noble paints cars, but not in what we would consider the traditional manner. He paints fine art portraits of cars. And not just any vehicles, but collectible, special-interest, vintage automobiles.
His medium is oil on 3 by 4-foot panels of Masonite that Noble says is "more archival than canvas."
"Canvas will deteriorate in 400 to 500 years," he said. "Masonite will probably last a thousand."
Who knows, given the classic nature and enduring appeal of his subjects, people may still be interested in these vehicles that far in the future.
One of his favorites is a Duesenberg that is hanging at the Glenora Winery in Dundee, New York, near his hometown of Penn Yan.
Not only is the beauty of the shining Duesie important to the portrait's allure, but the abundant chrome helped him achieve an artistic effect.
"It's a complex painting upon which I spent a great deal of time," Noble said. "There are multiple reflections and reflections reflected in the reflections. When you stand away from it, it looks very, very realistic."
His artistic method also involves a lot of texture. "I'm interested in composition and color," he said, "but when you stand 25 feet away, (the paintings) are extremely realistic. But they are not photo realistic because when you get close they appear impressionistic."
He enjoys the works of the Renaissance including Michelangelo and Da Vinci, whose styles he says are incorporated in some of his automotive portraits.
Noble has a hard time selecting just one color as his favorite, and insists that all the primary colors are "favorites." This is evident in the bold palate of most of his works: red, yellow, green, blue, all in their truest hues.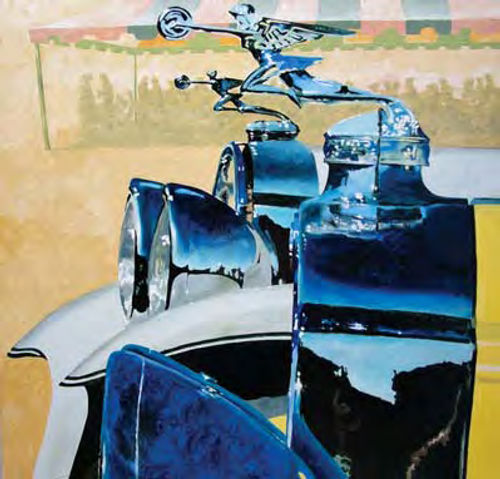 The Artist as a Young Man
Noble began drawing when he was a toddler. Though his parents were poor during the Depression, his father built a blackboard for him in the kitchen where young Ray could draw using the affordable medium of chalk.
"They told me I was an artist," he said of his parents. "I wasn't sure what that was at first. That word stuck in my head and that's what I became."
To further hone his skills, Noble attended Washington University of Fine Arts in St. Louis, and he has been painting since graduation. Art is part of his family as well. His wife, Beverly, is a portrait artist.
Noble chose cars as his subject because he has "been associated in one way or another with cars my whole life by restoring or maintaining them."
Although he often paints commissioned pieces, he has attended car shows from California to Connecticut to find and photograph subjects for non-commissioned work.
And when Noble is not painting cars or tinkering with the real thing, he works on restoring his home, a project 16 years in the making.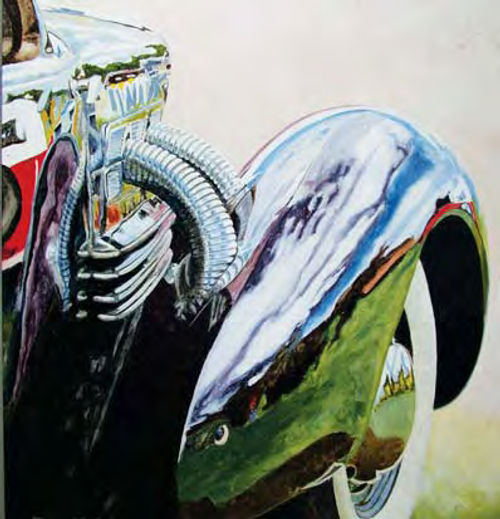 An Abstract Approach
Noble takes what you and I see and makes the images flat on the pieces of Masonite in such a way that they appear to be three-dimensional.
Because his work is so detailed, he oftentimes paints just a portion of a car, such as a front fender, a specific make and model's engine, or a grille dripping with chrome.
Within each piece, the background, reflections, and the focal point itself burst with details. The seasoned eye, he says, can always tell what type of car is being portrayed.
"These paintings are an exploration of the automotive culture," he said. "They are born of my fascination with the marriage of fine design and mechanical functionalism."
His portrait of a '32 Ford Grille is a great example. "Hot rods are a passion of mine," he said, "and this work is an ode to the beautifully designed grille that you see so frequently used on rods over the past 60 years."
The '55 Chevy Tail light painting is another example of Noble's ability to find art and beauty in what many people, even car people, might perceive as a rather ordinary part of a car. "This tail light stands alone as a good piece of industrial design," he said. "The challenge was to enshrine it in interesting composition. It is worth noting as a singular oddity that my reflection appears in the bumper at the bottom. It is sufficiently nondescript that I decided to include it."
Some of his pieces are so detailed that only a car nut would even realize what he has painted. Such is the case with his Small Block Chevy portrait.
"General Motors has produced over 50 million versions of this engine since 1955, and its descendents are still in production today," he said. "Its popularity made it a natural for modification to increase efficiency and enhance appearance. This painting elevates the appearance to an almost jewel-like quality. The focus is so narrow that to a viewer unfamiliar with the subject, it may appear to be an abstract work."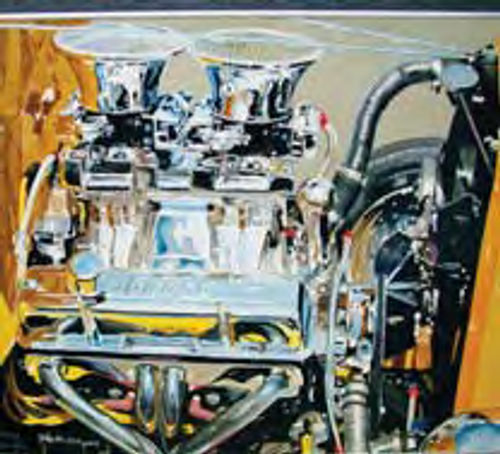 His '37 Cord painting demonstrates Noble's desire to preserve the classics through art.
"The 'Coffin Nose' Cord is a timeless design that only grows better with age," he said. "Here pictured are the exhausts exiting through the hood sides on their way to the rear. Their bold chrome implies power for this front-drive V-8."
Noble also gets a little symbolic in his portrait of a '76 Thunderbird Tail light, but his symbolism is only capturing the designer's intent.
"This orange tail light...is from a design era that saw the future of car design as identifying with jet aircraft," he said. "The tail light was obviously to look like the glowing exhaust of a jet engine. The fin jutting out at an angle is designed to imply a stabilization device to keep the craft on a straight course."
Oftentimes, the setting of the vehicle in his paintings is warped and rounded in the reflections on the car's chrome, glass and metal to create a beautiful abstract detail, such as in his Duesenberg painting. "Perhaps the finest of American classics, the essentially hand-built Duesenbergs are now restored to a quality level of fine art. This car is painted as it appeared at the Greenwich Concours d'Elegance and reflects the world of show cars in a pastoral setting."
The Duesenberg painting also is an example of his meticulous attention to detail that attracts both car and art aficionados to his work.
Some vehicles induce him to paint them because of the complexity of the cars. A 1930 Model A Ford, for example, had a polished stainless steel firewall, creating a mirror image of its modified Chevrolet engine—no easy feat to recreate in oil paint. "I found the aesthetic possibilities challenging and compelling," Noble said of this work.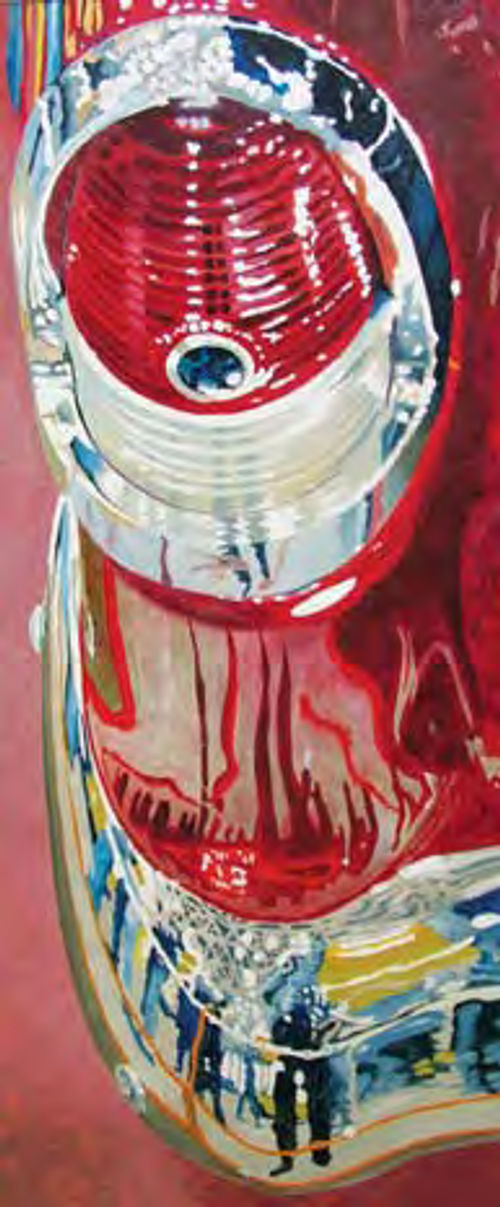 It Takes Time and Money
Noble often urges people to first back away and then move closer to his pieces to make the realism pop out of the painting at a distance, and then to see the texture close-up.
The average cost of one of his portraits is about $6000, but a good deal of time and effort goes into his work. Noble takes about a year to finish one piece, and then he allows the painting to cure for six more months so he can varnish it. For commissioned work, he sometimes allows the client to take the piece home while it's curing, and then he finishes the varnishing later.
Unlike working with acrylics, "when you work in oil paints, you have to retreat occasionally to let the paint dry and season," he said. "I work on several paintings at a time."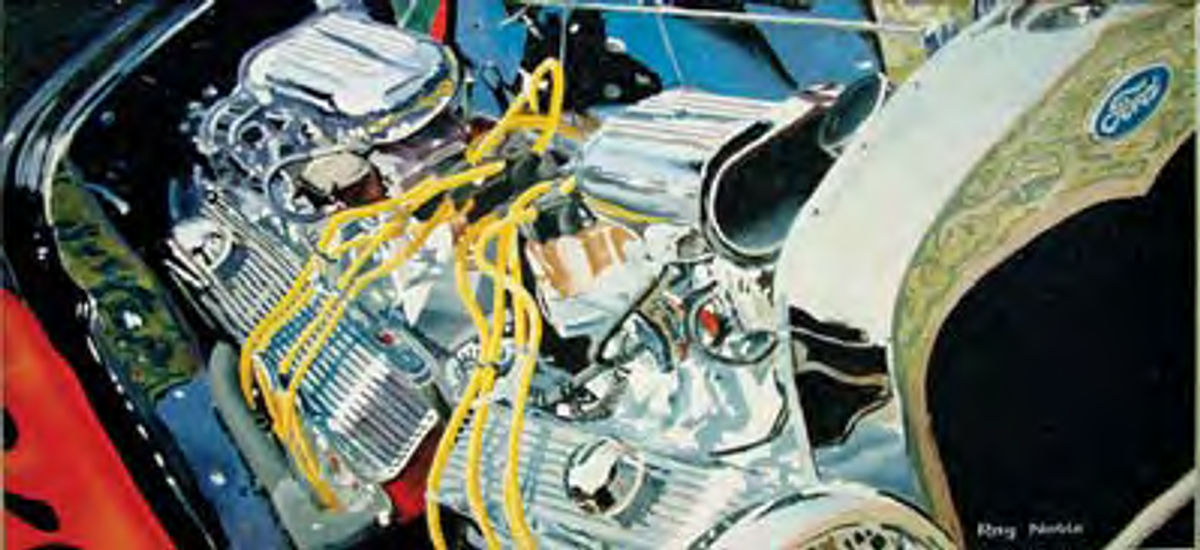 Noble insists he doesn't paint for the money involved. "I'm in it because I have a compulsion about it and it's related to my love of fine machinery," he said. "Cars are not simply transportation...