After a Quarter Century of Hauling Loads, It's Still On the Job. What Exactly Does It Haul? Well, We'll Get to That…
WHILE OTHER 25-YEAR-OLD trucks might be enjoying their retirement, Koberlein Environmental Services' 1989 Mack Super-Liner still does the work for which it was purchased in 2001.
"We were looking for a spare truck, a back-up truck," said Gene Mohrmann, operations manager for the Honesdale, Pennsylvania, company, "and we actually looked around at two different Super-Liners. One had more miles on it and that's why we opted for this one. This one was right around, I think, 350,000 when we bought it. The other one we looked at had well over 700,000 on it, so there was a big difference in mileage."
The fact that the truck continues in service today would probably interest Mack, but it almost certainly wouldn't surprise anyone there. After all, Mack advertising in 1945 pictured a chain drive AC model being loaded with produce and questioned "how long should a good truck last?" While it didn't provide a definite answer, the ad also asked "did you know that Mack Trucks you see today with the famous, slanting Mack 'Bulldog nose' are between 13 and 29 years old? Did you know that Mack case-hardened timing gears — to name just one of many points of special Mack mechanical quality — are so durably constructed that not one has ever worn out? The very first Mack built in 1900 served its owners faithfully for 17 years…"
Switching From Horses to Horsepower
The above reference to the "first Mack built in 1900" doesn't tell the whole story, as Gus Mack entered the vehicle business in 1889 when he went to work for Fallesen & Berry, a Brooklyn, New York, builder of wagons and carriages. His brother, Jack, joined him the next year and by 1893, the two had taken over the business. A third brother, William, had owned a wagon-building shop in Scranton, Pennsylvania, and in 1894 moved to Brooklyn to become a partner in the family business.
Fallesen & Berry had developed a solid reputation and Mack Brothers continued in that tradition, focusing on wagons for commercial customers and offering repairs. But the Macks also had sufficient vision to suggest a motorized bus to a customer who had come to them for a horse-drawn model.
With its four-cylinder engine and a top speed of 20 miles per hour, the bus was that "first Mack built in 1900" and was successful enough that another was built in 1903. The business then began to look more carefully at motor vehicles, it called them Manhattans, but of much greater importance, things were going well enough that larger quarters were becoming necessary.
Yet another brother, Joseph, was operating a silk mill in Allentown, Pennsylvania, at the time and sent word of a foundry complex there that had been put on the market. By early 1905, Mack Brothers Motor Car Company had been incorporated in Pennsylvania and was operating at the former foundry in Allentown in addition to the Brooklyn shop.
Bus production continued, a self-propelled railroad passenger car was built, the first trucks appeared in 1905 and five years later, the "Manhattan" name was
dropped and all of the company's vehicles became Macks.
In 1911, Mack and Saurer Motor Company came under the control of International Motor Company — which despite the similar name, had no connection to International Harvester — and in 1912, Hewitt Motor Company was added. The three truckmakers went on under the new holding company and several developments hinted at the future. A fourand-one-half-ton Sauer made a transcontinental trip requiring five months in 1911; Joseph and Jack Mack left the company in 1912 and Hewitt disappeared in 1914, but in 1915, what would become one of the icons of the truck world arrived in the form of a prototype called the E-2. Its success would launch a line of Mack AC models continuing into 1938, but its performance and its appearance were recognized almost at once when a 1917 order for 150 trucks went to England where the British military nicknamed them "Bulldog Macks."
The Bulldog Mack was visually distinctive and remains so today thanks to its hood that slopes downward at the front while the radiator is at the cowl. Its chain-drive kept it popular in large sizes with construction companies and other heavy-hauling businesses for several years after the lighter versions mentioned in that 1945 ad had been dropped from production. The AC look also appeared on several other Macks including buses and even locomotives, but incredibly, the Bulldog passed down its chain drive to a few models that remained in production into 1950.
Working On Another Landmark Truck
By mid-century, of course, the world had changed considerably from the AC's time and trucks were becoming larger, more powerful and at least slightly more civilized.
Truck Makers had followed about the same route that their automaking counterparts had taken during World War II by switching over to defense work — Mack built everything from tank transmissions to six-wheel-drive NO prime movers — but production of civilian trucks continued on a reduced scale. Some went to the American and Allied militaries to serve in transportation and other non-combat roles while others were sold to high-priority civilian users.
At the war's end, prewar civilian models reappeared with changes, if any, mostly minor and Mack began working on designs for what would become another landmark, the B series.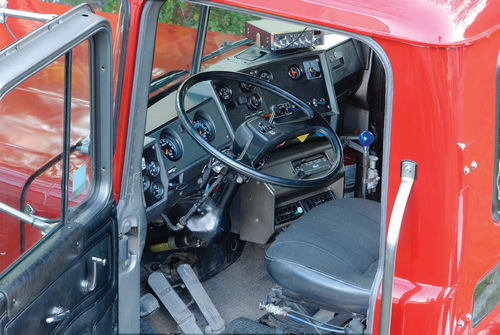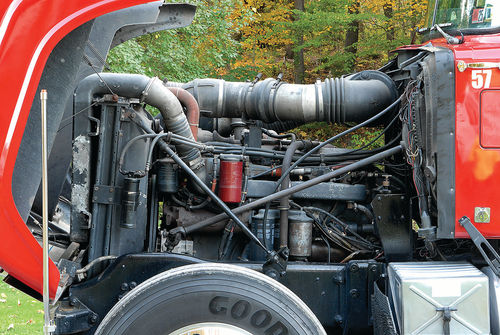 Introduced in 1953 with models ranging from the B-20 with its 17,500-pound rating to the 60,000-pound B-42, it looked like no other truck on the road. Streamlining had smoothed its lines, body panels had been planned for easy removal to speed servicing and the cab had become more user-friendly. The Contour Cab soon appeared with its dished rear wall to allow the front of a longer trailer to swing on turns and new models continued to be introduced so that the B line remained in production into 1966.
The R series of 1965 overlapped and then replaced the B, bringing as much of a change as had the B itself. The new truck introduced modern angular styling, a one-piece fiberglass nose and a higher cab with wider visibility and safer construction. The U series was introduced at the same time and appeared about the same at a casual glance, but the second look revealed that its cab was offset to the driver's side by 11 inches to provide better visibility. The same cab appeared on other series such as the lighter-weight RL, all-wheel-drive RM and heavy-duty RD and DM before going on to the Super-Liner conventional, which Mack introduced in October of 1977.
Still Hauling For a Living… After All These Years
The Super-Liner was part of a new generation at Mack that included the Cruise-Liner cabover first shown about three years earlier. When the Super-Liner arrived, it brought some of the Cruise-Liner's features, notably a frame designed to house a radiator with enough capacity to cool high-horsepower engines that might become available in the future.
A large radiator, naturally, requires a large grille and that's one of the Super-Liner's signature visual features. Round sealed beams were replaced by rectangular units in 1985, but a Super-Liner still looked like a Super-Liner and the feature truck is still noticed on the road today.
"A couple of months ago," Mohrmann said, "I had a guy when I was passing him get on the radio and say 'look at that old Super-Liner, still making a living over there.'"
And it very definitely is still making a living. As mentioned above, Koberlein bought the Mack as a backup truck, so it's not a toy or just an antique that comes out only for parades and shows. That's why it was important to start with a good one and Mohrmann said it had had only two or three previous owners, all of whom took proper care of it.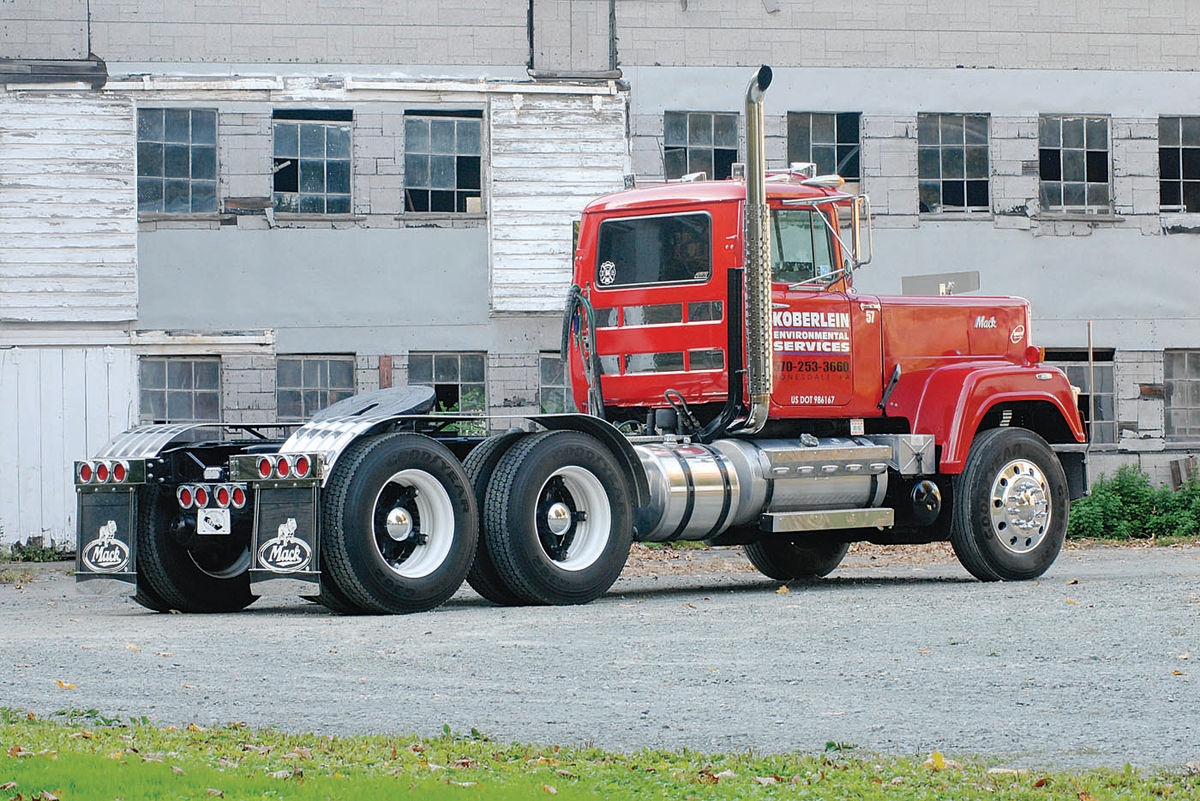 He said the truck was black when it was sold new at a Buffalo, New York, dealership and was repainted white with dark gray fenders by its last owner before Koberlein purchased it. About five years ago, though, the company decided that it needed some attention.
"It was starting to show wear," Mohrmann said. "The hood was cracked and the driver's door was starting to rust, cracking under the mirrors, typical Mack. I talked to the owner and we decided that if we did keep it, we wanted to redo it, paint it the company colors.
"There was cosmetic stuff like changing the deck plate and we changed the hydraulic tank. It had a steel hydraulic tank and that was starting to get rusted, so we put an aluminum hydraulic tank on it. There's a new bumper on the front because the bumper was cracked. Other than that, it's pretty original."
The rear ends, though, were changed several years ago. One of them failed, Mohrmann recalled, and that was when he found out that their ratio was 5.02:1 and worse yet, the rears themselves were of an uncommon design that would be both difficult and expensive to rebuild. The solution cost less than rebuilding one of the rears and provided a second benefit as something of a bonus.
"We went down to 4.55s on them," Mohrmann said, "so by far, it was to save fuel and make the truck a little more highway-friendly."
Anything that saves fuel is a wise move; particularly on a working truck and even if it's one that doesn't work around the clock.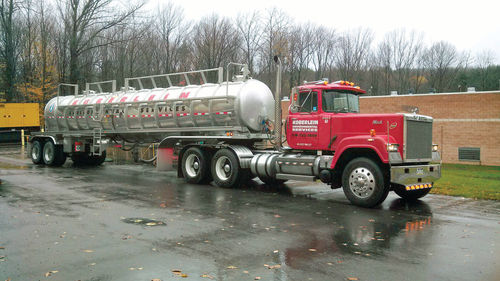 "It's been a good, very reliable truck for the way we use it," Mohrmann said. "It's not a five-days-a-week truck; it's kind of a reserve fleet type of thing."
So what exactly does it do?
"Some people will say 'I don't believe you still use it,'" Mohrmann laughed. "I get a lot of cracks about how it sits in the garage.
"It pulls trailers and has a vacuum pump on the tractor. That's the pump on the side, a Masport 400WD. It's a liquid-cooled vacuum pump that basically just pulls air and creates a vacuum in the trailer. It runs around 400 cfm and I can load myself. It uses a shaft-driven PTO. (It hauls) any kind of septage waste, sludge waste from sewage treatment plants, we do grease traps from factories, large-volume stuff like that."
It's not anything like glamorous work and in all probability, any similar truck could do it, but Mohrmann speaks constantly of reliability and that's where the Super-Liner has proven itself. Look carefully at the photos here. For all of the formal shots, he did little more than wipe the truck off and drive it out of the garage at his house — he is, after all, the Mack's self-appointed caretaker and protector — to position it as necessary. Not especially impressive, or is it?
1989 Mack Super-Liner
GENERAL
Front-engine, rear-drive tandem semi-tractor
ENGINE
Type Inline six-cylinder turbodiesel
Power 350 hp @ 1800 rpm
DRIVETRAIN
Transmission Nine-speed manual
SUSPENSION, STEERING & BRAKES
Suspension Solid axles, leaf springs
Steering Ross power-assisted
Brakes Drums, air-operated
MEASUREMENTS
Wheelbase 193 in.
Weight 17,500 lb.
Tire size 11R x 24.5
"The day after that photo shoot," Mohrmann said, "I got a call at five in the morning to go and do an emergency at a factory.
"It seems to be feast or famine. We had some work two weeks ago where I ran it three days in a week and did nine loads in three days. I pick up I guess you could say the 'overruns' (with the Mack) when we have too much work to get done with the other trailers that we run. There's a lot of emergency work that I do with it. We have several resorts (as customers) and they might have issues, a pump station goes down and they've got to be open for business, so we're down there pumping. Or a factory. They can't shut down a 24- hour, seven-day operation, so they have to have options. That's one of the reasons why we have so much equipment. We're one of the only companies in the area that can send two or three trucks out at a time.
"We were out last Saturday night. (A business) had a motor go down in one of their pumps and we had to pull 14,000 gallons out so they could get through the next shift while they waited for parts. So I was over there at midnight, with this truck."
Midnight emergency calls are unpleasant, but they're emergencies and they require responses in any weather. If a call comes in on a winter night when the roads are slippery or salt-covered, the Mack goes out.
"I do run it a little bit in the winter," Mohrmann said, "but I try to limit it. Usually, we're slow enough in the wintertime that we don't have to run it. I have been out in salt with it and when I do that, I try to get it back and washed off right away. It's garage-kept and that helps."
Things to Know About Parts and Engines
The Super-Liner's runs are mostly within a few hundred miles, but he said he wouldn't hesitate to drive it to Florida. It's comfortable for its time, although it's no match for a modern truck, and he said an all-day run in it is reasonable.
"We've put some miles on," he said. "I did a trip a few years ago with my boss, who's six feet four, and we went out to Snowshoe (Pennsylvania) and then all the way to Auburn, New York, and back, 602 miles. I was fine. It was a long day and he was a little cramped, sitting on a bench seat as the passenger, a guy that size. But it's good. You get spoiled with today's trucks with air-ride and things like that."
The least-surprising part is what he said next.
"I love running it," he confessed. "I'd rather run that than any of the other trucks, just because I like it and it's different. It turns heads."
So for someone interested in a serious truck, maybe this is the time to start looking for a Super-Liner.
But, obviously, while you're shopping keep in mind that there are major considerations when it comes to buying, restoring and driving a truck of the Mack's size. Nearly everything on it is bigger than the comparable part on a car and that means at least some bigger and more-expensive tools. It won't fit in a standard garage and driving it successfully will require a learning curve. For those who aren't scared off by those points, though, there's good news.
"There are a few out there," Mohrmann said, "and I've seen them as cheap as $8500 and as high as $30,000. Look in the classifieds (in industry publications) at any time and I think there'd be 30. They range from the bottom and beat to pieces to a few that are really nice. A friend of mine just bought one; he actually just picked it up this week. It came out of New Jersey and the guy only had 85,000 miles on it. The guy only used it to move a crane. It's a V-8 tri axle tractor…it needs some TLC. I looked at the odometer and the guy talked to him to see whether it's right, but supposedly, the guy pulled a 60-ton crane about 10 times a year. Moving the crane is all he did. It needs some work because it's an old construction truck and it wasn't babied."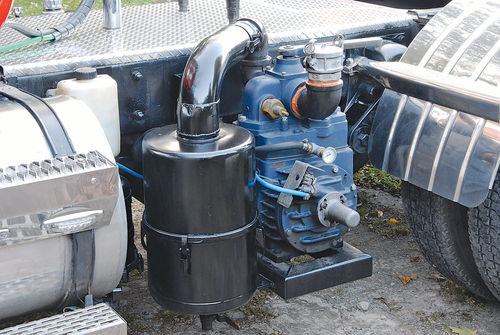 At least one part of the work it needs is familiar, as its hood is cracked and Mohrmann said that's a known problem. On the feature truck, both the cracked hood and the rusted door were replaced with new parts and he said that Mack's use of that cab on so many models over so many years ensures that nearly every part for it remains available. The new hood was an aftermarket part, which speaks well for the popularity of Super-Liners, but if a replacement can't be found, it's not an impossible fix.
Mechanically, Mohrmann said that both the sixes and V-8s typically found in Super-Liners are generally good engines and should have few problems if they've been properly maintained. He said that V-8 parts are just now beginning to become expensive and hard to locate, but they can be found.
"The V-8s," Mohrmann said, "had some issues with the head bolts breaking. They used to say that a lot of the guys with V-8s had a couple of head bolts under the seat so they could stop and change one. But other than that, I always thought they were decent motors. I've run the straight sixes, the 300 and the 350. The 300's a decent motor, decent power and very reliable, too. They did it for years."
But That Doesn't Look Like an "Older" Truck
Mack built Super-Liners into 1993, he said, so Koberlein is far from the only one in service and if the trucks are working, they're being maintained and repaired. Expertise is still out there and that's important not only in keeping the truck alive, but also in deciding whether to buy a particular example.
"There are enough guys around who've worked on them," Mohrmann explained.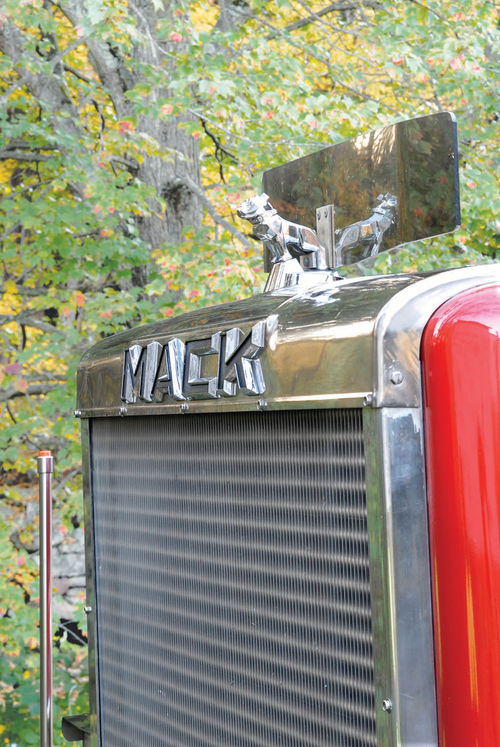 Furthermore, the warnings about restoring trucks in general and about the beginnings of dwindling parts supplies for Super-Liners in particular might sound worse than they really are because as noted, Super-Liners aren't especially rare. As a collector truck, Mohrmann said, it's not a bad choice.
"The parts are still fairly available," he said. "It's not like your older Peterbilts and Kenworths; some of those parts are getting hard to find. (Super-Liners) are still new enough, yet old enough. Even in the junkyards, there's still a fair amount of parts there for them."
If there's a down side, it might be that it's hard to think of a Super-Liner as an antique because of its appearance, something Mohrmann can appreciate from his experience with the truck at an Army depot.
"You have to take your VIN and registration and all of that," he explained. "The guy's filling out the sheet and looks out the window, looks at the truck sitting in line and he says 'that thing's an '89?' I said 'yeah, why?' 'It doesn't look like an '89.'"
But it does look like a Mack and Macks have a strong following and long-time loyalty, something the company pointed out in another wartime ad. Beneath a painting of an NO prime mover dragging a gun through deep mud, the ad spoke of the truck's size and called it "probably the biggest single job in truck history." It closed with the statement that "if you own a Mack, you're lucky. If you plan to buy one, you're wise."
Especially if it's a Super-Liner.