Going to Restoration U. Pt. 1
If You're Young and Like Vintage Vehicles, What Are Your Options? Let's Ask These College-Educated Restorers.
Editor's Note: Last year we ran an article pondering the future of the restoration hobby and one of the major concerns expressed among professionals and hobbyists alike was that today's younger generations would have no interest in restoring older vehicles.
After all, or so the argument goes, young people are too caught up in the Internet, text messaging, video games and new, faster tuner cars to care about vintage cars and trucks. They're too affected by attention deficit disorder to put the time and effort into restoring a time-worn '57 Thunderbird or replacing rusty panels on a '39 Packard.
With a generation so consumed by the here and now, we asked the question: How could a hobby so enchanted with the past survive?
But perhaps some hobbyists were being a little pessimistic about today's youths. Though car shows these days may feature a lot of older faces, there are younger people interested in vintage vehicles, and some are downright passionate about them. And just where are they hiding? They're where most of the people their age are: in school.
WHILE SOME IN the auto restoration hobby question its future, Justin Brown is one person who has never harbored doubts.
At 21, Brown is one of a number from his generation who are not only enthused about older cars and trucks, but actively pursuing a career in the field of vintage vehicle restoration.
"I always knew that I liked classic cars," he said. "My mom took me to car shows when I was a kid and something just clicked. I thought, 'Man, these cars are cool.'"
Just looking at those cool cars wasn't enough for Brown, so last year he began looking for schools that would offer him the opportunity to utilize his passion for vintage vehicles.
"I didn't want to be a run-of-the-mill mechanic, and I didn't want to get too bored on what I was working on," Brown said. "I really wanted to do something with old cars…zero in on the classics as much as possible."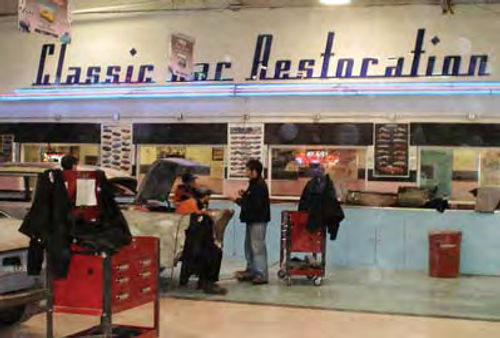 His search led him to the Classic Car Restoration Program at Ohio Technical College (OTC) where he now spends four days a week in class and in the shop learning everything from how to use an English Wheel to how to restore the upholstery on a vintage vehicle.
Adam Hammer has followed his interest in cars down a similar path. A senior auto restoration student at McPherson College,Hammer has always enjoyed the car hobby, but his passion took off when he started working on vehicles with his father.
"After working for a mechanic shop during high school, I turned toward classic cars," Hammer said. "I really enjoy the older automobiles because they tell stories and had a major impact on today's transportation."
As other people their age head off for a more traditional college experience, students like Justin Brown and Adam Hammer are pursuing their love of the vintage vehicle. Whether at a community college, a technical college or even a four-year liberal arts college, these auto restoration students are working to be the next generation of classic car restorers, keeping the restoration hobby alive, at least for as long as they're around.
The Well-Rounded Restorer
Think liberal arts colleges and you conjure up all the standard images—grassy quadrangles, studious coeds, philosophy midterms and papers on Shakespeare, but at McPherson College, over 100 liberal arts students roll up their sleeves and spend a good chunk of their days as undergrads under the hoods of vintage vehicles.
Located in McPherson, Kansas, McPherson College claims to have reinvented liberal arts education, and their Auto Restoration Technology program certainly goes a long way to making that point.
Originally a two-year offering when it was founded in 1975, the Auto Restoration Technology program at McPherson made history in 2002 by becoming the first four year accredited auto restoration program.
"We put out well-educated students," said Daniel Hudachek, Director of Auto Restoration Development at McPherson College. "They're educated in a broader sense, and the high-end restorers want that. They can get anybody to paint their cars, but they want someone who knows the historical context that these cars have come from."
On top of the historical context of classic cars, students at McPherson study everything from math and science to English and psychology on their way to earning a Bachelor of Arts in one of five majors within the Auto Restoration Program.
But McPherson restoration students know what they're getting themselves into and have little trouble balancing the demands of being a full-time student.
"A lot of students that we've had (in the program) double major in auto restoration and something else because they want to learn the auto restoration process, but they want to do something else as a career," said Hudachek.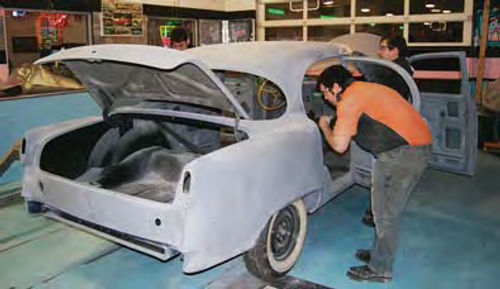 So on top of churning out educated, professional auto restorers, McPherson College is also training the next generation of hobby enthusiasts.
I'll Spend My Time In the Shop
Taking the extra time to get a B.A. is great for the restoration students at McPherson, but Justin Brown had his eyes set on learning as much as he could, as fast as he could. For him, the 72-week program at Ohio Technical College was a perfect fit.
"I like the program at OTC because you feel like you're in a shop. I'm learning it and I'm doing it," he said. "Other schools I looked at felt too class-roomy."
That doesn't mean that students at OTC don't spend any time in the classroom. Students start every day in class going over the skills and techniques they will be using in the shop. Throughout the course of the program they even run into quizzes, tests and homework like any other college student.
Nevertheless, the emphasis definitely lies on getting the hands-on experience. According to Ron Davis, director of the Classic Car Restoration program at OTC, students spend roughly 20-25% of the time in the classroom and up to 80% of the time working in the shop.
By spending as much time as they can working on a wide variety of cars, Davis and the other five Auto Restoration instructors at OTC hope to give students a solid base of restoration knowledge.
"We take them through the full gamut," Davis said. "Often students have a particular love or stand out in a particular area, and we do encourage them to do what they love. But at the end of the day, we want our students to be able to safely walk into any restoration shop and tell them that they're pretty well trained in the basics. We want to make sure that we touch on all of it."
"All of it" includes engine and drive train restoration, ignition, fuel and exhaust system tuning, metalworking, upholstery and trim restoration, welding, damage repair, suspension and chassis restoration, painting and refinishing, as well as career development training.
"They make it easy so that anyone who has the interest can do it," student Justin Brown said. "I've been here 14 weeks, and I've learned so much, I feel I could almost leave now. I've picked up so many things that I feel comfortable doing on my own."
The Students
"For the most part, these are people who have had classic cars as a part of their life for as long as they can remember," Dan Hudachek said of the students in McPherson's Auto Restoration Technology Program.
"For 18-year-old kids, it's amazing how much knowledge they have. They're all experts on something," he said.
Ron Davis agreed, citing a common passion for the course material among his students at OTC.
"Personalities (among students) differ, but they have love for the old vehicles," he said. "They're hands-on people. They have a certain amount of book learning, but they like to get out there."
The vast majority of auto restoration students are male, but a few proud females join their male counterparts in the pursuit of learning the trade.
At McPherson, six of the 111 auto restoration students during the past fall semester were female. The OTC Classic Car Restoration Program has graduated three females in the past and will welcome four more to the program in July.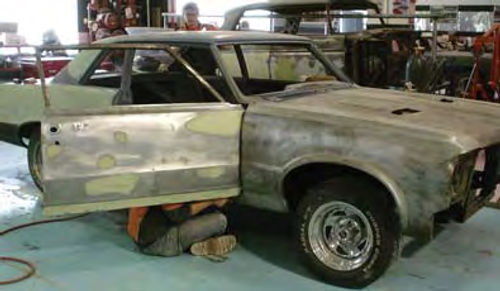 Most students are college-aged, but both programs also see their share of "non-traditional" students.
"We actually do get a lot of older students," Hudachek said. "Whether they're going through a mid-life crisis or they've been laid off and always wanted to try their hand at auto restoration, they come to us for a change."
Non-traditional students come from all backgrounds and cover all ages. In fact, the oldest auto restoration student at McPherson was 76 years old.
A Non-Traditional Student
When Joel Keefer enrolled in McPherson College's auto restoration program at the age of 51, he had already served 22 years in the U.S. Navy and embarked on a second career in public relations and communications management.
In his application to the program he wrote: "I have achieved a reasonable level of success in both careers; however, for some time I have felt as though something was missing in my life."
After some soul-searching, Keefer realized that what had been missing, or at least what was being neglected in his life, was something that had been there for as long as he could remember: his passion for vintage cars and, more specifically, auto restoration.
Keefer talked with several people in the restoration business about his situation, and they pointed him toward McPherson College, which at the time was offering a two-year auto restoration program. He felt that it would take too long to break into the business without more experience in the field so he decided to go back to school.
While most college students fret about moving away from home for the first time and the challenges of living independently, Keefer had bigger concerns.
"Personally, being separated from my family was the major challenge," he said through an e-mail interview. "Since I didn't know where I'd be working after graduation, we decided not to move the whole family to McPherson for just two years, then pick up and move again."
Though he was on his own in McPherson for the first year of the program, his older son joined him for the second year.
"Being a single parent for that year added to the challenges presented by the course work. Of course, my wife had been a single parent of two sons the prior year, so she needed a break, and it was good for my son and me to have the time together," he said.
As if being a student and a single parent weren't enough, Keefer also needed to help bring in money for the family. Using his experience in advertising and public relations, he worked for the college promoting the restoration program.
"Part of that job involved developing and implementing a series of activities to observe the auto restoration program's 25th anniversary, and I also prepared a comprehensive marketing communications plan to support the auto restoration program," Keefer said. "It was a lot of fun and very personally fulfilling to apply my prior experience to a new field of endeavor that I enjoyed so much."
Even with the challenges of being a non-traditional student, Keefer envies students at McPherson who now have four years to hone their skills.
"Because time was so compressed, we had to move quickly through the course material," he said. "I would have preferred to have more time for hands-on practice."
That being said, Keefer certainly got his hands on a variety of different cars during his tenure at McPherson College, including a Model TT truck, a 1926 Model T touring car, a 1917 Willys-Knight touring car and a 1971 Pantera, among others.
Though he can remember the laundry list of cars that he was able to work on, like many college students his fondest memories came from something other than the course material.
"My favorite memory is of working alongside the absolutely wonderful fellow students with whom I was enrolled," said Keefer.
Variety In Their Training
The wide variety of cars that Joel Keefer encountered at McPherson was not a unique experience. Auto restoration programs across the country want to prepare their students for whatever they may someday face in a professional shop.
"We try to give them a basis on everything, so once they're out in the real world they can work on anything," Hudachek said. "We try to get cars for all the different eras, American as well as European."
On the blocks at McPherson currently, the cars range from a 1907 Holsman High Wheeler to a '25 Rolls-Royce to a '68 Chrysler Imperial.
Over in Ohio, there is no shortage of cars for students to work on, but their collection has more of an American flavor to it. Currently, 13 cars are in progress, including a '57 Chevy, '65 GTO, '59 Cadillac and a '72 Challenger.
Discovering Vintage Values
Though some in the hobby have worried that younger generations wouldn't carry much interest in the oldest classic cars, today's auto restoration students show no signs of losing touch with the earliest generations of automobiles.
"During the beginnings of the automobile, the engineering and manufacturing was still open to new ideas," Adam Hammer said. "I find the most enjoyment when I work on these older cars because there was no standard in the way an automobile was engineered."
Justin Brown is another young restorer who has no age bias when it comes to the cars he works on.
"Someone asks me what my favorite car is," Brown said, "and I ask them, 'What decade?'"
Though Ron Davis at OTC had his doubts, he's been pleasantly surprised with the wide span of students' interests.
"We were afraid that the younger student wouldn't have a love affair with the classic cars, but so far it's been clear," he said. "They love the classic cars."
Using the Finished Vehicles
"Our main product is graduates, not cars," said Dan Hudachek at McPherson College, but when these cars are finished, they certainly don't sit unappreciated for very long.
"One of the nice byproducts of the program is that we do have completed cars," Hudachek said. "We bring those to shows and museums across the country, which is a great way to recruit potential students."
Recently, student-restored vehicles have participated in the Glenmoor Gathering of Significant Automobiles, The Barrington Concours d'Elegance, Back to the '50s and the Kansas City Art Institute: Art of the Car Concours.
But the biggest stage that McPherson's vehicles have reached is the auction stand at Barrett-Jackson.
This year at the Scottsdale auction, McPherson College sold a 1957 Ford Thunderbird that was completely restored by students. Aside from providing some cash for the college's coffers, the sale did wonders for the school's image by putting the work of its students in the primetime spotlight.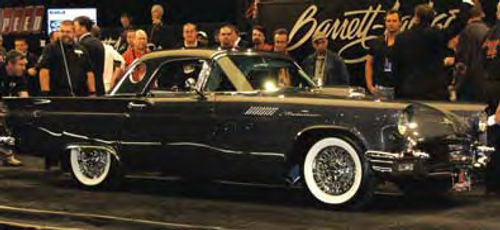 "To sell a car at Barrett-Jackson, we see a major jump in phone calls," Hudachek said.
Ohio Technical College acquires most of its cars from private dealers, but in 2008, the program was given a unique opportunity by the Cleveland Historical Society. Charged with the task of restoring a 1978 Ford LTD Cleveland Police Cruiser, students put in long hours to complete the vehicle within the five week timeline that they were given. The restoration process included everything from repairing body damage and trim to removing a vinyl top and replacing it with the original hardtop and replacing the emergency light bar.
After a fresh paint job, the car was returned to the historical society where visitors can see the LTD in its original lime-green glory. Very '70s, indeed.
Next, we'll take a look at a student's life on campus and how they transition from the classroom into the working world as professional restorers.