Behind the Wheel of a 1937 Cord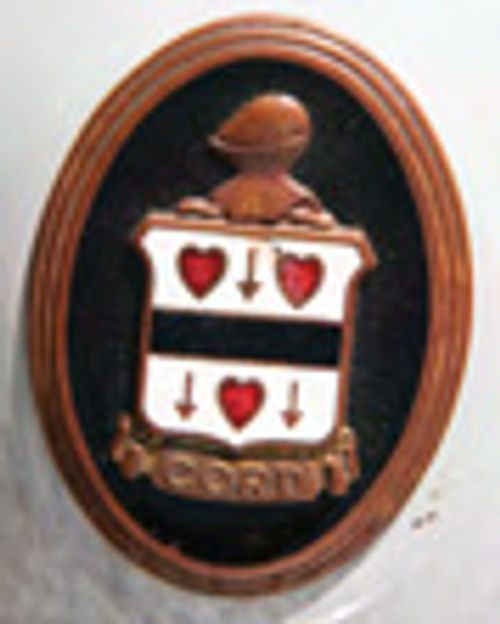 It Was Years Ahead of Its Time With Front Drive and a Unit Body. But Being a Leader Doesn't Always Bring Success.
I AM AT a loss for words to describe what it is like to drive a 1937 Cord 812…and I am never at a loss for words. Perhaps I can best sum it up this way: The 810 and 812 Cords are as spectacular to drive as they are to behold. They ushered in a new era of the automobile. I have owned several high-end mid-'30s cars and driven many more, and none of them compare to the Cord. It rides, handles and accelerates much more like a car built decades later. It is nimble, from an era when lumbering was the norm.
The 1936-37 Cords were the styling brainchild of master automotive designer Gordon Buehrig. He was hired away from the General Motors Art and Colours Department in 1929 By Errett Lobban Cord, an automotive investor who acquired Auburn and Duesenberg in the late 1920s.
At Cord's behest, Buehrig also designed many of the custom bodied Duesenberg Model Js which are among the most beautiful automobiles ever created.
For some time behind the wheel of a Cord we turned to Randy Ema, a well known restorer and automotive historian whose restoration shop is in Orange, California. He's a leading authority on Duesenbergs and a very knowledgeable person when it comes to Auburns and Cords as well.
Ema let us take his 1937 812 Beverly sedan out for a test drive and then go for a spin in his 1936 810 phaeton as well. Initially he took me for a short tutorial to show me the car's unique features, and then he turned it over to me.
A Front-Drive Pioneer
Unlike other cars of the 1930s, you step down—not up—into a Cord. With its then-unique front-wheel drive arrangement, there is no need for a driveline or transmission hump; and because the car is unit-bodied, there is no need for a frame, thus allowing the car to be five inches to a foot lower than other cars of the period.
The front seat is comfortable and there is plenty of leg and headroom. Like other cars of the '30s, the passenger compartment is somewhat narrower than a modern full-size car, though it is more than adequate for two large fellows such as Randy and me.
Enjoying the Interior View
I reach over and turn the ignition key, then depress the clutch to start the engine. It starts readily and settles into that subtle unmistakable flathead V-8 lope and burble. It sounds somewhat like the Ford and Cadillac V-8s of the era. When given a little throttle, there is a faint throaty rumble that hints at power eagerly waiting to be exploited.
The beautiful engine-turned instrument panel dances before me as all of those handsome, round analog gauges report their vital data. The look of the dash is that of a vintage airliner, which is not by coincidence. There is everything you would want, including a big speedometer and a tachometer, as well as smaller oil, ammeter and temperature gauges. There also is a clock with separate dials for minutes as well as hours, and an AM radio. Finally, there is a bank of toggle switches for lights and such.
Finger-Flick Shifting
The two-piece split windshield can be opened for ventilation and we did so because it was a warm California day. Also, there are small hand-cranks on either side of the dash that extend the concealed headlights in the fenders via a cable system. Another first for Cord borrowed from aviation.
There is no shift lever in the center of the floor as there would be with other cars of the era because Cords were equipped with a Bendix Electric Hand electrically assisted vacuum shift mechanism that is controlled by a small lever mounted on a stalk on the steering column. Only Hudson offered a similar system at the time, though the post-war Tucker featured it too, because many of the fewer than 50 Tuckers produced actually had Cord transmissions in them.
I disengage the clutch and flick the tiny lever into first gear, then give the car a little gas and release the clutch just as you would with any manual shift car. I then click the lever into second gear, and when I am ready for the shift I merely depress and release the clutch. The shift is smooth and silent.
The process feels much like a British Wilson Pre-selector or a French Codat electromagnetic transmission of the era, though the Cord shifts electrically using engine vacuum. Randy tells me to not rev the engine over about 2100 rpm in second before shifting into third. By this time we are doing about 35 miles per hour, and the engine is just getting up on her cam.
And I still have two more gears to play with because the 812 has a four-speed transmission in it that is good to take you up to 90 mph-plus in a hurry. The 289- cubic-inch Duesenberg-designed flathead Lycoming V-8 combined with the lightweight front drive and unit-body make the Cord a real performer because of its excellent power-to-weight ratio.
The Celebrities' Choice
Actor Tom Mix—the Depression-era cowboy star and matinee idol—found out the hard way that he was not equal to the Cord's performance. He had a supercharged 812 phaeton all tricked out with tooled leather fender guards, a chrome six gun and lots of flags and lights, and he liked to drive fast.
Unfortunately, he was going too fast in 1940 in Arizona and he failed to notice a sign warning that a bridge was out up ahead. He skidded into a ditch, the car flipped end over end and he was killed. However, his Cord was rugged and rigid so it survived, and has since been painstakingly restored by a private owner to the way Mix had outfitted it.
Other celebrities of the time owned Cords too, such as Sonja Henie, the ice skater and actress, Amelia Earhart, the aviator, and athlete and Tarzan movie star Johnnie Weissmuller. Renowned film director Cecil B. DeMille and Carmen Miranda, the Portuguese-born Brazilian samba singer known for her enormous fruit-laden hats, droveCordstoo.In fact, if you wanted to be noticed around Hollywood in those days, one way to do it was in a Cord.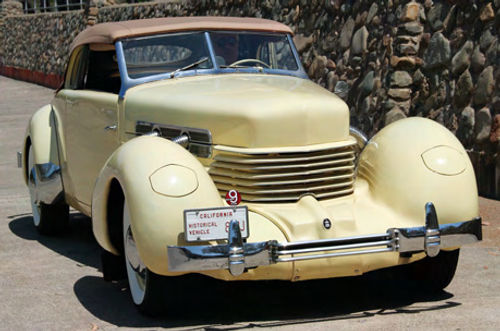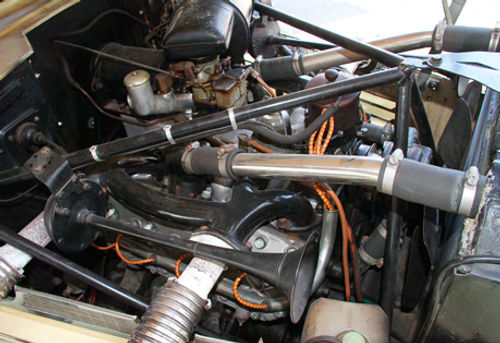 Good Handling and a Smooth Ride
On the other hand, I didn't want to be seen around the city of Orange, or anywhere else—specifically by the local police—driving an antique car at postmodern speeds, so I let off the throttle and applied the brakes gently. They worked fine. Nice and straight; no pulling or fading.
Cornering is unusually flat, without the tire squeal of a typical 1930s car either.
The car is quiet, rattle free and rides very comfortably. That's because the Cord's unit body is welded together, so there is nothing to come loose.
Also, thanks to the Cord's front-wheel drive design, there is no need for a big heavy cast iron back axle and heavy differential under the rear chassis. And the transaxle and differential combination up front are part of the weight carried by the one front transverse spring, making for very little unsprung weight, which results in an extraordinarily smooth cushy ride.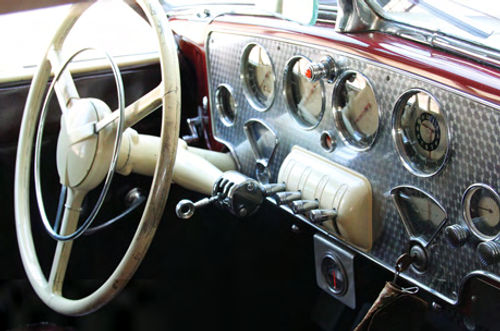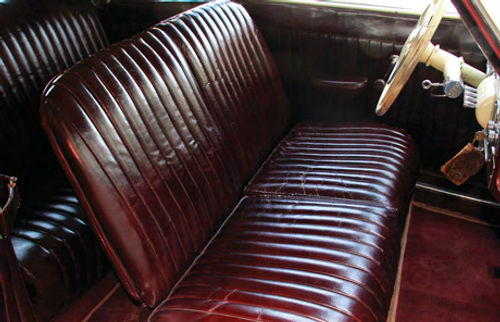 Not Ready for Prime Time
So with all of this going for it, why was the Cord a financial failure and subject to a short run on the market? Part of the problem was timing. The Great Depression was in full swing and most carmakers were struggling, especially the independents such as Pierce, Marmon, Graham, Reo, Auburn and Duesenberg. In fact, as a way of keeping the auto plants running and people employed, President Roosevelt asked that the 1936 New York Auto Show be moved up to October 1935, instead of having it in January as had been the past custom. And that would have been fine except that the revolutionary Cord 810 was still in the final development stages at Auburn.
To be included in that important show Cord had to build 100 cars in time for the October event, and that gave the company only a few months to accomplish the task. Prototypes had been tested, but given the many unique and untried features of the car, there were still many bugs to be worked out. But by putting forth a titanic effort to meet the deadline, the requisite number of cars were available when the show opened.
Needless to say, the car was a sensation to the point that show goers were standing on the bumpers of other nearby show cars just to get a glimpse of the new 810 Cord. And even though the new car was priced around $2000-plus, orders poured in from New York and other shows around the country.
At the time, the company offered four door sedans in Westchester and the more expensive Beverly trim. A phaeton and a convertible coupe were also available. (In 1937 a custom Beverly was offered that was a bit longer and taller than the 1936 models. Also, a bustle-back integrated trunk was offered that year for those who wanted more carrying capacity. There were a few convertibles that sported this feature as well, though it looked somewhat like a growth on them.)
Unfortunately, after the show started to generate orders for the first Cords, not only were there technical problems still to be solved, but the Auburn production facility was not yet set up to meet production demands.
Time dragged on as problems with body panels, velocity joints, transmission components and production capacity were addressed. To add to the list of troubles, since Auburn Automobile Co. was such a small company, most of the components for the car came from outside vendors and this made for additional problems of fit and finish.
It came to a point where some of the outside vendors used other outside vendors for subassemblies, creating a complex web of delivery problems and challenges. As a result, disgruntled buyers, tired of waiting, canceled orders in droves. Many prospective buyers were sent small cast brass models of the car they had ordered in an effort to keep them interested. But then the first production cars, which had been promised for late 1935, didn't arrive in New York until April 1936.
And with such limited testing beforehand, the initial examples to come out the door had many teething problems. There was no time and little money for the company to do anything about them; so customers became the test drivers, with very unfortunate consequences. Velocity joints became noisy and failed all too frequently.The first transmissions had a tendency to jump out of gear, and overheating and vapor lock were common complaints. These issues were more or less addressed in the first few months of production, but by then the car's reputation for being unreliable had taken hold.
Added to all this was the fact that the Cord, though beautiful, was a radical departure from existing styling and engineering norms. And that meant the new Cord—even if it had been totally reliable—would not have appealed to a sizable audience. On top of that, the car wasn't that large yet it sold for Cadillac prices; so we see why the 810 and 812 Cords would not sell in great quantity in the best of circumstances, and 1936 and '37 were hardly the best of circumstances for a struggling independent in the auto industry. In fact, altogether it was a recipe for disaster and in two years the company only sold about 2400 of them.
Moreover, the new Cord for the mid1930s was probably doomed before it was built anyway because E.L. Cord had largely divested himself of his holdings in the company as far back as 1932. So, although he had devoted his considerable talents to building Auburn and Cord, when the company was underway he had moved on to other things, such as aviation. He bought Stinson Aircraft, which built many of the airliners of the era, and then he started what became American Airlines.
Cord moved to England and then to California in the '30s where he bought up huge tracts of Beverly Hills and made yet another fortune. In short, E.L. Cord was into making money, not cars. Automobiles were just one way of driving his income, you might say.
In fact, by the mid-'30s the only reason E.L. remained at all interested in the fortunes of the automaker he had once built was to run its stock price up so he could divest himself of the rest of his holdings in the company at a favorable price. He had needed one more sensational car to make that happen and the Cord 810-812 did just that.
E.L. Cord then promptly bailed out, and by December of 1937 Auburn and Cord as well as Duesenberg were gone.
Cord's Style Lives On
They stopped building the mid-'30s Cords after just two years, but the design continued to influence automakers for the next four decades.
In 1940 Hupp mobile and Graham did a joint venture and built their own cars using the Cord body dies. The cars were nicely redesigned by John Tjaarda, and both the Hupp and the Graham sported conventional rear-wheel drive. But they were not a success either. The Cord body dies were just too complex for efficient mass production in those days, and Hupp and Graham were on their last legs in any case.
In 1951 a special exhibit was assembled at the New York Museum of Modern Art (MOMA) titled "Eight Automobiles."They were the museum's picks for the most beautiful car designs up to that time. Included were a 1941 Lincoln Continental, a 1937 Talbot-Lago, a Pininfarina-designed 1946 Cisitalia, a 1938 Bentley, a World War II military Jeep—and a 1937 Cord 812. At the exhibit, curator Arthur Drexler proclaimed: "We regard the Cord as the outstanding contribution to American automobile design."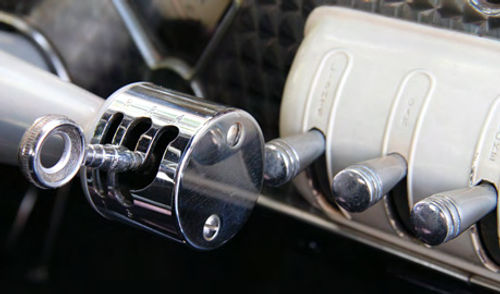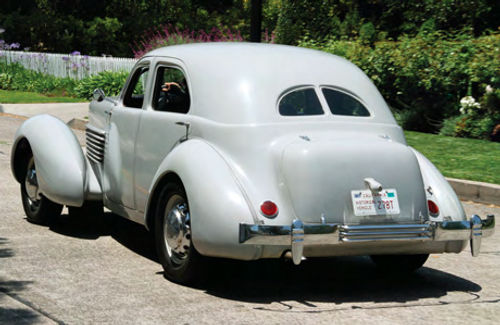 I Say ditto to Mr. Drexler's comments. TheCord is a true classic because it influenced the future of auto design, and is still beautiful today. I cite as evidence of the Cord's influence the 1966 Oldsmobile Toronado. It is unmistakable. Front drive, concealed headlights, and obvious styling cues tell the story.
Other Cord innovations in the '30s were the front-opening clamshell hood, a concealed gas cap under a flap, taillights integral to the body of the car, and no running boards. And if that weren't enough, yet another industry first was that the door and trunk hinges were concealed. These things all became standard practice within a few years of the Cord's demise.
Now, as we roll through Old Town Orange, California, in one of these pioneer Cords, people smile, wave and take pictures. Some even step into the street and impede our progress, taking shots with their cell phones. I don't blame them. The car is still a showstopper at 76 years old.