A PEBBLE BEACH WINNING COINCIDENCE
Each year the Pebble Beach Concours d'Elegance gives us the opportunity to gather up photos of some greatlooking cars displayed in scenic settings on California's Monterey Peninsula.
This time, by coincidence, our coverage of Pebble's winners has also provided us with the rare instance of featuring a 1937 automobile on both our front and back covers. Up front we have a 1937 Derby Bentley that will soon be put up for auction, while on this page the 2018 Pebble Beach Best of Show winner is a 1937 Alfa Romeo 8C 2900B Touring Berlinetta (sport coupe).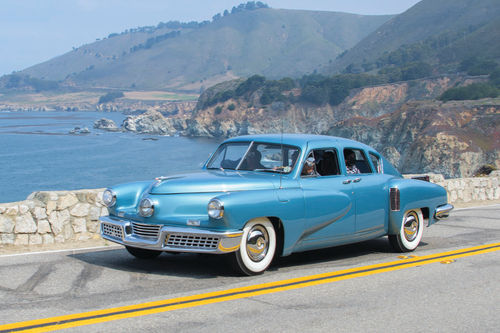 Pebble Beach officials say the Alfa was awarded the top honor after "an intense competition" that drew 209 "diverse cars" from 17 countries and 31 states to the 18th fairway of the Pebble Beach Golf Links.
"This Alfa Romeo 8C 2.9 has all that one would wish for in a car—speed, style and, frankly, sex appeal," said Concours Chairman Sandra Button. "The Touring styling is simply magical, and to top it off it makes all the right noises!"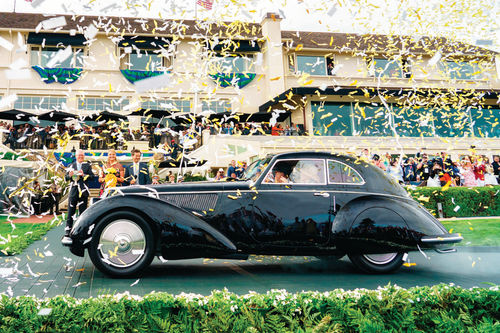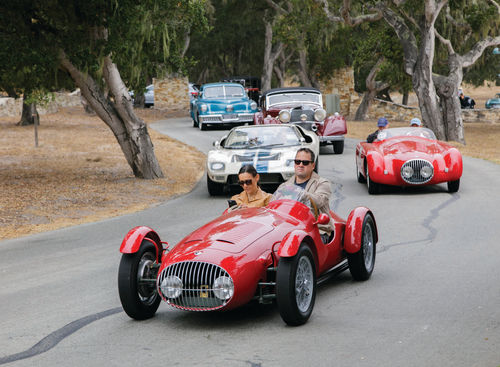 This same Alfa was named Most Elegant Closed Car at the Pebble Beach Concours 17 years ago, but since then it has changed hands and its current owner, David Sydorick of Beverly Hills, California, saw that the car "received a full restoration" and was "returned to its 1938 Berlin Motor Show specification," Pebble officials said.
Commenting on his show-winning vehicle Sydorick said: "It is a piece of automotive architecture mounted on a Grand Prix chassis that has technology that was top of the line for prewar cars. It's a wonderful combination. It's beautiful from top to bottom."
Pebble officials said this year's race for the Best of Show prize "featured two other strong contenders," a 1929 Duesenberg J Murphy Town Limousine and a 1948 Talbot-Lago T26 Grand Sport Figoni Fastback Coupé that was brought in from the Czech Republic.
The week-long list of events leading up to the concours also featured an international first with the inaugural Japanese Automotive Invitational, a separate show spotlighting vintage vehicles from Japan. For more on that exhibition, see page 3.
If you're interested in attending next year's Pebble concours, mark your calendar for August 18, 2019, when the show will honor the centennials of Bentley and the Zagato coachworks. Meanwhile, the photos on this page will give you an idea of the types of vehicles you'll see when you visit the Monterey Peninsula. –Ted Kade, Editor