WOULD YOU PAY $700,000 FOR THIS 1973 DERBY BENTLEY?
It's For Sale, Quite Rare and Has Clocked Just a Little Over 15,000 Miles In the Last Eight Decades.
At Auto Restorer we tend to concentrate on vintage drivers…cars and trucks that aren't extremely rare or in condition to win a major concours, but are fun to use and care for, and are valuable in that they tend to bring a smile to their owner's face every time he enters his garage.
But from time to time we must admit that our attention is drawn by a vehicle that's very rare, extremely expensive and wouldn't be considered a daily driver by anyone, regardless of the size of their bank account.
One such car is the 1937 Derby Bentley 3½ Litre Vanden Plas Drophead Coupe seen on these pages. Although it happens to be 81 years old, it has a mere 15,000 miles on the odometer, has had three well-documented owners and is being billed as "The most original and bestpreserved Derby Bentley in the World" by the English auction house H&H Classics that will be selling the Bentley on Oct. 17.
H&H expects the car to change hands for some $585,000 to $715,000.
The Derby Bentley
Rolls-Royce built 2422 Bentleys in the city of Derby in central England between 1933 and 1940. (Remember, World War II started earlier Over There.)
Actually, Rolls built the chassis and engine and the buyer chose from some 40 independent coachbuilders in the UK and Europe for the car's bodywork. In this case, the body was built by the Vanden Plas coachworks.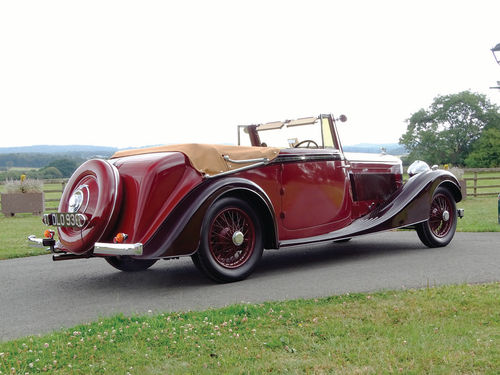 A popular 1930s ad campaign for the Derby Bentley referred to the vehicle as "the Silent Sports Car" so it follows that the enthusiast group for this uncommon Bentley calls itself the Silent Sports Car Club. The club says that due to the quality of the build process at the time some 1800 of the Derby chassis "remain extant," but "sadly a significant number have lost their original bodies."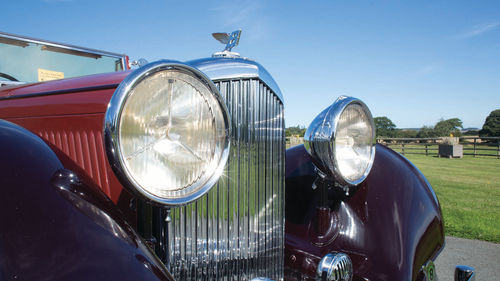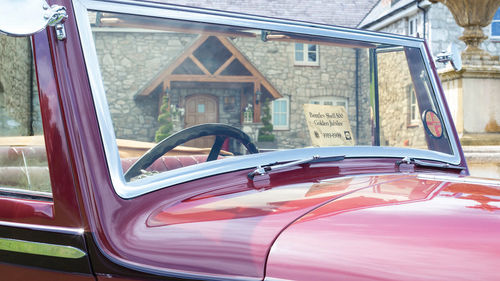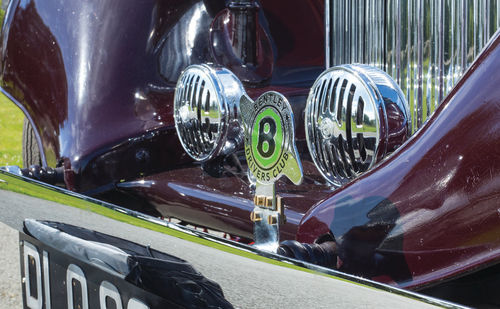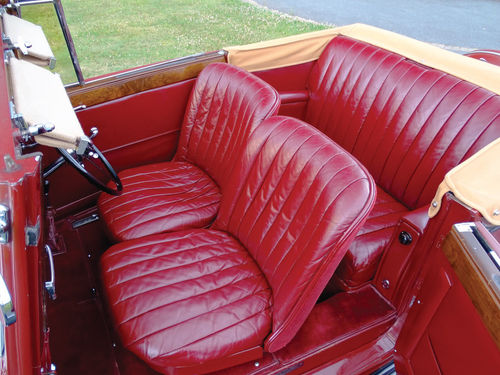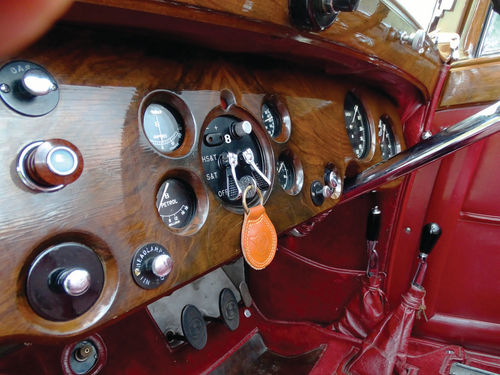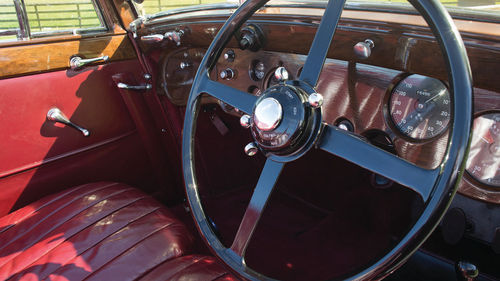 Here's how the club goes on to describe its favorite car: "The Derby Bentley, however clothed, remains a potentially most enjoyable prospect to own and drive. If in close-to-new condition, the chassis is excellent; the engine has massive torque and is capable of maintaining speeds of 60-70 mph at 2500 rpm reliably on unleaded petrol; the gearbox is smooth and easily operated, particularly in 3rd and 4th with the benefit of both synchromesh and the engine's torque; the brakes are reassuringly strong thanks to servo-assistance."
However, the club also wants to make potential buyers aware of the fact that this special breed of Bentley must be approached with caution.
"For the unwary, a Derby Bentley acquired in poor condition can today be a source of much heartache," the Silent Sports Car Club warns. "Suffice to say that ownership can be a costly pastime! It is important to choose carefully when purchasing a Derby Bentley. Buy in haste and repent at leisure!"
This "Most Original and Best-Preserved Car"
Now that we know something about the Derby Bentley in general, let's turn our attention to the car on these pages… just in case you might want to get in on the bidding. (This auction will take place after our press time, but we'll follow up with the sales result in a subsequent issue.)
So, here's how H&H Classics pitches the 1937 Bentley to potential buyers:
"Claiming this Bentley as the best and most original might seem bold but this exceptional machine has covered just 15,500 miles from new in the hands of three very careful keepers," H&H said in its publicity materials. "It is notable as the last of only four 3½ Litre cars to wear Vanden Plas Drophead Coupe coachwork and sports original two-tone red paintwork, red leather upholstery, engine, gearbox, front axle, rear axle, steering, suspension, brakes, brightwork, wood veneers, instrumentation, tools, glass, pedal rubbers and even chassis paint!"
H&H continued: "First registered as 'DLO 936' on March 1st 1937, chassis B135FC was supplied new to Robert S. Hayward Esq. of The Hawthorns, Galashiels. A director of the nearby R & A Sanderson Woollen Mill, he covered a modest 11,000 miles aboard the Bentley before offering it for sale via R. Webster's small dealership located off Union Street in Edinburgh where it was spotted by W. Randolph Angell Esq."
Faced With "Blind Passion"
We're often told that the British are quite reserved in their demeanor but that must not always extend to their feelings about their cars. Or maybe this Bentley represents a special case because W. Randolph Angell was anything but reserved in describing his feelings about this vehicle.
In his memoirs, here's how Angell described his initial encounter with the drophead coupe.
"How does one cope with blind passion?" he implored. "I was a ruined man. A visit to the showroom for a closer look was devastating. The car was immaculate, perfect, with tonneau covers and spares, etc. which had never been used. The asking price was beyond my means and in any case I had no driving license or any sensible place to keep the car even if I were able to acquire it."
However, during further showroom visits Angell found that he had to take action regarding the car or face the prospect of losing it to a South African collector.
"Suitably panicked," H&H reported, "Mr. Angell found the requisite funds and became its proud owner during May 1954."
Accompanying documents include handwritten receipts from the dealership for the purchase price (£1350; May 7, 1954) and tax/insurance (£32; May 18, 1954).
The documents also include a very important receipt for seven driving lessons (£5 8s 1d; June 8, 1954).
"Treasuring the Bentley," H&H continued, "its new owner acquired a Riley Kestrel for everyday usage and later a Jaguar E-Type V12 Roadster to drive on (special occasions)."
The Bentley was then kept "in professional storage when not being sparingly enjoyed," H&H said, and UK Ministry of Transport inspection certificates issued in May 1970 and April 1980 show that the car was used "sparingly," indeed. The 1970 document listed a recorded mileage for the Vanden Plas Drophead Coupe of 15,030 while the document issued 10 years later showed that the car had traveled a mere 165 miles during the ensuing decade as the odometer registered 15,195 miles.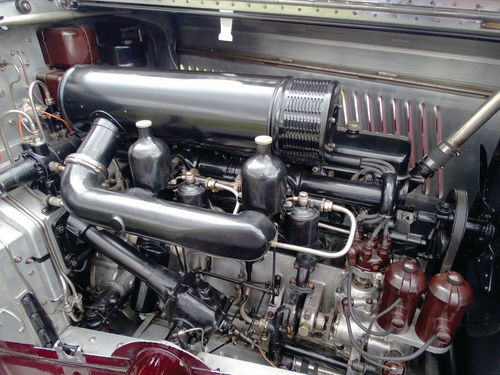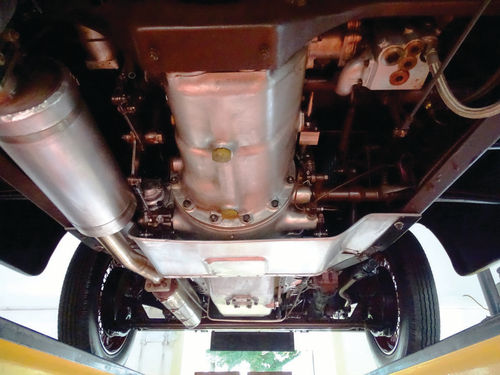 "Ever wary that a road traffic accident would compromise its remarkable originality, Mr. Angell ensured that 'DLO 936' spent less and less time on the public highway," H&H commented. "Parked up in his garage for 30-odd years, it benefited from surroundings that were not only watertight but also conducive to preservation in terms of moisture and light levels.
"Reluctantly offered for sale by Mr. Angell's heirs in 2013, the Bentley entered the current custodianship that same October."
First Some "Obsessional" Work… Then Off to the Auction
H&H said the current owner, who is identified only as "the vendor," was "blown away" by the car's original condition and then set about reviving it to "an exhaustive, obsessional degree."
"For instance," H&H said, "he spent a week soaking the original fan belt until it could be reused and was genuinely upset that the initial spark plugs could not be made to perform satisfactorily!"
Furthermore, the auction house continued, "After much deliberation the decision was taken to rewire the fourseater for safety reasons (the prospect of such an archetype of Derby Bentley originality going up in flames does not bear thinking about). Needless to say, the replacement wiring loom is cloth bound and faithful to factory blueprints."
What Does the Future Hold…
When the octogenarian Derby Bentley changes hands once again, it will be interesting to see what the new owner has in mind for this red convertible. Do you suppose he'll drop the top and go cruising on a nice day or clear evening, or perhaps drive it to a local show and sit next to it in his folding lawn chair, smiling and nodding at passing admirers and eagerly answering their questions about the uncommon vehicle…
Or more than likely, given the large amount of cash at stake here, he'll agree with H&H in their estimation that this Bentley with "its freakish originality and state of preservation" will be a "worthy competitor in the preservation class of any major Concours d'Elegance."
Then after several years of trailering the Bentley from one major concours to another and collecting some wellearned recognition from the judges, he'll put the car up for sale yet another time and collect a nice profit from his rather large investment.
Maybe his term of ownership will even come and go without him ever taking this "silent sports car" out onto the roadways where the Bentley could once again feel some asphalt under its tires.
Oh well, that why, as I said at the beginning of this article, at Auto Restorer we tend to concentrate on vintage drivers…cars and trucks that aren't extremely rare or in condition to win a major concours, but are fun to use and care for…