A Chevy engine in a Bentley saloon
Question:
I am working on a 1962 Bentley S2 (V8) saloon (shown below). The interior has been replaced and/or refurbished. The brake system has been rebuilt and the exterior was taken down to bare metal and refinished.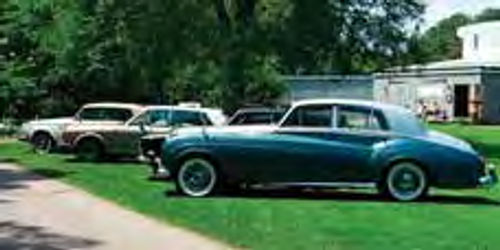 I am now contemplating rebuilding the engine but parts are rare and extremely expensive. An average rebuild, if you can even get the needed parts, is in excess of $14,000.
Non-purists replace the engines in these cars with a 350 cid Chevrolet small block. They lift the body, roll in a custom frame with new disc brakes, drive train, etc. at a cost of about $20,000.
I would like to do it differently. The transmission in my car is a GM HydraMatic with a special side output shaft that works the brakes. Basically, the brake pedal closes a servo assembly, which operates the master cylinders.
My preference is to find an adaptor plate to match my existing Hydra-Matic to a 350 cid small block using a correct torque converter and flywheel. That would allow me to keep my stock righthand drive interior.
My second choice would be to have an automatic transmission built to incorporate the Bentley brake system. Again, this would keep the interior stock. My last choice would be to install a 350 cid small block and automatic transmission. What type of automatic would you recommend? The problem with this last choice is that it would require me to re-engineer the brake system, transmission selector, drive shaft, etc.
Answer:
A fair number of vintage Bentley and Rolls-Royce automobiles have been converted to small block Chevy power because of the high cost of restoring and maintaining original vintage Bentley and Rolls engines.
You can mate a small block Chevrolet engine to your original transmission with the use of an adaptor plate (though the original transmission in your Bentley IS a GM Hydra-Matic, the bell housing bolt pattern is specific to the Bentley engine and different from a Chevy engine). This is probably the simplest conversion because it retains your car's original drive train and brake system.
Contact Rolls-Royce and Bentley Parts (hotrodparts.com). They have just about everything you need to accomplish the engine conversion.
And if you want to, they also sell the needed parts to convert the brake system and drive train.